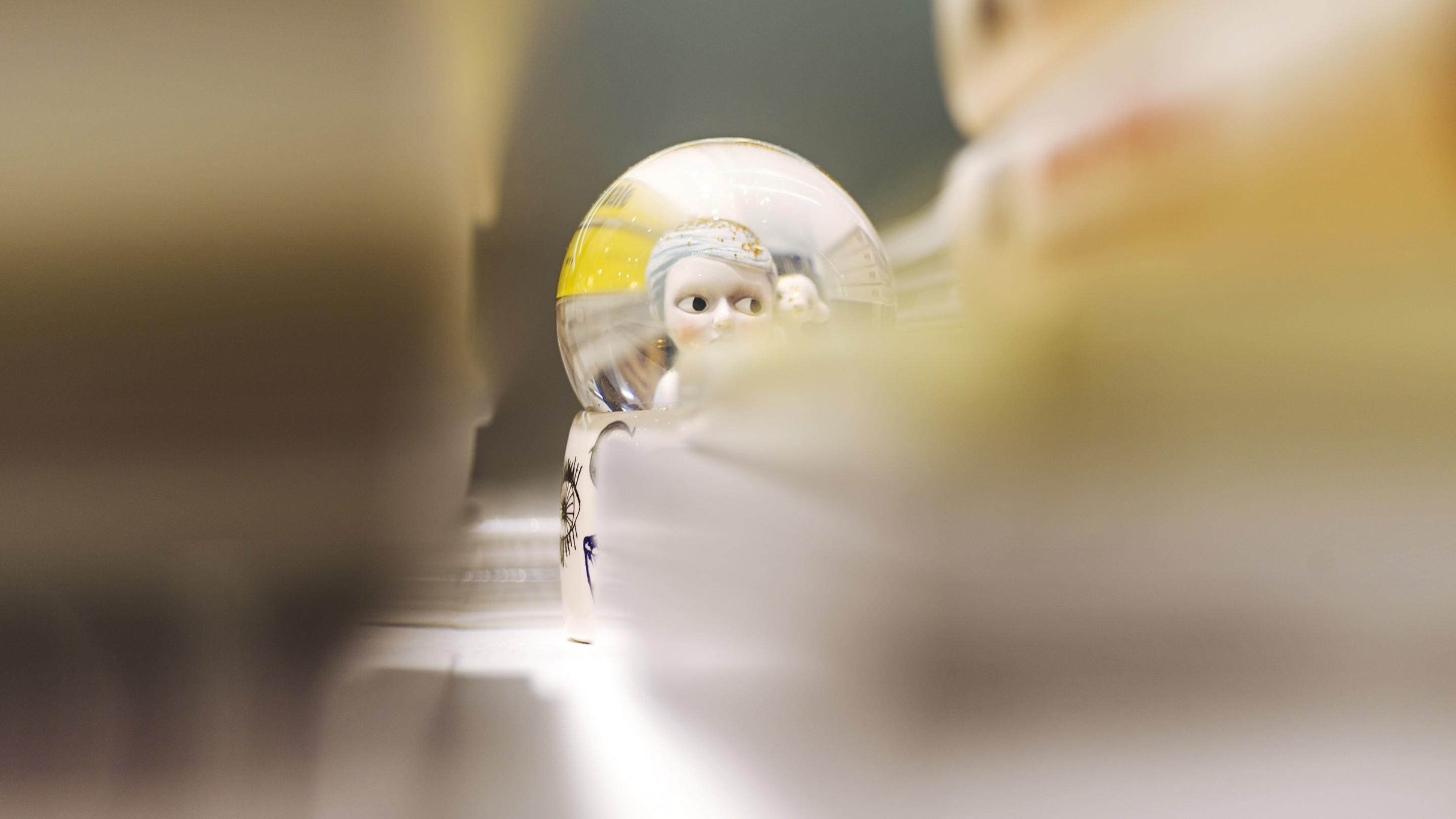 Please Do Not Enter Downtown Los Angeles
Written by BJ Panda Bear

Published on

February 01, 2018
Downtown Los Angeles today is nearly unrecognizable from even five years ago. What was once known as the place to purchase wholesale clothing and attend a musical has become an the premiere location for nightlife, restaurants, and shopping in collision with experimental music and art communities. Around four years ago, before the Downtown renaissance, French duo Nicolas Libert and Emmanuel Renoird set up shop with a distinctive concept in the financial area and they called it Please Do Not Enter. With a vanguard sensibility, they delivered a multidisciplinary ethos, equally devoting their time to create a home for art, fashion and design.
After collected art for 20 years, the pair's move to LA brought along a need to incorporate both their passions in fashion and design while also bringing along their knowledge and network of artists. Libert has a background in real estate in France (he still owns several companies) and Renoird used to lead an interior design studio in Paris. As Libert sees it, "From this, we had the idea of showing all these artists and having a mix of retail and gallery space. It was important we didn't want to choose between being these galleries that look like white cubes or retail that is only fashion. We love the idea that we could mix everything just like people do in their own homes." It's what they like to refer to as "everyday aesthetic".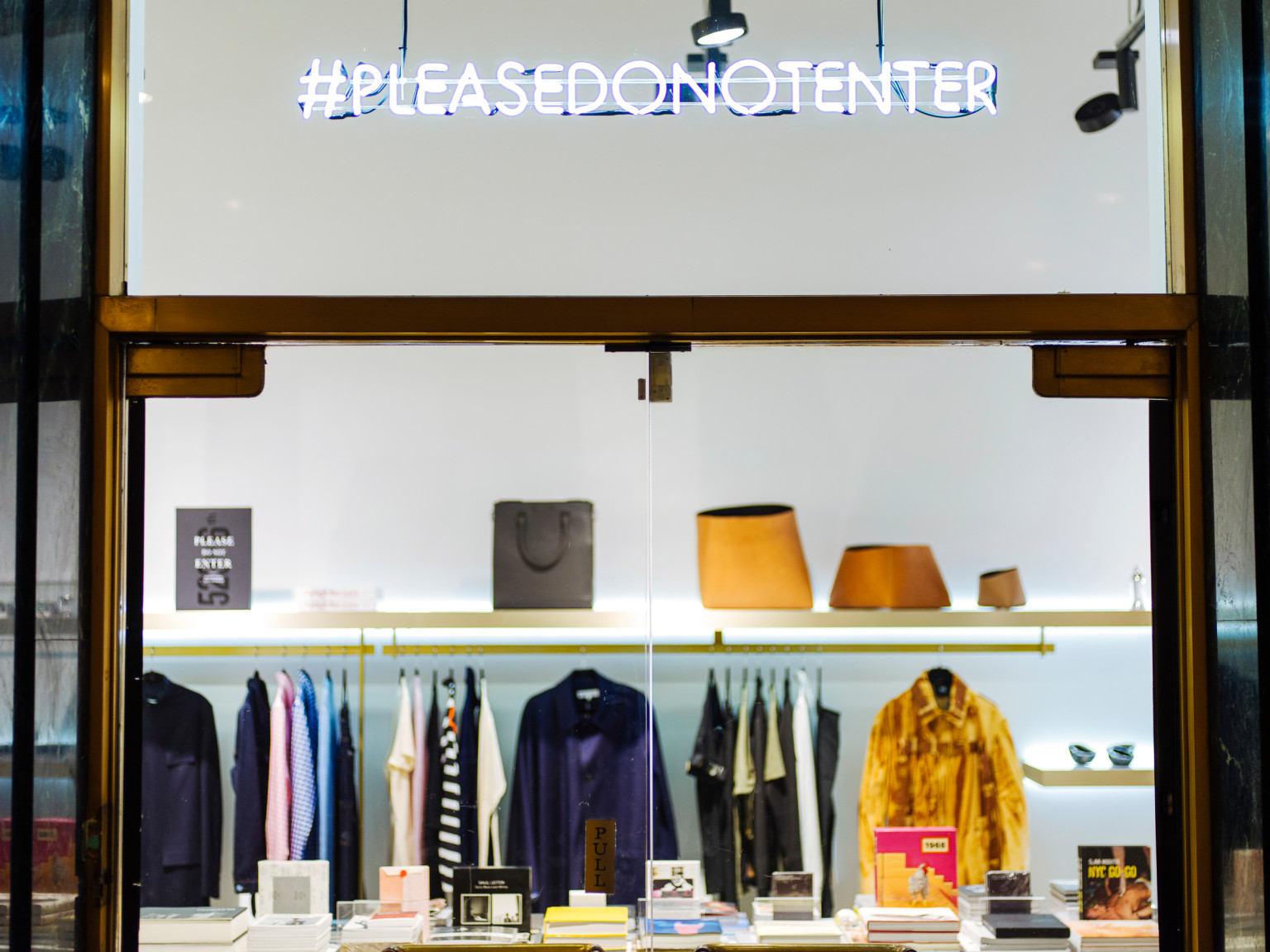 And just as the population of the LA enclave is endlessly multi-faceted, so are the duo's selections. Many items from designers like Walter Van Beirendonck are ultimate runway pieces, often pulled by stylists or worn by the fashion-forward set. Conversely, beloved lines like Lemaire offer up well constructed classic pieces made with high-quality fabrics. For Libert, "When we build a collection in fashion this is what we have in mind--to really be able to match our different moods." Carrying Walter Van Beirendonck avant-garde brings an aligning mindfulness, seeing as the designer also frequently merges with artists. Libert joyfully explains that "his show is something that is a full experience and Walter is one of the few who is ready to do collaborations with other artists. If you are carefully following his work, you, at the same time, discover new artists. It's really incredible."
The appreciation for collaboration is what Libert and Renoird want to inspire in their customers. "It's really a full commitment on all of these elements art, design and fashion. I think now in the world not even about LA or the US market," Libert recognizes. They're both also ardent champions of zeitgeist brands including Y Projects and younger labels such as N-p-Elliott and Ellen Pedersen. But this does not come without a wary eye as Libert mentions, "When we work with a new brand, it's interesting to see what the next collection will be."
Walking the streets of the city's epicenter, one may also notice more than a few empty storefronts. Galleries and clothing shops are constantly spinning in and out of business, but this new concept--of marrying two mediums into one--gives Please Do Not Enter just an extra touch of security. "When we are able to sell a piece of art, we are able to invest more on the fashion side. IT allows us to be riskier and there is a balance that we are building day after day. What we're trying to build here is a real program for the arts, a real program for the design and a real program for fashion," Libert emphasizes.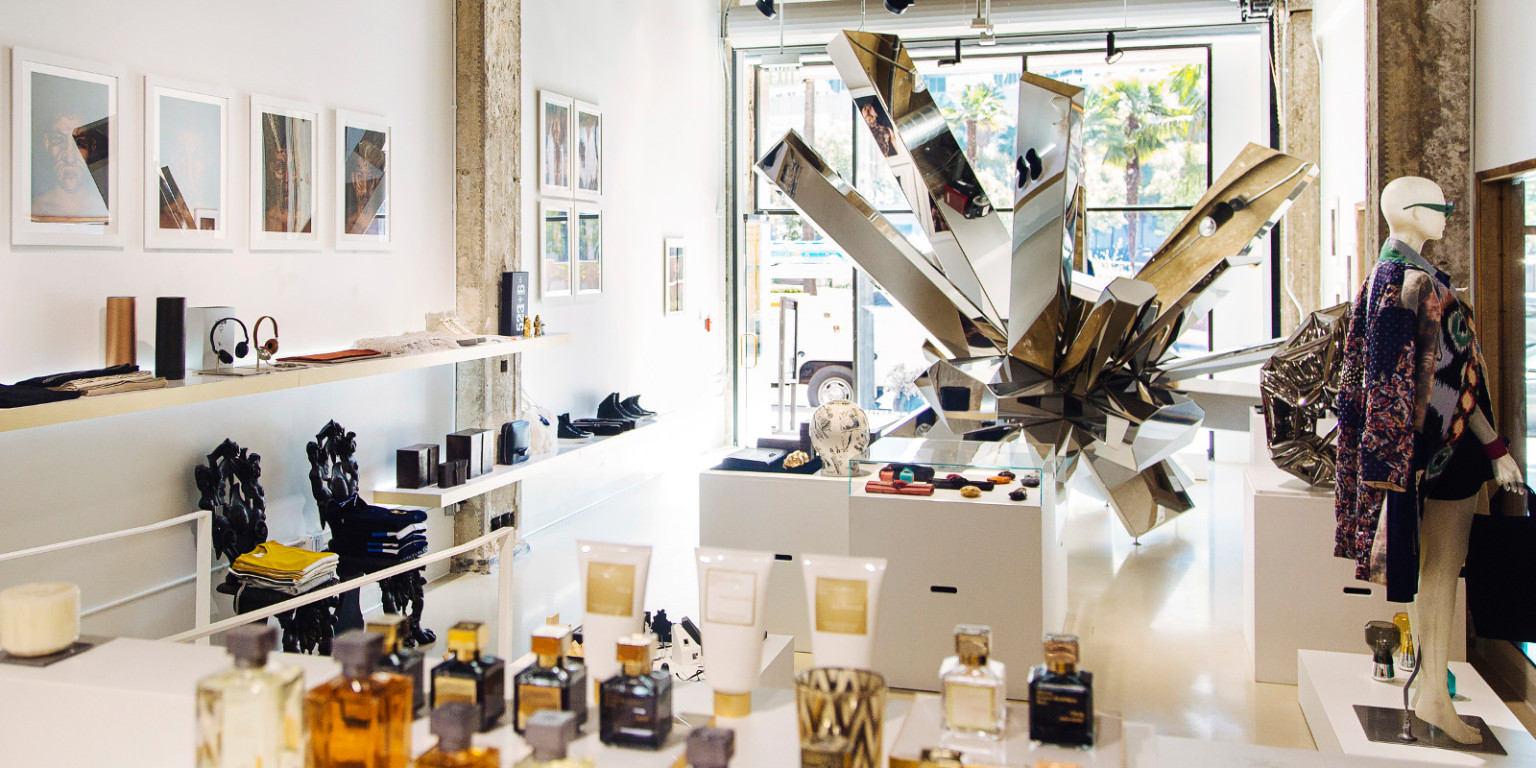 Libert and Renoird's main goal is to give artists a platform to go wild with creativity. For the current
Arik Levy
show at their new West Hollywood location called UN.plugged, they worked months ahead to produce grand sculptural pieces that fully inhabited a pop-up space on a ways down the road on Melrose Avenue. "His career is getting very important, right now he is working on large, large-scale installations with this huge sculpture in Moscow, which is the size of a seven story building--one of the biggest sculptures in the world. The piece has been two years in production and now they're waiting for the building to be complete." And they're already planning their next exhibit, a multimedia performance by
Charlie Le Mindu
scheduled for mid-April.
Even though they're only a mere miles apart, the differences between Downtown and West Hollywood are inarguably distinct--but that's the fun for Libert and Renoird. Where Downtown harbors burrito shacks next to avant garde shops and large beer breweries, West Hollywood glistens with power-washed sidewalks and designer clothing store after designer clothing store. Libert says, "We realized when we did the first pop up on Melrose Avenue that a lot of people knew of our other store, but did not visit us. They were clearly admitting they don't like Downtown. They are almost two kinds of populations, depending on habits and behaviors," Libert continues. "That's the reason why we decided to open a second store in West Hollywood. At the same time, we realized sometimes these people have more potential and are ready to spend more money, but are also sometimes a little more conservative and classic than the people Downtown."
With all these projects and an ever-changing program of art, fashion and design that feeds off of spectators, one must wonder what is purpose of such an unwelcoming name. "For many years we were told not to go Downtown because it was a dangerous neighborhood and there was nothing to do there. And if you do, it's a mistake and you should turn around and go west immediately,'"the co-founder says. "It's kind of sick French humor. You are told as a kid not to do something you feel so curious about it, you want to do it, you want to check it out and understand why you are forbidden."