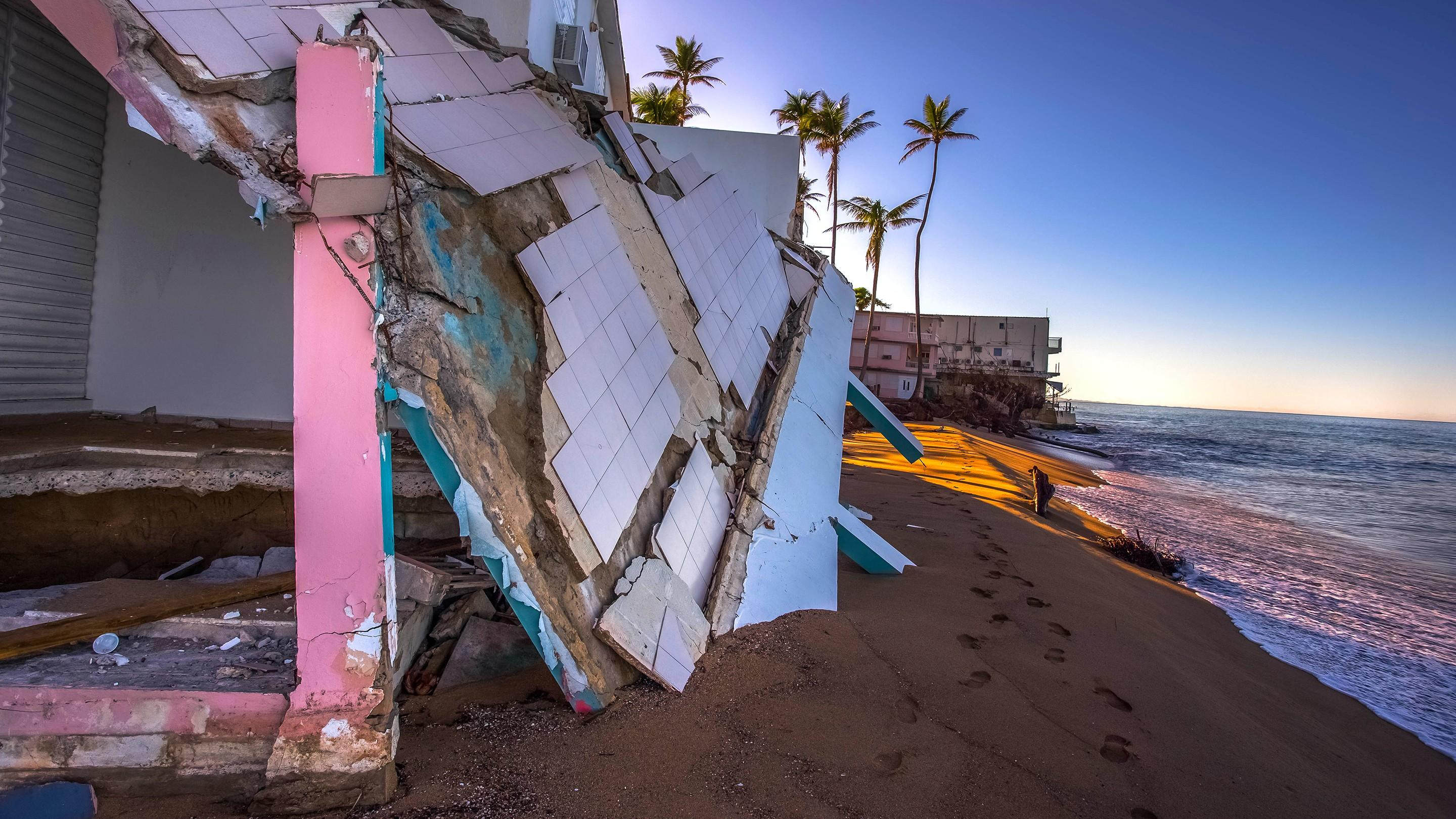 Hurricane Maria Still Haunts, But Won't Destroy Puerto Rico
Written by Maria del Pilar Lamadrid

Published on

April 23, 2018
I woke up at 4:30 a.m. to meet the days following Hurricane María on September 16, 2017. It was still dark out, but the all-too-early wake-up call was necessary in order to get to the grocery store in time, to wait in the hours-long line to get the two cans of food, two boxes of water, and the boxed milk I was allotted. Those were the lucky days. There were times when I spent the long time waiting just to be informed that the water had run out, or food was scarce—to "please, try again tomorrow."

Hurricane María penetrated the municipality of Yabucoa and was the strongest hurricane to make landfall in Puerto Rico
since
1928. According to the National Hurricane Center Tropical Cyclone Report, the natural disaster knocked down 80 percent of Puerto Rico's utility poles, leaving 3.4 million residents without power, practically all cell phone services were lost, water supplies knocked out. The death toll is still uncertain; while the official number stands at 65, it is believed to surpass the hundreds—but many already know these statistics.
What many aren't aware of is what hasn't changed since that horrific day over 200 days ago. The food and water lines are no longer hours long—stocks are replenished at markets throughout the island. And yet, day-to-day life is far away from what it was before that fall day that felt like a nightmare. Existing in Puerto Rico is far from stable. Looking down from the mountain tops, blue Federal Emergency Management Agency (FEMA) tents sprinkle the view, a stark contrast from the lush green scenery surrounding it. Potholes are deeper than ever before and the buildings I used to drive by everyday are battered—either with parts missing or entirely crumbled. Street lights are still dark, twisted in opposing directions. Power lines lean in every which way, over rooftops and intersections. The lines that somehow survived the storms rock back and forth with the wind. We are delicate. So delicate that on on April 12, when just one tree fell over a power line in Cayey, 800,000 people were left without power. Then again, rolling blackouts have become commonplace.
But this is not just about the toll that María has taken on my walk to and from my San Juan home. The devastation that remains on the Caribbean region, still witness to the most beautiful pink-hued sunsets, has left us financially destitute as well:
The Office of Marine and Aviation Operations (NOAA)
estimates hurricane María has cost $90 billion in damages, making Maria the third most costly hurricane in United States history. While our own President criticized our territory's use of federal resources, on October 24 2017, United States Congress had to step in to approve $36.5 billion in disaster aid for Puerto Rico, wildfires and hurricane relief. Only last week, members of the Senate Homeland Security and Governmental Affairs Committee reported that while FEMA promised us more necessary emergency shelter tarps, the awarded contractors could not provide them—costing $73 million.
Less than optimal living conditions means catastrophic depression and anxiety are on the rise. According to the Commission for the Prevention of Suicide,
suicide rates
increased by 55 percent in the four months following the hurricane. Calls to suicide hotlines has increased 246 percent since the category 4 storm compared to the months before. And anxiety builds daily as we inch closer and closer to hurricane season. A unanimous question hangs over us as we walk down the streets—whether it be to work, to the beach, to visit family—as thick and as high as the stunning, burly trees that remain standing: "What's going to happen when another hurricane strikes?" It's a terrifying question with no answer, and it's forced over 135,000 of my neighbors to pack up their homes and flee to the mainland. Now, where beloved and bustling artisanal shops stood, shutters only remain because what is an ice cream parlor to do without power? How can a souvenir shop pay catch up on rent without tourists?
Still, despite the nights in total darkness and the depression that plagues, many Puerto Ricans maintain our hope. Apart from the time Donald Trump thought he could solve all our problems by throwing paper towels at us, many United State senators are fighting for our cause. Senator Bernie Sanders (I-Vt.), with help from Elizabeth Warren (Mass.) and Kristen Gilibrand (N.Y.), unveiled the Puerto Rico and Virgin Island Equitable Rebuild Act, a $146 billion relief package for Puerto Rico. While some politicians may not be doing enough, Sanders continues to watch over the neglect of Puerto Rico and Warren led a congressional delegation trip to Puerto Rico on January to survey damages from Hurricane. And then there are the foundations that are doing what they can as private citizens to help us:
ConPRmetidos
is raising money for long-term efforts,
Unidos Por Puerto Rico
is trying to rebuild businesses,
LifeStraw
is using donations to get us safe drinking water, and the list goes on.
A few weeks after the Hurricane, a neighbor confided in me. While some lost everything, while there were far too many casualties connected to María, she still considered herself lucky. Her house's door flew open during the trauma, and my brother ran over with another neighbor to shut it. "A crazy move," she laughed while telling me the story, but her house was safe thanks to them. She looked at me with proud eyes as she said, "I will not leave the island until it sinks into the ocean". I giggled with empathy. Even when we still have massive black outs, Even when all we're hit with bouts of cynicism, help will always come from inside our very own community.
Today, while our population continues to shrink, while our corners may be covered with the rubble of 2017, we walk into Old San Juan Square and we dance together, late into the night. We welcome our visitors with open arms. We bask in sun at our beaches. We sit at the dinner table and make friends with strangers. We have bonded and continue to bond over our shared tragedy and become tougher than ever before, but I still have hope our island of incomunicados will be heard. I have hope in the senators and the people of the United States . And if we do sink, at least we will sink together.