I don't recommend seeing any big-budget, big-building, big-action movies at 9 a.m. But if you have to see one, make it Skyscraper—where Dwayne "The Rock" Johnson takes on perhaps the only thing left that's bigger than him: a really, really tall building. Absurd, but no less than most of the other movies out this month, like Mamma Mia! Here We Go Again (in which Cher arrives by helicopter) or Ant-Man and the Wasp (in which Paul Rudd plays an ant). Unlike so much of its box-office company, Skyscraper is all original. It's not a sequel, a remake or a reboot. A new concept with the price tag of $125 million budget? In today's film landscape, that's practically unheard of.

You can thank Rawson Marshall Thurber for that. And he'll take some of the credit—not all, mind you, but some.

"To convince somebody to spend a $100 million-plus on an original idea that's not based on a game, a book, comic book, a show, any of that: It's nearly impossible," he tells Playboy a few days before Skyscraper hits theaters this weekend. "There's literally nothing else. We're going to find out the hard way whether or not people still want to go see original movies or not."

It certainly helps that Thurber has The Rock in his impossible movie. He knows as much: "If you're going to try to make it an original film, my advice would be put Dwayne Johnson in it." As it turns out, movie studios will throw you a bunch of money and make your all-original skyscraper epic if you have The Rock attached—hell, they'd probably invest in a movie about candle-making if The Rock were attached. "I think Dwayne Johnson is about as safe a bet as there is out there," Thurber says. "There aren't many movie stars left, and he's the biggest, both literally and figuratively."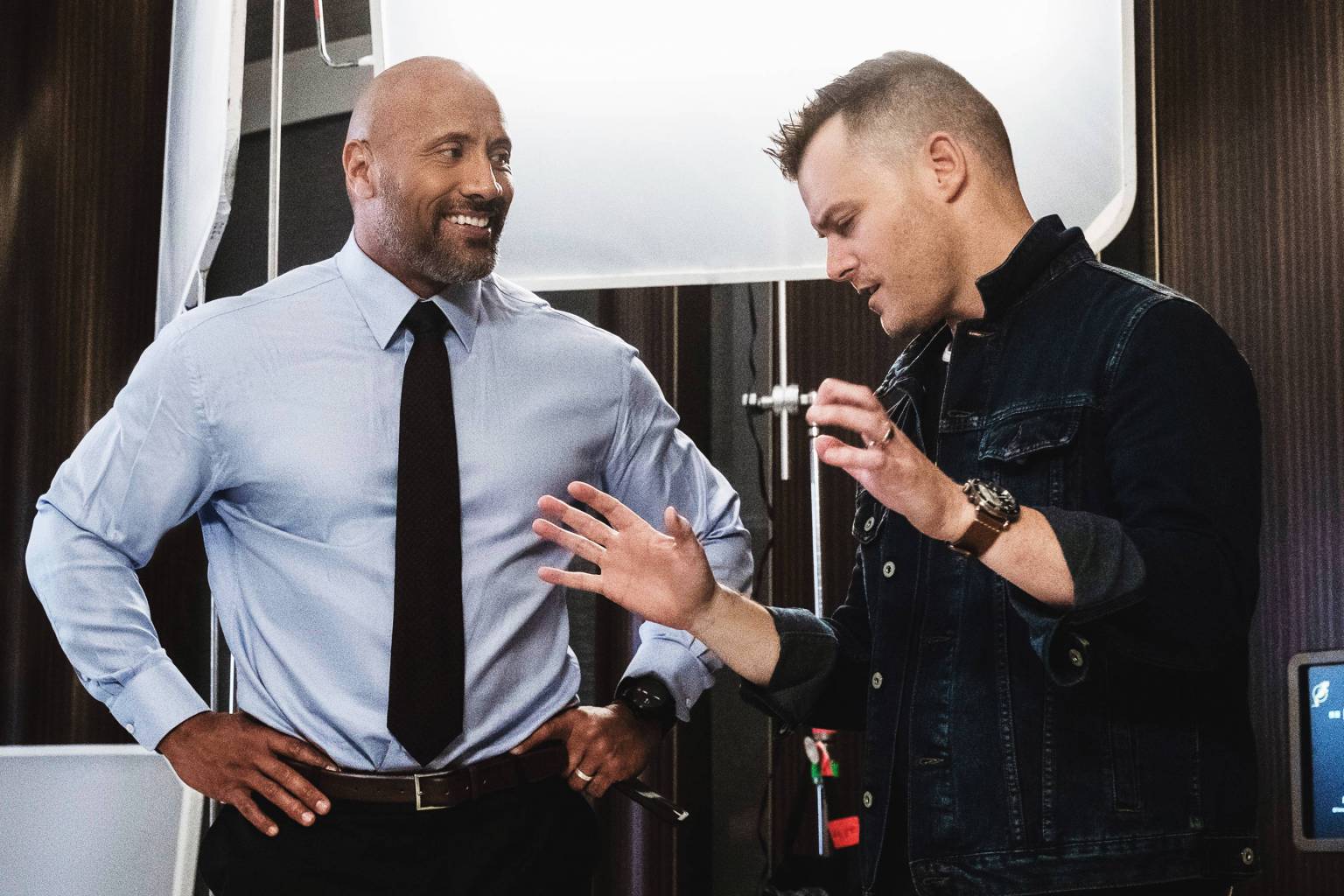 Lucky for us (and in some ways, the future of film), Thurber and Johnson have a good thing going together. The writer-director penned 2004's Dodgeball: A True Underdog Story and helmed 2013's We're the Millers. The latter was what first got the attention of Johnson, who was at that time just starting to explore his own comedic stylings. He wanted to make something like it, so Thurber wrote him plenty of jokes in 2016's Central Intelligence, their first collaboration together. It's funny to put Johnson next to small things (like Kevin Hart, his costar in Central Intelligence, or a baby in 2010's Tooth Fairy). But as Thurber would next learn, the real challenge is finding something bigger than Johnson for him to take on. Earlier this year, he battled gigantic mutated animals in Rampage, so how about the tallest skyscraper in the world?

"I gave Dwayne more dialogue than the skyscraper, so I think that was a step in the right direction," Thurber jokes. "It's a bigger problem than one man can handle: a giant burning skyscraper. Dwayne can't fight his way out; he has to think his way out of this problem."

We're used to watching Johnson punch, kick and physically work his way out. He's a big guy; these are all reasonable solutions. But Thurber's concept put him against a formidable foe: "What [Johnson] wanted for himself was to have to puzzle-solve, [to] think his way out of something as opposed to out-physical the problem." That being said, it's hard to imagine anyone else believably leaping from a crane into a 3,500-foot-tall building. (Spoiler alert: He makes it.)

Johnson's hulking stature is probably the only thing working against him, Thurber admits. If this sounds like a good way to worm your way out of as question about the downsides (if any!) of working with the movie star, you're probably right. He can do no wrong. But Thurber's Skyscraper rarely goes for the punchline—it's his first non-comedy—and Johnson wouldn't necessarily be the first choice for something so emotionally taxing. "He doesn't quite get the credit he deserves as a performer because he's so physically big," Thurber says. "People might not understand how much effort and thought and work he puts into his performances. He's not winging it." If you break through all the CGI, Johnson is a man trying to save his family. "The eyes tell you everything you want to know. And that's the true test of any film star: a close-up."

The two will be working together again soon, on a movie called Red Notice, where Johnson and Gal Gadot will play "an Interpol agent [Johnson] tasked with capturing the most wanted art thief in the world [Gadot]. It's a fun, international romp through a bunch of cities, like Ocean's Eleven meets True Lies by way of Thomas Crown [Affair]."

Who else would marry Dwayne Johnson? You have to have somebody who's an equal badass, right?

But Skyscraper is all about its Die Hard vibes. Thurber knows—he loves Die Hard. "What I think a lot of people remember about Die Hard is the humor, the quippy-ness, the action, certainly Hans Gruber," he says. "But what that movie is really about is a guy trying to fix his marriage, a guy trying to get his wife back."

Thurber has that rare ability to channel a Die Hard feel, without, of course, creating a reboot. He knows what made the movie great, and it wasn't just the action. It was the part when Bruce Willis drags himself to the bathroom, his feet all cut up, and informs the police officer that he's told his wife a thousand times that he loves her, but she's never heard him say he's sorry, so he wants to tell her that. Thurber is the one who reminds me of this part, reciting the lines to prove his point that the best movies, even the ones where The Rock fights his way out of a burning skyscraper, are the ones with heart. Thurber even named Johnson's character's wife, played by Neve Campbell (who does plenty of her own ass-kicking, by the way) after Thurber's own wife: Sarah.

And Campbell is really good as an ode to Thurber's better half. She does way more than simply kill time until her husband comes to get her. "I know for a fact that if my wife and two daughters were stuck in a burning building, my wife would not wait for me to save her because she knows I'm a moron," Thurber says. "It seemed perfectly plain to me that any woman wouldn't sit there [and] wait to be saved. Who else would marry Dwayne Johnson? You have to have somebody who's an equal badass, right?"

All this Die Hard stuff had me thinking, could (and would!) Thurber sequel-ize Skyscraper? It wouldn't be unheard of—Die Hard itself has four counterparts. But the beauty of Thurber's film is that it has one problem to solve—there's a charming simplicity in its plotting. That's maybe what you notice most when you see Skyscraper at 9 a.m., a little less distracted by the flashing lights and whipping turbines. It'd be especially difficult to replicate that, to continue the story.

Or to find a bigger building. "I don't think we're in any danger of a sequel at this moment," Thurber says, laughing at perhaps the idea that he'd have to find another structure bigger than The Rock (let's say, Skyscraper 2: Yes, It's an Even Bigger Skyscraper). "If they can figure out a sequel to Die Hard, I'm sure we could figure out the same. But that's not in the plans. You can do anything, but the question is, should you?"

And just in case you were wondering, Die Hard is 100 percent a Christmas movie, Thurber confirms without hesitation. "If that's not a Christmas movie, I don't know what is."

The legendary director, whose latest film is 'Shock and Awe,' tells Playboy how the press failed us