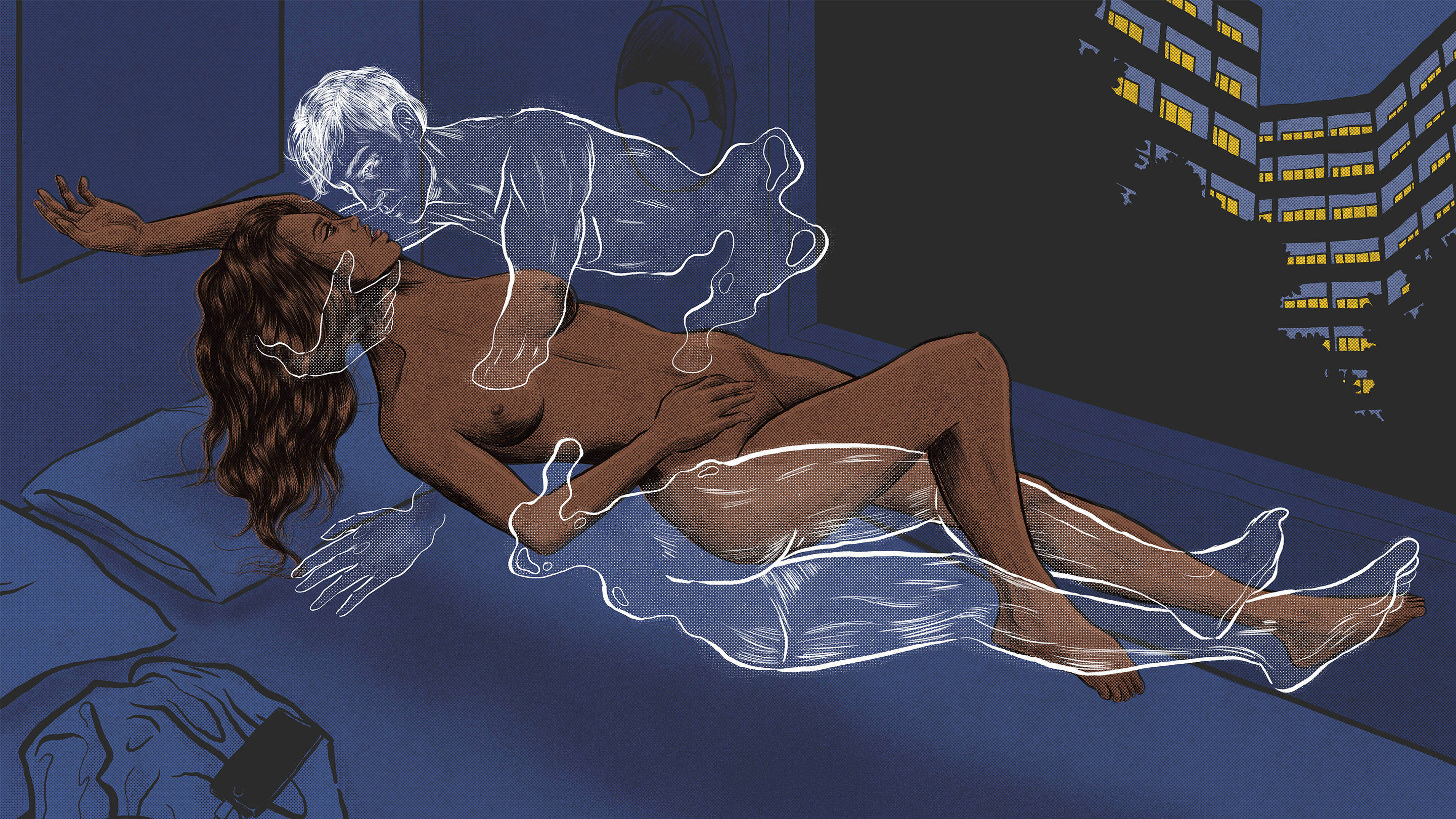 The New Ghosting: The Meaning of Having Sex with Spirits
Written by Mark Hay
Illustration by Rebecca Enya Lourey

Published on

July 16, 2018
In 2012, pop icon Kesha started telling everyone who would listen that she once went "to the bone zone with a ghost." It was an odd story, but easily dismissed. Kesha was promoting the song "Supernatural," so her tale could easily be read as outlandish, yet on-brand, digital buzz bait. But Kesha isn't the only person to talk about ghost sex of late. In the years since she talked about her sexy spirit times, a flood of similar stories has hit the press, often packing more scintillating detail.

Within the past few months, in the United Kingdom alone, the tabloids latched onto
Sian Jameson
, who claims she had a tryst with a ghost while living in a remote Welsh cottage. Then they turned to
Amethyst Realm
, a Brit who claims she has had flings with ghosts for over a decade and no longer has any interest in the living. Finally, they fixated on
Amanda Teague
, an Irishwoman who married (in a ceremony that holds zero legal water) her lover, the ghost of a 300-year-old pirate.
Kesha and company weren't the first to tell tales of spectral sex.
Lucy Liu
made passing reference to the experience in 1999, as did
Anna Nicole Smith
in 2004. The Travel Channel even ran a piece on "Ghostly Lovers" in 2011. And of course, naughty spirit fun got nods in
Ghostbusters
(1984) and
Ghost
(1990). But such stories are historically rare—ghost hunter Steve Parsons says only two people have come to him with accounts of ghost sex in 35 years. The recent, unprecedented wave of phantom fucking stories have also been quite detailed, with common descriptions of a force—sometimes coupled with a visible spirit, sometimes not—on the living person's body, cool and light but so pleasant it can build to an orgasm, often uniquely pleasurable. "They can go beyond your skin," says Patti Negri, a medium and de facto spirit sex expert, "in and out. It's pure energy."
So what's up with all the ghost sex in the media of late—how did these tales go from a rarity, even in the paranormal field, to increasingly common tabloid fare? Why do they almost always seem to come from women? And why have many recent stories described the sex in such rhapsodic terms?
"Spirit sex is nothing new," argues Teague. She and other believers think these ethereal encounters were recorded in human legends and literature, from ancient Sumerian myths to the Bible to still extant beliefs in incubi and succubi. The details of these ancient encounters vary, as do modern accounts, says Negri, "because we all put our own template and understanding on experiences we can't actually see," like ethereal spirits. So the core energy has always been the same. The way we experience that energy through our mind's eyes, or describe it, including whether we chalk these experiences up to once-human ghosts, demons, or other forces, changes with time and culture. "If spirits are going to visit you," muses Negri, "why would sex be off-limits, when sex is such a major part of our human life?"
If spirits are going to visit you. Why would sex be off-limits, when sex is such a major part of our human life?

Granted, many legends describe spirit sex as sinister—incubi and succubi are notoriously predatory figures. Many modern accounts still treat ethereal erogeny as sexual abuse, or outright rape. But Negri argues this just reflects the fact that some spirits, like some living humans, are abusive. They prey on imbalanced people, she believes, and grow stronger through their fear. It's possible, this line of reasoning implies, that cultural anti-spirit biases, say from institutional religious forces, suppressed positive stories, casting them in a negative light or recording only abusive tales.

Similar social stigmas, believers argue, may explain why we haven't heard much about spirit sex until recently. Natasha Blasick, the Paranormal Activity 2 actress who recounted her own ethereal erotic story in 2014, tells me she struggled with whether or not to share her experience with the public because she knew it would sound insane. But when she came forward, she started hearing from others with similar experiences. Yet even as celebrities normalize ghost sex, Blasick and other believers suspect social stigmas may explain why men choose not to speak out as often as women, or why perhaps they are not socialized to recognize or be as open to spiritual encounters.

Of course that's just the believers' view. Psychologists, skeptics, and even many ghost hunters like Parsons believe most of these experiences are just sleep paralysis, a common experience in which the body essentially wakes up while still dreaming, overlaying full sensory REM hallucinations onto the real world, while unable to move. The experiences are extremely vivid and realistic—I can personally attest. Many recent and legendary spirit sex stories do take place in bed.

Some believers argue that they experience ghost sex out of bed, when fully alert. But psychologist and paranormal experiences expert Christine Simmonds-Moore notes that we often enter states of micro-sleep, even while out and about, when we're over- or under-stimulated. Some people are especially "thin boundaried," as she puts it, and thus prone to shift into these altered states, see hallucinations, or experience waking sensations as something more extraordinary than they are.

Not all who experience sleep paralysis or other hallucinations see them as spiritual encounters, much less have sex within them. Joe Nickell, a professional skeptic, suspects that some of this has to do with the fact that our psyches shift these experiences through a prism of our existing beliefs, such that some people might read the same core mental-physical experience as, say, an alien probe. All of the ghost sex believers I've spoken to did have pre-experience faith in spirits and energies.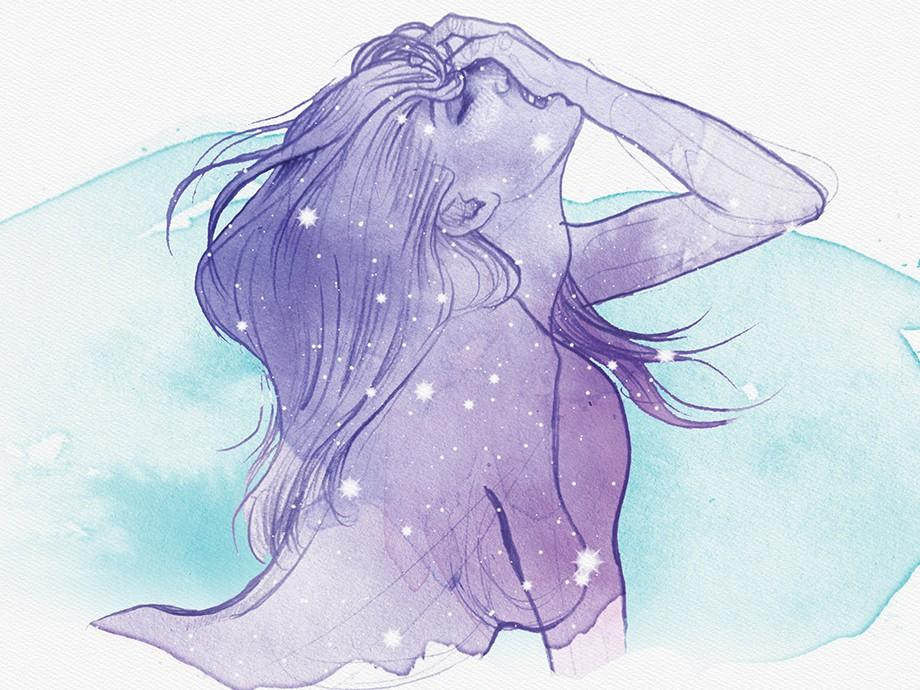 It's a great way to push your sex life further—if by "further," you mean past the stratosphere
Some people might just be wired to experience these states as sexual, suggests psychologist and paranormal experience expert Christopher French. There are people, mostly women, with the ability to bring themselves to climax through pure thought, as well as people with disorders that cause spontaneous arousal or orgasm. However, it's also possible that sleep-paralysis-as-ghost-sex is primed by some major event or longing, like a traumatic breakup or the death of a loved one. Teague rejects the idea that ghost sex would correlate to stress or longing, but even she notes that she met her spirit partner after she "put out an intention some months previously to meet [her] soulmate," a desire Nickell might say her mind drew on and turned into internal wish fulfillment.

Ultimately, it is impossible to outline one cause, or even a set of causes, for experiences of incorporeal intimacy. They could be rooted in a mixture of any of the causes mentioned above, or some other physical or mental experience—or even in encounters with actual ghosts. (Simmonds-Moore notes it's impossible to totally rule that out.) But celebrity accounts may be giving people a common framework to perceive these experiences, or vocabulary with which to talk about them.

No matter what triggers a ghost sex experience, psychologists and skeptics have a good idea as to why some people are so into them. French has noticed that the people who like these experiences are usually those with strong control over their dreams or reveries. This control may allow "the experience to be perfect in every detail, as opposed to real-life sex, which, even when enjoyable, can be a little messy," he says. "Alternatively, maybe some of those who report they prefer sex with ghosts to sex with humans have not had very positive sexual experiences in real life."

That safety and control is implicitly appealing—potentially especially to those most impacted by patriarchic social structures, like women. (None of the skeptics or psychologists I spoke to could explain why mostly women experience such ethereal encounters. It could be this, or it could relate to some other element of physiology or socialization.) It could even be therapeutic, Simmonds-Moore notes, allowing people to rewrite their relationship to sex by experiencing it internally.

They can go beyond your skin. In and out. It's pure energy.

Not all believers appreciate this interpretation. Teague insists that her spirit husband has his own agency. He wanted to contact the physical world and reached out to her because she worked with energy, then slowly bonded with her. But Teague acknowledges that spirits wait for a signal from a human to make a move. And Negri believes that they are usually responding to a yearning. Maybe it's isolation, and they incidentally welcome a spirit in to teach them how to be sexual beings again. Maybe it's the death of a loved one, which prompts that individual to return and help them to move on. Blasick notes that her own experiences taught her how much she'd previously thought that, in sex, she should be focused on her male partner's pleasure. But in having sex with a spirit, the focus was entirely on her. She could not see the spirit, did not have to think about how to please it. "It maybe teaches you to love yourself, and focus your attention on yourself," she says.

All of this stacks up with the skeptical view that spirit sex is just how a willing mind processes a common physical-mental experience, and at times warps it through, and in service to, our needs.

But we may never get to the bottom of the ghost sex phenomenon. Skeptics and ghost hunters alike acknowledge there's a lot we don't know about the world, and that it's impossible to know what really happened to everyone who claims they had a ghost sex experience. People could finally be freely talking about a real and common human spiritual-sexual experience, or they could be filtering a common mental-physical experience through a new set of beliefs and imagery made more acceptable and accessible through recent celebrity accounts and tabloid obsessions.

Our lack of certainty about what's at the root of spectral lovemaking probably doesn't really matter, though. As Negri notes, no matter whether we choose to explain it via psychology or the paranormal, ghost sex and similar experiences feel entirely real to those who live them. We take from those experiences what we will. Sometimes it's dread at sensations we can't control. Sometimes it's fleeting pleasure, or a sexual awakening. Sometimes it's a long-term spiritual relationship. (Even if there is no real ghost with which to have such a relationship, "there's no harm with having fantasy relationships," notes Simmonds-Moore.)

"Whatever works," says Negri of the way people think about and manage their own spectral sexual experiences. "Just don't let it pull you away from the vibrancy of the life we have."

Playboy takes a mystical dive into the O-face and the occult