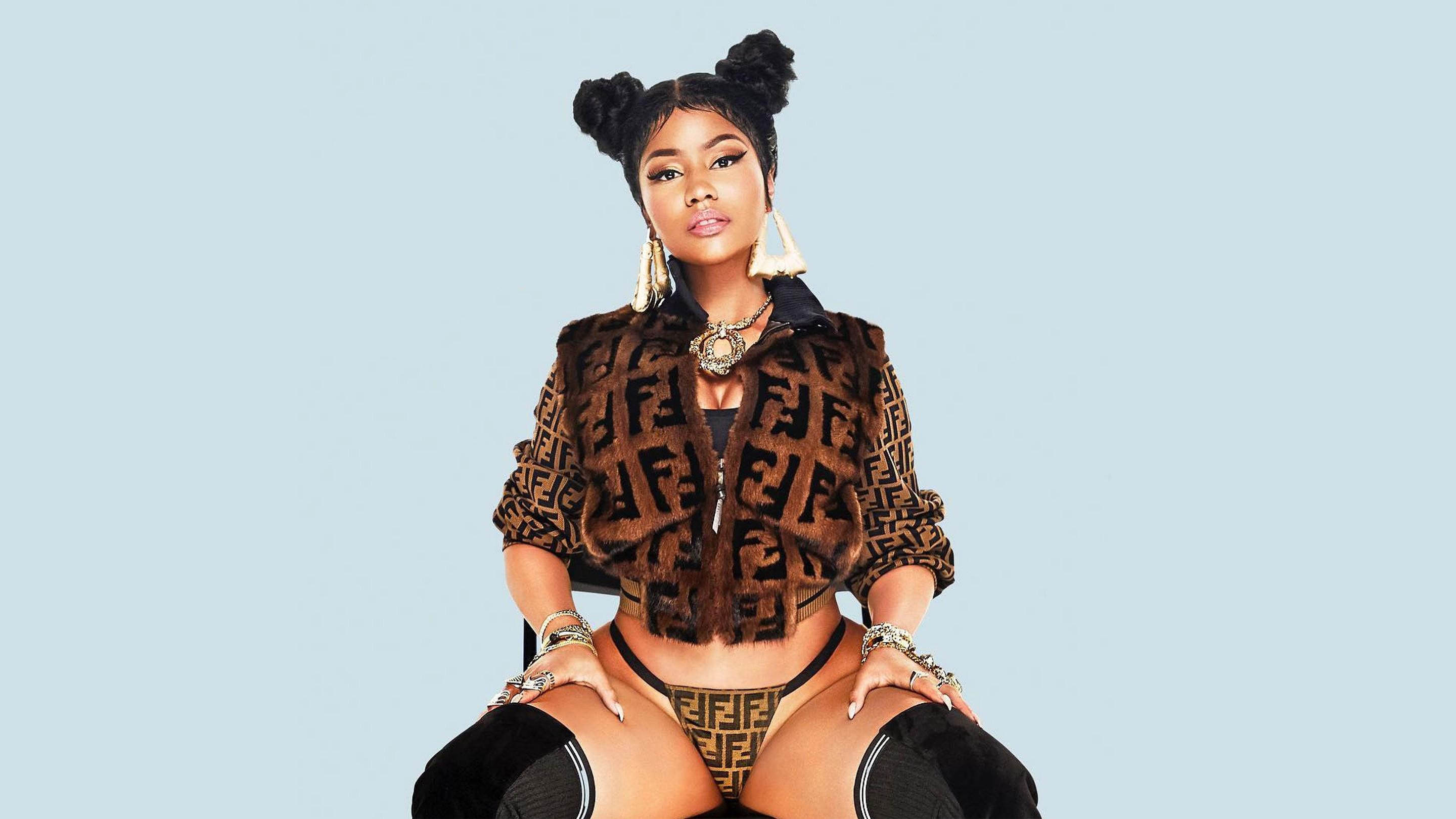 The Omnipresence of Nicki Minaj
Written by Kathy Iandoli

Published on

April 16, 2018
"I 'm in my prime. Optimus," Nick Minaj spits on her new single, "Barbie Tingz." The new track premiered last week alongside another song called "Chun Li", arriving on the heels of a considerably candid interview with Apple's Beats 1 Radio host Zane Lowe. Some felt the one-two punch was poorly planned; rap neophyte Cardi B's first album Invasion Of Privacy was not even a week old. Hip-hop's new darling had barely a moment to enjoy the fruits of her success before Minaj was uploading cover art on her social media to announce her release, following a brief hiatus.

On the other hand, Minaj's arrival was timed perfectly with the debut of her only foreseeable competition. The space for women in mainstream has been occupied primarily by Nicki for nearly a decade. Artists like Remy Ma, Rapsody, and now Cardi have only recently penetrated the Barbz force field, a testament to the work Nicki put in to reignite a female rap revival. Of course Nicki would check-in mid-Cardi love fest to remind everyone "who the fuck she is." If hip-hop is a sport, then Nicki Minaj is its Most Valuable Player. The question is: Where does her new music fit within the scope of hip-hop now that she has more peers? It's 2018, and we're in the midst of a pleasant surplus of women within the mainstream rap landscape, just in time for hip-hop to be designated the most dominant genre in popular music. This hasn't happened in two decades, back when Lil' Kim, Foxy Brown, Lauryn Hill, Eve, Trina, and Missy Elliott all coexisted with varied degrees of radio-friendly successes.
When star arrived in 2009, she broke a near-decade dry spell, yet racked up enough wins to propel her into the pop star stratosphere—something rappers (both male and female alike) have struggled with repeatedly. Since 2010, Minaj averaged one multi-Platinum album every two years—her triple Platinum debut
Pink Friday
(2010), her double Platinum follow-up
Pink Friday: Roman Reloaded
(2012) and her double Platinum
The Pinkprint
(2014). Minaj's fourth album should have theoretically dropped in 2016, however that never happened. Personal issues involving family, as well as an ill-fated romance with fellow rapper Meek Mill (as well as a rumored relationship with Nas) may have stunted her album progress, though that didn't mean Minaj was sleeping. Far from silent, Minaj tossed several loose tracks and collaborations into the ether; her recent cameos on A$AP Ferg's "Plain Jane Remix" and Migos's colossal "Motorsport" alone were enough to fan the flames of a much needed Nicki Minaj album. At the top of 2018, a "joke tweet" from Minaj suggested she was delivering a surprise album on January 4, but after the rumor went viral, fans were left confused and disappointed. Per her interview with Lowe, a new album is finally on its way and will potentially address some of the aforementioned setbacks.
While the first two singles didn't necessarily substantiate Minaj's claims of transparency, they both evenly represent aspects of Minaj's finely tuned musical personality. On "Chun-Li" we get rapid-fire Minaj bars, as the artist takes shots at an indirect target: "How many of them could've did it with finesse? / Now everybody like, 'She really is the best'. You play checkers, couldn't beat me playin' chess. Now I'm about to turn around and beat my chest." We can have our suspicions as to whom Nicki's referencing, still the sentiment is clear regardless: Nicki Minaj is back and she's not here to play around. With "Barbie Tingz" we get the lyrically-graduated pop-friendly Minaj. With a similar sound and rhyme scheme as her very early mixtape hit "I Get Crazy," Minaj goes in (over literal hand claps) about, once again, sheer dominance: "Let's be real, all you bitches wanna look like me. Wanna be in demand, get booked like me." While a rumored third single "Half Back" has circulated over the internet, it was not formally released by Minaj. On that track, we get some more direct jabs, possibly pointing to Cardi B: "I ain't never played a ho's position. I ain't ever have to strip to get the pole position. Hoes is dissin'? Okay, these hoes is wishin'. You're in no position to come for O's position." Minaj's knack for a good diss track may make this one a third single contender, though it may just be a street release that sates fans in between albums like so many other Minaj tracks of the past.
Even if "Chun-Li" and "Barbie Tingz" have both broken the Top 10 iTunes list within days of their releases, such success is predictable. At this juncture in Minaj's career, she can release and it will yield massive streams. However, here we have the added bonus of trying to decipher the lyrics. Is she targeting Cardi B? Remy Ma? Lil' Kim for ol' time's sake? But even beyond reading between the lines, her music reveals an even bigger takeaway. For so long, hip-hop has abided by a "one woman at a time" credo. It split up Lil' Kim and Foxy Brown years back, and was perhaps the underlying reason why, for so long, Nicki existed as the sole female in rap.

But times have changed. Cardi B has the top selling album in the country, Remy Ma is prepping her long-awaited second album 7 Winters and 6 Summers, Rapsody earned two Grammy nods and a spot on the Netflix mini-doc Rapture. We have Princess Nokia, we have Leikeli47, we have Dreezy and Cupcakke. We have many options for women in hip-hop. Above all though, we still have Nicki Minaj, and her latest proves she's still out to reign—with or without company.