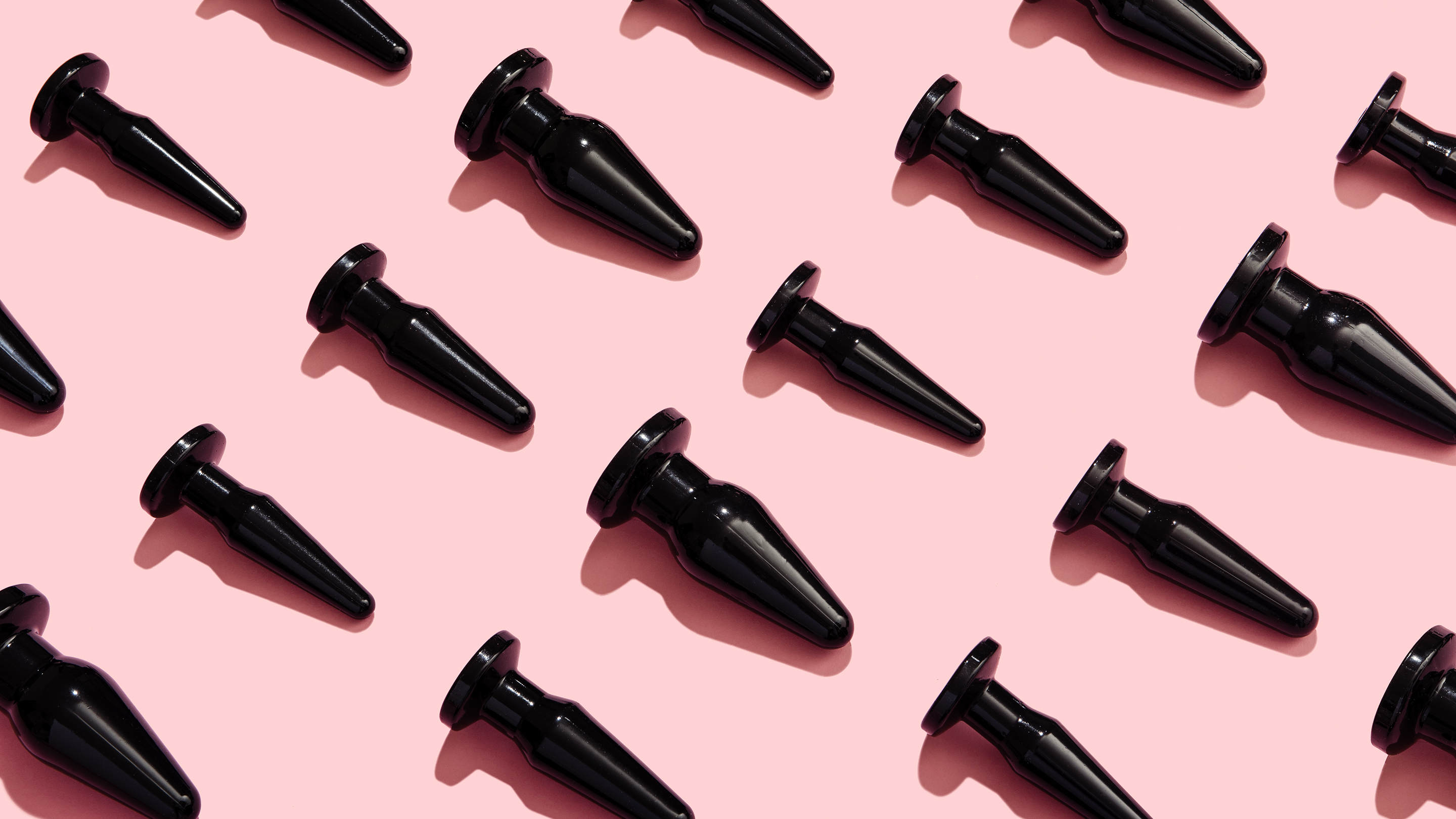 The Peak of Pegging? Why Anal Eroticism Is Everywhere in Porn and Pop Culture
Written by Justin Lehmiller
Illustration by Molly Cranna

Published on

June 22, 2018
To peg or not to peg? In a famous scene from Broad City, Abbi grapples with this question when her date, Jeremy, hands her a strap-on dildo and eagerly assumes the position. After running to the bathroom to call her friend Ilana for advice, Abbi agrees to do it. In the end, everyone is happy—that is, until Abbi accidentally ruins Jeremy's dildo by running it through the dishwasher and replaces it with a cheap substitute.

Scenes like this in which a woman anally penetrates her male partner (a sex act known colloquially as "pegging") have become increasingly popular in both pornography and popular culture since the turn of the century. For example, there are now well over 1,000 pegging videos on Pornhub alone, and several major television series and films have dealt with the subject, from Weeds to Deadpool.
So why is that? What's behind the growing pop culture pegging trend?
In part, it's due to the fact that pegging just so happens to be something that many men and women find to be a turn-on. So, on some level, what we're seeing here is simply a reflection of our sexual fantasies. However, sexuality experts think the media's fascination with pegging reveals something much deeper. Indeed, these depictions signify a seismic shift in societal views on sex and gender—a shift that has the potential to help all of us improve our sex lives.
Pegging is a more common sexual desire than many people probably think. As telling evidence of this, I studied the sexual fantasies of more than 4,000 Americans for my book Tell Me What You Want and found that nearly 60 percent of the men I surveyed had fantasized about receiving anal sex, while about 40 percent of the women had fantasized about giving it. When you consider that the vast majority of people who took this survey identified as heterosexual, this tells us that anal eroticism—often stereotyped as a desire of gay men—is really quite popular among straight men and women alike.
This desire has both physical and psychological roots. Physically, anal penetration of men offers stimulation of the prostate gland. This is something that some guys find pleasurable in and of itself; however, the bigger appeal is that prostate stimulation has been linked to having particularly intense orgasms. For this reason, the prostate is sometimes referred to as the male equivalent of the G-spot (or, as some call it, the P-spot).
On a psychological level, pegging can fulfill a wide range of sexual needs and desires all at once. For one thing, pegging is a form of novelty because it's not a part of most straight people's sexual repertoire. Trying new things in bed (or wherever it is that you have sex) can be a real turn-on because of something called the Coolidge Effect, which refers to our tendency to grow bored with sexual routines and to be titillated by sexual novelty and variety.
Millennials understand it's just a sex act—open for anyone of any gender or orientation.

For another, pegging is a sexual taboo. We've long been told by religious and moral authorities that anal sex and other non-procreative acts like masturbation and oral sex are no-nos. But it's not just that—putting things up your butt isn't consistent with traditional notions of masculinity. Being penetrated is something that many men view as "a woman's role." So anal penetration is something that guys, and particularly straight guys, have been told not to do for several reasons.
However, when we're told we can't do something, this often makes us want to do it even more. This is a basic principle of psychology called reactance—when we perceive a threat to our freedom, it's common for people to rebel and do the opposite of what they're told. This is a big part of the reason why pegging and taboo sex acts more broadly are a staple of our sexual fantasies.
On top of all of that, pegging features elements of dominance and submission, both of which are extremely popular desires in and of themselves. As part of my research for Tell Me What You Want, I asked American men and women how often they fantasize about taking on a dominant role and (separately) a submissive role during sex. More than three-quarters of men and women reported fantasizing about each activity. Incidentally, now you know why Fifty Shades turned into the phenomenon that it did.
Pegging flips the traditional heterosexual power dynamic on its head and puts women in a dominant position and men in a submissive position. This activity therefore offers a convenient way for people to break free of gendered scripts for how sex is "supposed" to go by licensing women to act on their dominant instincts and men to act on their submissive instincts.
As you can see, the appeal of pegging goes far beyond a desire for P-spot orgasms; indeed, the popularity of pegging fantasies resides more in the fact that this activity takes multiple sexual desires—for novelty, breaking taboos and dominance/submission—and wraps them all up in one. From this perspective, then, it shouldn't be surprising that pegging has emerged as a popular theme in porn and pop culture.
All of these media depictions of pegging aren't just telling of our turn-ons, though—they're also revealing of deeper, generational changes in the way we think about sex and gender.
According to Dr. Eric Anderson, a professor of sport, masculinities and sexualities at the University of Winchester, anal sex has become pretty mainstream with young adults. "Millennials understand it's just a sex act—open for anyone of any gender or orientation," he says.
In his research on this subject, he says he's found that Millennials "do not associate male anal stimulation with a purely gay sex act." In light of this, he expects that the popularity of pegging will only continue to rise in the future.
As men are no longer afraid of being labeled gay for partaking in an emotion or activity or sexual activity, they have more freedom to do it. Men are taking advantage of this.

This decoupling of anal sex and homosexuality is, in some ways, a symptom of a broader decline in sexual conservatism—it's just one of many sexual taboos, like premarital sex, that has begun to fade in recent decades. However, as Dr. Anderson notes, it's also a symptom of a broader change in the way we think about men and masculinity. "Everything we know about men is changing," he says.
"Despite what the term 'toxic masculinity' implies, men are becoming softer in multiple ways. Men's gendered occupations and behaviors are radically changing, as are their relationships with other men. Today, we have the bromance. All of this ties in with decreasing homophobia and homohysteria," he says.
"As men are no longer afraid of being labeled gay for partaking in an emotion or activity or sexual activity, they have more freedom to do it. Men are taking advantage of this."
Ultimately, Dr. Anderson and other experts with whom I spoke think this is good for men's—and women's—sex lives. According to Dr. Charlie Glickman, a somatic sex and relationship coach, "for women, having the opportunity to take the lead, be in charge or penetrate a lover can be pretty groundbreaking. And men who learn to open up and receive often report that it helps them learn to be better lovers on the giving side."
In other words, pegging is a way for women and men alike to explore and expand the boundaries of their sexualities. Also, by flipping the roles of penetrator and receiver, guys may learn a thing or two about how to better pleasure their lovers, such as appreciating the need to take things slow or to have longer foreplay sessions.
However, just be advised that, when it comes to pegging, porn and popular media depictions are pure entertainment and shouldn't be your how-to guide. If you and your partner are thinking about exploring a fantasy about pegging, do some research and maybe consider a guidebook written by an expert, such as The Ultimate Guide to Prostate Pleasure, written by Dr. Glickman.
"While [pegging] might look easy, especially if someone has watched porn, there are lots of things that porn movies won't show you. Warming up, lubricant, etc.," Dr. Glickman says.
He goes on to say that "a lot of women report that they don't feel super comfortable at first with a thrusting motion, which is different from the hip swivel that many women do when they feel sexy. So you need information and you need to practice."
And, as they say, practice makes perfect.
---
Justin Lehmiller, PhD is a Research Fellow at The Kinsey Institute and author of the blog Sex and Psychology. His latest book is Tell Me What You Want: The Science of Sexual Desire and How It Can Help You Improve Your Sex Life. Follow him on Twitter @JustinLehmiller.