Sex isn't exactly synonymous with cruising. Still, as I'm standing half naked in the steam room aboard the Viking Sea, someone is telling me to "bend over and put my hands on the glass" before I get spanked with water soaked birch leaves by a buxom Transylvanian massage therapist named Paula.
Paula has been hired to perform a ritual, called Nordic Nights, meant to be an educational offering for passengers interested in learning about the bathing practices of, well Nordic people. As we bounce between the steam room and snow grotto—lathering ourselves (and each other) in organic berry cream in one room and melting balls of snow onto ourselves (and each other) in the next—sex, it seems, is the only thing on everyone's mind on this moving resort. I wonder, have cruise ships traded in a clientele of senior citizens looking for a buffet in exchange for a buffet ready-and-willing sexual bodies?
The collective consciousness seems to be that cruises are definitively unsexy, which is especially interesting considering that the show that popularized cruising—the 1970's hit series
The Love Boat
—was all about the follies of a sex-obsessed cruise director trying to hook up even more sex-obsessed cruise passengers. But as I'm blissing out with Paula aboard the ships uber0sexy Liv Nordic Spa, I begin to think about how cruise ships, like this one, have evolved over the years—not only to become destinations in their own right, but the ultimate floating sexual escape.
In retrospect, if cruise ships would want to stay afloat, they'd need to turn over a clientele of senior citizens looking for a buffet in exchange for a buffet ready-and-willing sexual bodies. And, just as I suspected, there are plenty options for those who'd like to get more for there money than endless shrimp. Here are the cruise ship spas that are sure to please:
---
MSC Cruises' Aurea Spa
Aboard the MSC Seaside and MSC Meraviglia is a Balinese apa that comes with state-of-the-art saunas and steam baths as well as a salt relaxation room, ice waterfall, dark sensory steam bath and aromatic showers that are designed to cater to all five senses. Using holistic sensory treatment with sequences of heat, cold, color, light and aroma, you can pick from experience that will excite, relax or detoxify. Then their is the option of vinotherapy, which is, as the name suggests, a wine therapy massage that lets you choose your favorite varietal. This particular therapy promises to do everything from stimulate circulation to release tension and nourish your skin because what better way to get yourself relaxed and in the mood than to actually be massaged in the best-known aphrodisiac?
Celebrity Edge's SEA Thermal Suite
One of the most talked about cruise ship spas to make its debut in 2018, Celebrity Edge's SEA Thermal Suite is a floating wellness sanctuary equipped with a Turkish-style hammam, crystalarium aromatherapy steam room, salt room, infrared sauna, and yes, a float room. Among their extensive list of spa treatments, the rainfall water therapy and zero gravity wellness massage in which your body is actually suspended mid-air in a "high tech-high touch" treatment, are only a couple of the sensory offerings that channel more of a fifty shades of grey vibe than your run of the mill Swedish or deep tissue massage.
This adult theme park awaits you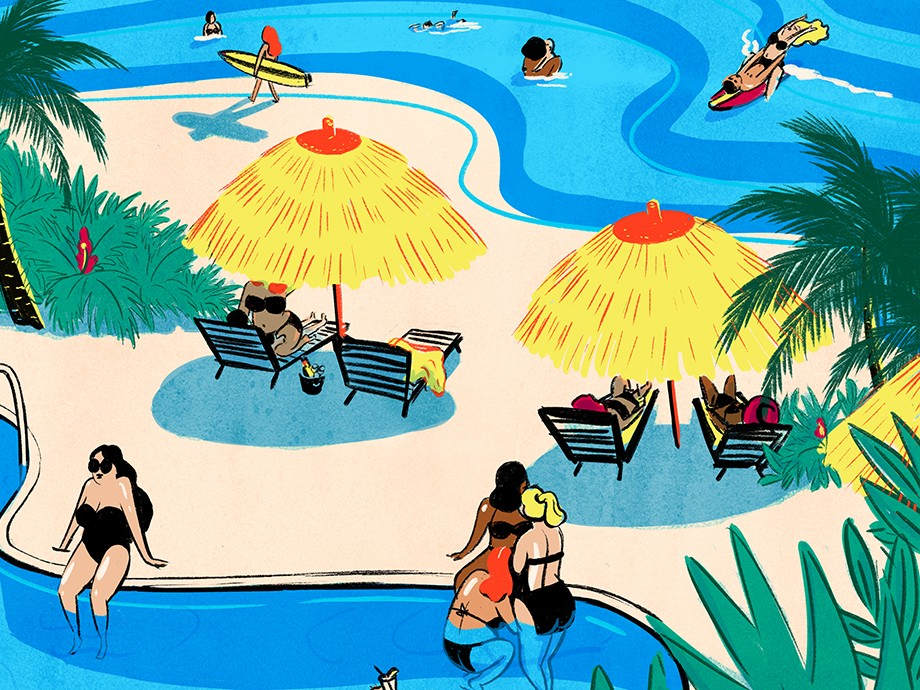 Holland America Line's Greenhouse Spa
Ever dreamed of taking a shower laying down? Holland America Line's multi-level Greenhouse Spa features a thermal suite area complete with gender neutral sauna and steam grotto, heated loungers and, of course, the pièce de résistance: experiential rain showers that you can actually lay down in, you know, in case it's all too much. The bubbling hydrotherapy seawater pool at the center of it all doesn't hurt either and, in case you're looking for a little elective surgery while you're on board, there's also a medi-spa where you can get acupuncture and cosmetic treatments.
Virgin Voyage's Redemption Spa
Cruise lovers seem to be most excited about the billionaire's floating resort, slated to make her maiden Virgin Voyage early next year. At the heart of this adults-only cruise will be the ship's wellness program Vitamin Sea, which according to Virgin representatives will, "naturally intertwine across the entire ship with well-being activated through a mix of high-energy moments coupled with relaxation and rejuvenation." The ships onboard Redemption Spa—inspired by an underwater cave—will serve as "a mermaid and merman hideaway," complete with hydrotherapy pools, a mud room, a salt room, cold plunge pools, quartz beds and rejuvenating spa treatments. And the cruise's website states, "by night, sailors can complete their well-being journey by attending one of the voyage's evening spa parties where a killer DJ will transform the spa's thermal suite into a mermaid hideaway extravaganza." Because nothing screams sex like an underwater cave party filled with a bunch mermaids.