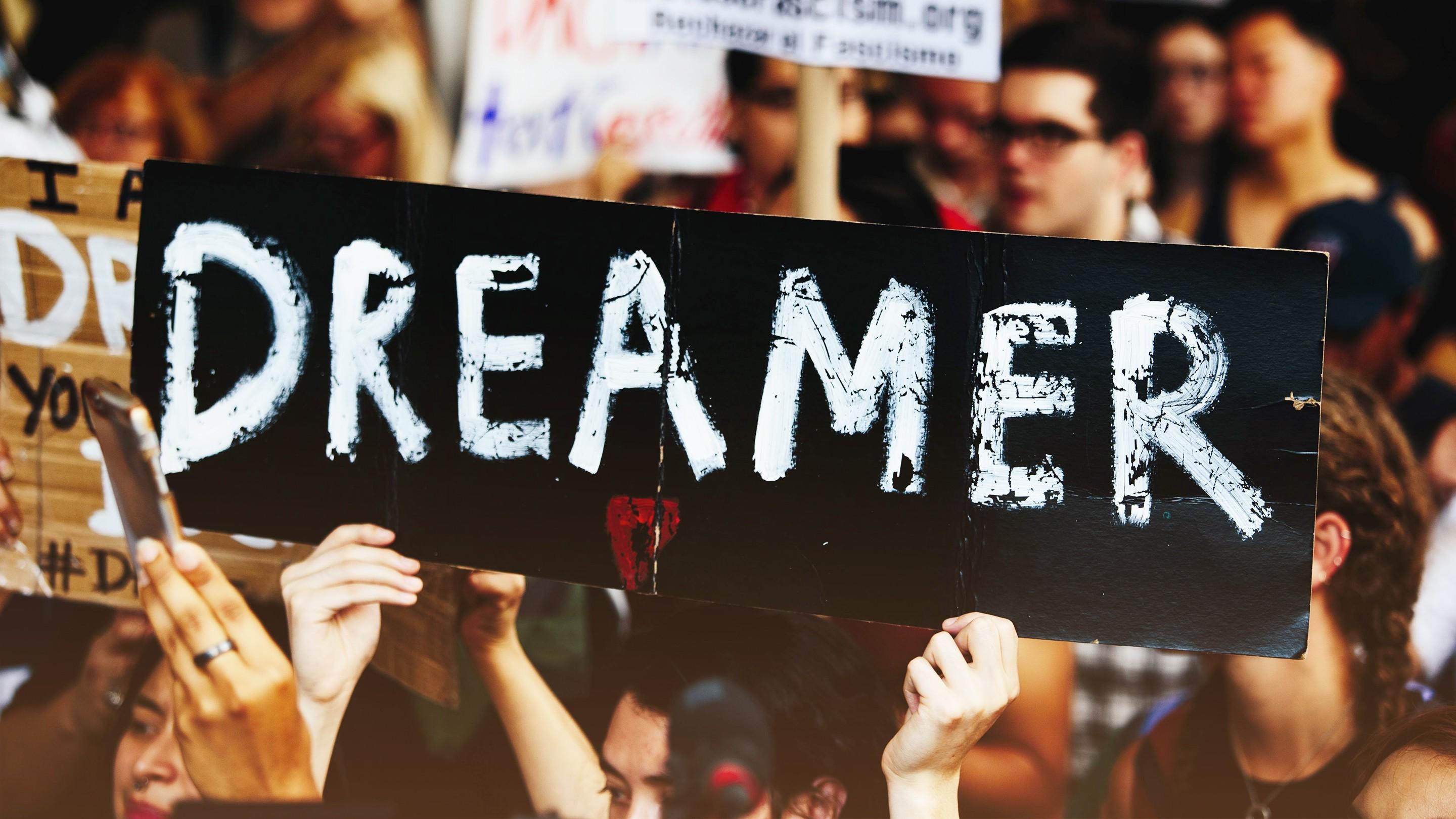 Trump Blames the Democrats for Killing DACA, and He's Not Wrong
Written by Kat Antonopoulos

Published on

April 03, 2018
Early this morning, President Trump caused a flurry of headlines and hot takes when he tweeted that Deferred Action for Childhood Arrivals (DACA) was dead, and it was the Democrats' fault. The sad thing is he isn't completely wrong.

Yes, he indisputably created this nightmare by ending the DACA program—a system of protection for young, undocumented immigrants who came to the U.S. with their families as children. DACA's aim was to protect these kids, many of whom have grown up in the U.S. and sometimes have no connection to their countries of origin, from deportation. Since then, DACA recipients (known as Dreamers) have been on edge awaiting their fate in the country they call home.
But as the chips were down, the Democrats, the last defense Dreamers have against an administration that seeks to disempower them, decided time and time again that Dreamers could wait. When the day came to vote on the omnibus spending bill at the end of March, Democrats in Congress didn't leverage it as an opportunity to go to the mat for DACA recipients. Many hoped DACA would be clarified in the $1.3 trillion dollar funding model, but Democrats sat back on DACA reform, leaving any language referring to DACA out of the bill. Dreamers were jettisoned to avoid yet another government shutdown after Democrats decided this wasn't the hill to die on.

Despite the Democrats balking and the March 5 deadline for ending DACA passing, most Dreamers are still in the U.S., thanks to a Supreme Court pronouncement in February stating that it would not wade into the administration's plan to cancel the program while the White House was already involved in legal proceedings around immigration law.

Without a single mention of DACA funding in the new omnibus bill, the program will remain in a holding pattern at least until November's midterm elections.


"There's not a whole lot of reason to negotiate—to do anything that is not already covered by the court decision," Senator Nancy Pelosi recently said. "It is necessary for us to pass [the omnibus] to defend our country, to invest in our children's future, to keep America number one in every respect, to do so in a way that creates jobs."
But even President Trump was unhappy with the lack of funding, and he threatened not to sign the omnibus bill, signalling his desire for a shutdown. "I am considering a VETO of the Omnibus Spending Bill based on the fact that the 800,000 plus DACA recipients have been totally abandoned by the Democrats (not even mentioned in Bill)," the president tweeted on March 23.

"The March 5 deadline has come and gone, but the Department of Homeland Security is currently enjoined from ending the program by federal court preliminary injunctions," says Alex Vernon, director of the Immigration Law Clinic at the University of Detroit Mercy School of Law.
"This basically means that the Department's U.S. Citizenship and Immigration Service is maintaining the procedures for renewing deferred action for people who already have benefited from a grant. No new applications will be accepted from people who have not previously applied. People who have deferred action may stay in the United States and work with authorization, even if they may have a removal order."
Unfortunately, if previous DACA recipients didn't renew by the March 5th deadline, they do not have status in the country, leaving them vulnerable to being deported if a removal order springs up within the system. "Many people who applied for deferred action did so because they didn't have any other relief they could apply for," Vernon explained. "So, for many, the end of deferred action means they no longer have any options."

Without a single mention of DACA funding in the new omnibus bill, the program will remain in a holding pattern at least until November's midterm elections. But, while some folks will stay safe, the long-term changes could mean anything going forward.
"I suspect the DACA litigation will drag on for some time," says Vernon. "But ultimately if the government succeeds in terminating the program I think practically speaking they will have to consider the logistics of placing former DACA recipients in proceedings. DACA recipients will not immediately be enforcement priorities."
Organizing the deportation of hundreds of thousands of people will become a financial and logistical catastrophe—not exactly something many fiscal conservatives would feel good about spending money on. But without a clear plan, and whether DACA remains available or not, the chaos around ending the program isn't ending any time soon.