The superheroes on The Umbrella Academy are not the kind who have secret identities. In the timeline of the new Netflix show that stars Ellen Page and Tom Hopper, they've been famous for their powers since they were kids in the 1990s, seven siblings raised by an eccentric billionaire as an adopted family of trippy crime-fighters known as "the Umbrella Academy."

But their lack of secret identities, it turns out, just barely conceals the fact that they have a lot of secrets about their identities. A typical TV series might give us most or all of that information in one big exposition dump, or some extended flashbacks early on. But this is the kind of show that holds on tight to its character's secrets, teasing them and dangling them, but only doling out the big reveals a little at a time to the audience—and the actors who play them. At least, that's what Emmy Raver-Lampman, who portrays Allison Hargreeves—a.k.a. Number Three, a.k.a. "The Rumor"—suspected.

Raver-Lampman, who originated the role of Angelica in Hamilton on Broadway, found the process of filming the 10-episode season of Umbrella Academy quite a shock. "I'm coming directly from theatre, where before you even start rehearsals, you have the entire play in front of you. Before you start working, you know the whole journey, and the whole arc of the character," she tells Playboy. "Getting [one] script at a time over seven months, and not knowing where Allison was going to end up by the end of episode 10, was such a mind-boggling concept to me."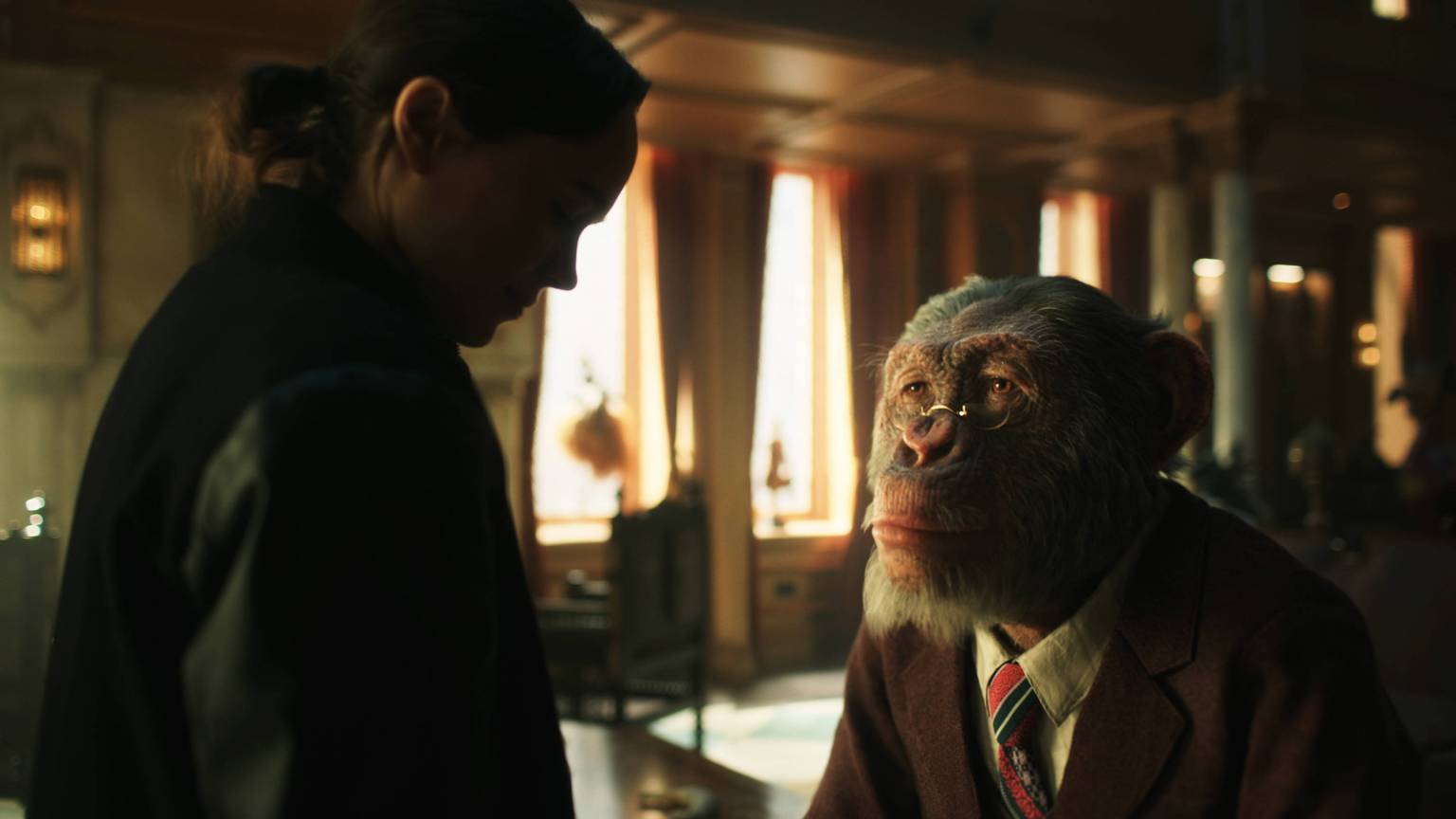 She knew that showrunner Steve Blackman and the writer's room hadn't finished scripting all of the episodes by the time they were filming the pilot, but she also suspected that they were also withholding information from the cast, "giving us enough information, but also kind of keeping us in the dark a little bit." To which Blackman pleads … guilty as charged. "Yeah," he says, with a shamelessly gleeful laugh. "I wanted to keep them in the dark. I didn't want them to get too ahead of the story. I didn't want them to make adjustments way ahead of time. I wanted them to sort of live in the episode they were in."

Sounds plausible enough. But then, the real story comes out. "The truth is, part of the fun of it was when they would get the scripts and go, 'Oh, my God, I can't believe that's happening,'" Blackman admits. "And then they'd sort of evolve the character that way."

The show is based on the comics series of the same name, created by My Chemical Romance singer Gerard Way. The first six-issue series was released to acclaim in 2007 and 2008, with a second limited series following a few months later. A film version of the comic was optioned almost immediately by Universal Studios, but languished for years. In 2017, Netflix greenlit the new series with Way as executive producer and Blackman as showrunner. While both wanted to stay true to the comics' weird take on the superhero genre, Way gave Blackman a lot of leeway to flesh out the story.

The star of James Cameron's 'Alita: Battle Angel' tells Playboy about still figuring out who she is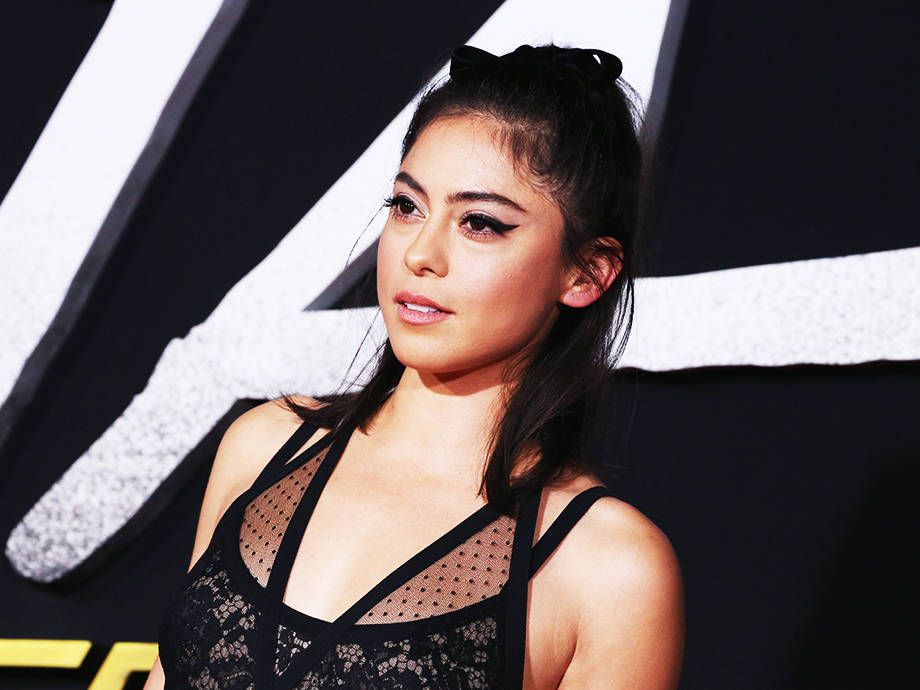 "I had a great relationship with Gerard from the beginning," says Blackman. "Gerard always said, 'Look, the comic book is the comic book. I understand you're adapting it.' He gave me enough creative license to do what I wanted to do. You know, there's 50 or 60 pages of comic, and I had to do 10 hours of a TV show—a TV movie, as I see it. So I had to sort of fill in the blanks, and he was very supportive. There are creators of comics and graphic novels who are like, 'You can't change a thing.'" The result is as offbeat and atypical, in its own way, as Way's original comic. "It's not your typical superhero show," Blackman admits. "I see it as a dysfunctional-family show with a body count."
The series has an edgy feel that's closer in spirit to Way's goth-and-punk-inspired rock 'n' roll than it is to the
angsty-mutants-in-jumpsuits set-up of X-Men
. For instance, it offers a progressive take on Klaus Hargreeves (Robert Sheehan), a member of the LGBT community, by not defining him by his sexuality—but also making no attempt to shuffle it to the background. The series opens with all the Umbrella Academy siblings returning for the first time in 12 years to the mansion where they were raised, after the death of their adopted father, Sir Reginald Hargreeves, who was known as "The Monacle." He was also a bit of a heartless bastard, at least as far as his children are concerned. From an early age, he trained them to develop their powers, staunchly avoided showing any affection as he trained them for a life of crimefighting, and worst of all, made them wear old-timey school uniforms. Now 30 years old (they were, mysteriously enough, all born on the same day), their childhoods have left them bitter and emotionally crippled.
The siblings are designated by numbers; Number Seven (Ellen Page) is the only Umbrella Academy member who never developed any powers. She lives in the others' shadow, yet is also basically the only one who was able to lead a normal life post-adolescence. So yeah, they're a weird bunch, with idiosyncrasies to burn. The early group scenes at the mansion, where the characters verbally and even physically push and pull with each other, are hilarious, and provide a sense of where the series is going to find its joy—in the bizarre relationships and interactions between these misfits—against an often dark storyline.
For Tom Hopper, who plays most of his scenes as Luther Hargreeves/Number One/Spaceboy in a ridiculously oversized body suit, these early moments were the best part of shooting. "It was so great to watch everyone do their thing," he says. "As an actor, I was blown away by the performances in this show. We had moments where we said, 'Oh, let's try this' or 'let's try that,' and we were encouraged to do that. It allowed for that creative flow, and that sibling dynamic that you can't fake. Fortunately, we were given a group of people who all got on very well very quickly, and who were very open to making it better."
My wife said, 'I don't know why, but my favorite character is Pogo. I don't know where he came from, I don't know who he is.' She was like, 'I want a Pogo.'

It was an entirely different kind of drama than he encountered filming the group scenes in Game of Thrones, which he joined in its seventh season as Dickon Tarly. "You get to be more playful because there's more banter in families," says Hopper of shooting Umbrella Academy. "In families, people take the piss out of each other, they rip into each other. But then they'll also be there to comfort each other. That's what families do, and it's certainly what siblings do. I'm one of four, and that's what we do. We take the piss out of each other, we make each other feel shit about what we do."

Raver-Lampman agrees that the cast's "chemistry was immediate," and Blackman credits this bond as a big part of how the show was able to pull off its most remarkable trick: making a lot of truly crazy concepts feel grounded in reality. When Mary J. Blige and Cameron Britton show up as time-traveling assassins Cha-Cha and Hazel, respectively, it doesn't even seem that strange. And did we mention there's a monkey butler? Oh, yes—Pogo, the talking monkey butler, a remarkably realistic CGI creation voiced by distinguished British actor Adam Godley. A sympathetic ear for the siblings who maintains the mansion, he is sort of the Umbrella Academy's Alfred Pennyworth. And his unexplained existence just somehow makes sense.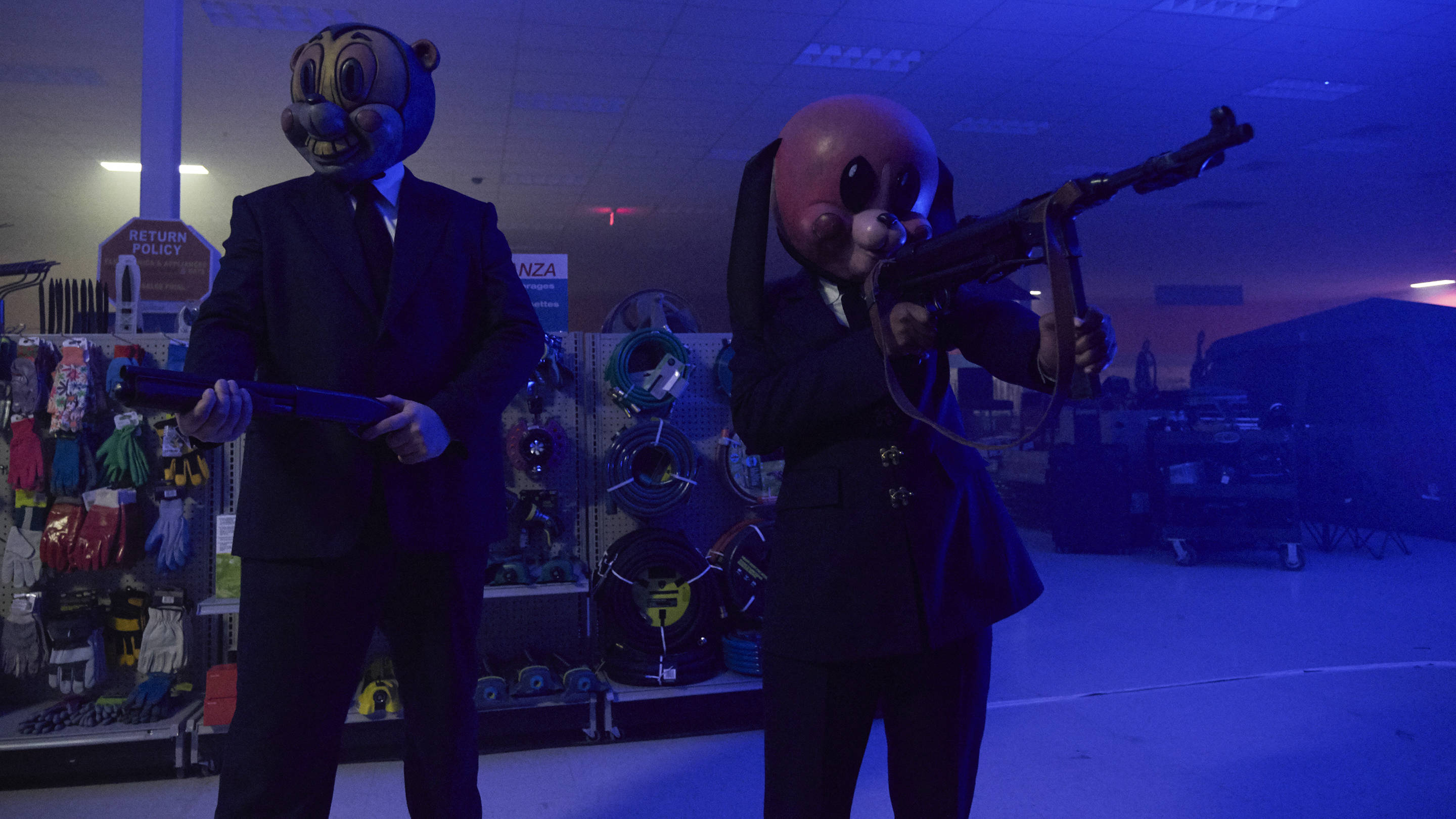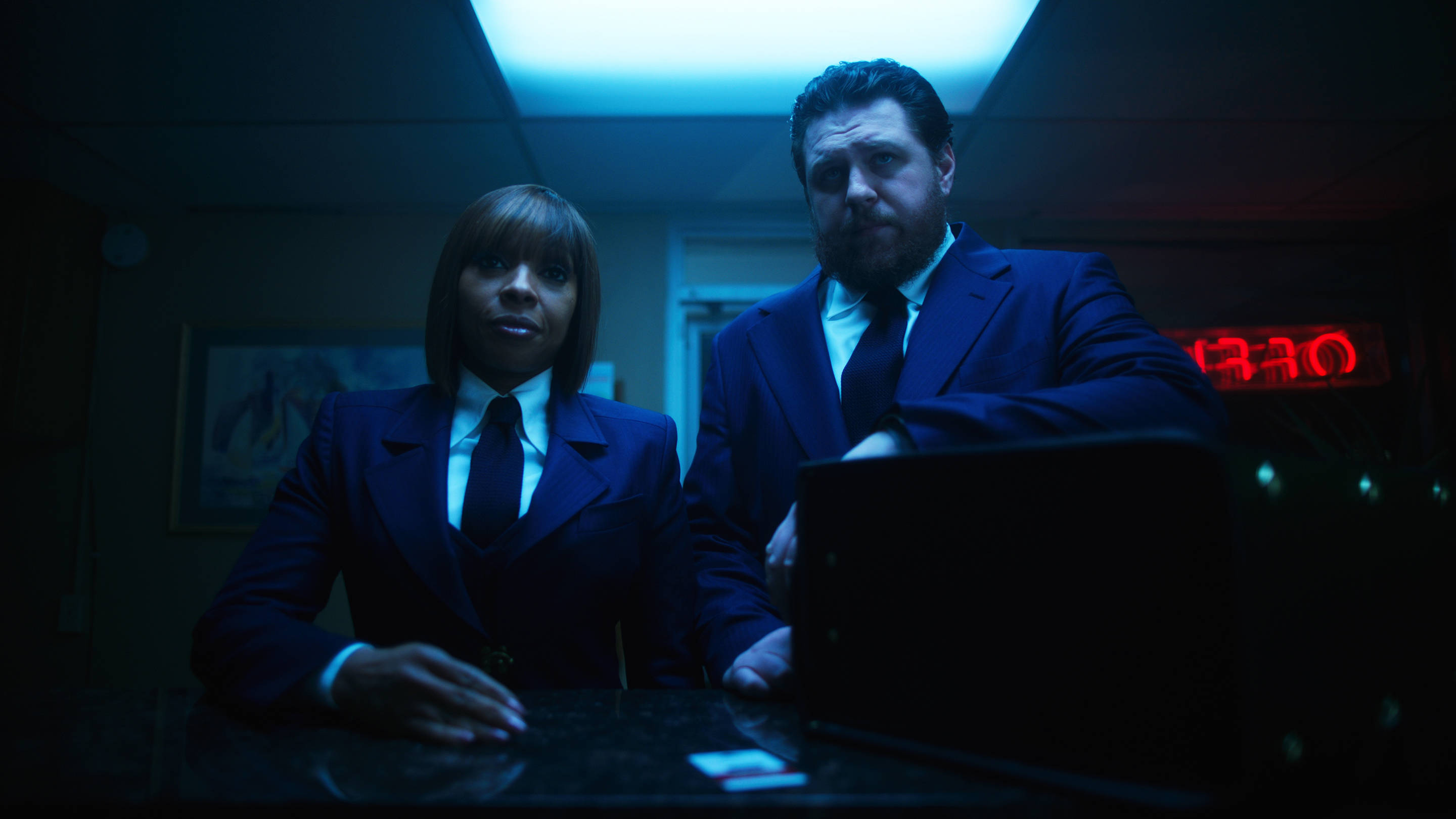 "That's what we want people to feel—that you just go, 'Oh, in this world there are monkey butlers,'" says Hopper. "No one's really saying how that happened or where it came from, and you just go, 'OK, fine, this world has that.' You tend not to question it. My wife, when she watched it, she said, 'I don't know why, but my favorite character is Pogo. I don't know where he came from, I don't know who he is.' She was like, 'I want a Pogo.'"

In fact, despite the all-around excellent performances of the main cast, the unsung hero of Umbrella Academy might be Canadian comedian and actor Ken Hall, who performed Pogo's scenes with the other actors on set, and left the cast singing his praises. The believability of those scenes, says Raver-Lampman, is "a complete testament" to Hall. "He was just expected to stand there and physicalize this character, but he knew all the lines and was totally off-book emoting with us. And I would forget that it wasn't going to be Ken. When they did a screening for us of the pilot towards the end of shooting, and Pogo walked on screen for the first time, I started crying. I was like, 'Oh, my God, I've been acting with Ken for so long that I totally forgot!' It was so crazy."

Hall is somewhat taken aback to hear the impact he'd had on his other cast members. But maybe he shouldn't be, considering that he went so far as to work with an acting coach on the specifics of his performance—one that he knew he would be invisible in the final product. "That means a lot," he says of his fellow actor's kudos. Hall calls the finished computer-generated Pogo—created by Weta Digital, which also produced the CGI simians for the recent Planet of the Apes movies—"so lifelike and real," and says the process of working with the other actors to contribute to the scenes was "a beautiful symbiotic relationship coming together." He was also pleased to get another brief appearance without any kind of green screen in one of the season's later episodes. "I was so thankful they let me play an actual person," he says.

If this season is deemed a success, Blackman says he has already sketched out ideas for three or four seasons. "If we're so lucky, and Netflix wants us, I absolutely know what I would do in season two," he says. If we're lucky, that means more bizarre powers, more surprise character revelations, more relatable friction—and more monkey butler.

Yes, the Fox competition show can actually help you in the bedroom—and no, we're not kidding