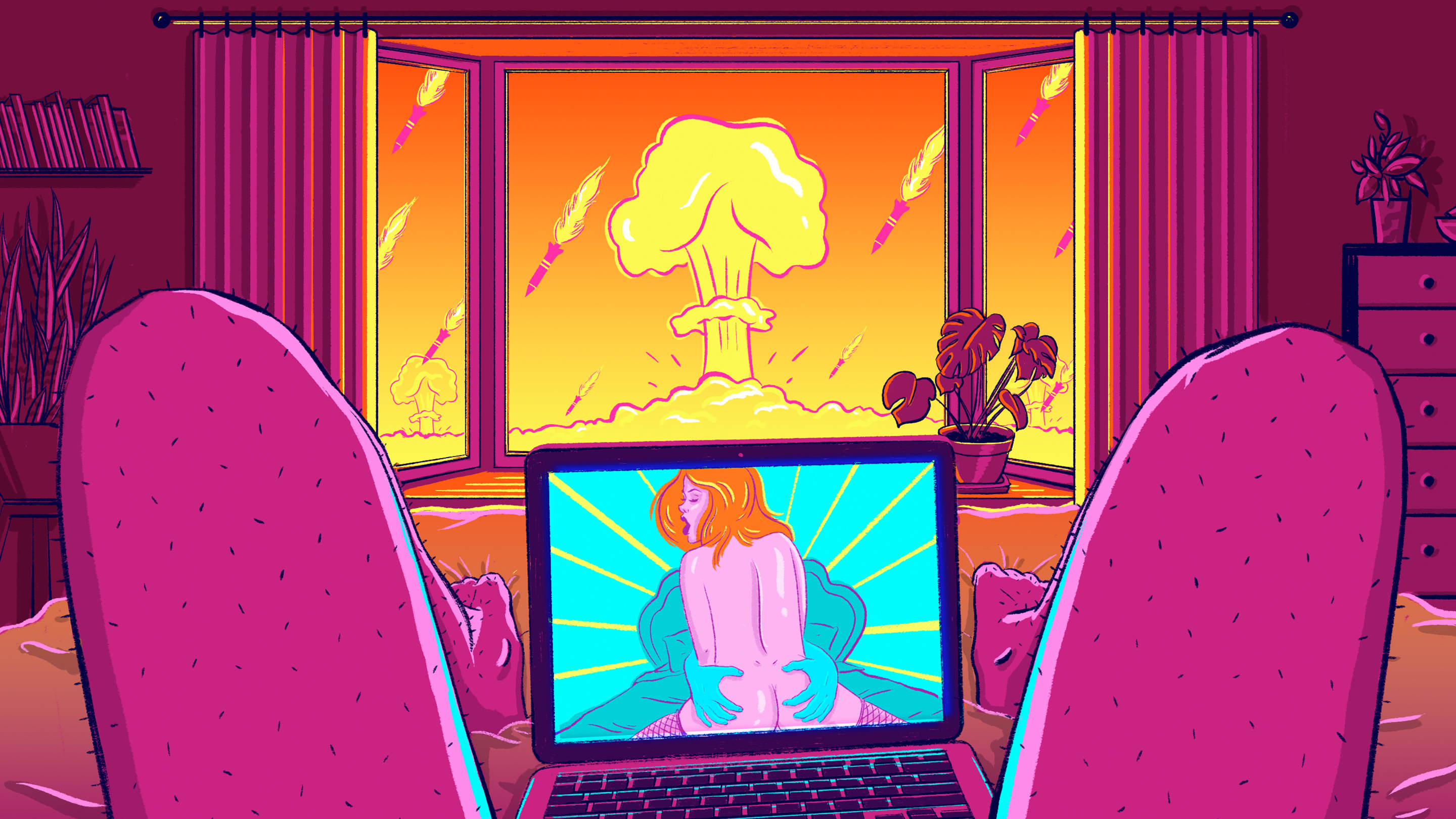 We'll All Be Watching Porn When the World Ends
Written by Sam Dilling
Illustration by Tara Jacoby

Published on

June 19, 2018
No one knows how or when the world is going to end. All we know for certain is that it will eventually—just ask Hawaii.

At 8:07 a.m. on January 13, Hawaiian residents and visitors
received an emergency alert
about an inbound ballistic missile threat warning them to "seek immediate shelter." Those who received the alert had no reason to believe the threat was anything but real— but 38 long minutes later, the authorities announced it was a false alarm.
Only those in Hawaii knew what those 38 minutes and the aftermath were really like. That is, until
Pornhub Insights published a post on its blog
showing that, after the alert was proven false, traffic to the website spiked 48 percent above typical levels at that same time in Hawaii.
So were people celebrating? Dr. Janet Brito, Psychologist and AASECT Certified Sex Therapist at the
Center for Sexual and Reproductive Health
in Honolulu, thinks not. "It was a very stressful 38 minutes, waiting to hear if indeed it was a false alert," she says.
"Most of my clients, including me, felt confused, scared, worried or anxious. One client shared how during that time, he held his family close, worrying about what might happen. Others called their family members to say their goodbyes. Once we [received] notification that it was false, there was a sense of relief, but also many complex feelings to process, including confusion, panic, anger."
What happens when you find out the impending threat is no threat at all? You end up with a whole lot of pent-up energy.

While Hawaiians may have been glad they weren't in the line of sight of a ballistic missile, the relief that followed was likely accompanied by the "fight or flight" response. During this response, the brain releases neurotransmitters that elevate one's heart rate, sending more oxygen to one's organs and sharpening one's senses.
"All of that is designed in the body to mobilize the body to move," says Dr. Alexandra Katehakis, Clinical Sexologist and Clinical Director of the
Center for Healthy Sex
in Los Angeles.
But what happens when you find out the impending threat is no threat at all? You end up with a whole lot of pent-up energy.
"It's like having [a racer in] a Ferrari at the [starting] line ready to step on the gas and go. That driver is ready to move and boom, the race is off. So where does that driver go to discharge that energy?" asks Dr. Katehakis. "Quite frankly, to masturbate."
Most people clear their browsers a few times a year or even monthly
Of course, interest in online pornography has continued to increase year over year regardless of those spikes. According to Pornhub's insights, the website has received 28.5 billion visits in 2017 (compared to 23 billion in 2016)—an annual increase of 5.5 billion (compared to a 1.8 billion increase from 2015-2016.)
Why? Consider the ease with which you can access porn. In days past, you would have needed to go to the nearest porn shop to buy or rent a VHS, all the while hoping you didn't bump into a friend, colleague, or judgey family member before walking in the door or adding it to your collection under your bed. Now, a variety of porn is available at your fingertips at all times — even on your phone. It's just as easy to view porn as it is to delete your web history and every trace of it.
Porn is also much less taboo than it used to be. When Dr. Matthew Bruhin, Psychotherapist and Addiction Specialist and founder of apex.rehab, speaks with Millennial male clients, they display little to no inhibition when discussing porn usage. "But I'm from the generation where there's still some hesitation among men," he says. (He's not judging.)
We've dealt with everything from terrorism to mass shootings to Category 4 hurricanes. But should we be using porn to cope?

Although Pornhub's audience is still overwhelmingly male, the site reports
26 percent of worldwide traffic is female
, proving that, yes, plenty of women use Pornhub too.
Marie Claire
also sought to explore the relationship between woman and porn, finding that
31 percent of the 3,000-plus women surveyed watch porn every week or so
—and often alone. While
73 percent of these women report watching porn as a means to an orgasm
, Pornhub's analytics show an interesting pattern of porn usage for women during major events as well.
Take Pornhub's Insights on
Election Day
, for example. "As Hillary's chances for a victory became more slim, it seems as though more women stopped watching the election and headed back to Pornhub shortly after midnight. Once Hillary conceded, women's traffic increased 10 percent above normal levels, while men stuck around to watch Trump's acceptance speech," says the report. Women, it appears, knew the end was near. (As for the
53 percent of white women who voted for Trump
, we need to talk.)
In the last year, the world has lived in a constant state of heightened anxiety and uncertainty, whether by tuning into a
narcissistic American president's Twitter timeline
or the never-a-dull-moment 24-hour news cycle. We've dealt with everything from terrorism to mass shootings to Category 4 hurricanes, and—although on hold for now—the imminent threat of a nuclear war. It's a lot.But should we be using porn to cope?
Some, like Dr. Bruhin, say maybe not. "You need a de-escalation measure that's supportive in nature," he says. "Pornography is treating yourself through raising dopamine levels—and it's not an effective way." Instead, he recommends you focus on more healthy, human solutions, such as reaching out to loved ones.
But others, like Dr. Brito, disagree. She believes that, in moderation, using porn as a coping mechanism can be just fine.
"The important thing," she says, "is to be aware of the function of the pleasurable activity (i.e. porn), and not use it completely as a substitute from expressing feelings and connecting with self and others."
So if the asteroid is about to hit and porn is in your disaster plan, at least make sure you get WiFi
in your bunker
.