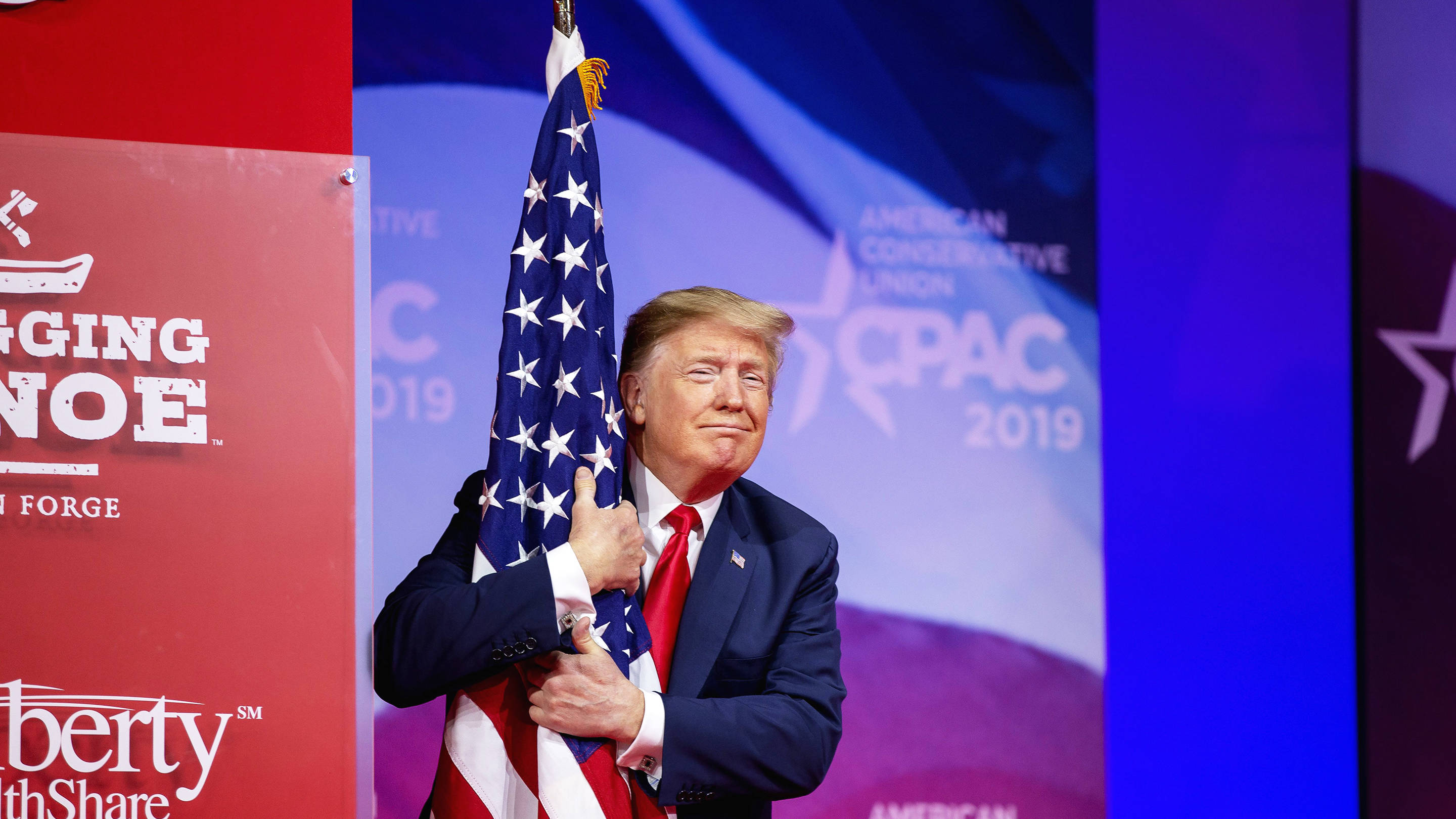 What This Year's Bewildering CPAC Could Mean for 2020
"We're gonna send Ilhan Omar into space!" whisper-heckles Felix Biederman while standing beside me on a crowded balcony. Felix is one of four Brooklyn rabble-rousers who make up a wildly successful left-wing podcast titled Chapo Trap House, and we're just outside of the Conservative Political Action Conference where a bizarre press briefing is underway.

The conference is held in the Gaylord National Resort and Conference Center, and from our perch you can see the dirty water of the Potomac River in the middle distance and Alexandria, Virginia on the other side.
This meeting is put together by conspiracy theorists Jacob Wohl, Laura Loomer and Jack Burkman, and the trio are claiming that Congresswoman Ilhan Omar has married her brother. It's Islamophobic nonsense, and the press that has gathered ranges from openly critical to just-here-for-the-laughs—the Chapo Trap House crew has gotten themselves credentialed as press and there's a fear that they're here to make a scene but mostly, they're just around to hang out and poke fun at the absurdity of CPAC. When they get heckled by attendees, they shrug it off.
Loomer has also gotten herself credentialed as press, and she used her access to harass reporters. On the final day of the conference, Loomer had her pass revoked.
She then joined a sort of pseudo-CPAC that's underway in the lobby and hotel rooms. A number of racists who mostly describe themselves as guardians of western values are at the Gaylord but have been banned from the conference. One of them who is allowed inside, a woman who writes for the
white nationalist
blog VDare, is angry that she was not credentialed as press and when she spots my pass, she chases me through the hallways of the conference with a camera, asking why I think
Playboy
is allowed to cover this conference, but her outlet has been denied.
The headliners aren't lawmakers but the largest personalities that shout the loudest for the president. This isn't your father's CPAC.

More than any other year, CPAC seems to be a circus of personalities and these assorted racists, who dress in poorly-cut suits and have strip mall barber shop haircuts, are a faction of that circus. They've terrorized the low-level CPAC organizers who are trying to distance their conference from the racism, but the pseudo-CPAC is very much a part of this conference. They're here because they believe that Trump and the Republican party behind him shares their ideals, that he, like them, believes that their country is under attack from minorities and that all Mexicans are either criminals or criminals-in-waiting.

On the next night I'm waiting in line for a party with a few other reporters when Joy Villa, the MAGA singer who made herself famous for wearing outlandish pro-Trump outfits at the Grammys nods at me from the VIP line, and I'm able to skirt in with her. A bouncer asks are you with Joy, and she ushers me into the off-the-record event that's held at a club on the top level of the hotel.

Villa, who has a number of tattoos spotting up her arms and doesn't drink, is in a bright red dress and asks me to snap a photo of her with a cut-out of Congresswoman Alexandria Ocasio-Cortez—who has been the favorite villain at the conference this year. The singer hands me a Louis Vuitton phone case with a red "Make America Great Again" ribbon attached to the back.

In a wide-ranging, hour-long conversation on Friday morning, Villa and I talked about everything from her scientology history (she says "it's not all about aliens") to her support of the president. Like most right-leaning Hollywood types I talk to, Villa suggested that the film and music industries are actually packed with conservatives but that they're terrified to come out as such. I asked about Kanye, who is a loud Trump supporter, and she said that they've met but that they're not friends.

Joy Villa has also recently been named as a delegate in the California Republican Party.

On the main stage of CPAC, the speakers seemed to share a script only bothering to jot down a few changes before they walk on stage. They're angry at Alexandria Ocasio-Cortez, and multiple speakers warn that AOC is coming for your hamburgers. It's an attack on her Green New Deal, which calls for America to slim down our factory farming since cows are a top-producer of greenhouse gasses. One speaker, Liberty University President Jerry Falwell Jr., even seems to threaten to shoot the congresswoman if she comes for his cows.

Oval Office hopefuls are already making moves, and they're doing it without the DNC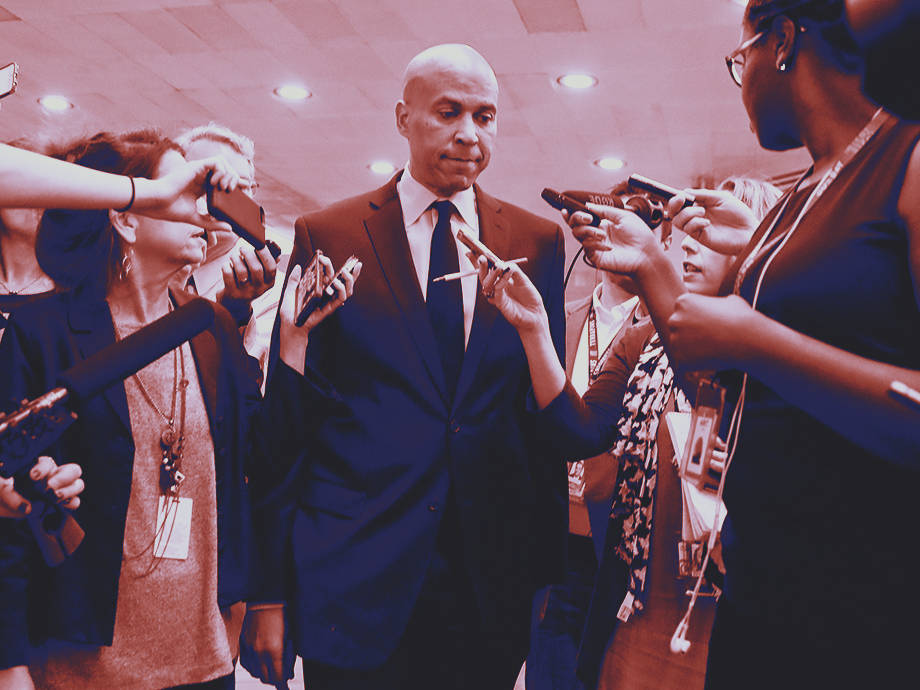 We are also warned about the rise of socialism, which every speaker is convinced is the entire platform of the Democratic party. Some of them speak into the microphone at a podium, while others pace the stage and gesture wildly. There are multiple panels centered around the idea that colleges are liberal indoctrination centers and that big tech companies are actively censoring conservatives.

Among reporters and other regular attendees, there's agreement that this is a very bad CPAC. The conference is better when Republicans aren't in power because those are the conferences when they're trying to reshape the party into something that can win. Those conferences, like the 2016 CPAC, have warring factions, and there's something exciting about the struggle. But this year, the entire conference is cheerleading Trump. The headliners aren't lawmakers but the largest personalities that shout the loudest for the president. Those include Fox News host Judge Jeanine Pirro and internet stars Diamond & Silk. In one speech, Sen. Josh Hawley is interviewed by a Wall Street Journal reporter, and he struggles to get applause. But during another, blogger Michelle Malkin, taunts "the ghost of John McCain" and gets wild cheers. This isn't your father's CPAC.

On Saturday, President Trump finally addresses the crowd in the longest speech that he's ever delivered since entering the Oval Office. For two hours, he hit all his favorite applause lines, but it was overwhelmingly boring, recycled material. It was the State of the Union after a few too many drinks. He barely talked about the Democrats running in 2020.

And finally, the circus of personalities is over. The racists return to the internet where they'll spend another year peddling stereotypes, Joy Villa goes back to Hollywood, and Chapo Trap House goes back to Brooklyn. It leaves you feeling a bit empty to know that in a year, we'll have to do this all again—all of this beside that dirty Potomac water.