Samantha McCurdy was extraordinarily nervous about the opening night of her solo exhibition, Personal Boundaries. Not only was it her first opening night in four years, but it would also mark the first time she would be having sex in public, only covered by a fine veil at the center of Galleri Urbane in Dallas, Texas.
The performance, which took place on April 7, is yet another milestone in her longtime dissection of the illusion of privacy. "There are all these private moments in society, but lived through such a thin layer of matter that separate us," McCurdy elaborates, citing examples like a flimsy hotel room wall separating an unaware family with children from a fervid couple having wild sex. McCurdy doesn't mean to simply partake in the offering of a public spectacle of sex, but to point to and denounce yet again the vulnerability of the female experience. She uses the example of receiving uninvited touching as one of the concepts informing the exhibition's theme: "It shows how quickly that line can be crossed. Clothing is a very thin layer of protection, somebody could just run up and rip my shirt off if they wanted to; and maybe more than creating a solution with this performance sculpture I'd be identifying more the vulnerability."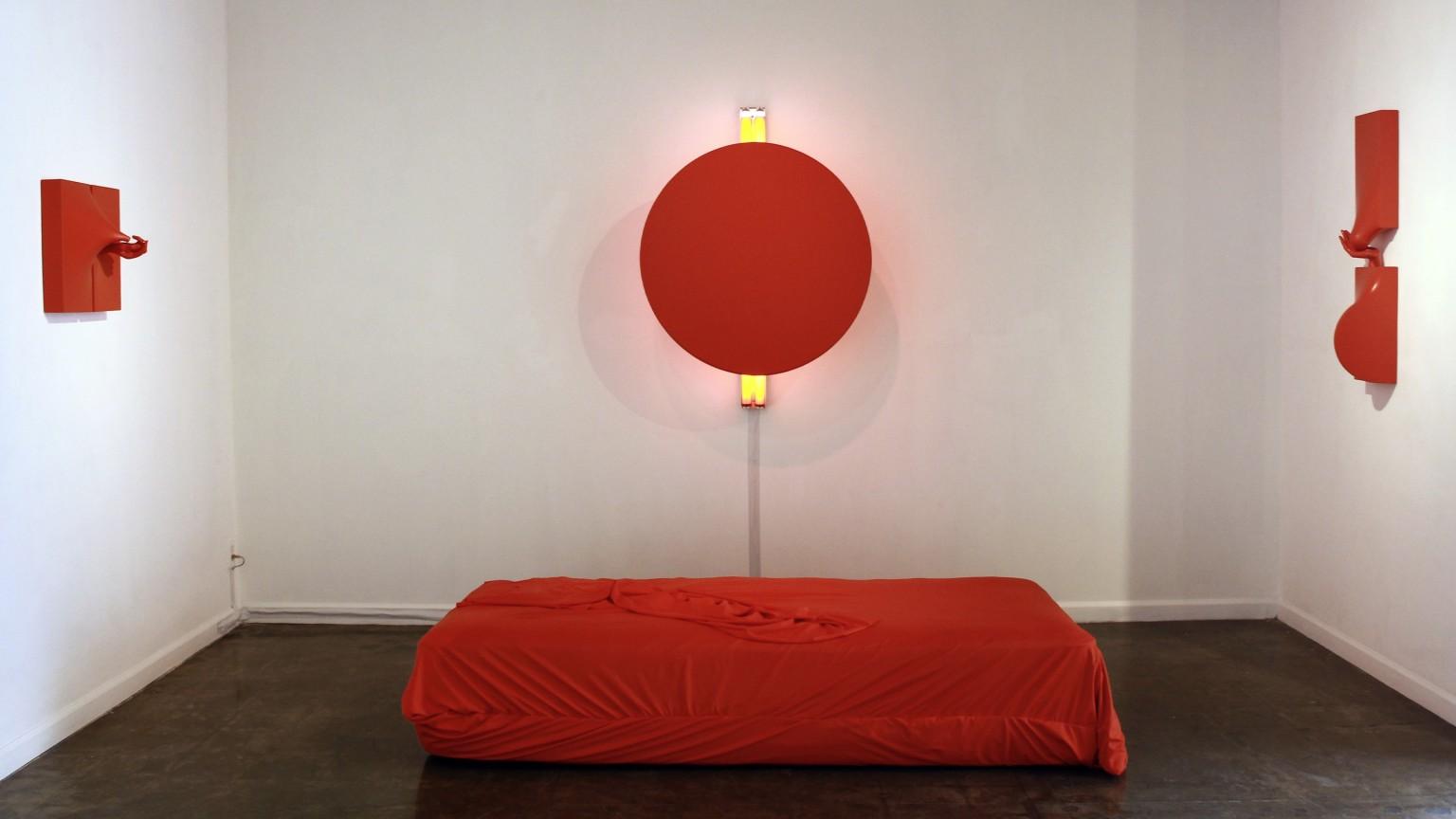 The artist's previous work includes a slow motion short
film
where she can also be found having sex— this time on another mattress styled as a canvas, with shifting figures visible while stretching out from a snug cover. The sedated movements confuse viewers, who can easily mistake the figures behind the fabric as a lone person dancing or a pregnant woman stroking her belly.
Personal Boundaries
' opening performance leaves less room for ingenuous interpretation. McCurdy zipped herself back in the installation, but with less to hide behind. "We're stripping another layer," McCurdy says, "because film is another medium in itself and it's another layer that separates us."
The surrounding, more permanent exhibit showcases her vibrant sculptural paintings, featuring geometric shapes and body parts—like breasts or hands juggling a ball—coming through the canvas. "The majority of my work is based on one little anecdote," she laughs, before explaining she once kept her artwork at her parents' home when it wouldn't fit in her dorm room. Her mother wasn't adept at storing fine art, and often leaned her paintings against the corners of tables, or other pointy objects. "I'd come home and there would be all these nipples poking through my canvases," McCurdy says, "which would render a painting as essentially ruined. I'm trying to convey that story, of what's acceptable and what isn't, as far as art critique goes." She continues, "So as a way to remedy that issue, I started making paintings where I intentionally poked things through and made it the whole point; to make it the success of the piece, rather than the failure."
It wasn't until McCurdy collected viewers' responses to her sculptural paintings—often a combination of wooden disks, spears and stretchy fabrics—that she fully realized her work's common thread. "People wanted to look inside, and became more interested in what created the shape, rather than the shape itself," McCurdy says, insinuating that people are more interested in what they can't see than what is before their eyes. "So I started thinking about all these moments of privacy through such a thin layer, like when I go to a public bathroom, and someone else is next to me, and we're separated by a door a quarter of an inch thick."
I think sex is one of the last frontiers in our lives where, as long as it's consensual, you can make your own rules.

Whether or not a couple is performing on it, the show-stopping performance sculpture is a red spandex-covered twin-sized mattress in a corner. "I haven't given it a title," McCurdy says, describing it more instead: "The goal and the premise is for us to have sex and engage in something intimate and personal," she says, "this is the thinnest layer of privacy that I can think of." A composer created a soundtrack to align with the gyrations, to be played while two other couples—scheduled to create their own sex performance at different times throughout April—take their place, responding to the music inspired by McCurdy's performance. She is also open to the possibility that spectators that could touch the couples through the fabric, or that other couples may wish to perform themselves.

Born and Raised in Philadelphia, McCurdy relocated to Baltimore to attend the Maryland Institute College of Art before moving to Dallas on a whim. "I wanted to fuck off, and have a giant place to make art," she says of the city's affordability, particularly attractive when combined with its abundance of high-spending art collectors. She ended up staying for four years and founding a studio, That That Gallery, that became notorious for late-night parties. Her artwork and her gallery naturally bled together, but it was her day job as a high-end retail associate that earned her a loyal following. As both conceptual and decorative, McCurdy would sell her art to her designer fashion clients who she already knew had a adoration for sleek luxury.

When she relocated to Los Angeles in 2017, she brought That That with her, titled That That 2.0. Residing in a city known for beautiful and perfect facades, she runs the space in the Culver City neighborhood with inclusivity in mind. "There's a lot of exclusion and classism in established galleries," she dishes, "everyone is a little cagey and afraid to talk to the artist for fear of sounding dumb. I always promise myself to make it inviting, to have music or performative art."

Southern California is also a hot spot for movements like Free the Nipple and Me Too, McCurdy points out. Both causes call to lift the veil that the artist analyzes in Personal Boundaries at the same time as they urge to maintain control—demanding equal rights alongside sexual freedom. "We want to be able to show our bodies without being objectified," she elaborates. And despite the complexity of current events, McCurdy believes the glorification of sex won't be exhausted in the art world, and her own world, because there are boundless opportunities for expression. "I think of sex like art. All these moments in our lives have regulations. I think sex is one of the last frontiers in our lives where, as long as it's consensual, you can make your own rules," she deduces.

"There's nobody telling you how to have sex, just like there's no one telling you how to make art. Neither is linear. It's a very free aspect of our lives, in a life that doesn't have a whole lot of freedom."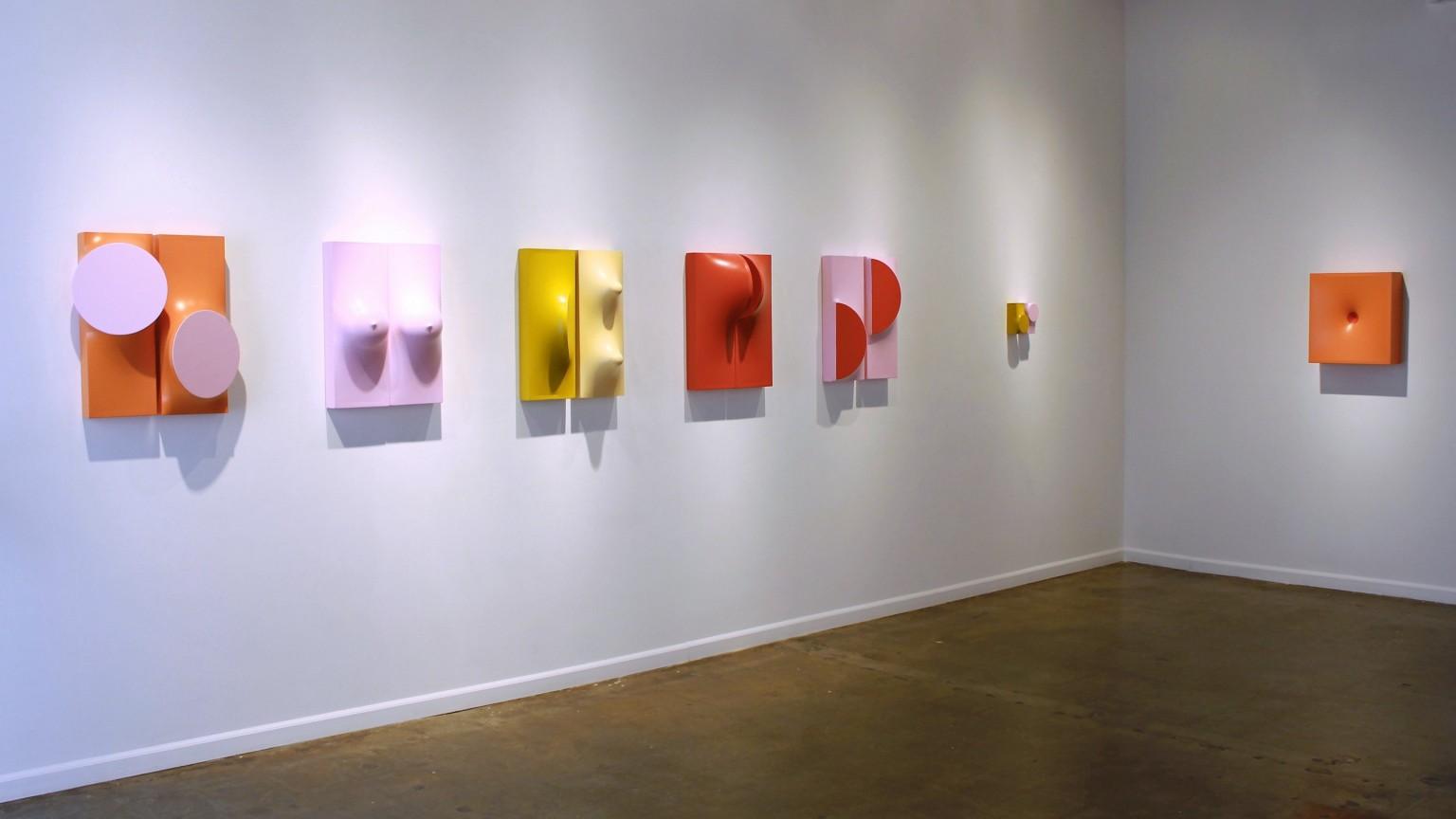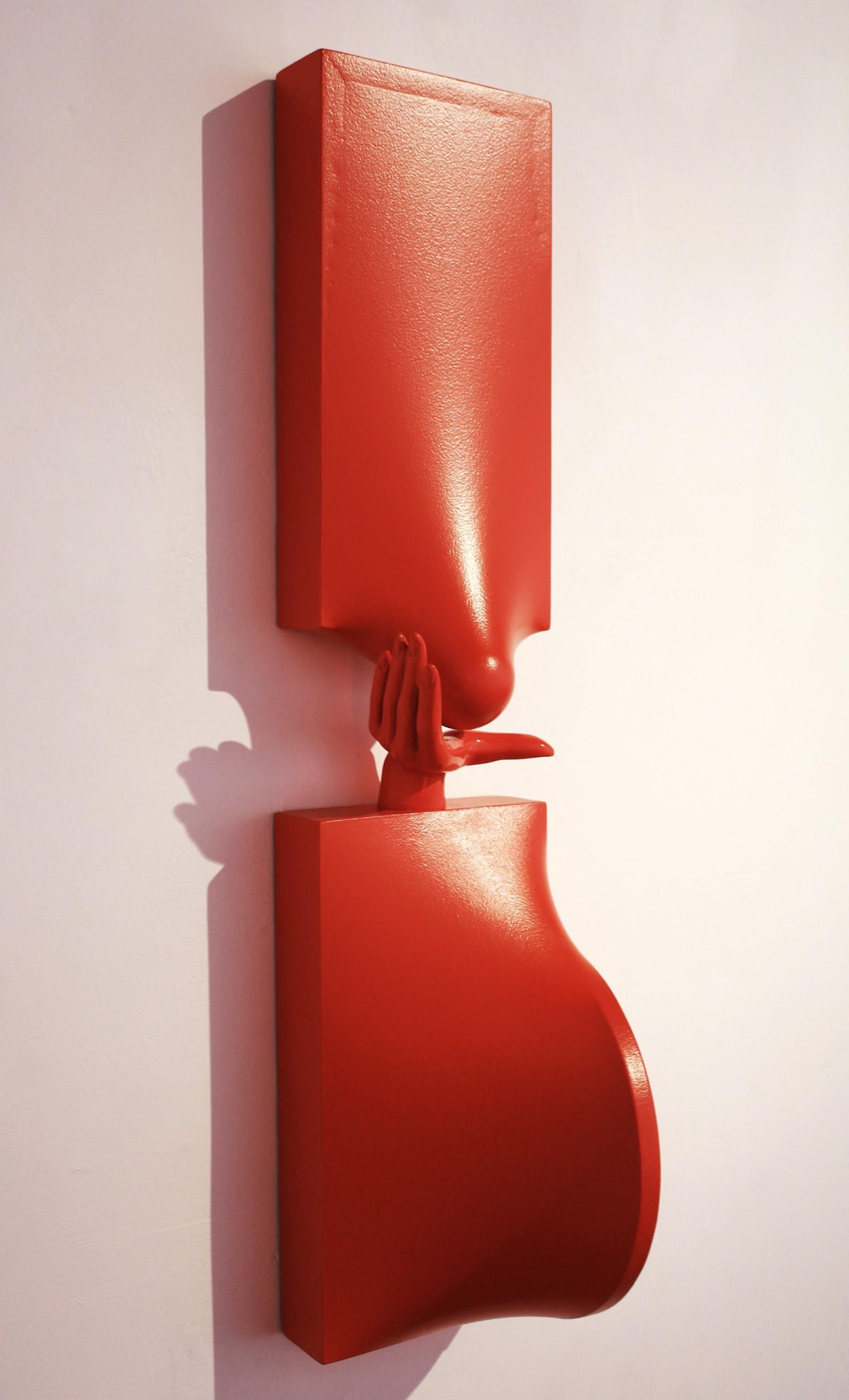 Personal Boundaries is on display until May 5.


---