In reality, there are few reasons men shouldn't take up yoga, yet perceptively, the excuses are endless. "Am I going to be the only guy in the room?' is a common question men ask Mali Jane, yoga teacher and co-owner of AM Yoga, when considering yoga for the first time. She replies, "Maybe! Is that going to be a problem? I mean, what heterosexual guy wouldn't like to have those odds stacked in his favor?"

"There is just a lack of awareness and the worry of inflexibility," says Ashley Yost, the other half of AM Yoga. It's seen as not being 'hard' enough. Men think they're too stiff to do yoga (which is like saying I'm not in shape enough to go to the gym). They are not into touchy-feely stuff (you might be confusing yoga with what you see in movies). It's for women (spoiler, it's not). It can also be intimidating (ouch, the ego punch).

And despite being married to a yoga teacher, Mary Lynne Ochsner's husband is hesitant to step onto a mat. "My husband Jake should practice yoga, even if it is just a little bit! I think he's a bit intimidated by it and is super inflexible, but I think he would really love it if he gave it a shot. I want him to be able to move when he is an old man, plus it will probably help his golf game and [he'll] feel less stressed with work."

Ochsner isn't alone in wishing that the men in her life would take up yoga. Many women have expressed interest in having their partners and friends try it, too. Considering it was originally a practice only for men, how did we get to a place where men are now out of the picture? In a 2016 study conducted by Yoga Journal and Yoga Alliance, of the 36.7 million yoga practitioners, only 28 percent were men. Could it be the marketing—the lithe blonde body contorting into different positions with a face full of bliss. "Peace be with you" and "namaste." That seems like a pretty specific clientele, yet the only thing you need to practice yoga is a body.

Nothing against the broga movement (that is bros who do yoga), but it isn't necessary to market yoga into a 'dudeified' package. This feeds into the idea of toxic masculinity, which is the narrow, repressive idea that manly status is afforded to those who place value in areas of strength and aggression whereas things like emotions and feelings are seen as weak. Gym language hints to this belief with words and phrases like, jacked, swoll, beast-mode, getting lit, and the notorious do you even lift bro?

Considering yoga was originally a practice only for men, how did we get to a place where men are now out of the picture?

Playboy learned that yoga and cannabis blend very well together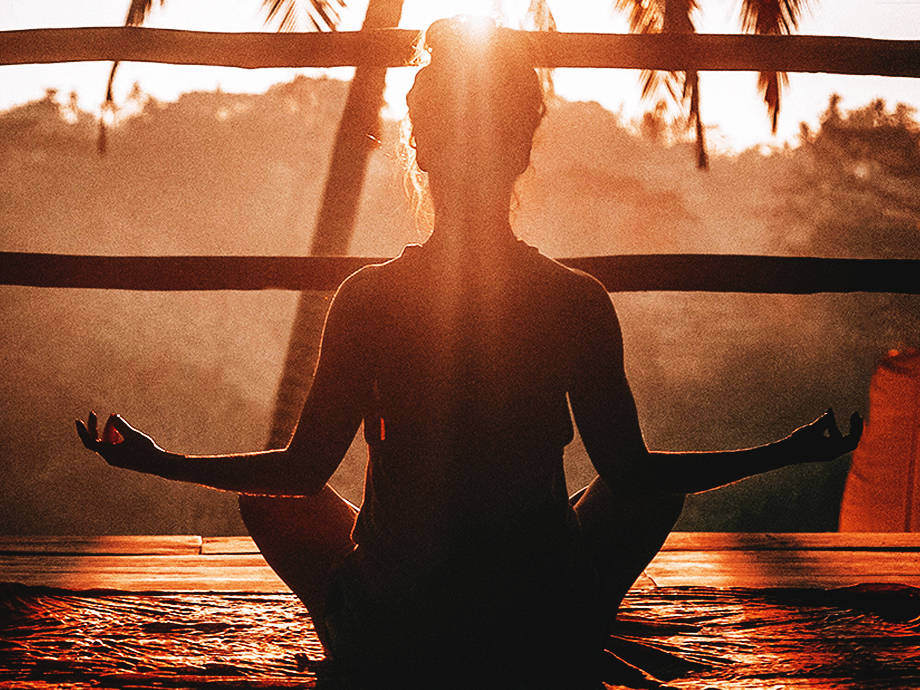 While there is nothing wrong with this, I encourage you to question how you feel about everything that isn't about "gainz." If words like weak, unmanly, feminine come to mind when thinking about yoga, ask yourself why. Let's not have toxic masculinity permeate a practice that is already for everyone regardless of gender. Lest someone think you weren't a dude pulling out some regular wipes or using unbranded dude body wash, but I digress.

You probably aren't going to hear someone say that they went HAM in their practice, but that doesn't mean it wasn't hard as a motherfucker. "Men are often surprised at how difficult yoga is," says Yost. It looks easy, but the practice can be very challenging. You're going to sweat. As opposed to the idea of gaining muscle and losing fat, common body goals at the gym, yoga asks different things of your body. By stretching and strengthening your muscles, by using your own body as resistance, the various asanas (poses) massage your internal organs and help detoxify you. You learn to breathe more deeply, delivering fresh oxygen to your cells, which is integral in bringing new energy into your body. Increasing your flexibility is also key in keeping your body healthy throughout life.

In addition to an excellent workout, yoga has many other side effects that can be seen off the mat in your everyday life. It helps improve balance, increase flexibility, increase brain function, reduce lower back pain, and improve back function. All of these benefits are a fantastic compliment to not only a great life, but a great sex life.

While there are few studies that have been done on the specific effects yoga has on sex, research suggests that yoga helps lower blood pressure. In a study published in The Journal of Clinical Hypertension, participants who used yoga as a nondedicated treatment option for blood pressure reduction saw improvement, leading researchers to conclude that it is a beneficial practice. One of the complications of high blood pressure is erectile dysfunction. Often thought of as a concern for older men, a study published in The Journal of Sexual Medicine showed that of the men who sought treatment at an outpatient facility, one in four men who had ED were under 40.

In yoga you have to pay attention to your body in new ways, which helps bring more awareness to everything from the way you walk to the way you have sex.

A small study was done regarding premature ejaculation and various treatment options. Published in The Journal of Sexual Medicine, participants who used yoga had significant improvement with their premature ejaculation as opposed to those on the pharmacological treatment plan. Certain poses can help release tension and increase blood flow to your groin, which is beneficial as blood flow is key to achieving and maintaining your erections. Orgasmic contractions are tied into your pelvic floor, so the more circulation and strength you have in your pelvic floor, the stronger your orgasms.

Sex is cited as a great way to relieve stress, but stress can actually be the thing that is holding you back from having it. Stress is also often one of the main causes of ED, which can turn into a cyclical performance issue. You are distressed that you experienced erectile dysfunction, and the next time you try to have sex, you recall the last time and self-sabotage again.

Yoga can help you alleviate the stress and shift you mentally and physically.

Bringing awareness to your body, increasing blood flow everywhere, and giving you a sense of accomplishment. Yoga is a mental workout as much as a physical one.

Something that is less quantifiable, yet so very important, is awareness. "You have to think about where you are putting your body," says Yost. "Yoga brings you back to your body. Specific movements may bring about more sensation," she says. "But that is the time you lean in and feel it. Notice it and stay with it."

Flowing through the practice makes a connection with your movements and breath. You will have a newfound appreciation of your body, or at least be aware of it. Are there some sexual positions you shy away from? Is it because you truly don't like it, or is it because it is difficult to maintain? The more in-tune you are with your body, the better you can use it in your daily life. And don't be surprised if you have a post-flow buzz. Check in with your mind and see how it feels after a flow.

For Jeff Ham, he described how yoga helps him in multiple aspects of his life. "I love yoga because it teaches you how to show up for yourself and commit to practicing self-betterment. Plugging into a community of people who treat wellness as a discipline helps with that, too. In yoga you have to pay attention to your body in new ways, which helps bring more awareness to everything from the way you walk to the way you have sex."

Certain poses can help release tension and increase blood flow to your groin, which is beneficial as blood flow is key to achieving and maintaining your erections.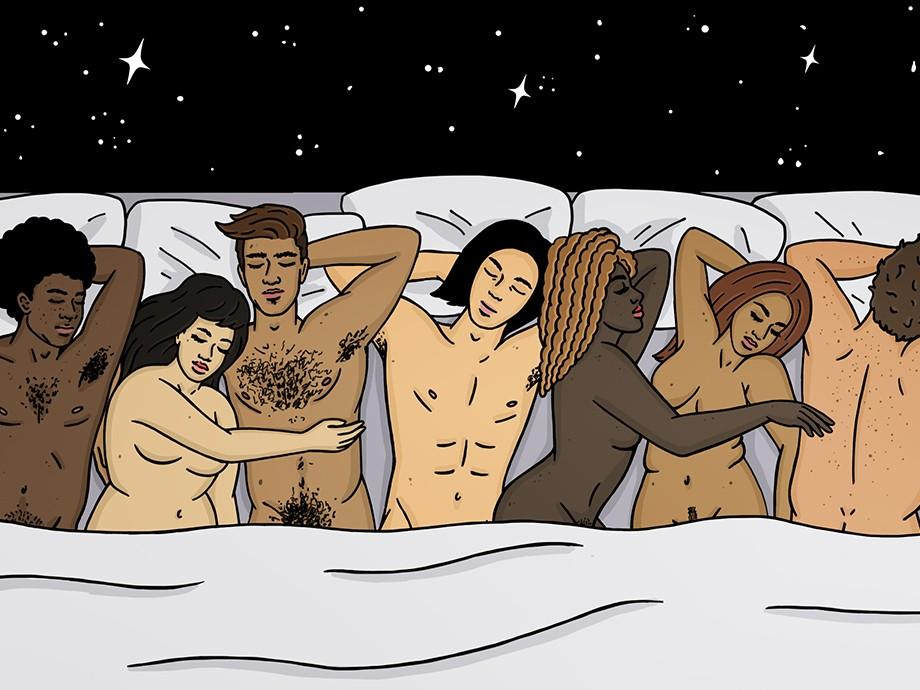 The more you know about the people you want to sleep with, the better you'll be at it
Presence is often the other word people will cite when asked what yoga does for them. "As teachers, you are having a two-way conversation with your students—doing and seeing. Are you seeing me? Being present. Being intentional," says Jane. Much like in partnered sex, there is a series of exchanges taking place. Chances are that you would like to communicate and receive your partner's messages. How are you moving your body? Is that comfortable? Is your partner comfortable? What does this really feel like? Are you breathing?

Some of you may be thinking, 'How can I not be present during sex,' but trust me, it happens. Sex is a flood of sensations and emotions, and it can be easy to be lost in the fray or so concentrated in the moment that you forget to feel. Many women have voiced their wish that their partners would slow down during sex. While there is no right way to have sex, women often want more time spent on foreplay and the act in general. Also interesting to note that women typically take longer to get aroused and achieve orgasm. Think of how being able to feel more and last longer would affect your sex life.

If you haven't considered yoga, or have shied away from it in the past, give it another try. Under the instruction of a certified teacher, yoga is a safe, low-impact workout that can benefit almost every aspect of your life. Whether you are trying to improve your performance on the course, the bedroom, or just simply looking for a way to stay healthy and flexible, yoga is a great lifelong practice. If you're really apprehensive about attending a class, go early and meet with the teacher to go over your concerns or any injuries you may have. They want you there, and they want to help you. "Not only is yoga for everybody, but also we try to help remove the excuses holding people back," says Jane.

Yoga meets you where you already are, and you just need a body and a mat. Yes, it may be difficult at times, there are advanced poses and deeper expressions, and you might not know what you are doing, but that is okay. The goal is the practice. There is no pressure of doing it right or enough. If we can release the idea that athletic achievement is only seen through gaining muscle, getting that squat, or some other quantifiable measurement, you open the door to more success and wins in your life. With knowing all of the ways that yoga can manifest its benefits in all areas of your life, especially your sex life, you should be looking for the nearest mat to practice on.