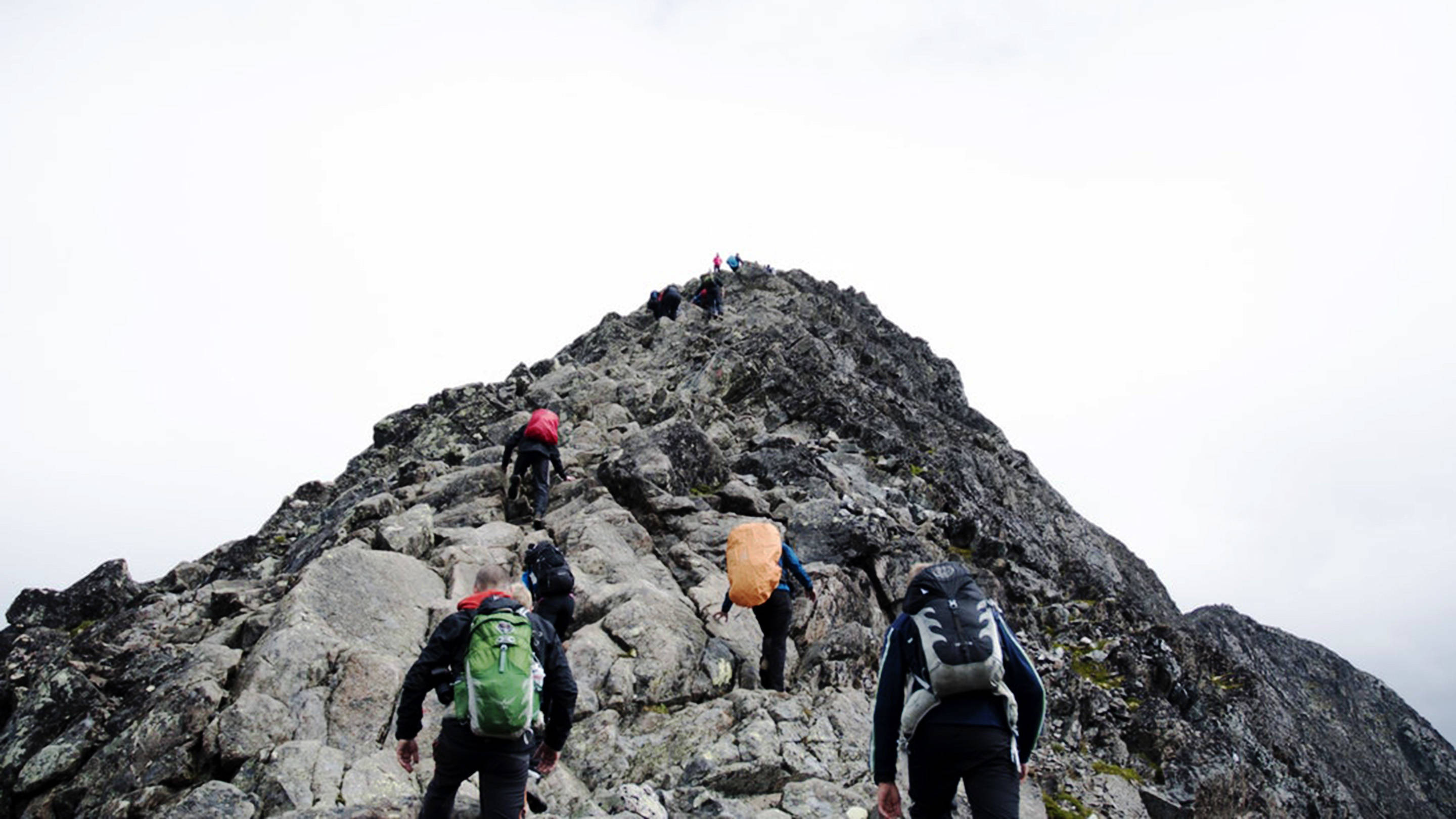 A Beginner's Guide to Climbing Kilimanjaro
Written by Natalie B. Compton

Published on

August 16, 2018
It only takes five minutes of hiking for my breathing to get unsettlingly heavy. I am—technically speaking—fucked. I feel like I'm walking through pudding. We've just begun the three-day ascent to Mount Kilimanjaro, starting from the Marangu Gate at an elevation of about 6,000 feet. This is supposed to be the easy part of the trek. If I can't breathe now, how am I going to survive getting to 19,341 feet?

Through the welling anxiety, I can still appreciate the otherworldly beauty of the trail. The ground of the misty rainforest is a ruddy mosaic of roots, rocks, dirt and leaves. Above me is canopy—dewy greenery and twisting vines. It's like being in
Avatar
. "My best advice is to prepare yourself physically, mentally, and pack all important gears for the climb," said Justaz Leonidas—a guide for
Intrepid Travel
who's summited Kilimanjaro more than 356 times—in an email to me a month earlier. I chose Intrepid to help me tackle the tallest freestanding mountain in the world. Not only is it an affordable way to get through this bucket list of an experience, the company also employs some of the most qualified local guides in the business.
Leonidas recommended doing some running, swimming and pushups in the month leading up to the hike. Most of my training back at home in Los Angeles was a walk in the park—literally. I did a few three-mile hikes through Griffith Park to break in my Salomon boots. I did some long distance running, took pilates classes. I also
drank cocktails at parties
in LA. Then there was a trip to Vegas. You would not call my preparation for this epic journey disciplined. The only things I felt good about was my doctor's visit to get medicine for high altitude, and buying expensive wool socks on the authority of a hiking master at REI.
My half-assed training may not hurt my chances of a successful summit. I'd read that most of what makes summiting Kilimanjaro so difficult is the altitude. Our human bodies are not all equipped to function at 19,343-foot elevation. Not everyone is physically able to complete the journey, even if you're as fit as Cristiano Ronaldo. All of the running in the world might not be enough to get you to Kili's Uhuru Peak.
My sweaty self is bringing up the rear of our eight-person hiking group. We're actually 16 total—there are other currently unseen guides, porters and cooks who have power-hiked ahead of us with additional gear and supplies to support the expedition. The man in charge of it all is Mathew Darema, our trek leader. He's climbed the mountain more than 140 times, and not always with ease. Last night he told us about a time that it was a snowy -31 degrees on the final ascent to the peak. "Many people were crying, but still kept going," he'd shared. Nice.
For now, there is no snow to worry about, just some light rain. The Marangu Route we're on will take us through four distinct climate zones: rainforest (where we're tromping now), heather and moorland, alpine desert and the arctic summit grand finale. You need an array of gear to get through the experience alive. I'm starting the trek in light leggings, but will later need to don three layers of tops and bottoms under snow pants and a parka. If you're not ready to devote your life to hiking, you don't have to buy all of the necessary gear for the trip before you get here. You can rent nearly everything you need at a gear shop in the parking lot at the Marangu Route gate. I gather up more stuff like water bottles, a head lamp and gaiters, a.k.a. waterproof leg covers that go up to your knees. To the dismay of the group, I will be unable to stop myself from saying GAITER NATION, BABY in a sassy Floridian accent.

That is normal. It is the altitude. Many people feel better after they throw up. Let's keep going! You can do it!

I ask Mathew if he has a favorite leg of the trip. "Every day is a new day in paradise—you will not be bored," he tells me. We break at a wet picnic bench, digging into our lunch boxes of sandwiches, plantain chips, cookies, a chocolate bar, some juice, peanuts. Mathew hovers over us, making sure we eat enough no matter how full we feel—it's critical to get plenty of food and drink a whopping three liters of water per day. It's also critical to watch how fast you're walking on the trail. Scout and sweeper guides bookend our group to set the pace for the safest, most enjoyable climb. That pace is slow—so slow in fact that
pole pole
("slowly, slowly" in Swahili) is the motto of the trip.
We get through the eight-kilometer hike to Mandara Hut, our camp for the night, located in a foggy clearing that seems more populated by giant crows than people. We're going to stay in A-frame huts, although some tours offer options to camp in tents along the way. We rest for a bit then meet in the mess hall for dinner. Our cooks play to win—the meal is legit. We're stuffed with a soup course starter, a vegetable curry, rice, dessert, tea. I try to read a book (Ernest Hemingway's The Snows of Kilimanjaro, which I bought at a gift shop before we left) in the comfort of my sleeping bag, but I'm so wholly exhausted that I fall asleep at maybe 7 p.m. after reading one page. The nearly 9,000-foot altitude makes it hard to breathe, and I wake up a few times thinking I'm going to suffocate.
The hikers are all taking medicine like Diamox to protect against altitude sickness. One of the side effects is that it can make your face and hands tingle. I feel like I'm on some fun recreational drug as my mouth and cheeks softly vibrate on and off throughout the day. One of the other side effects is that you have to pee more than normal. This isn't the end of the world when we're hiking, but at night it means that you have to get out of your snug-ass sleeping bag and make your way through the cold, rocky darkness to the bathroom. I wake up the entire hut as I tumble out of my bed and clamor for the suddenly impossible-to-open hut door. It is not graceful. It is not discreet. But there's no other option. I'm going to pee my damn pants if I don't bull-in-a-china-shop my way out of here. I make it out safely without doing so.
We wake up with the sunrise and eat a massive breakfast. There's coffee, hot chocolate, toast, porridge, meats, toast, fruit. It's delicious, and I have no idea how I'm going to embark on the day's hike with about eight pounds of food in my belly. But embark we do, leaving the jungle for the lowlands of alpine meadows and heather trees. It's a seven-mile ascent to Horombo Hut, our next camp situated at some 12,400-foot elevation. We stop often for water and bathroom breaks—you take toilet paper out into the off-trail wilderness, or occasionally there are outhouses to use. Between the slow pace and the frequent rests, seven miles takes a whole lot longer than you'd think. We get lucky with the weather, and the sun shines on us more often than not. The landscape is dotted with these Dr. Seuss-esque trees a guide calls giant senecio, a.k.a. giant groundsels or senecio kilimanjari. Seeing them whimsically pop out of the green earth is a highly Instagrammable scene, although I won't have the cell service necessary to humble-brag about it on social media until the trek is over.
The thing about hiking all day with people—without distractions like music or cell phones—is that there is a lot of time for conversation. You really get to know each other. Mathew dreams of the mountain when he sleeps. I know this because I've already asked him about his family, his wife and new baby Michelle (named after Michelle Obama), his education, his siblings, his work. Almost every single person in the group says The Shawshank Redemption is one of their favorite movies. One guy has tried suspension body modification—where you hang from the ceiling by meat hooks strung through your skin. We share some of our most embarrassing moments, dissect other hikes we've been on before this. I try to pick up some Swahili vocabulary. I forget my Swahili vocabulary.
Horombo Hut sits on a sort of rocky cliff edge. It looks like we're in heaven as the pink and orange sunset glows on the clouds beyond the cliff. Another giant meal ensues, then we melt into our sleeping bags. In the middle of the night I wake up with my right foot tingling violently. It was painful and relentless. The awkward pain shot up my leg and I walk around the room trying to figure what's wrong, what to do. Is it the altitude medicine? Is it permanent? Can I hike? I grip my thigh and twist my feet and toes in different ways. I get back in bed and new pain starts when my toes bend back against the sheets. I turn to my side and wait for the tingling to stop and fall asleep.
In the morning my foot is fine, although a faint buzz remains. There was worse news to face beyond my foot nuisance, however. One of our fellow hikers was plagued by a cough and barely slept all night. She was hit with nausea and went outside for fresh air. She ended up fainting while sitting on the hut steps, collapsing on her face and cutting her nose and upper lip. A somber weight falls over the hut when she tells us what happened. By now we are practically family, and the idea of leaving someone behind is heartbreaking. She finds Mathew and tells him about the incident. He makes it clear she should end her trek immediately, and that continuing the journey was too high a risk. After breakfast, she takes an emergency vehicle down to the resort and we set off for the long day ahead.
We hike six miles to Kibo Hut, go to bed early, and get up at 11 p.m. that same night to summit Kilimanjaro by flashlight. There is plenty of time to mourn the loss of our group mate as we trek across the lunar landscape of the alpine desert. With one woman down, we walk more pole pole than ever through the thinning air. At Kibo, it's cloudy and grey with a paper-thin dusting of snow on the ground. We're at an elevation of more than 15,500 feet now, and it's difficult to function—although that doesn't stop a group of Russians from smoking cigarettes up here. I walk too quickly to the bathroom and get unbelievably dizzy. We do a short hike to a higher elevation to follow the "climb high, sleep low" philosophy to feel better before we sit down to eat dinner. It's a struggle—no one has an appetite. We do our best to shovel some food into our mouths and head to our room of bunk beds. I forget that we're sharing the room tonight with two other campers from Germany, and burst into the room yelling a bit about being tired, bellowing, "MY BONES, MY BONES! MY BONES HURT!" followed by "OH MY GOD I DON'T KNOW YOU!" as my eyes meet the terrified German ones. We laugh it off and I climb into my top bunk in the corner. This is it, the final sleep before the final ascent.
The darkness of the room is so deep that I'm spooked into heavy breathing. At such high altitude, this leads to panicky short breathing that I can't catch up to and I have to remind myself to calm down as the seriousness of my full bladder comes to light. I get my rhythm back and lay relaxed, unsure of the time. I hope it's close to the wake-up call, because the idea of getting out of my top corner bunk in a room of ten very delicately / importantly sleeping people is about as appealing as getting a tooth ripped out. I reach for my phone and see it's 10:44. In just 15 minutes, everyone will wake up for the most physically challenging event of their lives.
As everyone begins stirring in their bunks, I am struck with the most intense urge to—and pardon my French—shit my pants. The sensation is so strong, and so immediate, that instead of wondering how I'm going to get out of this inconveniently placed bunk bed, I'm thinking about how I'm going to tell the group that I have shit my pants. I sit still and wait for the nightmare to become reality, but the gods spare me. No mortifying accident occurs. I pop three Immodium and pray for mercy. I will learn later with some Googling that it's not uncommon to have gastrointestinal problems at high altitude. I should have done this Googling before the trip.
Misfortune strikes again. Another member of our group is unable to continue. He hadn't been sleeping well on any night of the trip, and was feeling exhausted and unwell. Mathew tells him it's too dangerous to continue, and we're down another family member. The hiker's wife erupts into tears when she hears he won't be joining us. The morale at breakfast isn't great. Another guy in the group has gotten sick as a dog; he has an aggressively runny nose and can't stop sneezing. But the show must go on.
Wearing more layers than recommended, I follow the group outside into the frigid black abyss. Our guides arrange us into a strategic order and we begin the slow, difficult shuffle up the incredibly steep, icy dirt. I look up the mountainside and see a glow of lights. They're the lanterns of climbers up the mountain ahead of us, and at first it looked looked romantic, like a bobbing constellation against the backdrop of actual constellations above. It was like looking at a small luminous mountain town from across a lake. But then I notice how high the town is getting. Those lights are very, very far away. It is going to be a long night.
It will take us four hours to reach the milestone of Gilman's Point at 18,600-ish feet. Then it's another hour or two to walk the rim of the crater to our final destination, Uhuru Peak. The severity of the climb gets more and more real between the cold temperatures, the early start time and the thin air. Our water bottles freeze and I am increasingly worried that the Immodium isn't working. My upper stomach is bloated beyond my chest and there's something gurgling in its depths.
Unlike other days when we could ask for breaks like petulant children, summit day is different. The guides tell us when it's safe to stop. When we do break, we lumber over onto porous rocks and try to wrap our heads around how the fuck we got here, what the fuck we're doing.
The things to look at when you get going are few. You have the darkness, you have your headlamp on so you can see the butt of the person walking in front of you, the swishing of their nylon snow pants. You have the ground, the rocks of the wretched mountain you decided to climb. To pass the time, I take notice of the rocks. One looks like one my mom had as decoration in our backyard growing up. One looks like a lung or maybe a brain. You do not want to keep looking up at those twinkling headlamps up way way ahead, hours ahead of you, signposting the treachery you still have to come.
"Guides are not angels, they are human beings," our guide Augustin told us the night before the summiting. He wanted us to be clear with the guides about any ailments we were feeling so they could help. While we shuffled inches at at time, I could only think of the guides as angels. They're not only stand-in medical professionals, but critical sources of motivation for climbers. You can tell they give a fuck if you make it through the journey. If you're struggling, maybe even throwing up and ready to throw in the towel, they're not just going to take you back to camp. "That is normal. It is the altitude. Many people feel better after they throw up. Let's keep going! You can do it!" someone will tell you with a soothing Tanzanian accent.
Then there's the singing. From time to time, the guides and porters break out into Swahili songs. It's something to focus on and also soothe you, relax you, uplift you. You start to pick up some of the patterns of the repetitive ones, and chime in. You don't speak Swahili but you recognize twende("go"), jambo ("hello"), and do your best. Sometimes you can just add the requisite hooting and hollering that comes in between verses. They yodel, they sing, they cocoocooroiiiiiii!!!!!! One guide may start a song; the night porters join, then a guide in a group closing in on you or up ahead may belt out a chorus. It's a joy and a help. It's a much better sound than that of your boots hitting the ice dirt.
We reach the Hans Meyer Cave and I have still not shit my pants only by some miracle. I've come to accept that it will happen at some point, and that when it does, I will keep walking anyway. There are bigger problems facing the group. One woman is on her hands and knees in the ice dirt trying to vomit while also trying to stay awake. Although this seems bad, it's apparently not a sign of dangerous altitude sickness. The guides feed her water and chocolate, encouraging her to keep on keeping on.
The first four hours, we were told, will be the worst. We were told correctly. It's a steep, long climb to Gilman's Point. It's not just steep. It's on-your-tiptoes-sometimes steep. We cut across the mountain in diagonal slogs, slowly. After an eternity, Mathew tells us, "Ok, now this is where we zigzag. Some people call this part 'snake.'" We thought we'd been zig-zag-snaking the whole time, but this is a more compact back and forth. It's much rockier, much colder now. Time goes by painfully slow.
I pass the time by trying to think of song lyrics, realizing how few complete songs I know. I think about random shit people have said to me throughout the years, like when Morgan Arnold told me that I'd been known as a flirt in high school. The sun begins to rise over the clouds; it looks like we're on another planet. I start to cry secretly behind my polarized sunglasses. I feel so lucky to be on this epic adventure en route to the roof of Africa. As we continue, I secret-cry a number of times. I cry because I'm not sure if I can keep going. I cry because my body has never felt worse. I cry because there's no way I can do this. I cry because I am feeling ever more terrible and have no idea how to ask for help.
We make it to Gilman's and I slump onto a rock. My body feels wrecked, and I'm not sure what I need. I have a headache, my stomach is going to explode. I can barely make out the words, doing my best not to sob, and ask for permission to take an ibuprofen. The guides are very strict about what medicines you can and can't take on the mountain. "Maji, maji, dada," Augustin tells me, meaning "water, water, sister." "You have not been drinking enough water, I see that." It's bizarre not to have gone through such physical exertion without any shred of desire to drink water. You have to force yourself to do it. I also haven't peed since Kibo Hut some six hours ago. I wonder if my body is dying, shutting off basic functions to let me know it's over.
This is the final stretch. Augustin reminds me to take smaller steps as we inch along the tiny path of the crater rim. He has become my surrogate father for the day, and he is one of the only things keeping me going at this point. Two other people in the group have fallen back, and it's unclear if they will make it to the top. Augustin points to the valley of the crater. "You see that area over there?" he asks. He told me that a few years ago he and some other guides played a rugby game. I am in awe, considering I can barely stand up, let alone attempt a jog or a tackle.
I am so tired and so drained when we round a final corner of this stunningly beautiful arctic hellscape and spot the wooden sign for Uhuru Peak. It is silent. The brilliant white snow and luscious clouds makes the mountaintop look like heaven. We are blessed with clear blue skies and sunshine. We make it to the sign. "CONGRATULATIONS, YOU ARE NOW AT UHURU PEAK TANZANIA, 5895M/1934Ft AMSL." I cry some more.
The whole of our remaining group makes it to the finish. We spend about 20 minutes laughing and celebrating and taking photos to prove we did this momentous thing. It's time to get back down the mountain, not just to Kibo Hut, but four hours further to Horombo where it's safer to sleep.
Playboy columnist James Barkman documents his solo adventures to the world's most isolated corners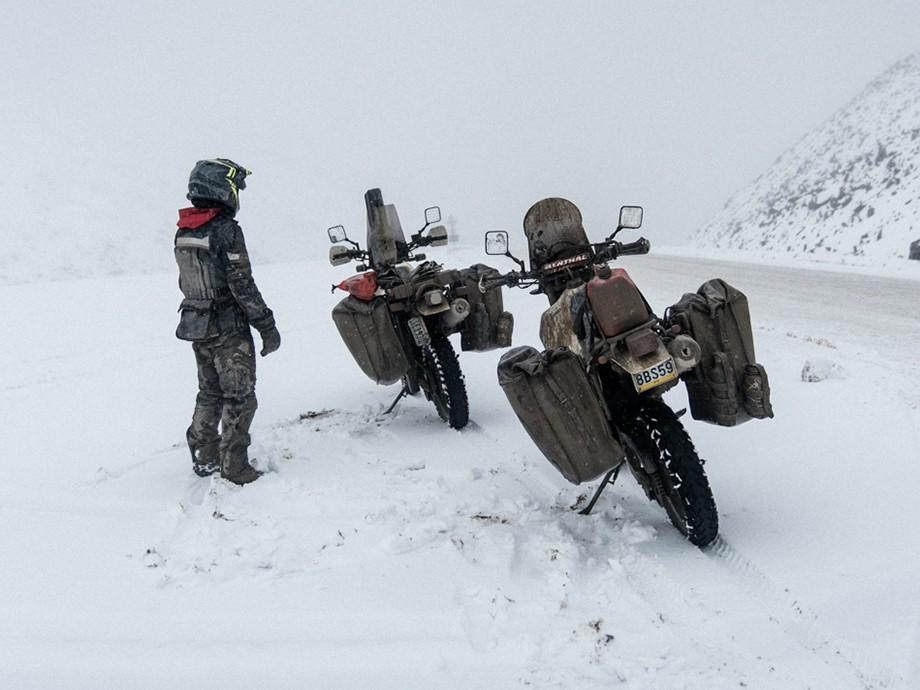 Augustin and I nearly run back down the mountain like we're in a vaudeville show, or like we're those noodley characters from the old-timey Mickey Mouse cartoons. Arm-in-arm, we trounce through the soft thick dirt, slipping and sliding all the way to Kibo. We pass people resting, pass porters heading back up the mountain to help the others, pass the places we'd stopped during the ascent. Augustin points out The Hans Meyer Cave, Williams Point. We lunge by them so fast it's hard to process how difficult it had been to shuffle by these points in that criminally challenging darkness. We're so light and carefree now! Look at us go! Within three hours, we're back from the summit, and I make it without any bowel disasters.
I drink some juice at Kibo Hut, sitting back on the bunk beds in disbelief. What. The fuck. Just happened. I'm in a manic stupor. The rest of the group trickles in and we fight to stay awake. We're told explicitly not to fall asleep or lie down, it's dangerous, but some people plop like they've never plopped before onto the beds, passing out immediately. One guy doesn't even realize he has fallen asleep backward until he snaps awake.
We eat a recovery lunch in a daze, then pack up and start the slog just as a light snow begins to fall. The day is far from over, but now we know we can do anything. What could ever be harder than what we just accomplished?