It's the week before Thanksgiving, and Action Bronson is readying a trip to Berlin that will overlap with the start of the holidays. After that, he's hitting Miami, Australia, and New Zealand. "I usually go over my best friend's house and their family cooks, but I'm not really a celebrator. I'm more good with just ordering Chinese food for Thanksgiving," he explains of the festivities he's missing. "I don't give a fuck about that stuff." Bronson's headed to Europe first to kick off some performance dates in support of his latest project White Bronco, though his main agenda includes "getting weird."

The last time I spoke with Action Bronson, he was waxing philosophical on the quality of pizza in Paris. Back then—and this was years ago—his favorite place for pizza was solely France and it was non-negotiable. "I must've been out of my fucking mind," he says now in retrospect. "Sorry I must've been on drugs or something." After traveling the world as both a recording artist and culinary expert (his Viceland food travel series
Fuck, That's Delicious
bridges the gap between foodies and laypeople who just like to eat), his finely tuned taste has returned close to home. "Italy doesn't have the best pizza," he says, after a suggestion that the birthplace of pizza cornered the market. "Queens has the best pizza. Jersey has some fire also."
The Queens native has become something of a renaissance man with his hands in enough projects that each audience can thrive without knowing the other exists. While it's made him a Jack of all trades, there's a labor of love aspect to it all. "That requires a lot of work," he admits. "That requires my attention, because I'm not the type of person that takes something on and just does it half-assed. If I do something, I'm going all the fuck way in." And
all the fuck way in
is the best way to describe it. His debut book, a cookbook based on his aforementioned Viceland series
Fuck, That's Delicious
became a
New York Times
bestseller. His next book will live at the intersection of cannabis and the culinary arts. In short, it's a book about meal ideas to cook while you're high.
Action Bronson is just as much an artist as he is a personality. His graduated wordplay mixed with accelerated snark has become his signature (as well as next level food references like foie gras in his raps), and
White Bronco
is no exception. The jazzy title track comes with a psychedelic video directed by Rik Cordero where trippy images of animals and smoke float through the visuals as Bronson burns Palo Santo at the start of the video. The album's title is borrowed from
a dream
he had one night of horses. Many of them. "I'm dreaming of horses stampeding and just running over land—like those close-ups with the cameras in the ground and you just see the hooves demolishing the ground? That's what I dreamt," he explains. "I just dreamt that all those horses were me and just running free, but fucking busting loose and breaking the restraints and the shackles of boredom and bullshit, breaking the creative shackles." When I explain to him that the dream dictionary says dreaming of horses means there's an underlying motivation you have for trying to achieve something, he coyly replies, "Well there's no doubt about that." He and his girlfriend are big into dream interpretation, though he takes it a step further. "The ones I do remember, they turn into reality."
I just dreamt that all those horses were me and just running free, but fucking busting loose and breaking the restraints and the shackles of boredom and bullshit, breaking the creative shackles.

There's something to be said about breaking those creative shackles. With his hands in many projects, his creativity can flow on the music side. As a newly independent artist, he takes that to new levels, no longer beholden to the major label stronghold, especially when he has the means to make music and make money. His fifth studio album is proof, as it's a return to form no longer muddied by the pressures of the mainstream. It's all Bronson, all day. "I'm always open to listening to ideas and stuff like that," he says of the creative process. "If I think it's good, I'll try it out and if it's not, I won't. I listen to constructive criticism from people whose opinions I want to hear. I don't care for peanut galleries and all that other type of stuff. If we're working and I'm asking you specifically, I want to know what you think. If not, I don't really give a flying fuck!" Mr. Wonderful is still Mr. Nice Guy, though. "At the end of the day, it seems like I'm some fucking tyrant but I'm really not. I just know what I want."

While his earlier works showed Bronson working one-on-one with specific producers (most notably Party Supplies, The Alchemist, and Harry Fraud) he's back to a diversified production palette with White Bronco. "At the end of the day, I work by myself most of the time. I'm just handpicking these pieces of music from these guys that I admire," he says. "Harry Fraud helped me throughout the whole process with helping me put things together and all the technical aspects of everything and honestly, the whole Surf School squad emotionally supporting me throughout the whole thing—chilling, smoking—it means a lot to have people around; just good people and creative people." His hand is the strongest, however. "I have to be in control," he asserts. "In that sense, I'm more of a control freak."

It's a shock he still has the wherewithal to even wedge music into his growing C.V., though for him there's always time for music and performing. "I love the stage like you can't believe," he adds. "The stage makes me feel like a little boy again at the talent show, singing 'Stormy Weather.'" And now, there's acting. His bit role in the Martin Scorcese film The Irishman will undoubtedly land him more opportunities, though right now he just calls it "dabbling," since he's not a main character. Yet. "I'm trying to break in and get my foot in the door," he humbly explains. "I know a lot of actors and they're full of shit, so I'll fit in just well." He plans to use the role as a stepping stone for more to come, and he half-jokingly says maybe his next role will be in a rom-com. His love interest? "Whoopi Goldberg. I love her as an actress and I think that she's a comedic genius," he says in a serious tone, to the point where you can't tell if he's kidding or not. "I think that we'd be good side-by-side, kind of like a new Sister Act type of movie."

The viral sensation turned Diplo-backed pop star tells Playboy about new album 'Am I a Girl?'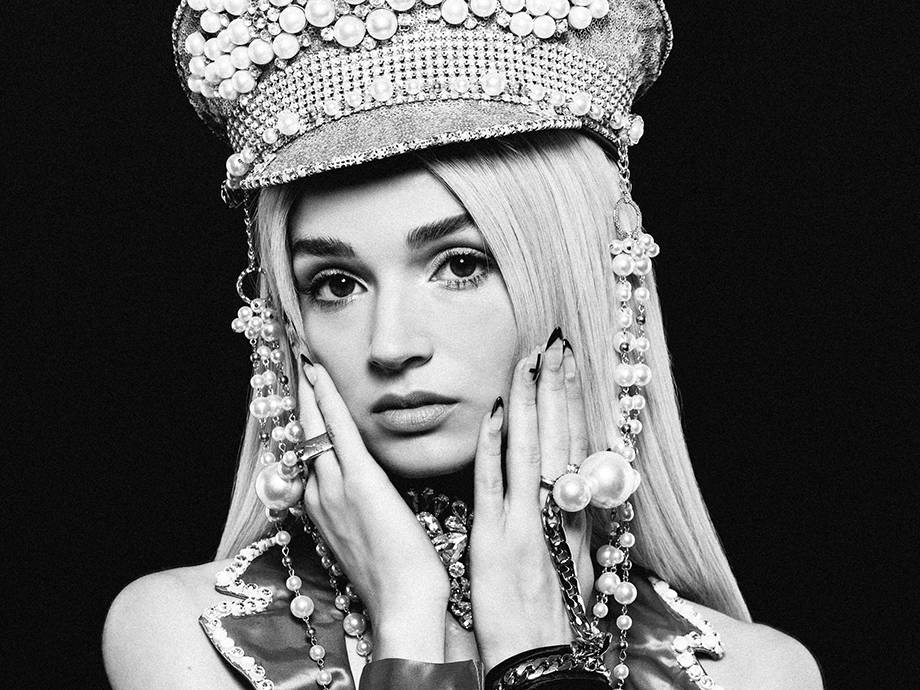 Action Bronson may troll the answer to every question he's asked, and the reality is he can do that. He's a man who's secured enough of his passions into place for profit, that he can both afford to be picky and afford to chase satisfaction, not checks. It's a freedom few have, especially in the oversaturated hip-hop space, though when your personality is as big as Bronson's, there's always room for his sarcastically layered charm. In the end though, Action Bronson sounds happy. He's traveling the world, learning about new artists, new techniques in sculpting, and new angles to his own art.
Money can't buy any of that, but he's not resting on his laurels either. "Money's not going to make me happy," he advises. "It does allow you to do things and shit like that but I'll tell you this: I definitely need more. There's no amount of money that would make me just chill. I need to make more money, there's no doubt about that. I'm
not Drake
."