Calm anticipation hovers in the dimly lit, vaulted cellar of a well-known alternative bar in Paris' hip 11th arrondissement. Perched atop metal stools, the crowd ponders a large bamboo pole that is attached to the ceiling in front of us and, more importantly, whom will shortly be attached to it. The silence is broken by Jess, swankily dressed in a pilot's uniform, who introduces the program for that night's Kibaku Café—just one of the regular events within the expanding world of Japanese bondage in France.

Shibari and Kinbaku are two Japanese terms for "to tie," now commonly used to describe
rope bondage
. The practice has largely evolved since its 13th-century origins as a means of restraining prisoners. In the 1600s it took on a far more pleasant, erotic purpose, during which a male rigger would use similar knots to tie up a model. In the 20th century it reached a wider audience via erotic prints and then photography, later popularized abroad by renowned photographer Nobuyoshi Araki.

"There are three distinct schools of Shibari, Japan, the US and Europe, which is in between the others," Jess Grinneiser explains to me after the show. A photographer and journalist specializing in all things Japanese, Grinneiser's interest in the art was sparked a few years ago when a friend asked him to take some photos of his Shibari practice. His fascination with it eventually led him to co-found the association French Bonds—the organizers of the monthly Kibaku Café performance event—among other activities.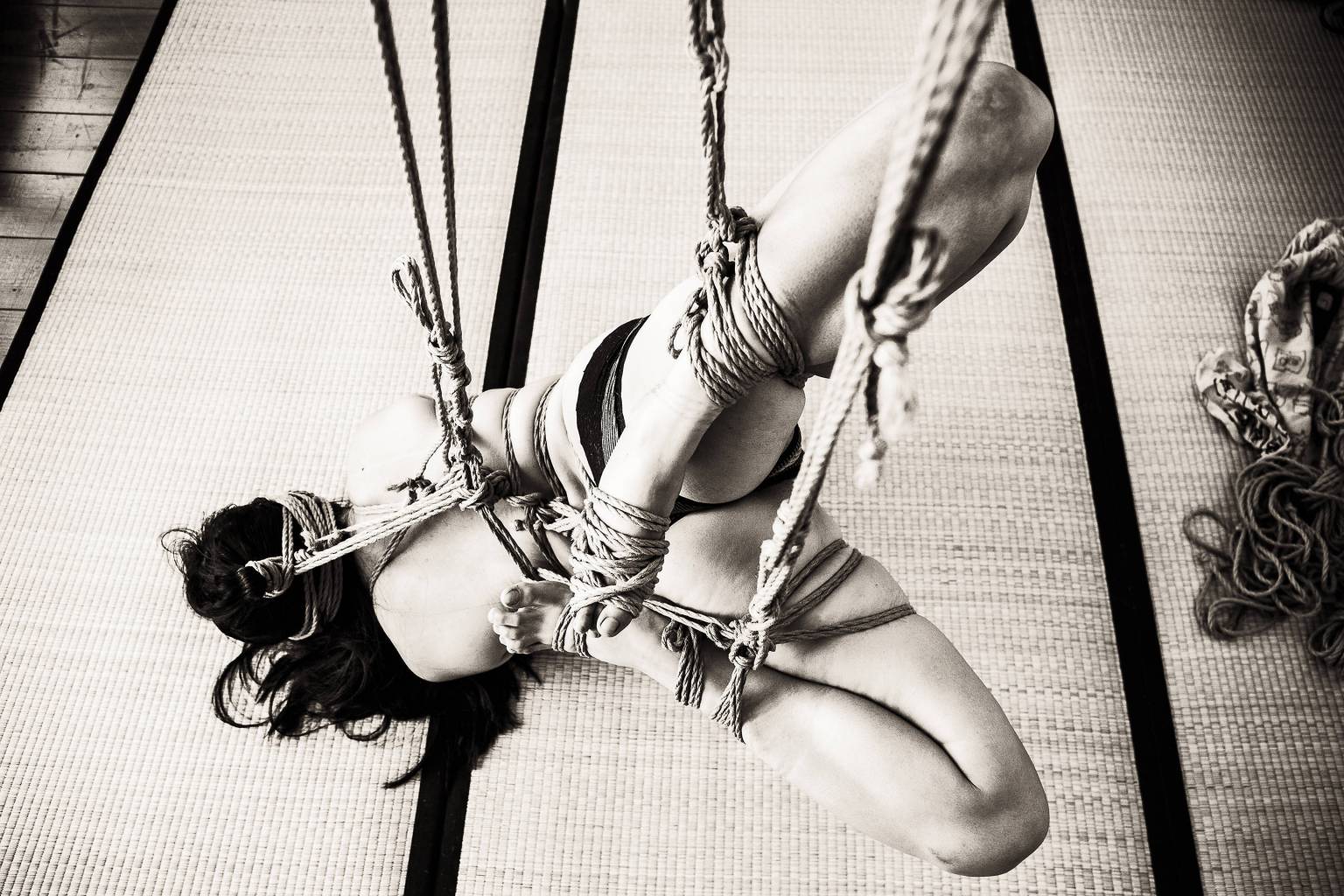 "In Japan, Shibari is usually considered pornography, which isn't very tolerated there," he adds. "Therefore, it remains relatively tabou and a more discreet practice. The rigger is in complete control over the model, who doesn't have any or much say in what will happen. Whereas in the US, there will be a discussion over what will happen and limits are set out in advance. In Europe, particularly with young practitioners, it's more of a negotiation over what the model is interested in and what s/he does or doesn't like."
When Shibari arrived in France about 10 years ago, it remained within the realm of BDSM—that's when photographer
Amaury Grisel
first saw it in person, already familiar the art through Araki's photos. "At the time it was still rather secretive and few models wanted to be photographed," Grisel reveals. "So I started by teaching myself the art before learning from and photographing many of the top Japanese and international masters." Today he is the leading French Shibari photographer and has become a figurehead within the French community, instrumental in bringing Shibari out of the BDSM dungeon and into more innovative and alternative venues.
A big step forward for Shibari in France was the opening of its first school, L'Ecole des Cordes, in 2010. Several other schools have since opened, but another turning point was marked with the arrival of La Place des Cordes in 2014. It became the only place in the whole world where people could discover and practice Shibari six days a week, effectively democratizing the art and extending its reach to the general public. This more public accessibility of Shibari has set France apart from many of its European neighbors like Germany, Belgium and Italy, where opportunities remain mainly in private venues or homes.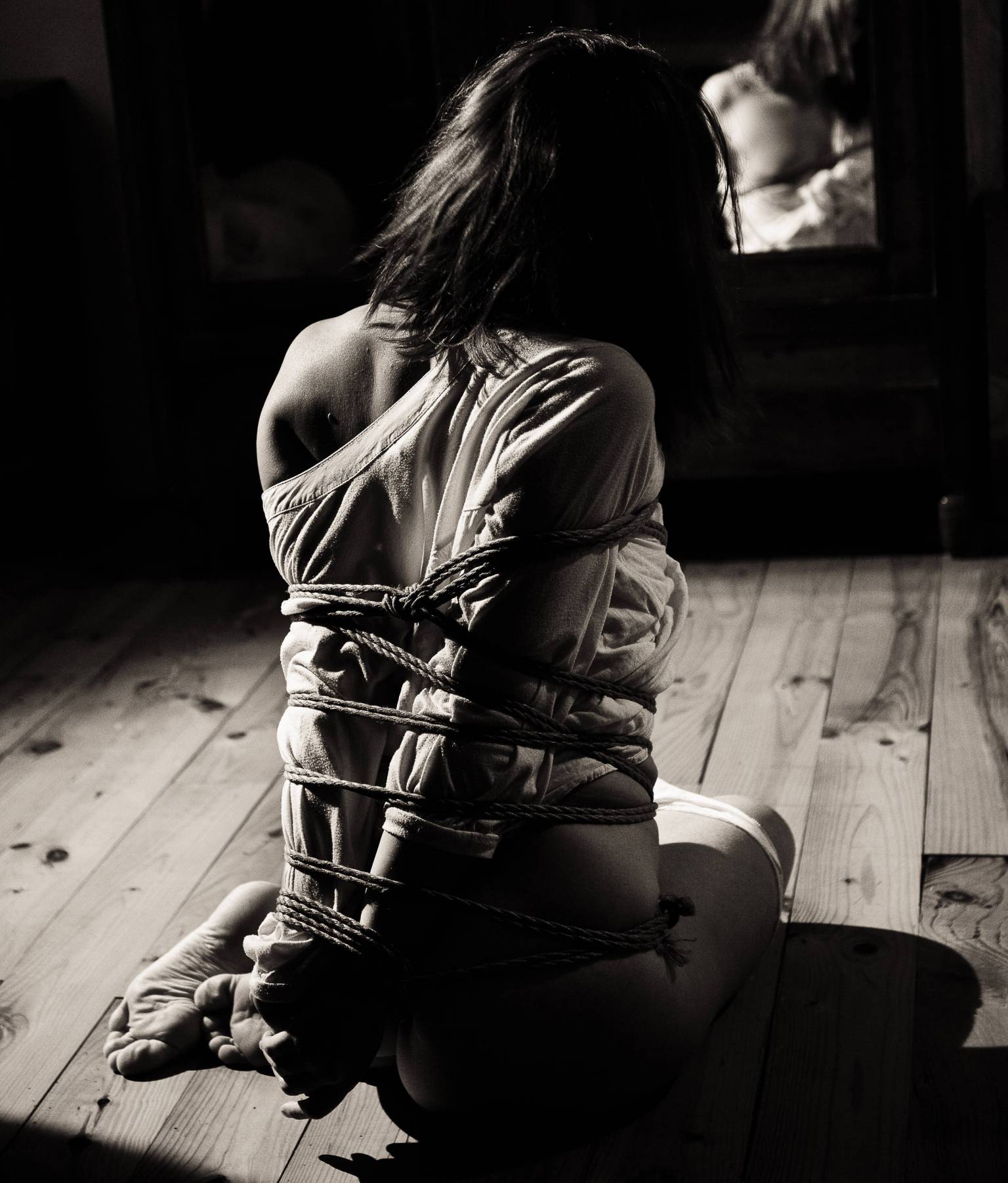 This evolution was clearly expressed during the Kinbaku Café event, through the choice of venue, the style and profile of the performers. The first pair emerged before us, a ponytailed man in his late twenties and an attractive short-haired brunette in a hippy-chic floral print dress, a reflection of the mostly Millennial aged audience, who flirted between alternative and hipster. There were not many links to BDSM, that is, until the rigger placed a bondage mask over the head of his tied up partner. Sensual and surprising, the twenty-minute performance was very well received.
This year has been both a negative and positive one for Shibari in France. La Place des Cordes closed in mid-2018, marred by harassment accusations which dealt a blow to the community as a whole. It's now starting to recover thanks to several other venues which have different approaches, but a common goal of prioritizing consent and mutual respect.
Opened in September, L'Atélier Simonet is the latest project of established Shibari expert Docvale. He was introduced to Shibari while exploring the world of BDSM, finding it much more refined than leather and whips. Perfecting his art, he went on to teach at the Ecole des Cordes and perform around Europe. Later on he became a follower of Japanese Shibari master Akira Nakathis, a stanch traditionalist. Docvale has traveled to Japan twice to study with him and would find it impossible to veer from this style.
"Technique and safety come first, but the relationship between the rigger and model and the emotional aspects are also important," Docvale explains regarding the doctrine of the classes, open practice sessions and other related workshops which take place in his luminous Shibari studio just outside Paris, which could easily be mistaken for a loft in Tokyo
or Kyoto
.
Shibari is the Japanese practice that literally means "to tie."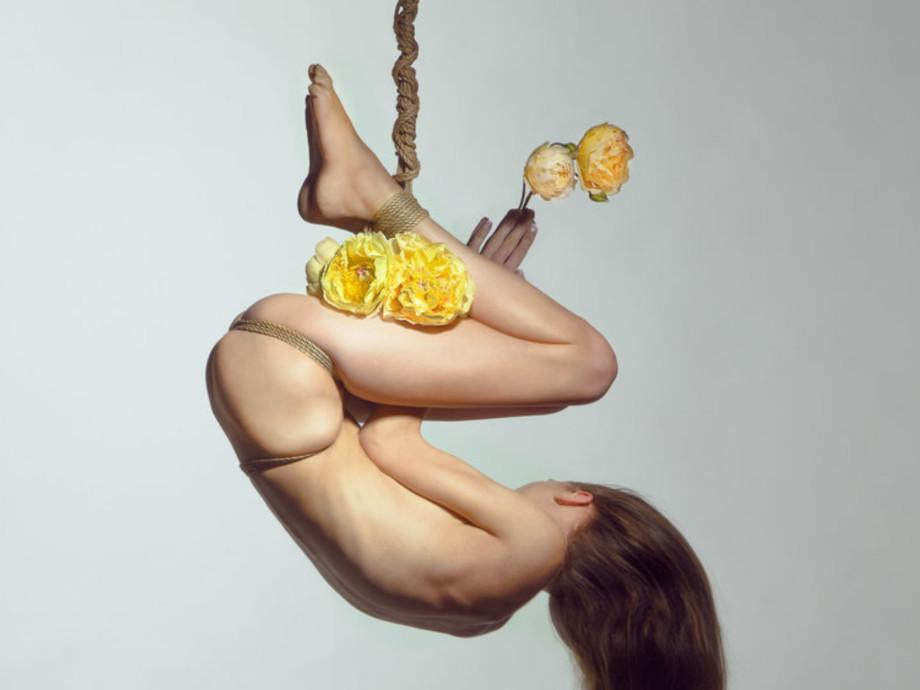 A more modern approach is advocated by other instructors, like Stéphane Arnoux, one of the other co-founders of French Bonds. "When I started giving lessons there were already a lot of classes where you could learn the knots and technique," describes Arnoux. "But they do not delve into the intense exchange that happens in Shibari. I wanted to teach this contact."
I observed this in action during one of his bi-weekly classes, held in his Japanese-inspired studio in a Parisian squat. On that Sunday afternoon he welcomed seven pairs; three middle-aged couples and the others around thirty. Before he launched into the technical lesson of the day, he illustrated how to establishing closeness with one's partner and how to form a bond with the rope, which Arnoux describes as an extension of one's self. He also encouraged the pairs to switch roles during practice.
The French are attracted to Shibari for several reasons," he adds. "There are its erotic and aesthetic aspect, however, the main reason is the idea that by getting tied up, you can set yourself free."