The Beach Bum is the new cinematic party animal from former bad-boy writer-director Harmony Korine, maker of Springs Breakers. The trippy, flimsy flick supposes you know a thing or two—and care—about the much-reported private life of the movie's star, Matthew McConaughey. You know, the dude the police once hassled for raising holy hell with a buddy while hitting a bong and the bongos, nude.

He's Hollywood's go-to actor for gonzo—like his ineffably cool, Awright, awright, awright asshole-ism in Dazed and Confused and his mantra-chanting and chest-drumming in The Wolf of Wall Street. And then there are McConaughey's meandering, grandiloquent award-acceptance speeches and mumbling, pretentious Lincoln commercials. He's what they used to call a character. Take it or leave it, it's the glint-eyed, manic McConaughey—breaking out in goofy Funky Chicken dances and spewing stream-of-consciousness nonsense—who's on display in The Beach Bum. This time, even 95 minutes of him is, well, a lot.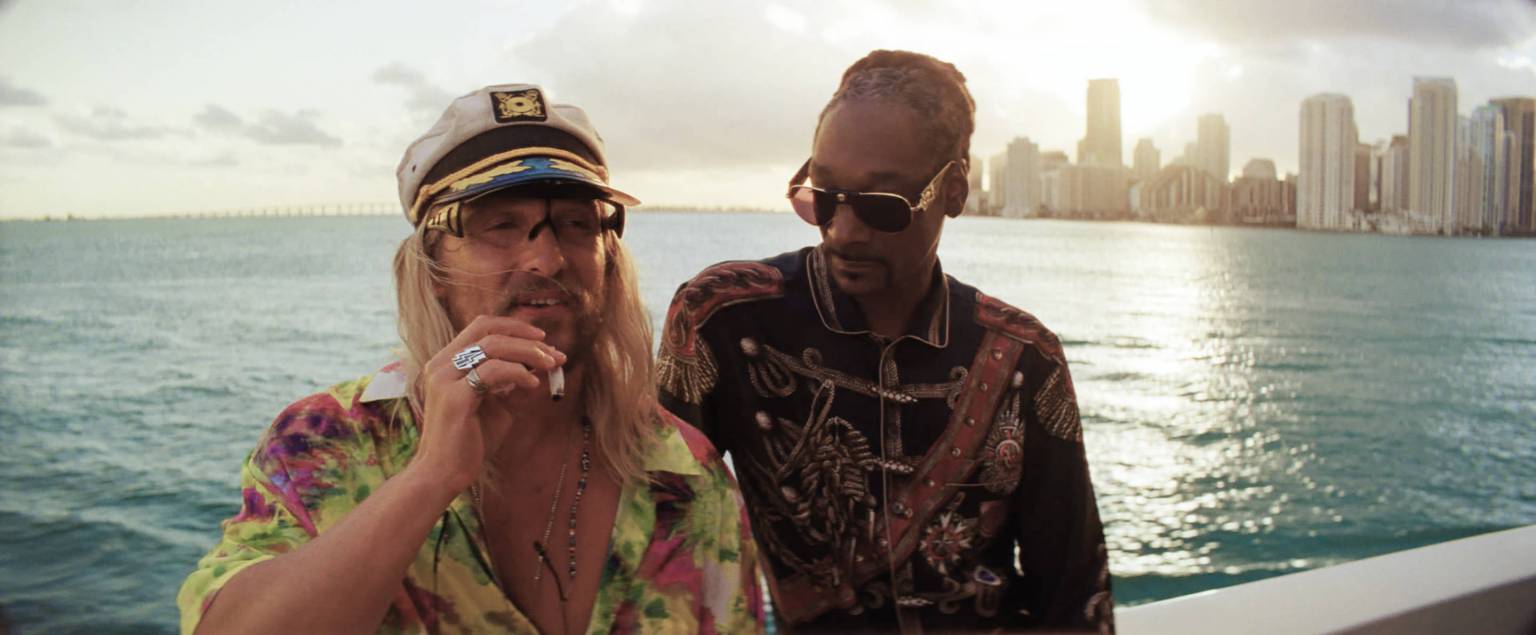 Korine's unhinged, loose and loopy narrative casts the actor as Moondog, a knowing nod to the aging-surfer character Moondoggie in the old
Gidget
movies and novels. Moondog's a wastrel, womanizing, burnout stoner poet, an irredeemable screw-up and local Florida Keys celebrity and oddity. Part would-be Kerouac, Hemingway and Jack Sparrow, it seems Moondog was once hailed as a best-selling literary maestro. These days, he lives for a bottomless supply of cold brewskis, a series of bosomy hoppers to bang and the leisure time to piss it all away with a rogue's gallery of fellow fuck-all hell-raisers.
"Fun is the gun!"—that's one of Moodog's gibberish gems, and it's the same guiding principle followed by the goofballs he encounters. These include Martin Lawrence as a dolphin-obsessed tour guide, Jonah Hill chatting up drag queens and laying on a terrible Southern drawl that makes him sound like a mashup between prissy Lindsey Graham and Foghorn Leghorn, Zac Efron as a sociopathic rehab-dweller with a grill-mark hairdo and
Snoop Dogg
, whose natural vibe with McConaughey gives their scenes a lift.
Since the world is rapidly coming undone, why not greet oblivion with a raised middle finger and a deep bong hit?

The Beach Bum has some sharp dialogue, like when Hill's character drawls, "The best thing about being rich is that you can be horrible to people and they have to take it," or when Moondog assesses himself as "a bottom feeder. I've got to go low to get high." And go low he does, as the flick documents some unapologetic, stomach-churning vulgarity and vice that could send some folks streaming for the exits. But no matter how ridiculous, obnoxious and self-deluded Moondog gets, the movie doesn't judge him. In fact, Korine and company suggest that since the world is rapidly coming undone, and nobody's going to do squat to stop it, why not greet oblivion with a raised middle finger and a deep bong hit?

No wonder the movie idolizes and mythologizes him, just the way Spring Breakers cinematographer Benoit Debie beautifully burnishes and romanticizes the Fla. coast, even at its scroungiest. As hard as Moondog fights against completing his long-overdue collection of verse, fate takes a hand when his superrich narcissistic wife (Isla Fisher) wants him to clean up his act to attend the wedding of their daughter (Stefania LaVie Owen), who says, "He may be a jerk, but he's a great man." No spoilers here, but let's just say that Moondog shows up for the wedding and bumps up against some serious consequences that he flicks off his shoulder like lint. Somehow, he never loses faith that everything's going to work out just fine—for him.

The movie has its pleasures, aside from the cinematography and some of McConaughey's fearlessly all-in performance. As usual, Korine helps curate a sharp musical soundtrack with tunes by the Cure, Van Morrison and, most tellingly, Peggy Lee's mordantly sad and cynical "Is That All There Is?" And if that's all there is, as the movie implies, then the Moondogs of the world suggest we keep on dancing, drugging, screwing and livin'.

The Beach Bum
Pros

McConaughey gives it his all, and the good vibes extend to its beautiful look and amusing chit-chat

Cons

You really need to be ready to buy what Korine and Co. are pushing
Playboy's Stephen Rebello reviews the director's 'Get Out' follow-up that stars Lupita Nyong'o