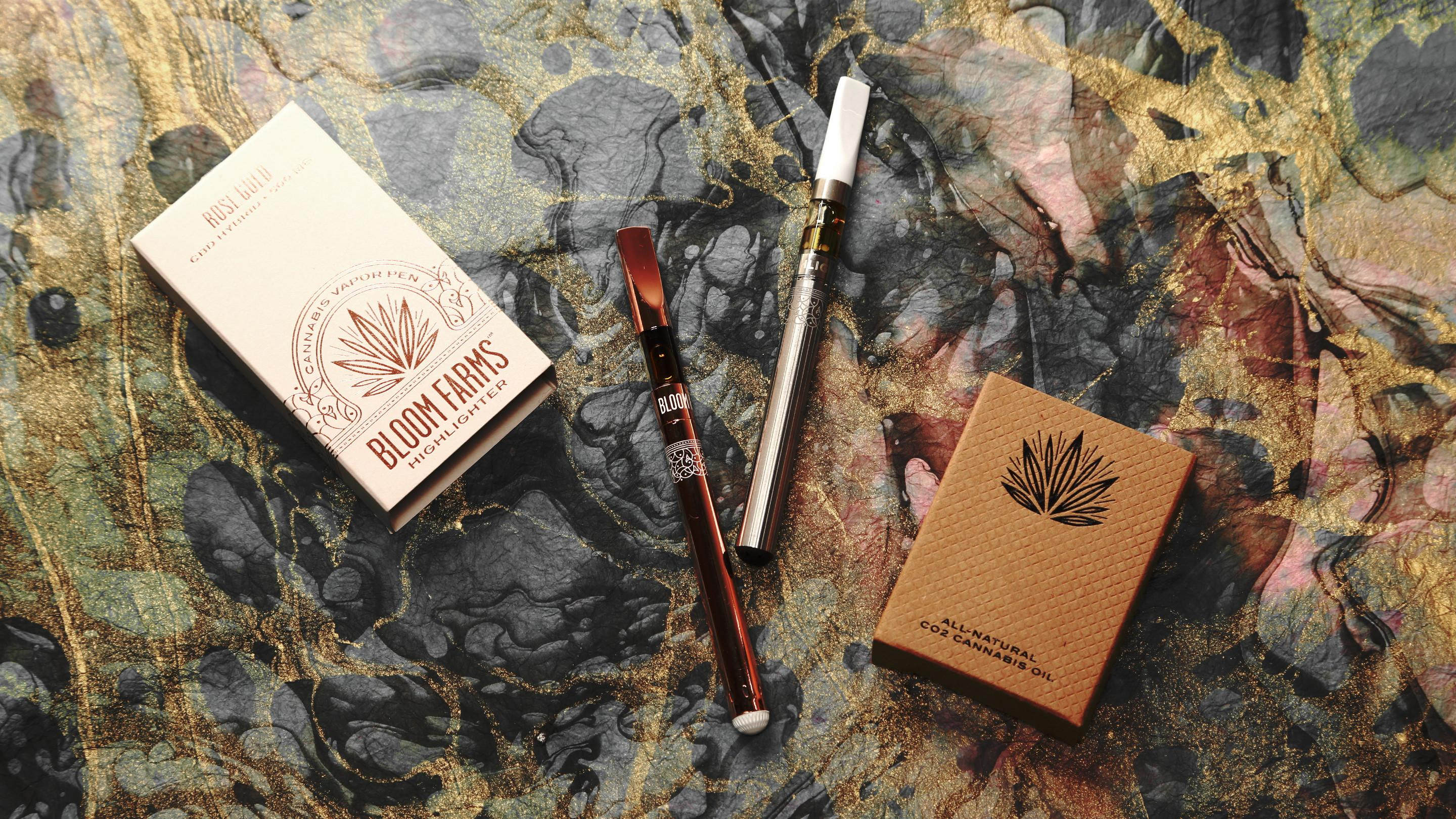 Bloom Farms: For the Socially Conscious Stoner
Written by Kyle Fitzpatrick
Photography by Evan Woods

Published on

February 02, 2018
Cannabis already has a rich culture and the rise of legalization means its landscape of users is only going to get more nuanced. As the masses come to accept the drug, they're already sashaying away from the ideological rasta knit caps or songs dedicated to doing nothing, products are subsequently evolving to match contemporary culture.
The marijuana business has already introduced cannabis for specific moods and ailments, and even for our pets. It's not difficult to invision marketing campaigns aimed at weed for the preppy people and the hipsters, cannabis for parents and cannabis for young adults. And then there are countless companies in the post-2000 world that are cashing in on social consciousness; clothing brands find success by only using recycled materials and water is finding an audience that prefers reused cardboard. In a time when we feel out of control of our world, there are a slew of buyers that want to make an impact in whatever way possible--especially when the required effort is minimal. It's a great incentive to spend a little extra if there is potential for that dollar to do good, right?
Bloom Farms is the San Francisco-based cannabis brand with a one-for-one model akin to shoe-cum-lifestyle brand Tom's. For every sale Bloom Farms makes, it donates a meal. By working with local food banks, the company has created a sustainable means for both consumers and those in need while cultivating a following of like-minded individuals, all in the name of indulgence and/or medication.
Michael Ray, Bloom Farms' CEO and founder, has held this mission close to his heart since December 2015, when he first launched the one-for-one initiative. And the road to giving back wasn't easy either. Old school negative connotations associated with cannabis meant major skepticism from most potential charitable partnerships. "We were denied by several non-profits and bank partners in California," Ray tells Playboy. "We tried to get something going in June or July of 2015 and we were just told, straight up, 'No, sorry, we can't partner with you--you're a marijuana company. Our board won't allow it.'"
"To me that was kind of shocking and kind of sad," Ray says. "It was frustrating. It felt like the left out kid on the playground." It wasn't until Ray met with the SF-Marin Food Bank that Bloom found a partner willing to take donations from a cannabis company. As Ray recounts, the SF-Marin Food Bank was shocked that Bloom had been turned down, noting that feeding people "isn't political" but a pervasive problem affecting almost seven million Americans.
Bloom has since found success with its model and have been able to expand to local food bank partners across Northern California and beyong (in Alameda County and cities like Santa Rosa and Los Angeles). The company also encourages employees to volunteer in the communities they are a part of and Bloom even hosts volunteer days for fans of its products to get in on giving.
"For us, it's not about getting as high as possible: it's about enjoying cannabis in a responsible and healthy way, using it to enhance life."
The company celebrated its 500,000th meal donation in late April 2017 and just reached donated its millionth meal. This dogged giving has set them apart, attracting an audience based on the philanthropic culture that the company is built from. Beyond demo days for customers to try Bloom products, the company hosts a dinner series that intertwines fine dining with cannabis in addition to a combination yoga-and-cannabis fitness experience, all of which emphasize its give-back mission. "Cannabis culture has historically focused around a counterculture movement, really more about getting as high as possible," Ray says. "For us, it's not about getting as high as possible: it's about enjoying cannabis in a responsible and healthy way, using it to enhance life."
While giving is key, Ray is well aware that "enhancing life" is sometimes just a really, really, really good high–and Bloom is all about that too but see getting baked as only a small detail in defining cannabis culture. "We support the reasons why people may enjoy cannabis," Ray says. "We can probably all agree that the world could use more fun from time to time," he laughs. Bloom Farms' idea of "fun" includes products that are as lovely and thoughtful as its messaging. In an industry with questionable use of pesticides for cultivation, its multi-colored vapor pens are "strain-specific" single origin preserves, cultivated locally. And then there is the Highlighter line--a rechargable, refillable mix of steel-coated ceramic pens, named by the best time of day for consumption: Nighttime for the relaxing indica strain, Daytime for sativa the uplifting sativa strain, and Anytime for the hybrid (a combination of indica and sativa). And if you're into feeling the burn, there are joints also grown locally by Casper Farms.
Bloom intends to continue on its mission of marrying giving with the greens, hoping to grow its reach beyond California. "We're very excited to announce that Nevada will be launching in January," Ray says. "That will be our first foray into another national brand, essentially. Of course, like everything we're gonna do, every product sold in Nevada will generate one meal to a Nevada based food bank."
As for the donations, Ray is hoping to ramp up how much they give exponentially. "Our next goal is obviously five million and then the goal after that is ten and then the goal after that is a hundred," Ray says. "We'll keep chugging along. We'll keep pushing as long as the consumer continues to enjoy our products, our message, and our mission."