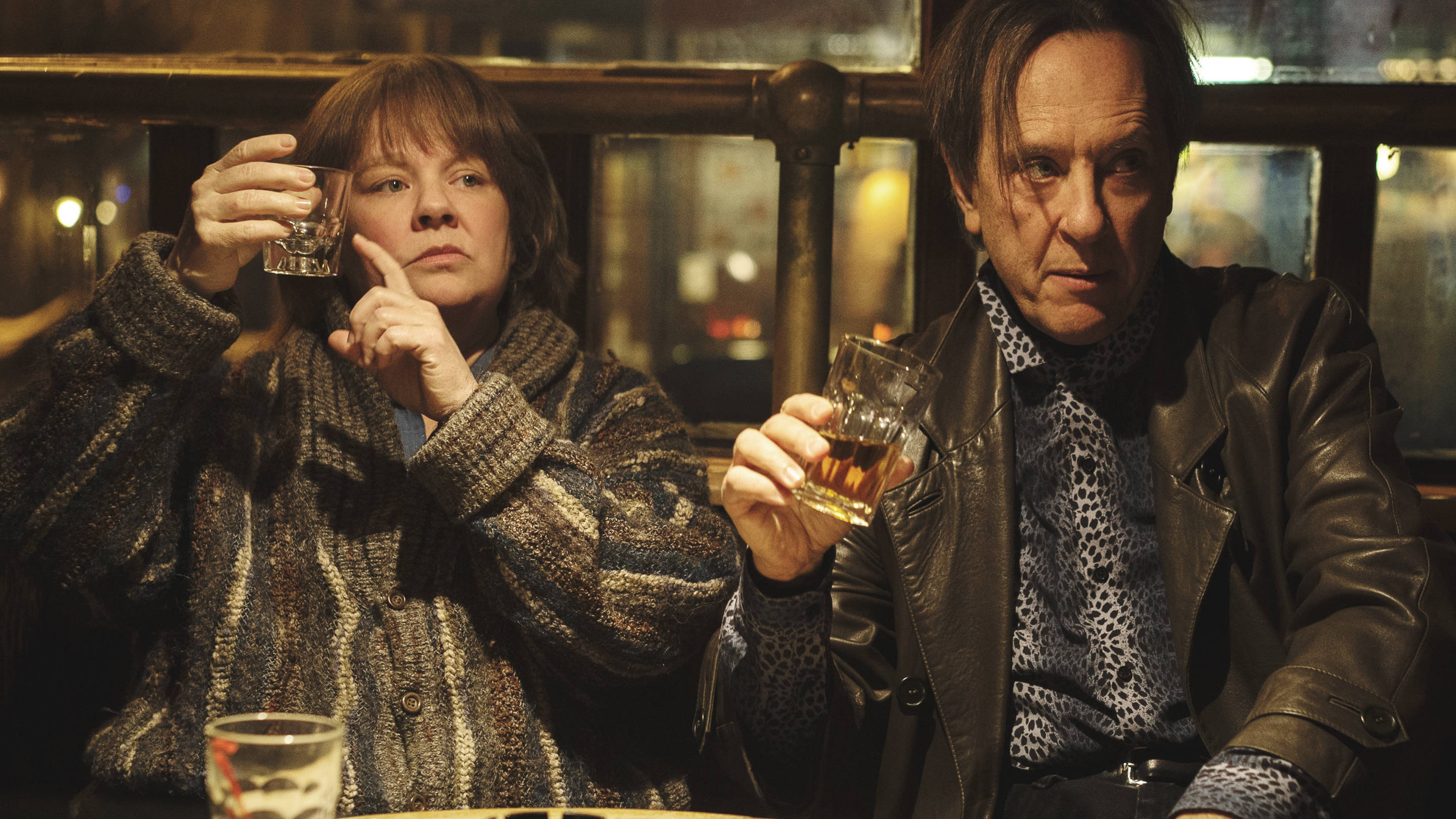 Melissa McCarthy Roars Back With 'Can You Ever Forgive Me?'
Written by Stephen Rebello

Published on

October 16, 2018
When people complain about how Hollywood doesn't make certain kinds of movies anymore, those people may be annoying, but they're right. It's movies like Can You Ever Forgive Me? that they're talking about, and—although the small, sour, very entertaining movie won't be everyone's cup of tea—sitting through it, you can see and feel exactly what we've been missing.

Armed with a sardonic, melancholy screenplay credited to Jeff Whitty and Nicole Holofcener, Can You Ever Forgive Me? is a smart, sad yet deeply funny movie based on the life—as depicted in the autobiographical book of the same title—of moderately successful writer Lee Israel, biographer of long-ago women like larger-than-life actress Tallulah Bankhead and cosmetics mogul Estée Lauder. We meet her at the moment when the entire culture began to shift, and with it, her personal and professional life hit the skids.

Wakanda forever! Playboy critic Stephen Rebello picks his 10 favorite pre-awards season films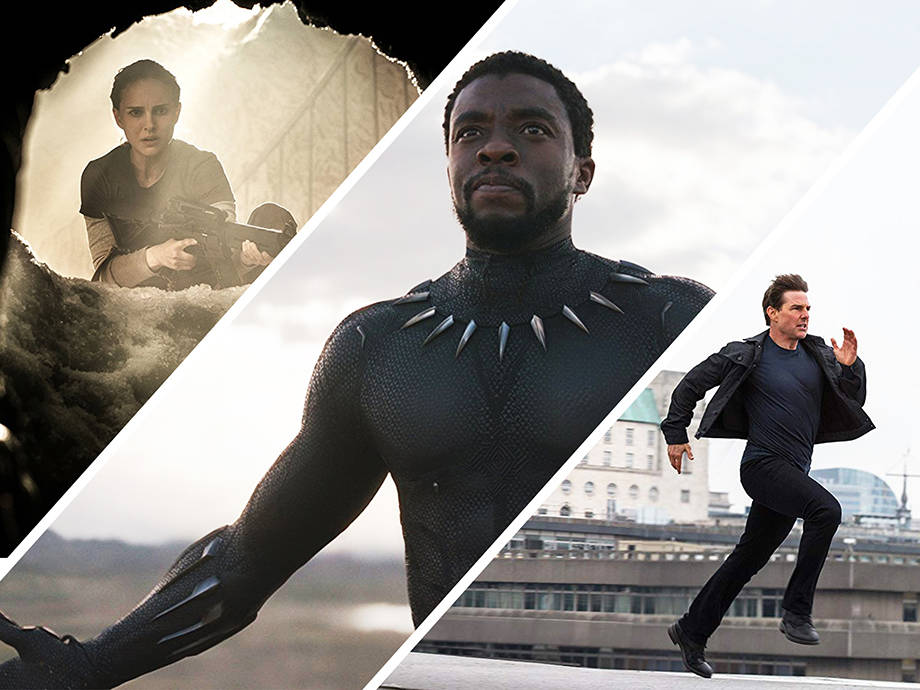 It's New York in the early 1990s, and the abrasive, boozy and caustic writer can't get her snooty uptown agent (played with knowing malice by Jane Curtin) to go for a biography of ace Ziegfeld vaudevillian Fanny Brice. Her agent sees no market for the book—or for her anymore. Israel's burned too many bridges, and she's committed the unpardonable sin of growing older. She's so badly strapped for cash that, during a literary cocktail party at her agent's home, she's reduced to stealing toilet paper and shrimp (for her cat), guzzling double Scotches and snaking a nice warm overcoat.
Her ex-girlfriend ducks her phone calls, too.
Her beloved cat
, Jersey, is ailing, and Lee hasn't enough money to pay the vet bills. And just as she looks about ready to make the big slide, she accidentally happens on a means of staying afloat: literary-centric crime. She begins forging celebrity letters, later creating from whole cloth some vibrant, sexy, delicious letters purportedly written by the high-toned, first-class-wits likes of Noël Coward, Lillian Hellman, Dorothy Parker, Fanny Brice and more. Collectors snap up her offerings, and she's riding high again.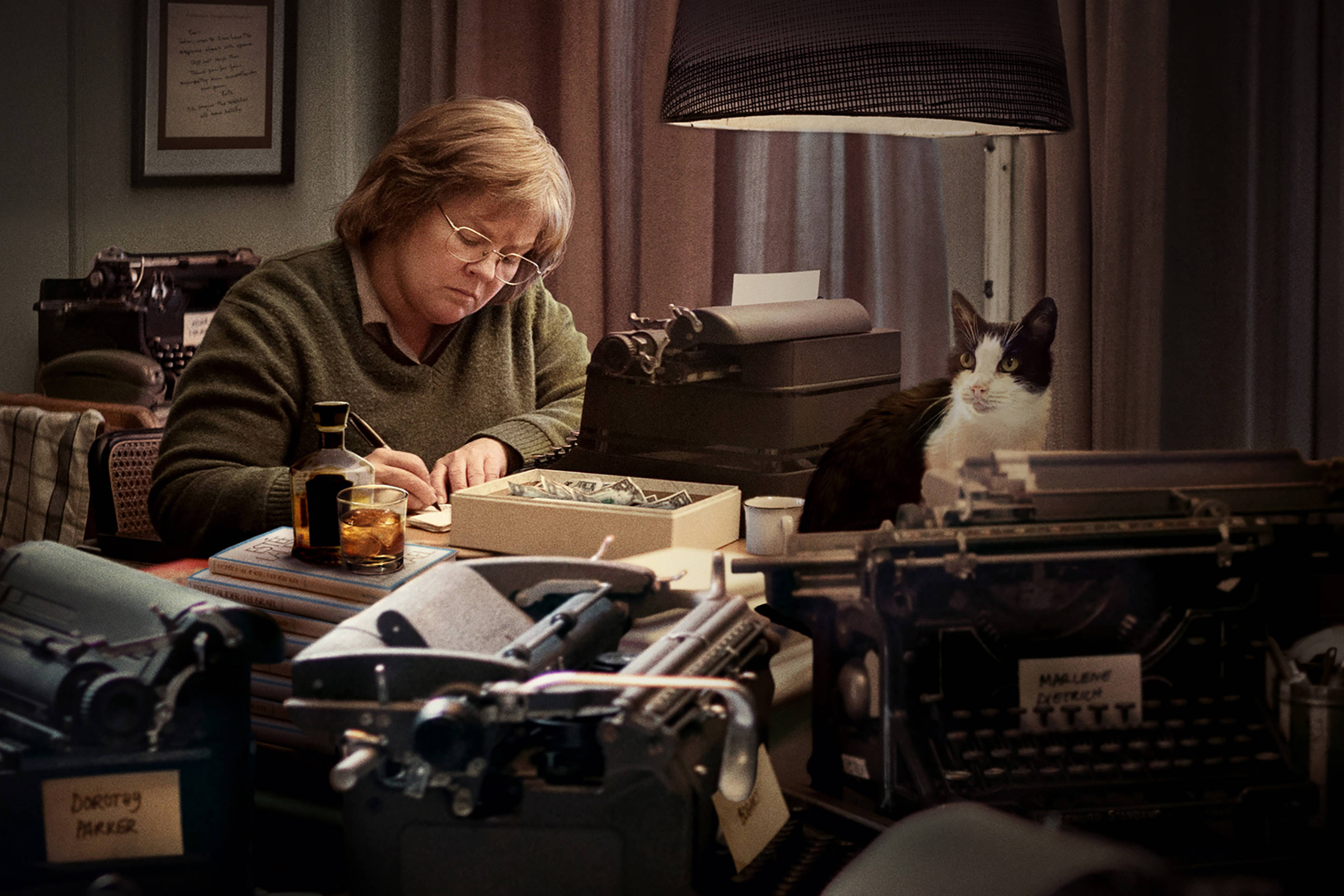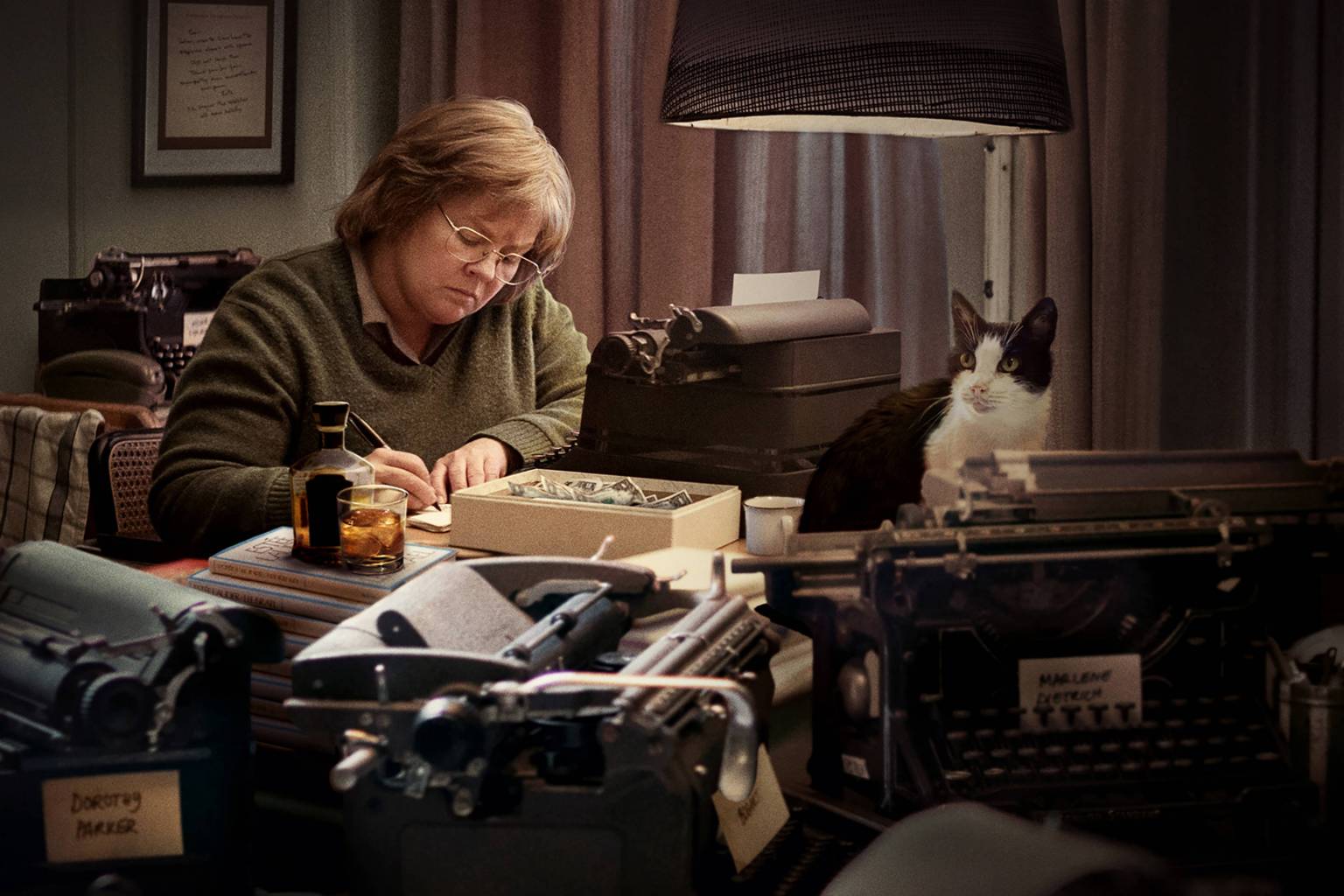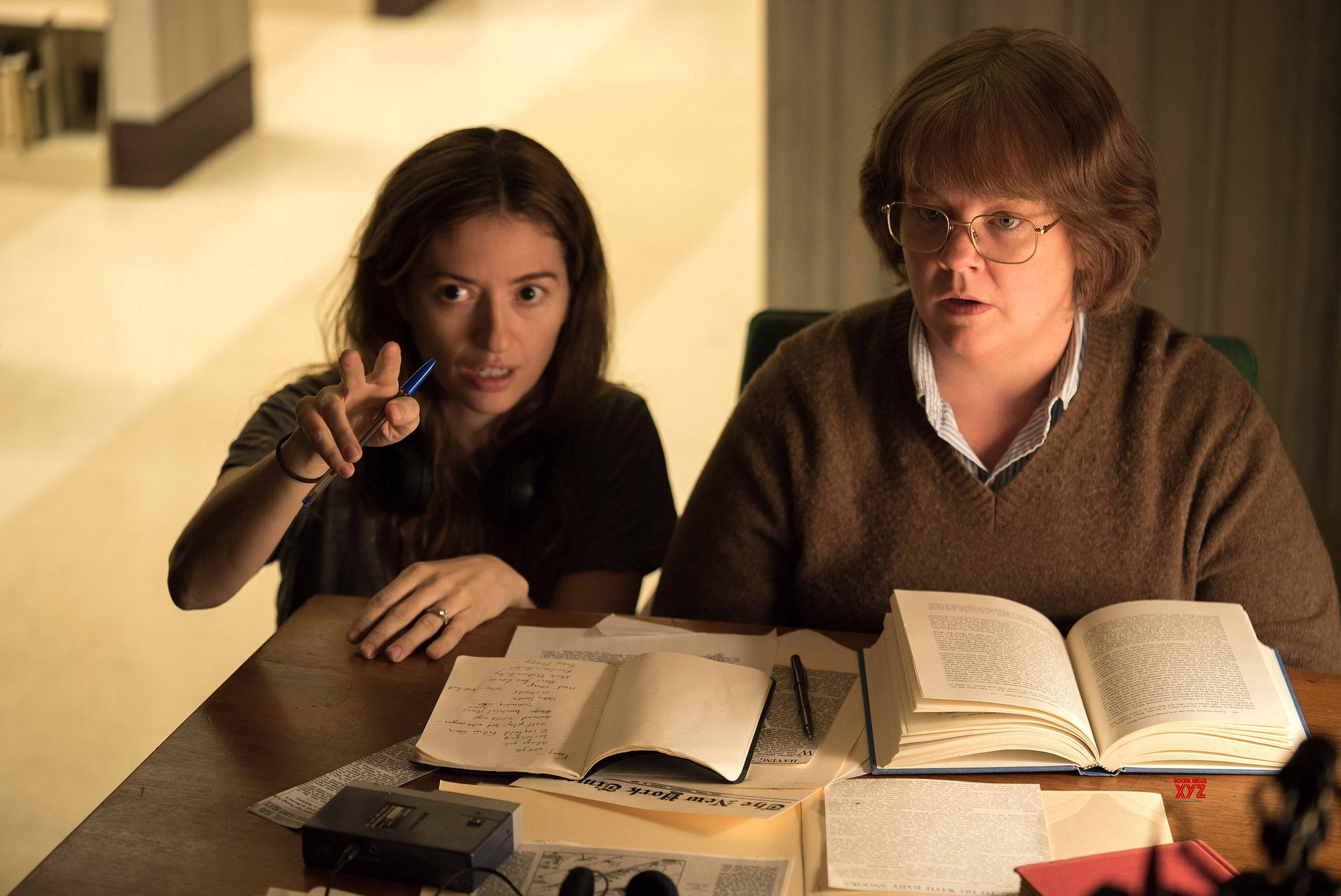 Her accomplice is Jack Hock (Richard E. Grant), a witty, hard-drinking, cheerfully amoral louche who lives nowhere and everywhere but has a knack for survival—just about, anyway. When Israel asks, during a bout of daytime pub drinking, how and what Jack has been up to lately, he chirps, "Oh, this and that. Mostly that." He and Israel make for the year's most remarkable screen duo, a kind of low-rent, bohemian, life-bruised Nick and Nora Charles who haunt the best gay dive bars, plus lots and lots of bookstores and cafes, and bicker.

The film's evocation of a time, place and mood? Impeccable. And as Lee and Jack's illegal literary charade builds and thrives, the movie takes on aspects of a thriller. When will Israel get caught, and how awful will be her punishment? Julianne Moore was originally announced to play Israel with Holofcener directing; "creative differences" ensued, and both exited the project. Instead, Marielle Heller directs with unerring compassion, and the plum role of the unapologetically misanthropic, utterly sympathetic Israel goes to Melissa McCarthy.

Melissa McCarthy so submerges herself into the part that she delivers not only her best film performance, but also one of the performances of the year.
The actress undoubtedly bruised her brand with such letdowns as
Ghostbusters
,
Tammy
,
Life of the Party
and
The Happytime Murders
. Here, though, she's got one hell of role to bite into, and she comes roaring back to the spotlight. She so submerges herself into the part of a first-class, potty-mouthed eccentric and survivor that she delivers not only her best, most humane and subtlest film performance, but also one of
the
big-screen performances of the year.
Grant brilliantly partners her, playing another lonely, aging gay character—hanging on to former social and sexual glories, and frantic to keep from falling into the New York shark tank while maintaining some shred of dignity. Like Israel and the way McCarthy plays her, Grant does it without self-pity or fake pathos. Award nominations should shower them both.
Can You Ever Forgive Me?
is a gem: small, candid, tellingly observed, humanistic and—in its specificity and narrow-gauge look at a pair of lonely outsiders—heartbreakingly on target.
Can You Ever Forgive Me?
Pros

Melissa McCarthy and Richard E. Grant deliver awards-worthy performances in this powerful gem

Cons

It might not be for everyone—but it should be for most people
David Lowery tells Playboy about reuniting with the screen legend for 'The Old Man & the Gun'