Inside 37-year-old filmmaker David Lowery beats the heart of a much older, dyed-in-wool cinephile, one especially hopelessly devoted to great American movies made decades before he was born. That love and respect for past big-screen glories suffuse every frame of his 2013 breakthrough Ain't Them Bodies Saints, the poetic, elegiac lovers-on-the-run movie in which Casey Affleck and Rooney Mara played outlaws who could have taken their rightful places beside Farley Granger and Peggy Cummins in Gun Crazy, Warren Beatty and Faye Dunaway in Bonnie and Clyde and Keith Carradine and Shelley Duvall in Thieves Like Us.

It's present in another way in his soulful, melancholic A Ghost Story, released last year, in which Affleck plays a guy who dies in a car accident and returns as a spirit to his grief-wracked widow Mara, whom he can only watch, powerless, as she struggles to put herself back together and move on. It's all over his warm, heartfelt take on Disney's 1970s movie Pete's Dragon, and it's boundless in his sweet, funny new heist movie The Old Man and the Gun, in which Robert Redford, who also starred in the Disney flick, winningly plays a grinning, winking, real-life seventysomething Texas bank robber and prison escapee Forrest Tucker (no relation to the star of '60s TV's F Troop).

For the iconic Redford, not only one of the last of the movie stars but also an Oscar-winning director for Ordinary People, it's a career-capping role that expands and even comments on his cinematic gallery of handsome, rascally scamps, from Butch Cassidy and the Sundance Kid, The Sting and The Candidate, right up through 2013's All Is Lost. For writer-director-editor Lowery, The Old Man & the Gun signals the latest step in his ascension as a completely modern director who does things in the classic manner. After all, Lowery—aside from Casey Affleck as a cop in dogged pursuit of Redford's renegade character—surrounded his leading man with costars of the caliber of Sissy Spacek, Danny Glover, Keith Carradine and Tom Waits, major figures in '60s and '70s moviemaking.

A candid conversation with Ben Affleck, Hollywood's ultimate comeback kid.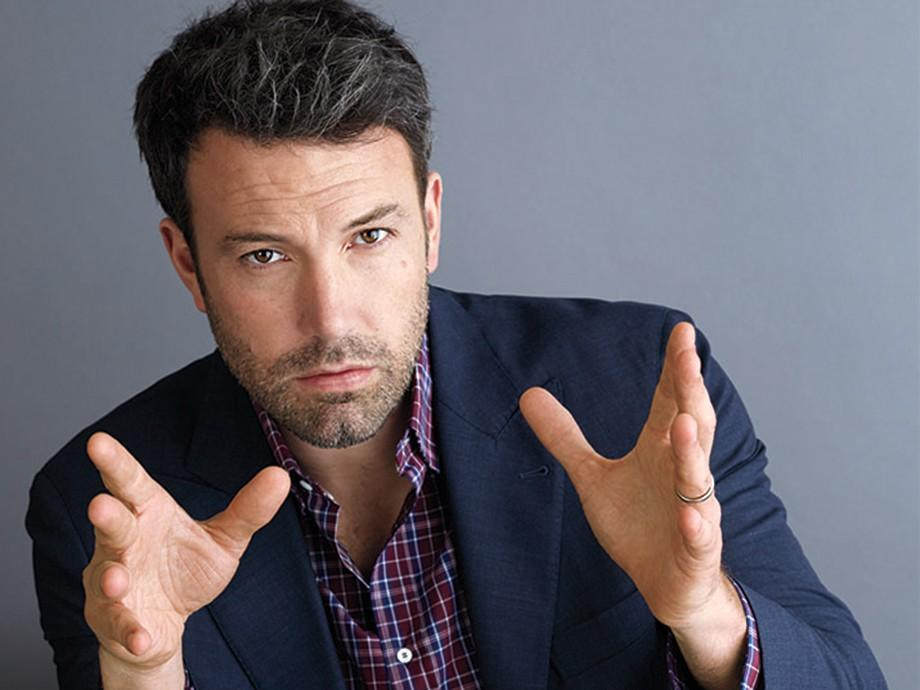 Playboy Contributing Editor Stephen Rebello talks with the Dallas, Texas-based Lowery about his obsession with the past, his work on Disney's upcoming Peter Pan, how seriously he takes Robert Redford's retirement announcement and why he considers his biggest strength to be as a maker of "fairy tales."

Your 2009 indie movie St. Nick made a splash on the awards circuit at the South by Southwest Festival, and copped an award at the AFI Dallas International Film Festival. Ain't Them Bodies Saints, the second movie you wrote, directed and edited, competed at the 2013 Cannes Film Festival and was nominated for the Grand Jury Prize at the Sundance Film Festival. Can we assume that your Sundance connection, let alone your work with Sundance creator Robert Redford on Pete's Dragon, helped pave the way toward your directing him again in his long-developing project The Old Man & The Gun, which is based on David Grann's 2003 piece in The New Yorker?
Robert Redford's producing partner sent me David Grann's piece because, as I'm sure you know, Bob has wanted to make this movie for a while. I've heard that there was a point when Wolfgang Petersen was going to direct it, but I never wanted to dig too deeply into the project's history.

Why not?
That would have been weird, like finding out that your wife has an entire other family you never knew about. But reading it, it felt like the grounds for a classic Redford movie, a spiritual successor to some of his classics. Also, I love watching people, movie characters, who love what they do. I want to spend my life doing what I love, and I've been lucky enough to do that so far, so I felt a specific kinship to this guy who couldn't quit, who did everything with love and passion and, by all accounts, with a twinkle in his eye. I just had to substitute bank robbing with filmmaking. So, to some extent, this movie is relatively autobiographical. [Laughs]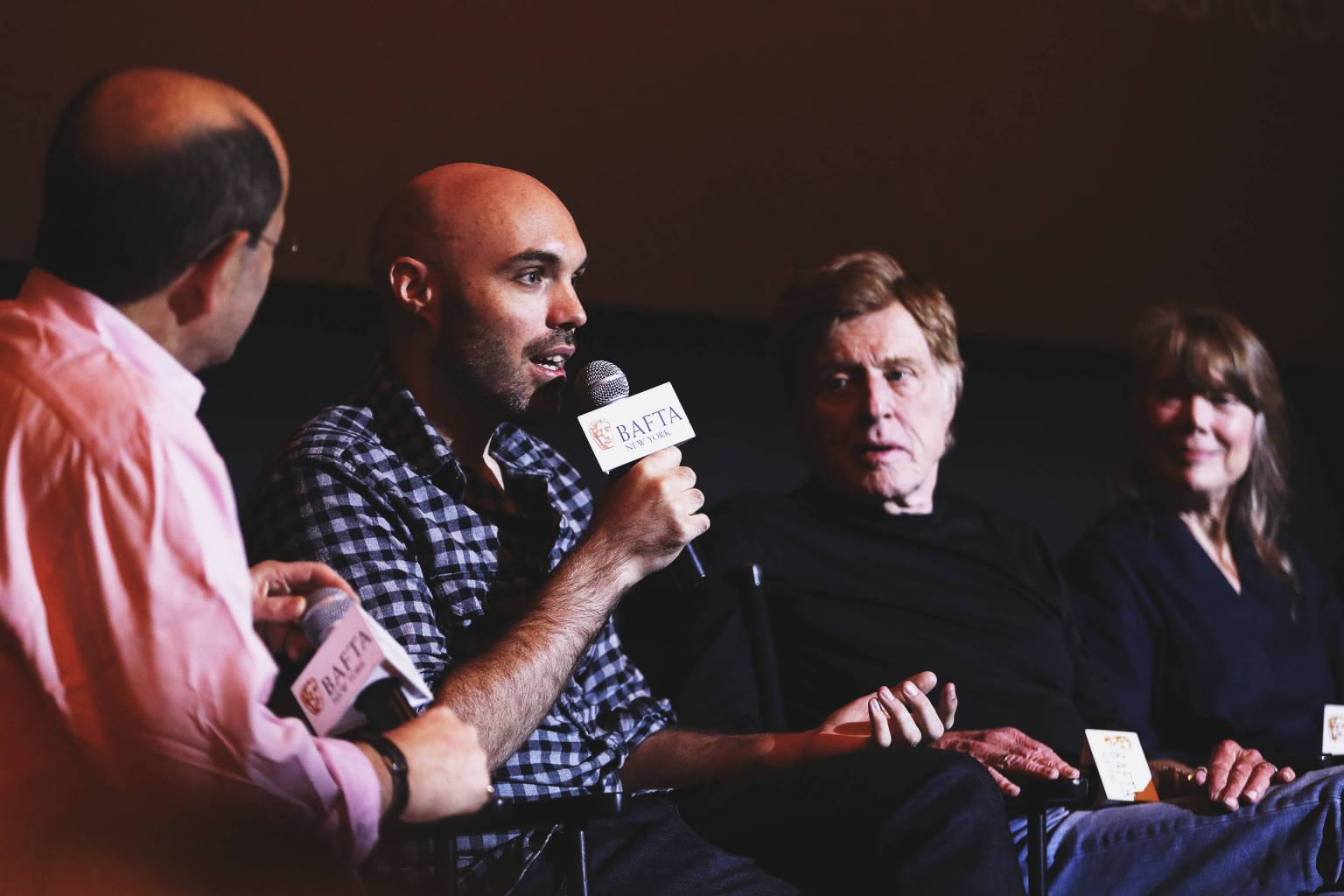 The Old Man & the Gun has a gentle, almost fable quality that suggests it's as much about the real-life Forrest Tucker's criminal exploits as it is about Robert Redford's inarguably legendary status. But aside from reading David Grann's story, did you immerse yourself in the facts of Forrest Tucker's incredible criminal exploits?
At first, I tried immersing myself in everything I could about Forrest Tucker. I called David Grann and asked for all of his sources because I just wanted to dig in to the true story and get to the heart of it and all its gritty details. I wrote an early screenplay that stuck to the facts and was very journalistic, and in which I was more truthful to who the real Forrest Tucker was, even though I was also trying to make a quintessential Redford movie.

So, clearly you relaxed your approach.
Forrest himself was charming, but the Forrest he presented to David Grann was a lot less charming, with a lot of darkness, sadness and unsavory elements. As great as the Zodiac approach works for that movie, for this movie with this actor, it wasn't the right approach, and it wouldn't be satisfying or successful. Some other drafts were a little more traditional—more car chases, heists, shootouts; other drafts were more about a guy looking back on things he'd done decades before. It took a long time of trial and error for me to figure out exactly what it needed to be or what I wanted it to be. It was trial and error. Whenever I was in doubt, I'd just think about who Bob was—what it would mean to see him in this role—and knowing that just having him in the movie was going to do a lot of the heavy lifting for me. I didn't need to stress out as much as I had been.

You wanted to make a real Robert Redford out of Tucker.
Having had the luxury of getting to know him and getting to know how to direct him on Pete's Dragon, I put away that first draft and completely started over again and again. Finally, I found the balance. I kept the quirkiness of that magazine story, but I mythologized. Liberally. And I think the movie is better for it.

We've met before, so I know what a huge fan you are of old Hollywood and foreign-language films. Which Redford movies did you revisit?
When I first started writing the script, I went back and looked again at the movies he made for [director] George Roy Hill—Butch Cassidy and the Sundance Kid, The Sting, The Great Waldo Pepper. I was so struck by how weird Butch Cassidy and the Sundance Kid is. Around the iconic moments that everyone remembers is a film that is really very strange, oddly shaped and unusual. You kind of feel "New Hollywood" rearing its head in a very major way, and Bob was such a big part of that.

Were there any revelations in Redford's filmography?
I just fell in love with Downhill Racer, directed by Michael Ritchie, which I'd never seen before.

That's the 1969 movie featuring Redford as a U.S. ski team anti-hero who constantly butts heads with Gene Hackman, as the team's coach.
Again, it's just such a weird movie, and although it's incredibly simple, it's also incredibly compelling and memorable. Bob plays such an unlikable, really awful guy, but you still like him because of who plays him. It's that ineffable quality that made him a movie star. In that movie, you see the independent spirit rearing its head in a very profound way—especially when you realize he took out that movie and basically distributed it himself. I kept that movie in mind because the character is so selfish, single-minded, so dedicated to one thing.

I also had a great time watching a lot of crime movies—The Asphalt Jungle, Straight Time, Bob le Flambeur—just to see the beats and tropes that everyone falls back on. I wanted to satisfy fans of those cops-and-robbers tropes, but I didn't want to be predictable or rote. I also wanted to veer off in other, fresh directions whenever I had the opportunity. I love a good crime film, but I realized that I'm not a good crime-film moviemaker. I can make really good fairy tales, but not a straight crime movie. Once I thought about The Old Man & the Gun as a fairy tale, it started to make more sense to me. I thought, Whatever that movie is, I can make that.

Redford said, "I'll do it, but watch the dailies, and you'll see. I already did it on the first take." I kind of brushed it off like, "Whatever." But sure enough, I just hadn't noticed it.

Having directed him twice, is it still possible for you to become intimated by Robert Redford?
I learned not to call him "Mr. Redford." That's the No. 1 rule. He's Bob. When you're on set with him and aim the camera towards him, all of a sudden you feel this deep sense of comfort. Especially if you're a fan of movie history and of other movies he's done, you've spent your whole life seeing that face, those images, so there's incredible meta-context to it all. You couldn't avoid it anyway, so it made sense to lean into that but not overdo it or wink at the audience. I let the camera linger on him a little bit longer than you normally would. That's when you start to discover and appreciate who he is, what he's been through and add that to the movie. I get very emotional talking about this. I've grown to love and care for Bob deeply. To have the honor of presenting him in this context is something I don't take lightly.

The big lesson he taught me? "Pay attention." On one of his bigger scenes on Pete's Dragon, I asked him to emphasize a word or something. He said, "I'll do it, but watch the dailies, and you'll see. I already did it on the first take." I kind of brushed it off like, "Whatever," but sure enough, when we watched the dailies that night, he had done everything I could have wanted on that first take. I just hadn't noticed it. So, the lesson was not only "Pay attention," but also in trusting my actors to do their jobs and to know what they're doing. Pay attention. Trust. Doing that also saves time because you don't have to do 15 takes when you realize that your actors usually get it in the first few takes. It was such a gift to be told that.

But you've made a handful of movies so far, and here you are working with actors with long careers—actors who've been directed by peak-level Robert Altman, Terrence Malick, Sydney Pollack, Alan Pakula. Do you ever, even secretly, give yourself a pinch or find yourself awed by the company you're keeping?
It's important to maintain a collaborative relationship with your cast and not fall into fandom, which I could easily do with anyone I've worked with. Every once in a while, though, you have these realizations and little glimmers that you are watching legends walk before you. Like, when I just casually glance around the set, and there's Robert Redford reading the New York Times in his folding chair. The weight of that just hits you, and it's inescapable. Or you frame up a shot of him and suddenly realize that you've seen that same shot in the 30-year legacy of great Robert Redford, and you're following in those footsteps. It hits you.

When you have those moments, it's important to take a millisecond—amid the humdrum experience of being on the set, and all the millions of decisions that had to be made—to be thankful that you can be part of cinema history. Cinema is what I love, and its history is what I love, and here I have a front-row seat to the next phase of it.

So, none of these veteran actors has ever tried to break your shoes—just for on-the-set laughs, or for sport?
[Laughs] They could have, and I'd take it. It's their right to do that, but they never have done that. I try to make the cast and crew feel as familial as possible. I want them to have a positive experience. Cast members often come in to work and feel they don't know anyone. I want them to feel warmly welcomed. I think they know they are, and they respond to the environment my crew and I create on set.

I'm definitely getting more out of it than they are, but I hope that they are enjoying it in their own right. I don't want to say that they're learning from me, but I hope that they're getting something out of it, too.

How much do your actors get to deepen and enhance create their characters?
The actors in this movie especially are co-creators just because of the way they inflect a certain word or create a certain emotion. Sissy [Spacek] had an idea about how to make better one of the best scenes in the movie—a scene with she and Bob in a jewelry store. Originally, they walked out of the store with a bracelet. She said, "Why don't we make this a moment of growth for both of the characters?" I don't know how I didn't think of that, but I'm glad she did. Casey [Affleck] will come in and flip a word around, or say things to his wife that existed in lesser form in the script. I give him so much credit for improving my writing, and I thank him so much for it.

I love a good crime film, but I realized that I'm not a good crime-film moviemaker. Once I thought about The Old Man & the Gun as a fairy tale, it started to make more sense to me.

The culture is so youth-obsessed—I wonder, did anyone ever want to dodge the word "old" in the title, or urge you to make the movie edgier, pacier, darker?
No. The one thing that came up in a lot of our discussions was whether we all felt it was culturally appropriate to have a title that had "gun" in it. Ultimately, we said, "This is an outlaw movie, and we can't be politically correct about it. Let's be realistic. It's part of our culture. Tom Cruise shoots a million people in Mission: Impossible—Fallout. We barely show a gun. I think we can use it in the title."

Ever since I was in high school reading Cormac McCarthy and Raymond Chandler, I'm drawn to people with gravelly voices and some creases on their faces. That's something I'm drawn to. One of the things that was exciting to me is that, when the studio screened the movie, apparently young audiences really loved it. There's not only a younger crowd out there who not only knows and respects who Robert Redford, but who are also excited about seeing him in this context. I'm in my 30s, I love cinema history and love Robert Redford, and so it's nice knowing that I'm not alone in that with my peers.

Robert Redford made headlines by announcing that this would be his last time being in front of the camera. He's since called that pronouncement a mistake. What's your take on it?
He's told me that if I have something else that I need him for, he'll come do it. If that didn't come to pass, I'll be sad. But he's not going to sit in Santa Fe and do nothing. He produces films. He's always overseeing things. He's got films he wants to direct. So, if he decides not to act again, that's just one facet of his life on which he's closing the door. Whether or not he appears on screen—and I think he probably will—we're going to keep hearing from him for a long time.

Were there things in the movie that hurt when you had to cut them?
I know why I cut one scene, but even as recently as a few weeks ago, I wanted to put the scene back in. It's Tom Waits alone on a misty morning, stealing a car while a train goes by. Who doesn't want to see Tom Waits steal a car? It's a great, great scene, but when I watched the movie with an audience, there was a need to keep the story going at that point and not stop for this wonderful scene that was just a little island unto itself. It'll be on the Blu-ray. So will some great stuff with Keith Carradine that I cut only because there was too much cops-and-robbers stuff. I'm here talking with you and still going, Shouldn't this all be in the movie?

What's up next?
I just turned in another draft of Peter Pan for Disney. That could happen anywhere from six months to two years from now. The other one is a medieval movie—with castles, swords—and I can't blame anyone for thinking twice about being willing to finance it. But for right now, I've got some people who are interested in it, and that might come to pass, too. It's important to me to keep working. How long will I be able to make these movies? How long will people care about movies? I look forward to jumping right into them. That's a good place to be in.