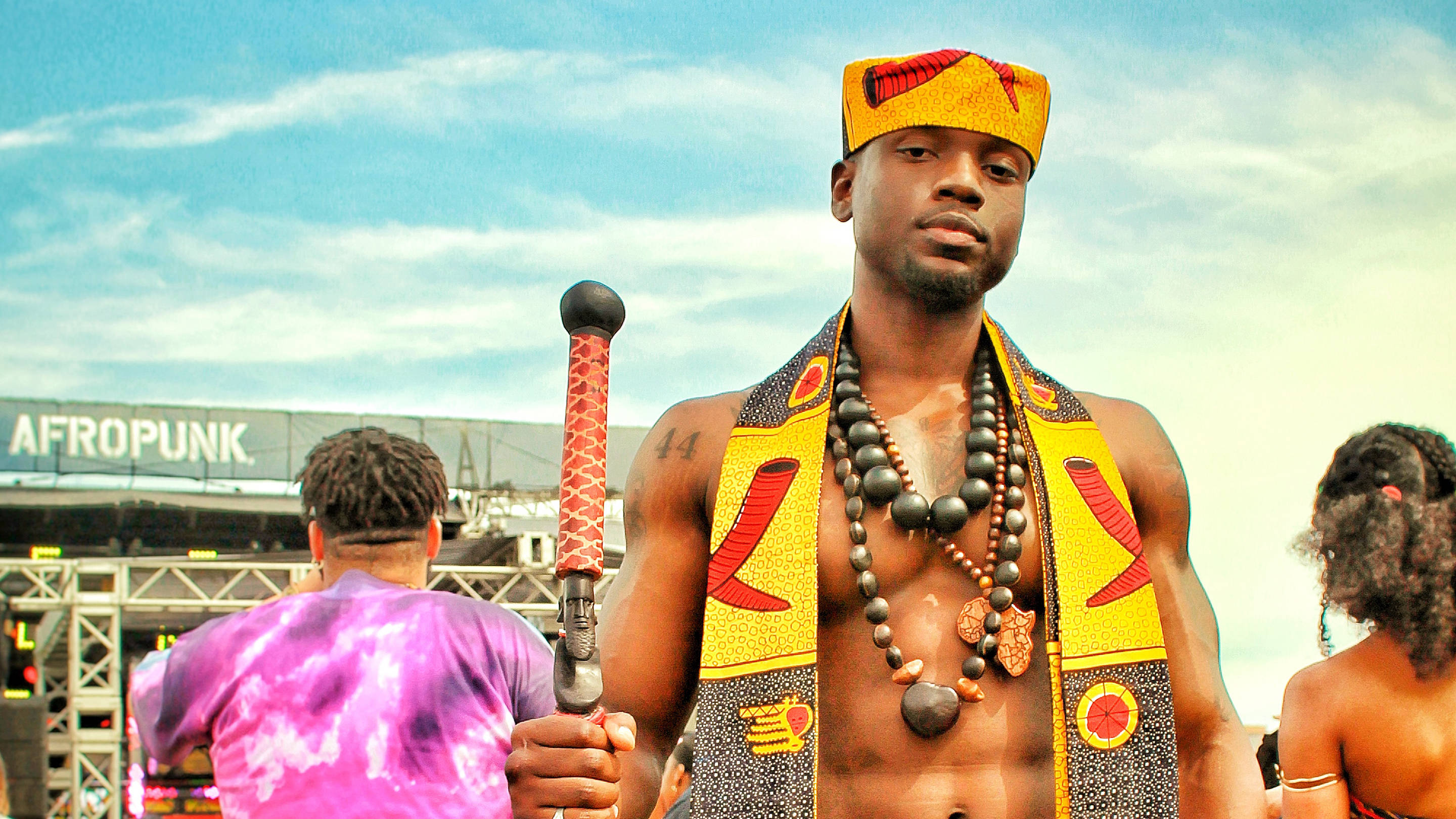 Sold Out or Selling Out? Afropunk's Aftermath and the Future of Black Music Festivals
Written by Meagan Jordan

Published on

September 05, 2018
It was the last day of Afropunk in Brooklyn and the moon was full as headliner Erykah Badu started to croon. The full moon has always been rumored a time to watch out for societal "lunatics" and "freaks," but ironically, these were the types Afropunk was created for. The music festival, entering its 13th year, has grown from having a niche following to boasting iterations around the U.S. and the world, with Afropunk London starting this week.

Before safe space became common rhetoric, Afropunk embodied it effortlessly and initially through a self-titled documentary, created by James Spooner in 2003. The film's purpose was to shine light on the internal conflict black punk rockers faced, being stuck between racist white punk spaces and stereotypical mainstream depictions of black culture being solely
rooted in hip-hop
and R&B. Battling with these social restrictions, Spooner's objective was to create a work of art that centered around black punks. However, it became a staple many blacks across the world resonated with.
"All of these people said that it was their story too," Spooner said in a 2015 interview with
Fader
. "It was, 'I'm the only black guy on my floor at the job,' or 'I was the only black person in my fraternity.' That's when I thought, fuck man, this thing actually has legs. This is bigger than the story I was originally trying to tell."
Spooner would eventually be led to Matthew Morgan—current head of Afropunk—who was managing artists and saw the vision for black punk rockers to finally market their music in ways that weren't available before. Together, Spooner and Morgan would structure the first festival that would happen in 2005 and connect a demographic that was often underrepresented.
The day before Afropunk, I dye my locs an ombre purple. It's my first time adding color to my brownish/black mane and in order for the purple to pop, bleach is a necessity. My Bed-Stuy loctician warns me, "To bleach black hair means you strip the melanin," and although excited for the change, a part of me is mortified. Similar to my hair, it appears that whenever change is implemented on the behalf of black people it is at the sacrifice of identity.
As Quanna re-twists my antennas, greasing my scalp with a homemade concoction made out of natural herbs and oils, she tells me about the Afropunk she once knew. "It was an African festival, and it used to be free," she recalls plainly.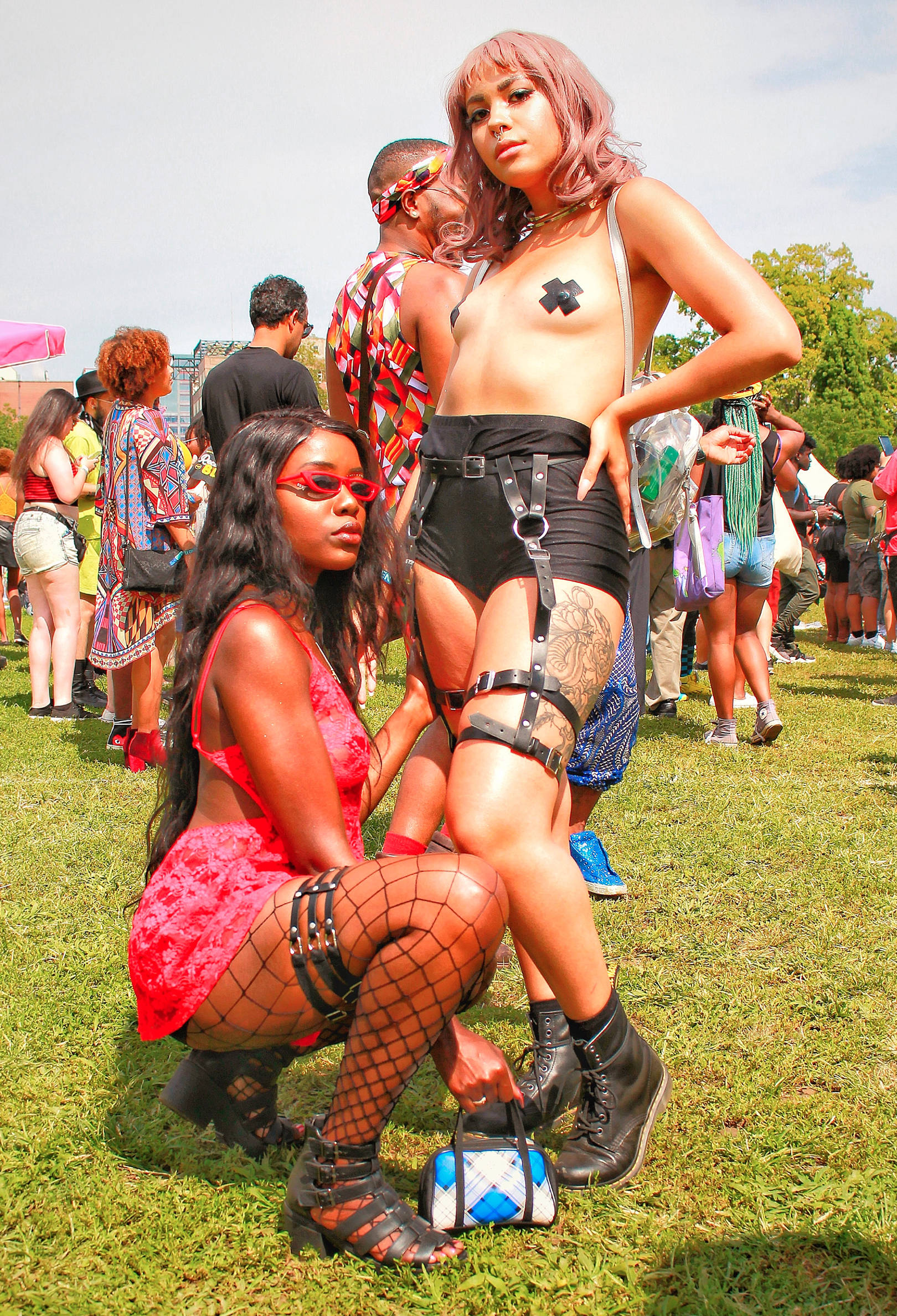 As a space open for diverse identities, it seems Afropunk is still developing its own. When operating within the structure of a capitalist society, everything comes with a price.

Afropunk and its home base, Brooklyn, are the epitome of The Law of Correspondence; as one changes, so does the other. Rock—which is the son of blues, birthed from negro spirituals—has always been a key component within black culture. But like modern Brooklyn, as more white people gravitated toward it, those responsible for its vibe were pushed out—a core necessity for Afropunk's existence initially.

Ericka Hart, a sex educator who works with youth, has been living in New York for nearly a decade and began going to the festival seven years ago. "I loved it! I was going when it was free, and you kind of just walked in and [spent time] in the park. There was just hella black people everywhere," says Hart.

For Hart, who was married to a white woman at the time, Afropunk served as a support system she missed on a daily basis. "A lot of my life was being surrounded by white people and whiteness. [So,] Afropunk was really a beautiful space to come into."

At 28, Hart, who is now 32, was diagnosed with breast cancer and noticed hardly any visibility for black people dealing with the disease, which was especially true for black queer bodies. As a way to spread awareness, she attended the next Afropunk topless to show the scars from her double mastectomy. Her pictures went viral. "From that point people started following me and saying 'I saw your picture on Afropunk,' so Afropunk has been a celebration of the work that I do," says Hart.

However, Hart began to see the changes within the festival from the addition of ticket pricing to the increase in white people and vendors. So, this year, Hart did a presumed punk rock thing, she wrote on her partner's white shirt: "Afropunk Sold Out for White Consumption."

That Sunday, producers of Mass Appeal were filming a collaboration project with Afropunk and asked Hart to do an interview. She agreed under the condition that she would not be separated from her friends. According to Hart, she vocalized her position about Afropunk, and the producers had no issue—in fact, they agreed. Hart and her friends were then invited to sit in the VIP section, when a random person looked in her partner's direction, asking "Why are you here?" and flagging security immediately after.

Two to three years ago, co-founder Matthew Morgan and Hart met at Afropunk Atlanta, where Hart says Morgan thanked her for being a walking billboard for Afropunk, for free. "When he came over to me he was like, 'Hi, we met before you [knew] who I [was].' And I was like 'Okay, what's happening? They invited us back here because I just did an interview,' and he was like, 'No, this is my house.' Literally, a second later there was security pushing us out."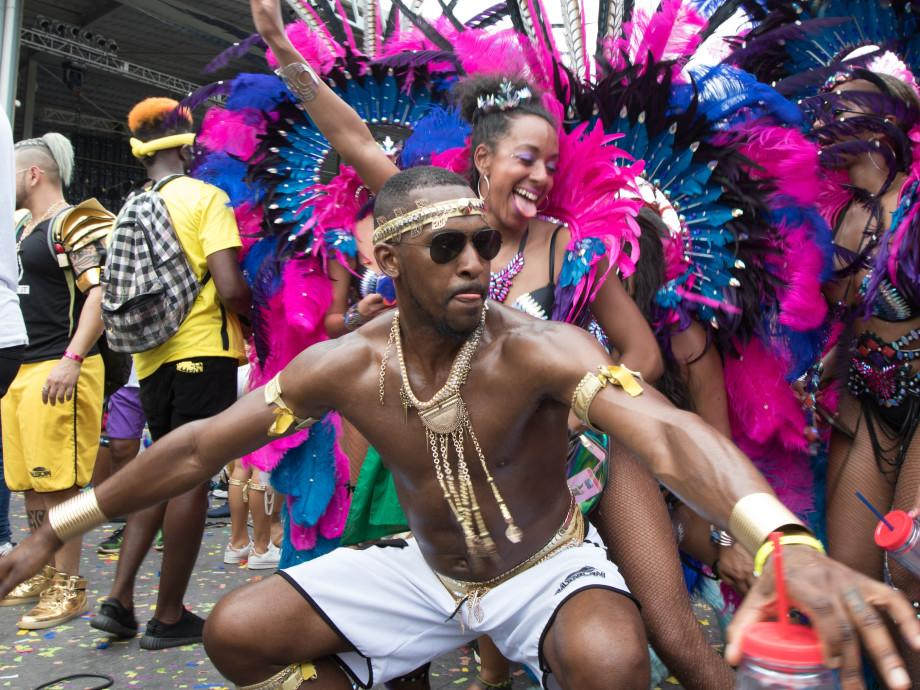 The true meaning of Trinidad's Carnival celebration this week.
The issue of Afropunk changing (and charging) its audience isn't new, and as the festival gets bigger so does the amount of white corporations vending. Vendors like Toyota and Garnier Fructis, owned by L'Oreal, were in attendance. Afropunk was also featured in a
Vogue
spread despite
Vogue
having a black photographer shoot the cover for the first time in its history just this year.
The New York Times
once called Afropunk a multicultural event, an observation Morgan loved. In an interview with Mass Appeal, Morgan, who is from the United Kingdom, said "Coming from the U.K., the idea of historically black colleges or black music departments or even a BET seemed ludicrous. The whole idea of growing up in a mixed social environment was really, really important. I don't necessarily believe that in the same way I once did."
Playboy
reached out to the Afropunk team and received no response.
Overall, Afropunk has a positive vibe to it. It's a vibrant crowd, with people showering each other with compliments and taking photos. It feels like a family reunion of sorts. Franceska Jean from Pennsylvania sits in the festival grounds with her five-year old son. Although he doesn't appreciate the importance of what's around him yet, coming from a white suburb, his mother is giving him an experience many of us dreamed of: being in a place filled with all types of black people.
Kenneth O'Val and JaQuan Mitchell, two black queer males, are showstoppers. The outfits they've designed have caught everyone's attention,
including Janelle Monae's
, who invites them to dance on stage with her.
First-time Afropunk vendor and black drag queen creator of Shaquanda hot sauce, Andre Springer, is afforded the opportunity to represent his brand, his way. "I want my sauce to be more visible for my people," Springer tells me under his tent. "My sauce is in stores in Williamsburg, West Village and upstate New York but I'm making more of the effort to be where my community is."
Springer who has attended the festival for eight years has noticed the changes but is embracing them fully. "It was free, and I'm all for the free things, but I am here to support and be supported. I get it, you have to pay the bills and the artists. Things have changed so you are going to see a sprinkle of that, but the beauty of Afropunk is that it's for us, everyone seeing and feeling our love."
As a space open for diverse identities, it seems Afropunk is still developing its own. Identity is complex, and when operating within the structure of a capitalist society, everything comes with a price. Money changes things, and those who have known Afropunk before parts of it were stripped to make it pop, see and feel the change. At the same time, black people deserve nice things, and in this world, nice things require money. But what do you do when abundance comes at the expense of collaborating with those who look like your oppressor? It seems to be a cycle that is never ending.