Earlier today, a countdown clock on Amber Bain's phone congratulated her on six months of sobriety. "I forgot to reset it when I started drinking," the 23-year-old sighs. "It's annoying because it's only been three days."

It's a habit the musician—known better by her artistic moniker The Japanese House—has been trying to kick for a while now, but she's been coming back to it every so often because London does that to her. The city might be full of great things: her friends, her musical collaborators, her gigantic German Shepherd Calvin. Still, there's something about the culture of casual drinking, and the weather—glum, flat and grey—that seems to sap life out of people. She wants to move to Los Angeles soon.

It's a Friday evening in Hackney; dusk dissipating into sable darkness in a dimly lit cafe. Bain and I are the only people left lounging, talking over golden daffodils plonked in a vase on the table. "There's something about the sun there that makes me feel happy. Don't you think that?" she asks, looking outside and plotting an eventual escape from her homeland. "I always go to LA to sort out my head, and so when I'm there, it's like falling back into the pattern of that. The last time I was there for myself—not work—I stopped drinking for five and a half months."

Her half-decade musical stretch has culminated in a startling alternative pop project, pregnant with anxieties and melancholy, tales of break-ups, losses and past relationships.

The way she speaks hints at brilliance, but like many of the most intelligent of people, she seems to beat herself up a lot. As a musician, she's achieved enough over the past half decade—four acclaimed EPs; sell out tours; a legion of loyal fans—to warrant some kind of semi-arrogant ego, but you'll struggle to find a sign of it no matter how deep you dig. Instead, she's the kind of artist who's self-perceived flaws overshadow her works' excellence.The roots of her career, specifically
as The Japanese House
, spread back as far as her childhood. Born and raised in Buckinghamshire (an English county of rolling hills, chocolate box houses and stately manors) Bain's esoteric stage name was inspired by a Devonshire vacation her family took to a rural stilted house, once owned by Kate Winslet, at the age of six. Dressed in backwards caps and boyish clothes, Bain spent the trip's entirety pretending to be a lad called Danny, exchanging love letters with a girl who lived in the house next door. When the time came for her to leave, Bain unveiled her true identity to her temporary, understandably distraught young admirer. At the time, it was a childish game of trickery, but it's a brilliant metaphor for the way the music of The Japanese House would turn out: at once romantic, coercive and complex.
It was the world of British politics that struck her as a future career at first, but at the age of 11, surrounded by the sounds of artists like Avril Lavigne, she found her real calling in music. At the time, she'd spend hours with her dad, a die-hard AC/DC fan, practicing guitar and singing along to "Stairway to Heaven"; by then, the bug for exemplary songwriting and angsty ballads about relationships had imbued her DNA. There was, it seemed, no other path. She did it all: school bands and acoustic sets, but it wasn't until a friend of hers, who also happened to be Matty Healy of The 1975's girlfriend, showed the front man her music that the idea of this being her career came to fruition. He was awestruck, and The 1975's manager Jamie Oborne quickly picked her up to be a part of the prolific Dirty Hit family: a label that also includes Wolf Alice and gothy Brit pop band Pale Waves as signees.

Fast forward more than a decade and the then-19-year-old released her debut EP Clean. It garnered critical success, but beneath its swirling mix of contemplative synths, strings and soothing vocals, Bain was hiding something. A way of forming a protective barrier, her work was released under her alias, and so her songs—expertly co-produced by The 1975's Matty Healy and George Daniels—became the subject of speculation. Who was this person? Was this nothing more than a side project by The 1975? Did they even write their own material?What once felt like a good call to forgo the possibility of pop star-level scrutiny soon transformed into a cacophony of confusing fan theories. The artist had become separated from her own art.
I guess it's like going to an actual therapist for me: I don't walk away feeling free, or as if I've [experienced] a massive relief. It's like going for a run for the first time in a while, and the next day you're in agony.

Nowadays, as she counts down the days to the release of her debut record (now available), she's coyly stepped back into the spotlight to regain some form of control. It's been a long journey, but Amber is impatient, laughing that she just wants to "skip the next week of [her] life", to the day of her new record's release. Her half-decade musical stretch has culminated in a startling alternative pop project, pregnant with anxieties and melancholy, tales of break-ups, losses and past relationships. It's called
Good at Falling—
but "falling" for what, exactly? "For people" she claims matter-of-factly, "and, metaphorically, flat on my face. Like a failure. It's all about me fucking up, and trying to figure shit out."
You can hear the ebb and flow of Bain's emotions in every note. Slotted together sporadically ("It's not a concept record," she insists), few of these songs from the past six years are harbored to a specific moment in her life. She's a prolific writer but, at her own admission, is bad at decision making, and so finds herself dipping into a vast catalogue of half-finished songs to write their long overdue endings. She started writing the aching ode to
her ex-girlfriend
, Lilo, when the pair first met and finished once they'd parted ways. Once a love song but now about a lover that's missing, time, as it so often does, has changed it.
Amber's now listened to
Good at Falling
so much that she "can barely hear it at all", which might explain why she's rather blind to its sheer greatness. The overarching feeling it exudes is one of solitude, and how we try and come to terms with it no matter how sore it might seem. In many ways, I tell her, it feels like the way we prod at the memories of people and places that hurt us. She knows the feeling. "I search my name on Twitter," she says, "looking for disparaging adjectives next to my name to see what people are saying." A couple of choice phrases she's typed into her search engine? "Amber Bain Shit" and "The Japanese House Boring". She elaborates,"I care about that kind of shit because I care about making [music] so much." It turns out that was true of the record's writing process too. "Making music is not a therapeutic process for me," Amber assures me, when I ask if making this record was, unlike self-sabotaging Twitter searches, somewhat cathartic. "I guess it's like going to an actual therapist for me: I don't walk away feeling free, or as if I've [experienced] a massive relief. It's like going for a run for the first time in a while, and the next day you're in agony."
On a song called "Everybody Hates Me", over a bed of crunching power synths, Bain's manipulated, layered vocals wail the title of the song almost indecipherably, carrying more emotion than clarity. It's steeped in so much anxiety that it rubs off on the listener, but for every song that requires a certain level of endurance there's a freeing moment too. "Maybe You're The Reason", one of the record's singles, contrasts verses about aching over her ex-girlfriend with a chorus that celebrates the time they spent together. "I saw you in a dream", the closer, is the only track to be lifted from a previous EP. Though remastered and stripped back here, it speaks of a girl Amber was close to and lost touch with, only to learn that she'd died a few years later; the pair met again in Amber's sleep.
Ahead of the Oscars, the recent Grammy winner talks to Playboy about his life-changing year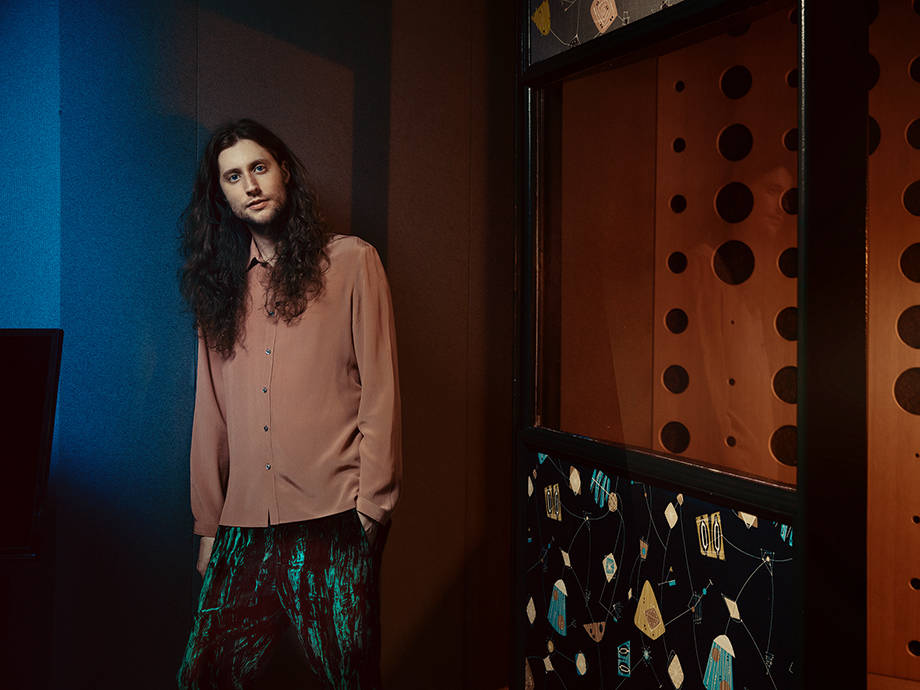 With all of this in mind, it's hard to imagine how Amber, a musician still escaping the throes of adolescence, can pick apart relationships so dense, but she's a gleaming testament to how resilient young artists are nowadays. "I guess I am resilient," she says, hands wrapped around her coffee mug, "but easily broken. I feel fragile quite a lot, and I don't know if you can feel fragile and resilient at the same time. Can you?" We have a conversation about how the two go hand-in-hand, of how we can't expect people to bounce back from pain without things going awry in the first place. "I mean, how can you be alive and not resilient? Because if you weren't, the only option is to kill yourself. I haven't given up on life or being happy yet, but I do sometimes feel like giving up."
What's peculiar about the way Bain says those words is that there's a universality to them, as if she's aware that being crushed by solitude is a reality for so many of us. And yet, despite the morose nature of her art, Amber has learned to leave the pain of The Japanese House to the side at times. "I feel really depressed a lot of the time—a lot of people who write music feel like that – but I don't walk about looking gloomful," she stresses. "I have a lot of fun and my favorite thing is to laugh. I need humor!" The recent spell of
London's good weather
, as well as talking to other strangers walking dogs in the park has lifted her spirits. She loves the way her dad takes time out of his day to text her little anecdotes, asking how she is and telling her that he is, in the most on-brand Dad way possible, "unshakeable in [his] goodness".
As the days to her album release tick closer, it feels like Amber has her life together, even if she's dealing with it one day at a time. She's experienced fraught relationships that would break most of us (there's that fragile resilience), and released songs that relay those stories to the world. "Really? Oh my god!" She looks at me quizzically, her face contorts to tell me I'm wrong; that there's still so much this 23-year-old has left to do. She sips the last dregs of her coffee and leans onto the table. "I don't feel like I've got my shit together," she smiles, "but does anyone?"