For almost all Democrats, the midterm elections were about regaining control of Congress or winning gubernatorial races. They stumped together and traded the same talking points to bash Trump for the general mood of a country still under the shadow of a string of hate crimes. But for a select few eyeing the Oval Office, the midterms were about the 2020 election.

There were scattered reports that the potential candidates were quietly preparing their campaigns and working to ensure support from elected officials in states that are key to a presidential election. The most extensive of these reports came from The Washington Post, which called Elizabeth Warren's midterm strategy "unmistakably aimed at some of the early-primary states that Warren would need to contest in a presidential campaign." Politico characterized Kamala Harris' early 2020 efforts with the headline "Kamala Harris builds an online army." That report noted that Harris spent more than $600,000 on digital consulting and advertising in the first quarter of 2018.

As these candidates slowly amass their forces, they have taken a number of measures to ensure they will be ready when the race for the Oval Office begins—which begins now that midterms are in the rearview mirror. Warren said that she would "take a hard look" at 2020 once the midterms are over.

All of the Senate Democrats who hope to unseat Trump have leadership PACs, which are fundraising arms that candidates use to fund other candidates. As the Center for Responsive Politics explains, "leadership PACs are designed for two things: to make money and to make friends, both of which are crucial to ambitious politicians looking to advance their careers."

Playboy examined the figures of each of the leadership PACs associated with five politicians rumored for 2020 runs—Sen. Kamala Harris, Sen. Cory Booker, Sen. Elizabeth Warren, Sen. Kirsten Gillibrand and, finally, Joe Biden. Of the five, Biden is the least-likely to make an Oval Office bid but his leadership PAC, American Possibilities, is a juggernaut. The group spent more than $2 million in the 2018 cycle. That's more than any of the other leadership PACs we looked at

A candid conversation with the maverick socialist senator Bernie Sanders, before he became a hero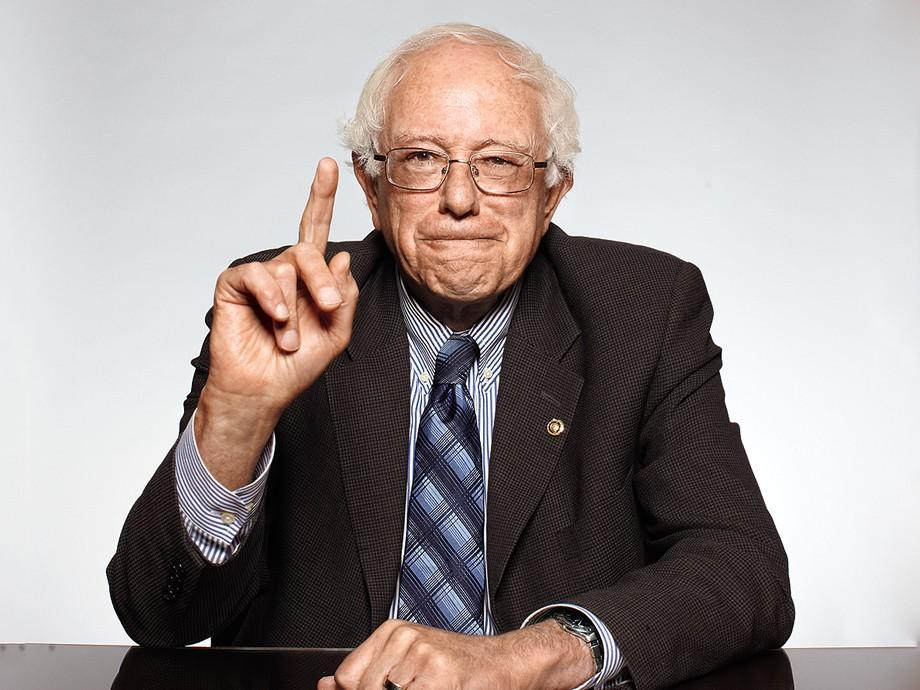 When it comes time for the presidential election, they're intending to bypass a lot of the kissing-of-the-DNC-ring that has always been necessary before.

With the exception of Elizabeth Warren, every single leadership PAC pumped money into Iowa races—the state is key to any presidential hopeful because of its early voting. Cindy Axne, who ran for congress in Iowa's 3rd district, received money from Gillibrand and Booker. Abby Finkenauer, who ran in Iowa's 1st district, received a donation from every politician except Warren.

The money from leadership PACs is only the most well-documented paper trail, and the potential candidates were pushing funds in other ways. An advisor for Harris told Politico that the California senator doled out $25,000 to Democratic parties in Iowa, South Carolina, New Hampshire and Nevada. All of those states hold early votes in the presidential election. Warren spent a combined $66,000 in those four states, according to a McClatchy report.

The numbers, of course, are merely part of the story; serving to explain in impersonal detail how the possible 2020 candidates are working to instill support in early nominating states. Another, possibly more important footnote, are the stump speeches and campaign appearances that candidates made during the midterm seasons.

In October, Kamala Harris made seven stops in Iowa—a state where there are only four congressional districts, and neither of their Senate seats are up for election in 2018. She was there to campaign for Axne but Politico noted that she brought along a group of aides that looked very similar to what you might expect in the early stages of a presidential campaign staff.

By the time Harris touched down in Iowa, Cory Booker had already planted roots there. He was the headliner at the Iowa Democratic Party's fall gala. Like every other candidate, Booker has shied away from admitting that he's planning to run. In a September interview, he cryptically told the Des Moines Register "The pathway to getting a check and balance to the president of the United States, it has to go through Iowa. That's why I have to go through Iowa."

It would still be a little haphazard to predict that the DNC will be superfluous in 2020, but the DNC has lost a lot of its power.

South Carolina has also enjoyed the presence of the 2020 hopefuls. Harris, Booker and Biden all made stops there in October. But Elizabeth Warren may have inadvertently pulled off the most interesting little trick, her former press secretary took a job as the communications director for the South Carolina Democratic Party—move noted by Post & Courier.

It's almost standard procedure for future presidential candidates to throw their weight around in the midterms before the presidential race gets underway, but 2018 also foretold a new trend that could change the way we play party politics. The massive fundraising numbers and shadow campaigns of these candidates had one thing in common: They seemed to be shunning the Democratic National Committee.

The DNC lost the respect and trust of a large portion of their voters in 2016 when they backed Hillary Clinton, infuriating Bernie Sanders supporters. Since then, politicians and candidates have begun adopting Bernie's platforms like Medicare for All and increased minimum wage. The committee's respectability was further tarnished when Keith Ellison was tapped as its #2 man. Ellison's past includes allegations of abuse and a close relationship with Nation of Islam leader Louis Farrakhan, a radical anti-Semitic personality.

Donors also ditched the DNC, instead giving to candidates. And the shadow campaigns of the possible 2020 candidates could signal that when it comes time for the presidential election, they're intending to bypass a lot of the kissing-of-the-DNC-ring that has always been necessary before. Instead of relying on the party's most important arm to put money behind 2018 candidates, they showed that they were willing to help fundraise and elbow rub without the middle man.

It would still be a little haphazard to predict that the DNC will be superfluous in 2020, the organization did spend nearly $149 million during the 2018 cycle. But if we examine the money and the way that Democrats have been staffing their offices ahead of the midterms, it seems more and more plausible to suggest that, beyond holding the convention and whipping delegates, the DNC has lost a lot of its power. And candidates are recognizing that.

RELATED: MIDTERM ELECTIONS