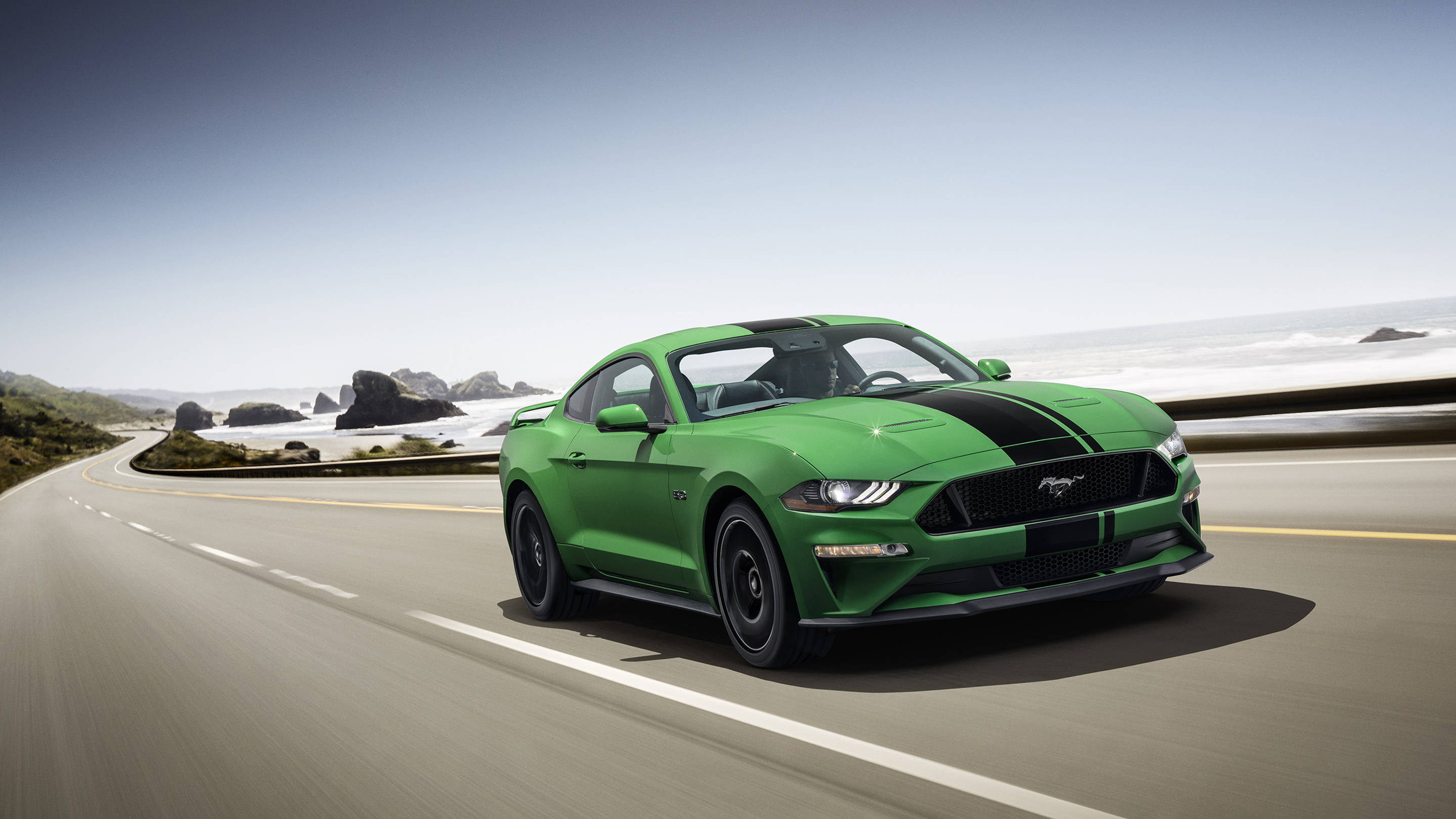 The 2019 Mustang GT Is a Joyride Better Than Ever
Written by John Scott Lewinski

Published on

November 12, 2018
Like Jarts, the concept album and the Jarvik 7, the holy V8 engine is eventually doomed to a spot in the "Museum of the Wonderful, But Impractical." While performance cars around the world shift to smaller engines relying on turbochargers, high compression and lighter materials to generate speed, they turn their headlights away from eight cylinders. Such V6 or straight six cars are still quicker than a cockroach hiccup, but they lose the raw noise, the chest-shaking rumble and the entire sensory experience of a classic powerplant piling on the bhp.

In those same museum halls, some will say the muscle car boasting that V8 as its soul is a mechanized dinosaur—a loud, onrushing, anachronistic amalgamation of gloss painted metal and burning rubber guilty of inexcusable and irresponsible fossil fuel gluttony. Still, even with all the power of
environmental and technological evolution
hunting it down, the V8 muscle car endures for one reason and one reason alone. There is a still a place in this world for fun. It's an endangered space, and its habitat shrinks a little each and every day that soccer and almond milk are allowed to exist—but you can still seize the visceral sensations of statute-defying speed and child-scaring tumult behind the wheel of the muscle car.
There are fewer such cars out there, and their numbers will continue to decline in the years to come. So, serious car lovers better learn to enjoy them now. They could find a much worse place to start said enjoyment than within the 2019 Mustang GT. If there was such a thing as an automotive Mount Rushmore, some version of the Mustang would be on it. Maybe the Jaguar E-Type would knock off Washington's mug. The Aston-Martin DB5 could liberate Lincoln to the South Dakota dirt. A Ferrari Daytona might write off Thomas Jefferson. But, there's still Teddy Roosevelt up there, and a Mustang would stand in nicely.
While there have always been more fuel efficient and economical versions of Mustang, the purest form of the world famous coupe packs a V8. In 2019, Ford offers an Ecoboost model with a turbocharged four cylinder engine. It looks every bit like a Mustang, but it's like asking Sea Biscuit to run the Derby on three legs. We don't discuss such things here. This model year's Mustang GT hitches up 480 horses from a good and true 5.0 liter V8 armed with modern PFDI (Port Fuel Direct Injection). It'll do 0-60 mph in less than four seconds and gallop at a top speed north of 150.
The driving experience is pure, uninterrupted aggression.

The modern suspension of today's Mustangs positions them as rival of any high performance car in the world—or at least those under $100,000. The models of the past offered a straight rear axel, meaning the car could bolt in a straight line and even drift around a corner, but it couldn't corner effectively enough to get along with its power. Now, Ford installs full independent rear suspension, Electric Power-Assist Steering, monotube shocks and rear cross-axis suspension joints. All of that adds up to a car that can grip as well as it can fly.
For 2019, Ford sticks with its beastly proven formula, while adding such fun performance bangs and whistles as improved in-dash display Track Apps for testing the Mustang GT's performance when you're letting it play with utmost exuberance. The instrument cluster shows a selection of digital displays including acceleration times, lap times and countdown starts for drag racing. Electronic Line-Lock seizes the front brakes to warm up (and burn) the rear tires before launch. The related Launch Control gets the engine, the powertrain, the brakes and traction control to provide a start off the line faster than the average driver can manage unaided.
Of course, the interior includes all the necessary safety and infotainment features with AM/FM/CD/Satellite providing the tunes and full stereo pushing out
enough music
to enhance (but not drown out) the chunk of beef under the hood. Ford's Sync 3 System runs the satellite navigation, monitors the car's performance and scrolls through the app collection (including Waze, IHeartRadio, Pandora and the rest of the usual suspects). New for this latest version of Sync, Alexa comes onboard to add cutting edge voice recognition.
Playboy discusses the future of the Challenger, Mustang and Camaro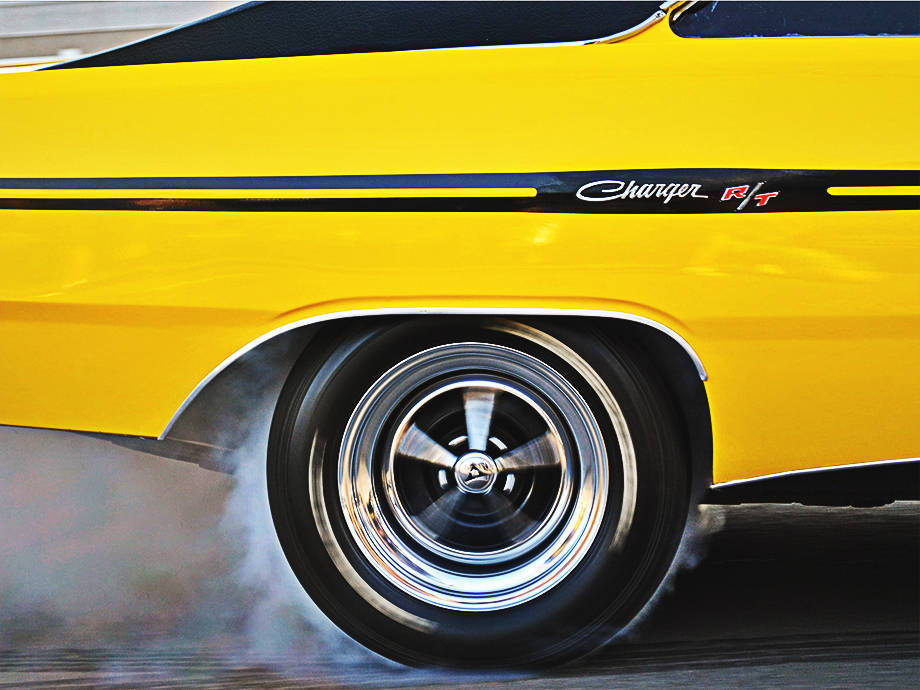 The driving experience is pure, uninterrupted aggression. Even with all of its balance and electronic assistance keeping the rubber on the road, there's an immediate shot forward threatening to drop your head in the back seat when you put your tow down. In fact, anyone who ever took to the open water in a powerboat knows the sensation of the bow surging skyward if you push the throttle suddenly. While the Mustang GT doesn't fully rear up on its haunches, it takes a wonderful, thrilling moment before all four wheels settle into cooperation.
Once at speed, the 2019 Mustang GT offers a seemingly endless font of power. When the road offers (even if not legally allowing) an equine release, the speed fulfills any possible order on demand. Then, it keeps coming…And keeps coming. It's speed that leaves lesser machines and humans at stoplights and weaves you
through highway traffic
with carefree (but never boring) ease.The car's properly managed aerodynamics and low center of gravity reassure the driver that she'll bite off the corners with enough time spit them out again.
It's a credit to Ford that they still present all of this power and engineering at a very All-American, everyman price starting at $35,355.