In the wake of the harrowing Lifetime documentary series, 'Surviving R. Kelly,' we've witnessed an onslaught of consequences come down on the artist who, for decades, has been dubbed as the King of R&B (though his self-given nickname the 'Pied Piper' feels appropriate now more than ever). Since it's premiere, more women have come forward against Kelly, his wicked incriminating non-disclosure agreements have been leaked, Chicago inspectors found 66 code violations at Kelly's infamous and eerie studio space, his manager turned himself into police, and two investigations related to Kelly are now underway. Kelly's also been dropped from Sony Music's subsidiary RCA Records. Finally, right?

But there's irony in Sony's decision to cut any ties with Kelly because it was only on January 4 that the same record label awarded Chris Brown, another star accused of multiple assaults, with what some are calling a historic deal. Brown's new deal permits him to own his master recordings and at 29 years old, Brown is the youngest artist to achieve such standing. At the same time, Drake has begun teasing future collaborations with Brown—and that's after inviting him on stage to perform together in October 2018. Just as Sony ignored the many accusations (and indictments) against Kelly for so long, Brown also happens to have been a longtime alleged serial abuser. Still, how long can the label stand by the artist?

On Tuesday, for example, Brown was arrested abroad for what Paris prosecutors have said to be drug violations and aggravated rape. A woman, using the pseudonym Karima, told Closer Magazine she was introduced to Brown in a Paris nightclub on January 15, 2019, and upon being "convinced" to go back to his hotel—she, Brown, and another girl—the women's phones were seized by Brown's bodyguards. Karima claimed she was offered a drink and saw an abundance of drugs at the hotel, where she alleges there were more than a dozen people in the main room. On her way to the bathroom, Brown allegedly grabbed Karima's arm and pulled her into what she believes to be a closet, where he allegedly assaulted her for around 30 minutes. Karima was then led into a bedroom and raped by an alleged friend of Brown's as well as his bodyguard and left the hotel in tears when she was finally able to retrieve her phone.

Just like Kelly, Brown has fashioned himself into R&B's "bad boy," where his notorious actions are simply a part of the package, and worth it if you hear his voice.

In a since-deleted Instagram post, Brown sought to persuade fans that the accusations against him were entirely false, stating: "I WANNA MAKE IT PERFECTLY CLEAR...... THIS IS FALSE AND A WHOLE LOT OF CAP! (sic) NNNNNNNNEEEEEEEEEEVVVVVVVVVVEEEEEERRRRRR!!!!!! FOR MY DAUGHTER AND MY FAMILY THIS IS SO DISPRESPECTFUL AND IS AGAINST MY CHARACTER AND MORALS!!!!!"
But accusations of sexual assault are par for the course for Brown, who—even after pleading guilty for punching Rihanna multiple times in February 2009 and taking 1,400 hours of community service, five years' probation, and court-appointed counseling—doesn't seem to have grown or changed one bit, and does a phenomenal job at convincing Team Breezy of his blamelessness.
---
Despite the hate mail I will most definitely receive after this story goes live, his record for assault, as well as his consistently dreadful behavior,
shouldn't be ignored
in 2019, so let's do a refresher:
After pleading guilty to
assaulting Rihanna
the night before the 2009 Grammys (Brown's 2009 album
Graffiti
was still nominated for Grammy Best Contemporary R&B Album a year later) in his Lamborghini—dealing her a brutal black eye, countless bruises, and a split lip which resulted in felony charges and a restraining order—Brown laid low, did his time, and rode the wave. When enough time had passed, he stealthily reentered the spotlight in 2011 and 2012, with two hit albums
F.A.M.E
and
Fortune
(F.A.M.E won Best R&B Album in 2011).
According to the headlines, Brown almost instantly reverted to what, at this point, one could argue is his natural disposition—violence and outwardly horrifying behavior. For instance, in 2012 Brown was complicit in a nightclub disturbance with Drake's crew ending in eight people injured. And that same year, Brown thought it would be a good and cool idea to dress up like an Islamic terrorist and attend a party he knew Rihanna would be present at—despite her restraining order (yes, this was a violation). It's even said that he threw a tantrum (or a chair, more specifically) after Robin Roberts asked Brown some firm questions about his conduct on
Good Morning America
.
In 2013, Brown was incarcerated for felony assault after an altercation involving his bodyguard outside of a hotel in Washington D.C. and spent more than 30 hours in lockup. Brown's crew later found themselves in hot water for intimidating, threatening, and physically assaulting Frank Ocean in Los Angeles the same year. After a hit-and-run incident later that year, Brown's probation was rescinded and he was sentenced to three months at an anger management facility.
Unfortunately, regardless of the consequences and the therapy, it appears that he's learned nothing. Fast forward to March of 2014 and Brown was arrested, once again, for infringing the terms of his probation by getting himself kicked out of the treatment center he was due to spend 90 days in. He was held without bail in a Los Angeles jail and sentenced to 131 days for violating his probation, though he was discharged early in June 2014. Again, Brown broke his probation a year later and was detained for leaving Los Angeles to perform at a nightclub in San Jose, where a fight broke out during his show resulting in injury by gunfire of five attendees.
In the summer of 2016, Brown's former manager Michael Guirguis sued the singer for assault and battery. Brown was apprehended—again—later that summer when an unidentified woman called the police and alerted them that Brown had threatened her with a firearm. After a real, actual police standoff, Brown was eventually taken into custody for suspicion of assault with a deadly weapon and released on $250,000 bail.
Headlines claimed he punched a photographer in 2017, though no charges were filed, and following a slew of violent threats against her in June 2017, Brown's ex-girlfriend Karrueche Tran was granted a restraining order against her former boyfriend. A little over a year later, Brown was physically hauled off stage by cops at his own concert in Florida on a felony battery warrant, where he was booked and quickly released after throwing down a measly $2,000 in bail.
---
Now, Brown has purportedly raped a woman. A woman who went to the police, as women are not only reluctant to do (the justice system usually fails us), but are shamed for not doing by ignorant people on the internet. They're the same trolls who don't understand rape; why there's rarely evidence or are aware of the thousands upon thousands of rape kits that sit untested in police storage facilities.
His well-documented accusations of violence and narcissism now span a decade, yet Karima's character is under heightened scrutiny for doing the very thing those trolls insist women do when we're violated: going to the police.

Karima is a woman we should believe—especially given Brown's track record. His well-documented accusations of violence and narcissism now span a decade, yet Karima's character is under heightened scrutiny for doing the very thing those trolls insist women do when we're violated: going to the police. It's a double-edged sword in the eyes of those who don't care about victims: we're damned if we do and damned if we don't. If we try to seek justice through social media, we're met with cries of "well, if it really happened you'd have called the cops!" When we go to the police, we're often met with nothing helpful in terms of legal justice, and hoards of men online telling us we must have just slept with someone and then regretted it afterward, or are seeking retaliation or money.
Karima's bravery in attempting to make sure Brown can't do this to other women going forward is something she should be commended for. She's not pressing charges to obtain money; no charges have been filed. Brown has actually threatened to sue his alleged
victim for defamation
, according to TMZ—a highly transparent strategy used by powerful men to silence their victims, often causing them to recant their statements out of fear. His attorney has also claimed the drugs in the hotel did not belong to Brown, which genuinely doesn't matter at all in a rape case and only serves to distract fans who may be taking a second, third, fourth, or fifth look at Brown's continuously frightful actions.
A woman by the name of Kim Ford has come forward in defense of Brown on Monday, posting a series of Instagram stories claiming Brown wasn't at the scene when the alleged rape occurred. But, with Brown's violent history and pattern of aggressive behavior in mind, this could very well be the same type of enabling structure that allowed Kelly to serve as a cult-figure for decades, controlling young black girls as sex slaves without repercussions. If you create and control a group of people who become complicit in your activities by acting as bystanders, you're operating under a safety net constructed from your enablers' fear.
Several celebrities have also come to Brown's defense, as though the last 10 years of Brown's brutality has been
Men In Blac
k-style wiped from their minds.
Justin Bieber
, much to the chagrin of his fans, came out in support of the accused rapist with an Instagram comment on a post of Brown's that simply says, "No one can touch you ur the GOAT". TI also has Brown's back, claiming that until there's evidence, he won't believe it (Where was TI when evidence of Rihanna's battered face emerged online?). Ray J and The Game have also echoed support of Brown's most recent disgrace.
Puzzling omissions and an all-male director category spur debate about Tuesday's nominations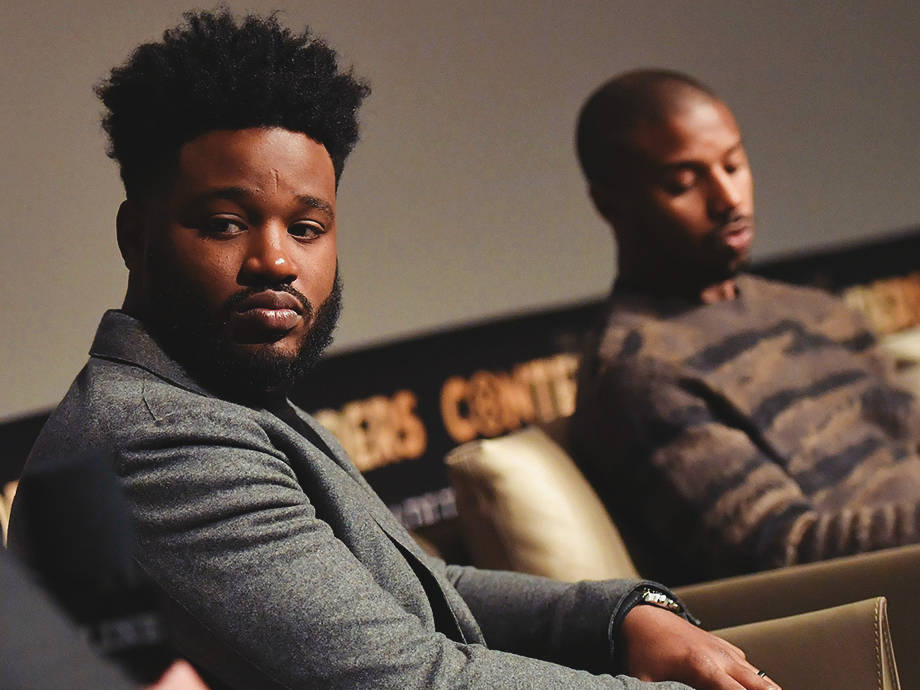 Of course, Brown doesn't even seem to care. At this point, he's used to it—and he's used to finessing his fandom. Just like Kelly, Brown has fashioned himself into R&B's "bad boy," where his notorious actions are simply a part of the package, and worth it if you hear his voice. It's been baked into Brown's image for nearly a decade.
Brown even elected to stay in Paris following his arrest. When he was witnessed leaving the Mandarin Oriental Hotel—the same hotel the alleged assault took place—he proclaimed, "I love everybody," to paparazzi as a reporter in the background loudly asked Brown why he's choosing to sue his alleged victim ( no answer). Brown even shot footage for his new "Back 2 Love" music video in Paris this week, so it would seem that this dude, frankly, doesn't have a care in the world.
Brown's fancy, fresh deal with RCA is reliant on his ninth album,
Indigo
, due out in late 2019. RCA's announcement couldn't help but boast of Brown's accomplishments: his charity work for Best Buddies, St. Jude's Children's Hospital,
Hurricane Harvey victims
, and Colin Kaepernick's "10 for 10" million dollar pledge. The statement also described his album sales to date: Brown has sold more than 30 million albums worldwide since the inception of his career and has more than 10 billion audio streams and nearly 8 billion YouTube views. His latest music video for "Undecided" currently has nearly 23.5 million views since its debut on January 4. No one has gone #MuteChrisBrown yet.
In many ways, Brown parallels the way Kelly has moved through the music industry—an industry known for sweeping depravity under the rug if the man causing the chaos sells music. He has moved through violence and criminal charges, has often been wholly candid about his behavior to invoke pity from fans. But Brown's career is still holding on, nearly free of repercussions.
Brown last album, 2017's
Heartbreak on a Full Moon
, almost hit a billion streams, but while we're muting Kelly and finally holding him accountable for his actions, there's room to suggest you can't denounce Kelly on one hand and still support Brown. Brown's chronicle of violence isn't just all hearsay—there are facts. Given that
#MuteRKelly
at least added pressure to Sony's decision, we have a say in the power we can give an anonymous girl, with nothing to gain, who has accused a man with a history of violence. Don't let the years of unjustified forgiveness turn into decades.
I too thought he was cute in 2007 when he did a duet with Jordin Sparks, but no one woman should have to feel responsible for creating a three-part documentary detailing Brown's wrongdoings before his victims get their justice.