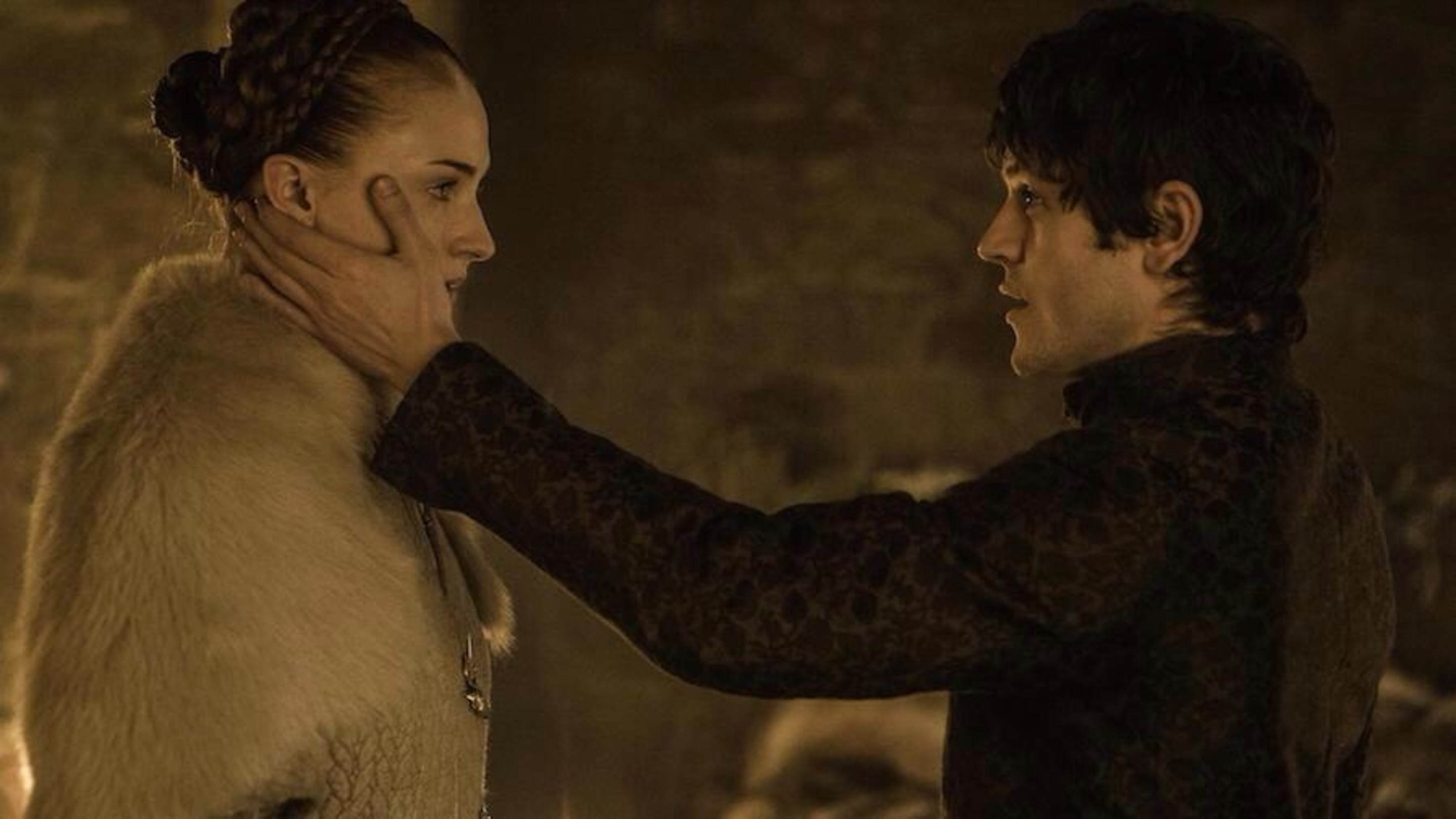 Sexual Assault and Fantasy: What 'Outlander' Did Right and 'Game of Thrones' Did Wrong
Written by Kennedy O'Neil

Published on

May 21, 2015
I have to imagine that any poor schmoe who knows he has to walk through a minefield to reach a destination spends a great deal of time planning, thinking, strategizing, and agonizing about how they're going to get from one side to the other without blowing themselves up. That's me right now as I sit here thinking about how I'm going to unpack this crazy theory I had about the depiction of sexual assault in two of the most talked about scenes on television this past week: Sansa Stark's "wedding night" on Game Of Thrones and Jamie Fraser's "interrogation" on Outlander.
I'd like to preface this with a few quick statements — rape is a terrible thing. Sexual assault, non-consensual sex, forced sexual activity of any kind is not something anyone should be subjected to. I am, in no way, condoning the acts in either story. If there's a clearer or more thorough way to say that no one should ever be touched in a way they do not invite, then add that in here as well.

Due to circumstances, I didn't get a chance to watch the Game Of Thrones "Unbent, Unbowed, Unbroken" or Outlander "Wentworth Prison" episodes when they aired and there was a lot of talk and reaction both during and after. People were angry. They were outraged. They were horrified. I saw numerous declarations by friends and colleagues who decided they were done with either or both shows because of what they watched. Considering I had no idea what happened, how it happened, or what I might think, I figured I had to get caught up so I could have a more informed conversation.

Which is why I decided to watch both shows after the fact, back to back, and damn the torpedoes. I joked on Twitter about likely needing whiskey and ice cream to get through it and a couple of people told me I was insane, but I was on a mission.
I watched Outlander first, then Game of Thrones and I made it through without the aforementioned whiskey or ice cream. In fact, I came out fairly unscathed and more thoughtful than outraged. I was irritated about a few choices, but overall, the events themselves didn't upset me. Instead, I started to wonder why people were so upset and, if both assaults were part of the books, weren't they fair game for the TV adaptation?
Now, before you start to run down to the comment section to yell an answer to that question, that was more rhetorical than anything. Because I can totally see why people were upset. I just think it may have a great deal more to do with the "how" than the "why" of it, so I hope you'll bear with me as I keep tiptoeing through this minefield.
As I started to consider my reaction, I realized a couple of things:
Outlander
(the novel) was written by a woman. The episode was written by a man, and was directed by a woman. Conversely, the episode of
Game Of Thrones
was written by a man, and the director was a man. (I'm leaving George R.R. Martin out of the list because, while he's the author, the episode diverged from the book.) Both shows, however, are produced by male showrunners.
Both Captain Jack Randall and Ramsey Bolton are sexual sadists.
If you look at
Outlander
from page to screen, Jamie Fraser's assault at the hands of Jack Randall is pretty much pulled from the book. The assault itself is just as brutal, if not more so, than the book. However, book readers knew this was coming and non-book readers have seen Captain Jack do some fairly horrifying things up to now, so why did this cross the line for some people where previous examples didn't?
I offer this answer. It's because the scene was flawlessly acted, written for screen just as the author intended, and brilliantly directed. It was visceral, disturbing, frightening, arousing, bloody, you name it. If there's one image that sticks with me, it's Tobias Menzies as Randall lovingly caressing his cheek across Jamie's ruined back like it was foreplay. The scene shocked people because it really delved into the reactions of the actors, not the events themselves. Seeing the enjoyment that Randall took from Jamie's pain, Jamie's fight to stay strong, and eventual surrender to save Claire was, for me, more compelling and bone chilling than anything. Personally, I think that is what most of the reaction is about.
---
On the flip side, there's Game Of Thrones and, while I'll continue to watch the show, I can absolutely see why people are choosing not to continue on.
Unlike the
Outlander
episode,
Game Of Thrones
' "Unbent, Unbowed, Unbroken" not only diverged from the books, but it made Sansa Stark the victim of rape. In the book, the rape happens to a completely different character by the name of Jeyne Poole and readers know just what a mess Jeyne was after it happened. So, not only have readers had to deal with Sansa being raped, but they know how Jeyne ended up and they likely fear that same outcome will befall Sansa. Add to that the fact that Sansa's been forced to be a victim through much of the series until this season when she's been given more agency and resolve, and it feels like all the progress she's made as a character has been washed away.
Still, what struck me, again, was the writing and direction. While I'm not a fan of Sansa being turned into victim of this rape, I fully believe there are ways it could have been handled with more care and the rape would have become more of a topic for healthy discussion instead of outright disgust.
Just like Jack Randall, Ramsey Bolton gets his sexual thrills from hurting and demeaning people. The idea that he would rape Sansa on their wedding night and make Theon watch isn't inconceivable. I mean, he's a bastard in more ways than one and the social "norm" of the show is that wives are subject to a husband's will, no matter how base or disgusting.
But it's the way the scene was shot and directed that really made the difference. Not only does Sansa (a virgin) get raped on her wedding night, but her reaction to being raped doesn't even take center stage. Theon gets the lion's share of the screen time and, while Alfie Allen is a very good actor, what were we really watching? Helpless Theon being subjected to another reminder of his powerlessness at the hands of Ramsey? Gelded Theon forced to watch sex he can never have with a woman he may well have cared for? Why is this scene about Theon?
When we
do
see Sansa's reaction, all we see is fear and pain. Why? The show has started to turn Sansa into someone who can play the Game of Thrones. The entire event is already different from the book, so why not give Sansa a little agency? Why not let her try to play Bolton or, at the very least, show her refusing to give Bolton the satisfaction of her screams and tears? Why not show her face the entire time as we watch her go from a scared girl to a woman who we know is planning Ramsay's death by blood loss from his castrated genitals? Or, if you want to make us realize just how atrocious Bolton truly is, keep the camera on him most of the time and show us just what a monster he really is.
I mean, shit, if you're going to make things up, make it interesting, right? Not to mention, if you're going to use a title like "Unbent, Unbowed, Unbroken" and then bend, bow, and break Sansa Stark — that just feels...wrong.
There's no doubt in my mind that both shows intended to spark debate and buzz. But using rape and sexual sadism to create that buzz does come with a responsibility. In the end, people are talking about both episodes — but more people are quitting
Game Of Thrones
than
Outlander
and for different reasons.
---
Kennedy O'Neil writes for Nerd Approved, Fashionably Geek, and EW Community. She can be found on most social media as Geek Girl Diva.