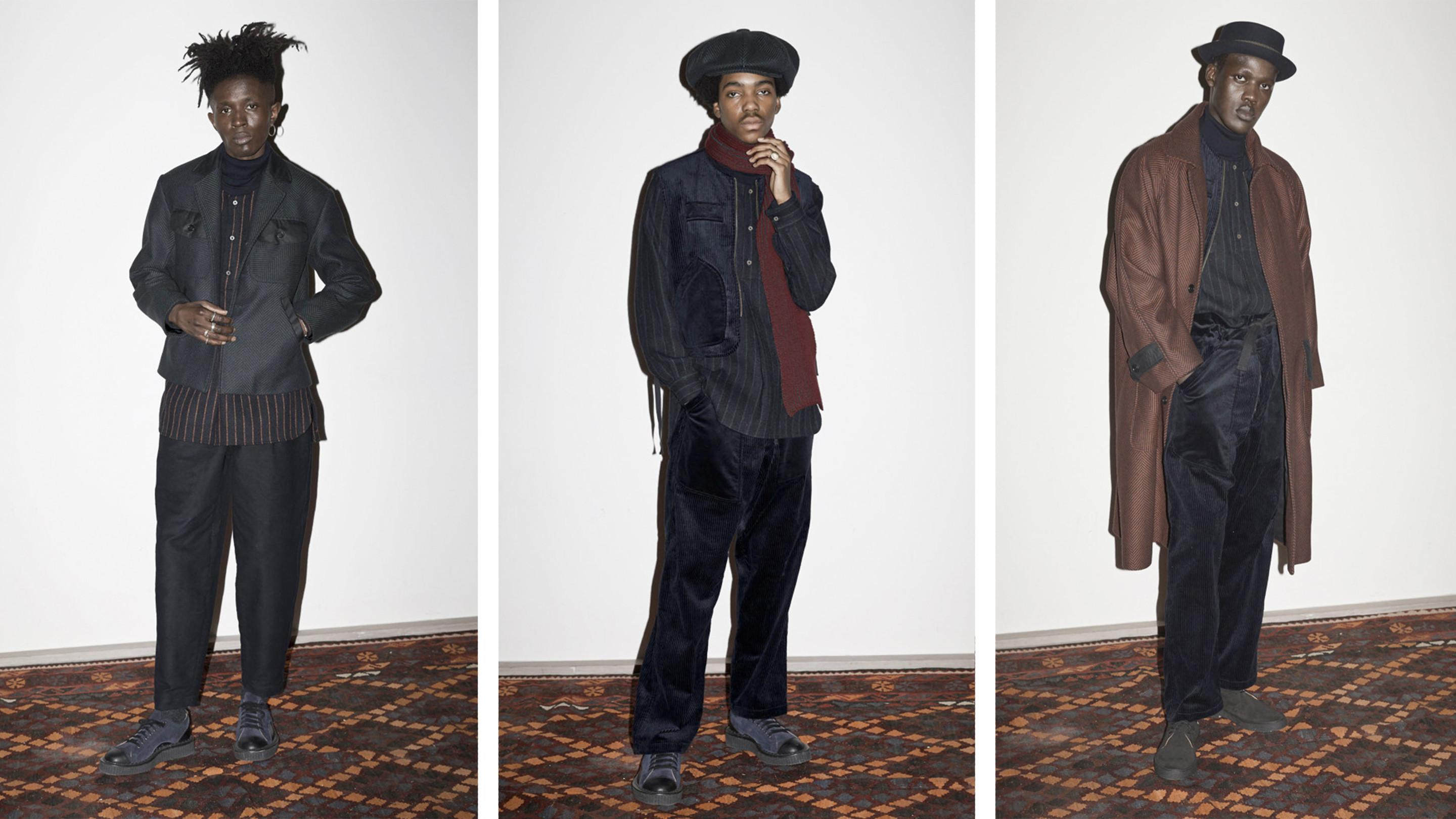 Take Style Cues from Nicholas Daley's Men's Fall 2018 Show
Written by Nora Whelan

Published on

January 11, 2018
If you know nothing else about British menswear designer Nicholas Daley, know that he's a master of juxtaposition. His breakthrough S/S 2015 collection was very literally titled Culture Clash, while A/W 2017's Blackwatch was about as clear a visual representation as one could get of duality in the modern-day UK—a nation belonging neither solely to its pale-skinned and tartan-clad sons, nor to the immigrants who've made homes (and in certain cases, microcosmic communities) there over the last several decades, but to a chimeric mix of the two. From dashiki shapes to kilts to military-style berets and jackets, Daley's designs have long reflected the nationalistic and diasporic tensions plainly present in the Brexit referendum—but in his latest, the jazz-inspired Red Clay, Daley has located a distinct peace that any consumer (no matter where they shop) can pull inspiration from.

Which isn't to say he's lost his knack for expertly mixing different influences; it's just that this time around, there's less (however thoughtful) discord, and more organic melding of elements that you might not initially imagine working together. Custom herringbones, nearly-undetectable stripes, and the occasional monotone chevron pocket or lapel coexist easily, each appearing solid from a distance and demanding intimacy to be fully appreciated. It's a come hither move—once you're familiar, seemingly simple fabric has texture; seemingly random bars of a jazz track, structure; seemingly irreconcilably different cultures, commonalities. Heterogeneity is not a lost opportunity, as disenfranchised voters might view it, but an engine of creation. It makes old things new.
This much is evident in Red Clay's silhouettes, which bridge the generations and miles between hepcats and rudeboys—each in themselves the product of cultural and creative exchange. Daley, whose Scottish and Jamaican ancestry perhaps predisposed him to a love of punk, reggae and ska (the combination of which he's played during presentations past;
Don Letts
is a muse of sorts, after all), has modernized the genres' ocean-crossing aesthetic with oversized newsboy and pork pie hats by London institution Christys', George Cox-made creepers, drop-shouldered trench coats and cropped cocoon trousers. But he's also clearly drawn from the warm, leather-tinged coziness that a Blue Note LP conjures in the imagination, showing tobacco-colored shawl cardigans, professor-worthy elbow patches and formal pajama-esque sets that perhaps until now, only actual contemporaries of John Coltrane (a photo of whom reportedly inspired the collection) and Freddie Hubbard (whose 1970 album the release is named after) could rock—or, should we say, riff.

Red Clay is all about borrowing, rather than resisting or reinventing the wheel. To emulate the look, think comfort over clash—a sweater patched not for colorful contrast, but because the dapper grandpa who left it to you preferred Aramis over mothball smell. Try a slouchy, round tweed coat or slacks—nothing bespoke-style fitted or sharp. Add a slightly battered cap or luxurious scarf; a barely there stripe or suede on your feet; a velvet or corduroy touch to bounce the light, no matter how low; and probably a glass of bourbon, too.
The world is chaotic and ripe for change, sure. But as Daley proves, softness and harmony are still worth seeking.