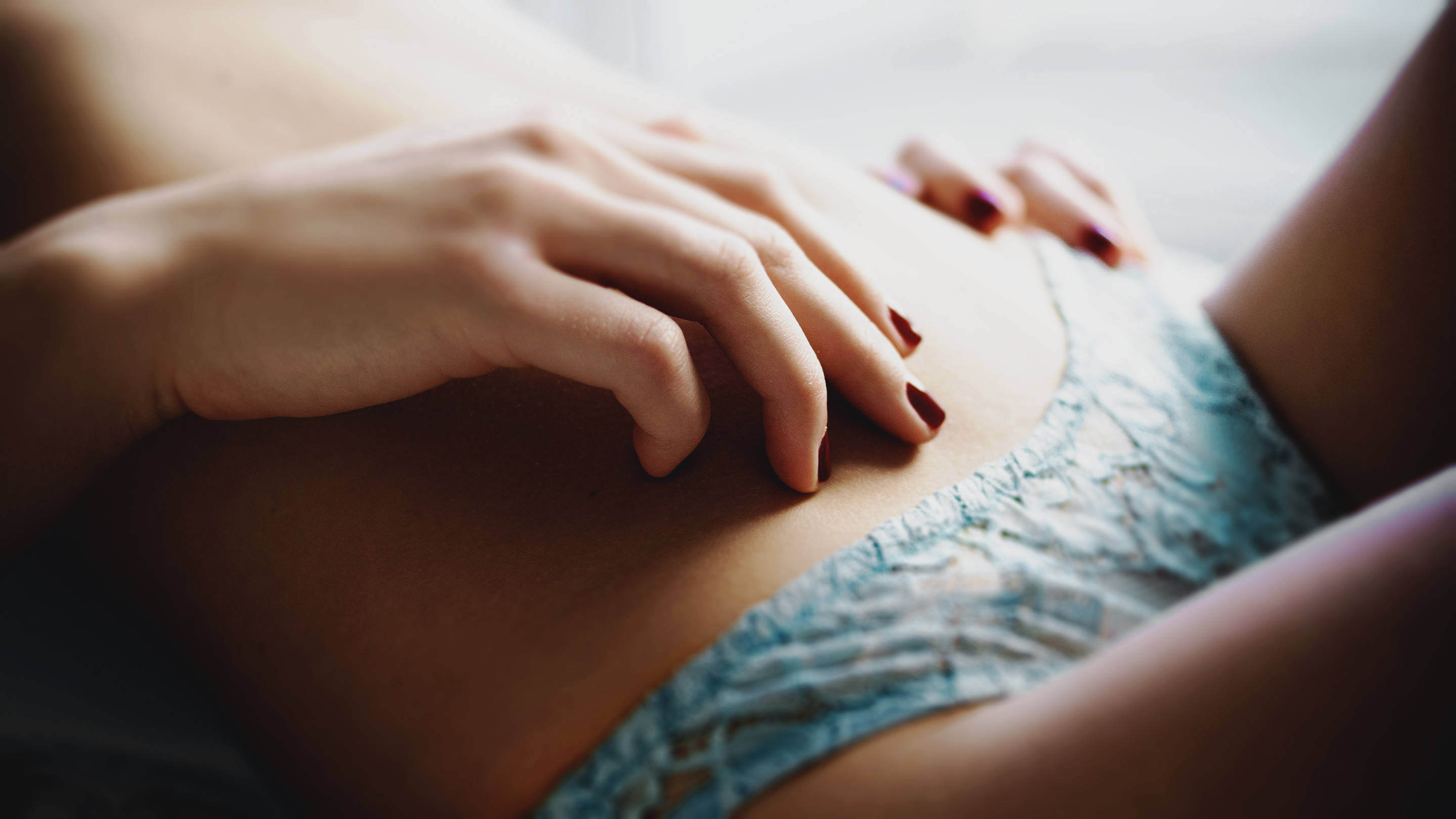 The Best Way to Get Camera-Ready for Skype Sex
Written by Bobby Box

Published on

July 05, 2018
When your partner is away on business or otherwise in a location separate from yourself, you've got a few ethical options for getting your rocks off. You can: (A) masturbate by yourself into a soiled tube sock, or (B) masturbate on webcam for your partner and share as close to an authentic sexual experience as possible. The latter, commonly referred to as cam sex, has become quite the popular option courtesy of recent technological advancements in the sexual space. Keen to try it yourself? Here's how it's done.

Celebrated adult actress and webcam model Natasha Nice recommends couples use Skype when broadcasting for one another as the program doesn't allow users to record video chats that can be shared elsewhere. "If you decide one day you'd like to record your video chats, you can download software that will allow you to record your screen," she adds. But due to such recording software, there is no guaranteed way to protect yourself from being recorded or screenshot on webcam. That's why you should make sure that the person you are having a Skype date with is somebody you trust to respect your privacy. "If you're too worried or want to remain on the more cautious side, you could always not show your face," Whitney Wright, porn actress and webcam model, tells Playboy. "Although, I think it's really hot to see their facial reactions and vice versa."

In terms of lighting, both Wright and Nice agree that natural light is your greatest ally, as it delivers a more authentic filter that won't cast unflattering shadows (as long as you're facing toward the light). However, if there is no natural light available near your computer, both recommend an LED clip-on ring light to make you look flawless. These can be purchased for cheap on Amazon.com.

How you position yourself is also important and something that should be established prior to broadcasting. First, you're going to want to make sure that you (face, body, genitals) are in frame of your webcam. "If you like the way you look, and the position feels comfortable to masturbate, then you're good to go," Nice shares, recommending men sit on the edge of a bed, couch or chair when broadcasting for optimal comfort.

It's the expression of unsatisfied desire that makes the whole situation so enticing.

As someone who has broadcast for both audiences and partners, I personally prefer standing with my camera hitting me at nipple-height or higher. The reason being: I have a bit of a belly, so standing saves me from showing unsightly areas and having the camera at a higher angle projects a more angular physique. Do not—I repeat, do not—have your webcam set low to the ground. No matter your body type, it's not going to look as good as it can from a higher perspective.

When it comes to what you should do when the broadcast begins, that's up to what you and your partner are comfortable with. Just don't be afraid to initiate. "I've Skyped with men before who will lighten the mood and initiate it by taking their shirt off and dramatically fanning themselves with their hands and saying, 'It got hot in here all of the sudden,' or stretching to show their abs, etc.," Wright says. "It made me laugh and feel more comfortable with them." Nice, however, prefers to begin with a little flirtatious chatter to tease, since Skype sex is really just one gigantic tease anyway.

"Think about all the things that turn you on in real life and try to incorporate these things into the video chat with your partner," Nice advices when things get steamy. "Ask them to touch themselves in all the places you would touch them. If she has toys, ask her to use them the way you would use them on her. If you like sloppy blowjobs, use a lot of spit or lube on yourself while you watch her simulate a blowjob on a sex toy."

To find out what sex toys are best for virtual intercourse, Playboy spoke with Katy Zvolerin, certified sexologist and director of public relations at adameve. "Skype sex is the next best thing to the real thing," she says. "Try playing your own version of the old 'truth or dare' game with a dildo and a masturbator and see how far you can go without getting off!" Due to the long distance, Zvolerin recommends toys that can be activated by the phone from anywhere in the world, like the We-Vibe Sync Massager or the We-Vibe Anniversary Collection.

Whether one partner is away for a long period of time or just overnight, cam sex is the next best thing.

As for your role in the matter, you've got a few options. You can choose to sit back and enjoy the show or you can have her watch you and tell her how excited she makes you. To heat things up, make her beg for your body by asking how badly she wants it and to prove it to you. It's the expression of unsatisfied desire that makes the whole situation so enticing. Verbalize the sexual tension and moan, scream, talk dirty—whatever it takes to better convey how things are going on your side of the camera.

If you intend to do more than simply watch her get kinky, have some tools nearby in case you feel like using them: lube, lotion, oil, sex toys, you get the idea. When you're interacting with your partner, tell them what you want and how much they're turning you on. Skype sex isn't physical sex, so you have to make up for what's lacking by emphasizing all the other ways you would normally turn each other on.

You should also make sure the room you're in is tidy, because soiled laundry is not the kind of dirty we're looking for. Some sultry mood music at a low volume can help set the ambiance as well. Wright recommends you plan ahead so your broadcast isn't interrupted, meaning, in addition to the lube and toys (your partner doesn't want to watch you rummage through your nightstand), have a drink nearby so you don't have to leave and grab one. You should probably lock the door as well. Just in case.

Plan ahead for climax as well. For easy clean up, place some paper towels on your desk before you broadcast. If you place it right underneath the screen, you have the added bonus of simulating a facial or creampie by having your partner shove their face, breasts or butt into the camera while you masturbate to completion.

It may take some getting used to, but webcam sex is a fantastic and innovative way to enjoy long-distance love or lust together. Whether one partner is away for a long period of time or just overnight (or even a virtual "nooner" during the workday) cam sex is the next best thing. Believe us on this.