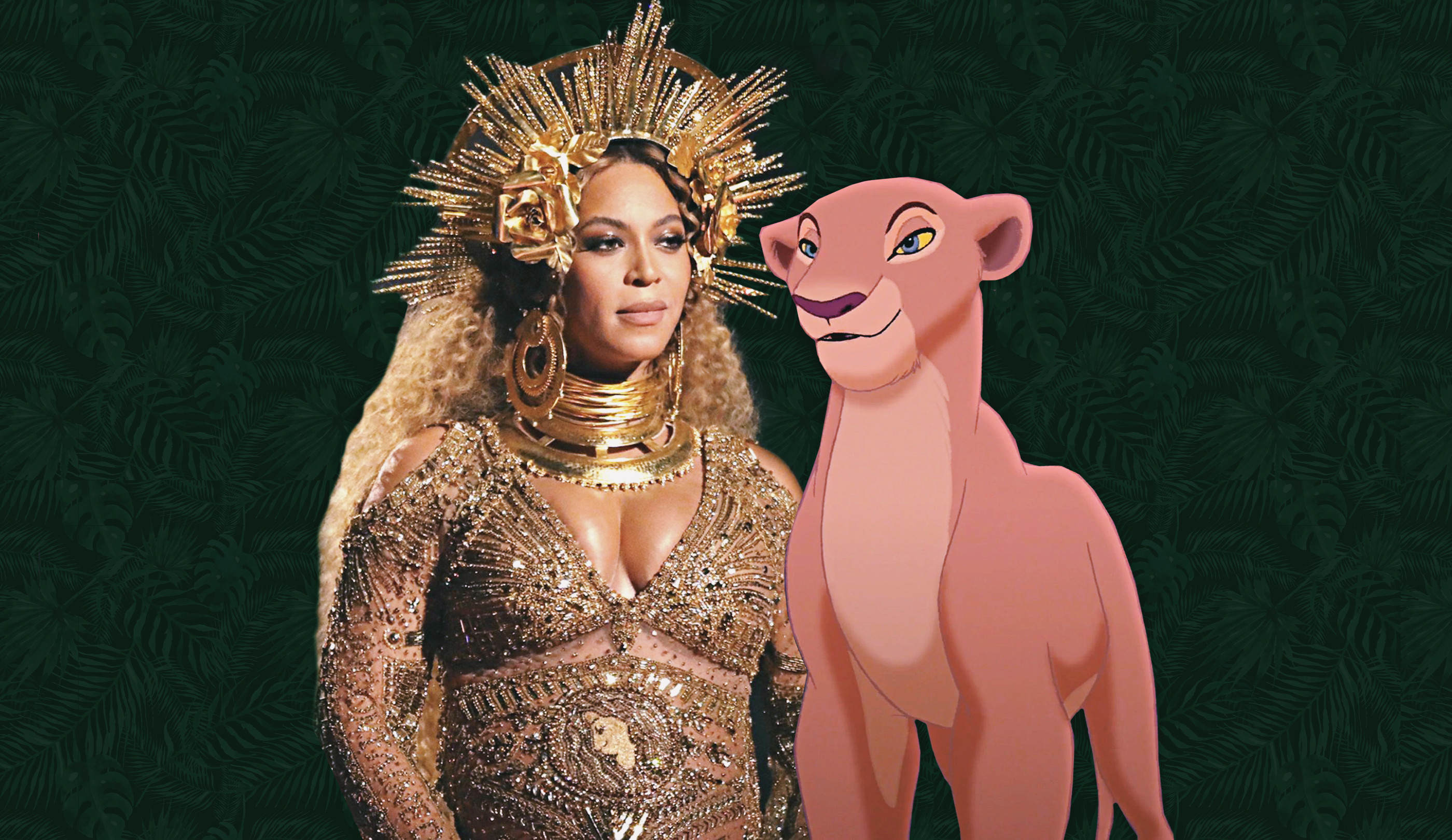 The New 'Lion King' Cast Represents a Momentous Shift for Disney
Written by Daniel Barna

Published on

November 03, 2017
Disney's The Lion King has found its Queen. After months of speculation, the studio confirmed that Beyoncé will voice Nala in director Jon Favreau's hotly anticipated remake of the 1994 animated film. Donald Glover, who is coming off two Emmy wins and potential Grammy heat for his song "Redbone," will voice Simba.

Ever since Favreau screened the opening "Circle of Life" sequence to a delighted audience at Disney's D23 Expo, expectations for this remake have been through the roof. Rounding out the cast is John Oliver as Zazu, Seth Rogen as Pumbaa, Billy Eichner as Timon, Keegan Michael-Key as Kamari and Eric Andre as Azizi. James Earl Jones will once again lend his booming baritone to play Mufasa, with Alfre Woodard playing Sarabi, the royal family's stoic matriarch. Oscar nominee Chiwetel Ejiofor is the voice behind Simba's wicked uncle Scar; Ejiofor's classic theater training should serve him well as the Shakespearean villain.
Before we start daydreaming about Beyoncé and Childish Gambino performing an R&B version of "Can You Feel The Love Tonight?" at the 2020 Oscars in animatronic lion gear, let's take a moment to appreciate what this cast represents. With a majority black cast, this billing is a huge milestone for Walt Disney Studios following its efforts to diversify its animated catalog with Moana and The Princess and the Frog. The latter film, released in 2009, marked Disney's first black princess but had a bumpy road to the big screen due to reported stereotypical plot lines; eventually, Disney hired Oprah Winfrey as a consultant to help them structure a more respectable story.
While lions don't have a racial identity, The Lion King is set in Disney's version of the Serengeti and the imagery and music is deeply rooted in African culture. African themes became a bigger part of the Lion King universe after director Julie Taymor tapped Johannesburg-born Lebo M. to compose new music for the Broadway adaptation. The musical contains phrases from six African languages and in its 20-year run has a long history of casting black actors. In an interview with Playbill earlier this year, Lion King [the musical] associate director noted, "We had an African man who was black, playing Timon, and a white man, who was Afrikaan playing Pumbaa. And it was such a beautiful comment on society that there they were, these two [animals] who should be enemies but they haven't been. They've been wandering through the jungle for so many years as the best of friends. It was such a comment without being a comment, I thought it was an amazing thing."
Since the film is being shot using the same groundbreaking motion capture technology that Favreau used in The Jungle Book, we won't actually see Glover or Beyoncé on screen. Even so, Disney's choice to enlist this set of actors to tell this story is more than happenstance. Either the #OscarsSoWhite controversy—and Moonlight's big Oscar win this year—is actually effecting change in the industry or studios have taken note that diverse casts actually make more money than non-diverse casts. Maybe it's both.
In June, the Los Angeles Times reported on a study by Creative Artists Agency that measured the audience demographics of 413 theatrical films released from 2014 through 2016 against box-office performance. In 2016, the 10 most successful films at the box office had an opening weekend audience that was 47 percent people of color. Earlier this year, Girl's Trip, with its primarily black female cast, crossed the $100 million mark and now ranks higher than supposed box-office juggernauts Fifty Shades Darker, Blade Runner 2049, The Mummy and Baywatch—all of which feature primarily white actors.
Looking forward, the bankability of diverse casting will be further tested with the releases of Black Panther and Star Wars: The Last Jedi. You may remember that The Force Awakens drew troll-level criticism for suggesting a Jedi could be African American. That didn't stop that film from becoming the top movie of 2015. With Disney's latest live-action remake Beauty and the Beast currently leading the year in box-office dollars, we can only imagine the records a diverse re-imagining of The Lion King, still a cultural phenomenon thanks to its long, high-grossing, global run as a musical, will break. Despite its current battle against systemic sexual assault, we should applaud Hollywood for reaching a different critical awakening. And if this is indeed the dawn of a new era in Hollywood, who better to help usher it in than Queen Bey herself?