Some would have us believe that writer-director Jordan Peele's audacious new comedy-horror movie, Us, makes all previous horror films look lame by comparison. Some would also have us believe, just because they keep repeating it, that, after only two movies—Get Out and Us—Peele should immediately be crowned the new Alfred Hitchcock, Rod Serling and Stanley Kubrick rolled into one. Some people are doing no favors to the many gifts of Peele nor the scary, messed up, sometimes brilliant, often frustrating jumble that is Us.

The movie, which lacks the tight concept and the satiric gut-punch of Get Out, opens expertly, coming at us all sunny, unsettling and sideways, with double-edged pop-culture references including Michael Jackson's "Thriller," Jaws, Luniz's song "I Got Five On it" and the 1980s homelessness and hunger fund drive Hands Across America. Lupita Nyong'o (tense and troubled) as Adelaide and Winston Duke (instantly likable and very Peele-like) as Gabe are a married couple taking their constantly bickering kids—moody, athletic Zora and mask-wearing, oddball Jason, played by Shahadi Wright Joseph and Evan Alex, respectively—to their usual summer lakeside Southern Calif. cabin rental.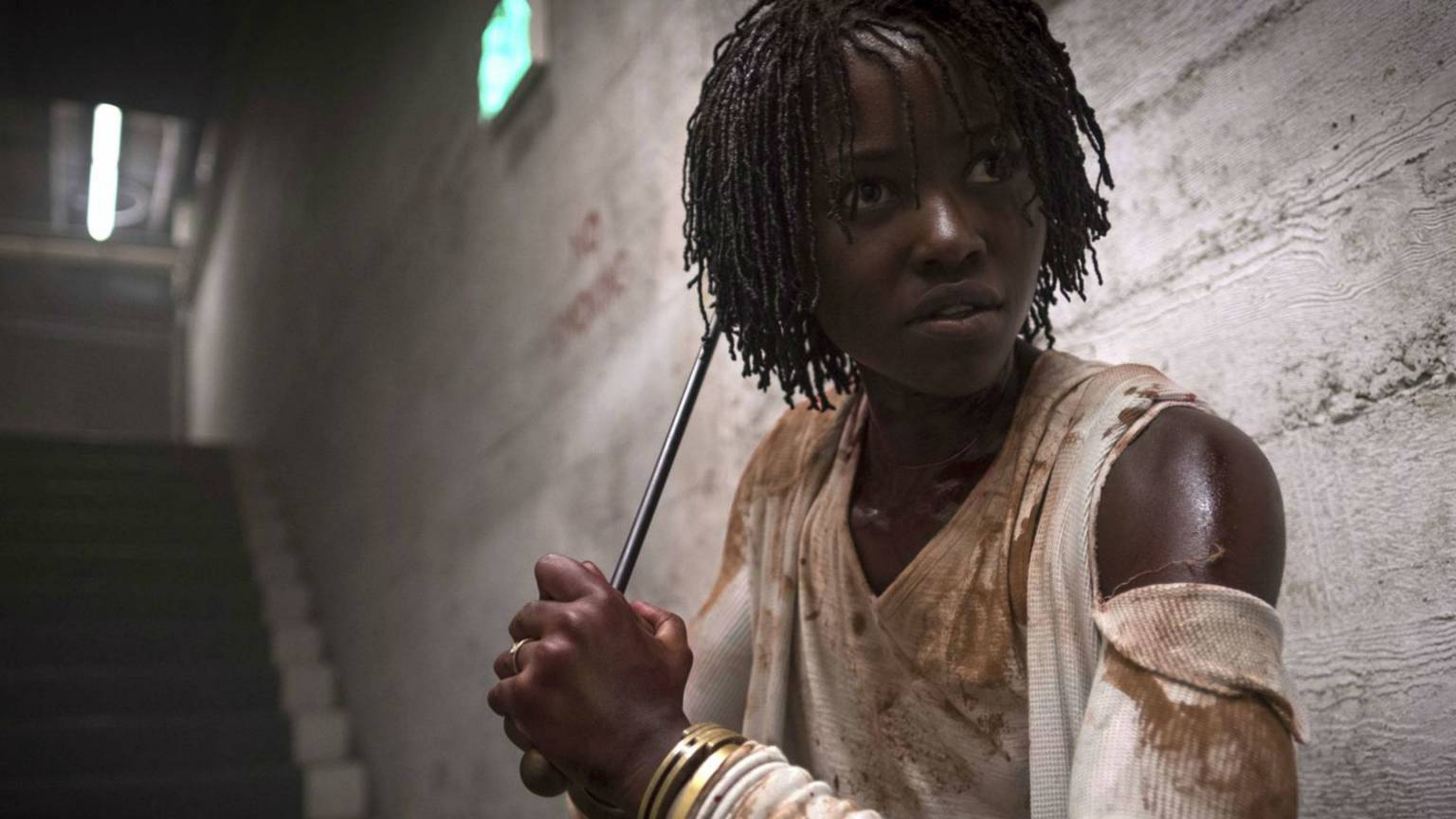 Their old friends, the wealthy, showoff-y, utterly miserable Tylers (
Elisabeth Moss
and Tim Heidecker) and their identical twin daughters are a source of competition and embarrassment. But Gabe is restless and up for a little something extra—one minute he's hoping to seduce Adelaide by posing sexily on their bed, another he's insisting they all go for a jaunt in the janky boat he's bought, or he's insisting that they, at very least, hit the beach at Santa Cruz.
Although Gabe can't figure out why Adelaide's resisting—a series of odd coincidences make her want to leave immediately—we're clued in, thanks to a tingly flashback sequence in which we meet young Adelaide (Madison Curry) in 1986, during the rah-rah, super-white, self-deluded Ronald Reagan era. Left unattended by her father during a beach vacation scars Adelaide for keeps, what with such traumatic events as seeing a homeless man holding a sign reading Jeremiah 11: 11 (God has left us on our own) and a hair-raising and life-changing encounter in a funhouse hall of mirrors. Now Adelaide's let the unknowing Winston bring her back to that very same beach—and with her kids, yet. What could possibly go wrong?
It took long enough, but new heroines are finally flying into theaters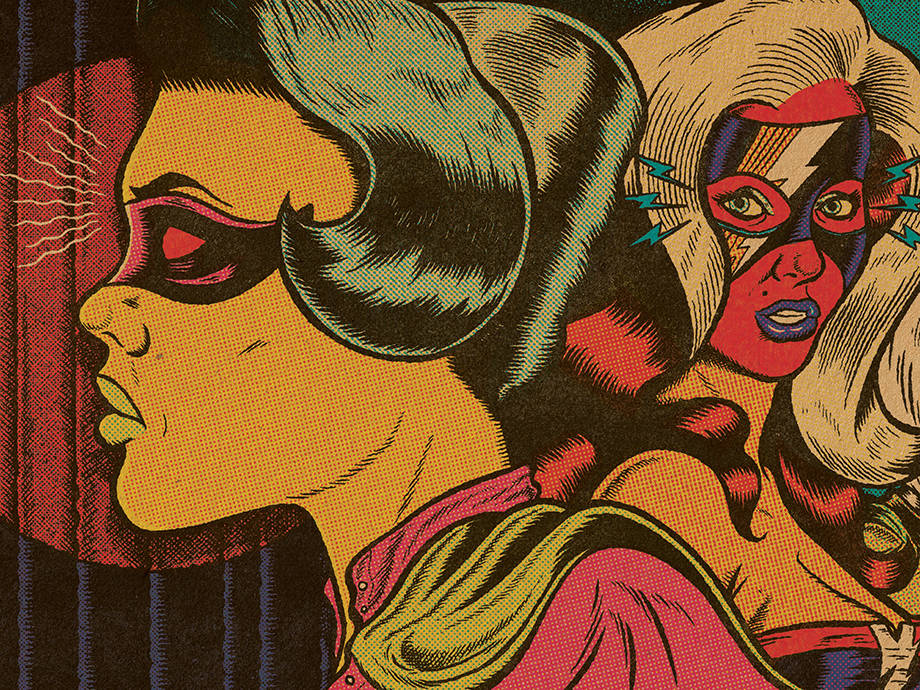 The horrors—and some of the biggest laughs, thanks to Winston Duke's sly way with a line—materialize when the family members spot their four doppelgangers holding hands while looming menacingly in their driveway. They're wearing red jumpsuits, they brandish wicked gold scissors, they're the Wilsons' most evil of evil twins and they don't intend to leave—not without a fight to the death, that is. Gabe asks of them, What are you? The answer: "We're Americans." A later answer: They're the Tethered, and they're done with being the puppets of the humans who have stolen their lives.

And that's the point at which Us becomes a blood-spattered dark night of the soul, during which we meet the scariest, cruelest and most dangerous of monsters: ourselves. That's hardly an original concept, but Peele digs deep, raising our hackles and delivering thrills without insulting our IQs. Trading on tried and true horror-flick tropes, Peele, cinematographer Mike Gioulakis, composer Michael Abels and editor Nicholas Monsour really let us have it as the Wilson family finds out the hard way that not only is unspeakable violence their only hope of survival, but also that it isn't only their homes and lives that have been taken over.

How fantastic is it, in our predigested, everything-dumbed-down era, to be able to leave the theater baffled, debating interpretations and occasionally throwing nervous glances over our shoulders.

Peele's screenplay is jam-packed with allusions, ideas, themes and concepts, and though we don't intend to spoil them, let's just say that a few are less well-thought-out than they might have been. What's clear is that Peele is superb at scaring the pants off us while prodding us on issues of guilt, race, duality, the slipping away of identity and the utter chaos into which our world has been thrown. And how fantastic is it, in our predigested, everything-dumbed-down era, to be able to leave the theater baffled, debating interpretations and occasionally throwing nervous glances over our shoulders.
Us
, a movie deliberately showcasing stronger female characters than male, is cast (by Terry Taylor) to perfection. Even with comparatively little screen time, Elisabeth Moss makes her character a model of malice, discontent and vulnerability. She makes a small masterpiece of a funny, unexpectedly heartbreaking scene in which she merely applies lipstick. Both of the kids are strong, and Duke's breezy, goofball dad disarms the audience from his first scene. But Lupita Nyong'o? Oh, man. She is astonishing, as in almost supernaturally, on-another-planet brilliant. Her stylized movements, mesmerizing stare, the raspy, dead-of-night voice that electrifies scenes are the stuff of sleepless nights. She makes the grisly, hilarious and unnerving movie work.
That horror movies cut deep grooves in Peele's psyche is obvious. The movie evokes themes and images from, say,
Invasion of the Body Snatchers
,
Funny Games
,
The Birds
,
The Walking Dead
,
Night of the Living Dead
and
The Shining
, let alone the "Mirror Image" episode of
The Twilight Zone
, all of which spring to mind. The American dream is a nightmare, and these days, Peele—a master of dread—may be its most astute and entertaining chronicler.
Us
Pros

Shriek while you think in this potent thriller that features Peele and Nyong'o at the top of their games

Cons

Not everything works, but boy, does it take chances
The star opens up about her much-discussed romances, women in Hollywood and (still) loving her body