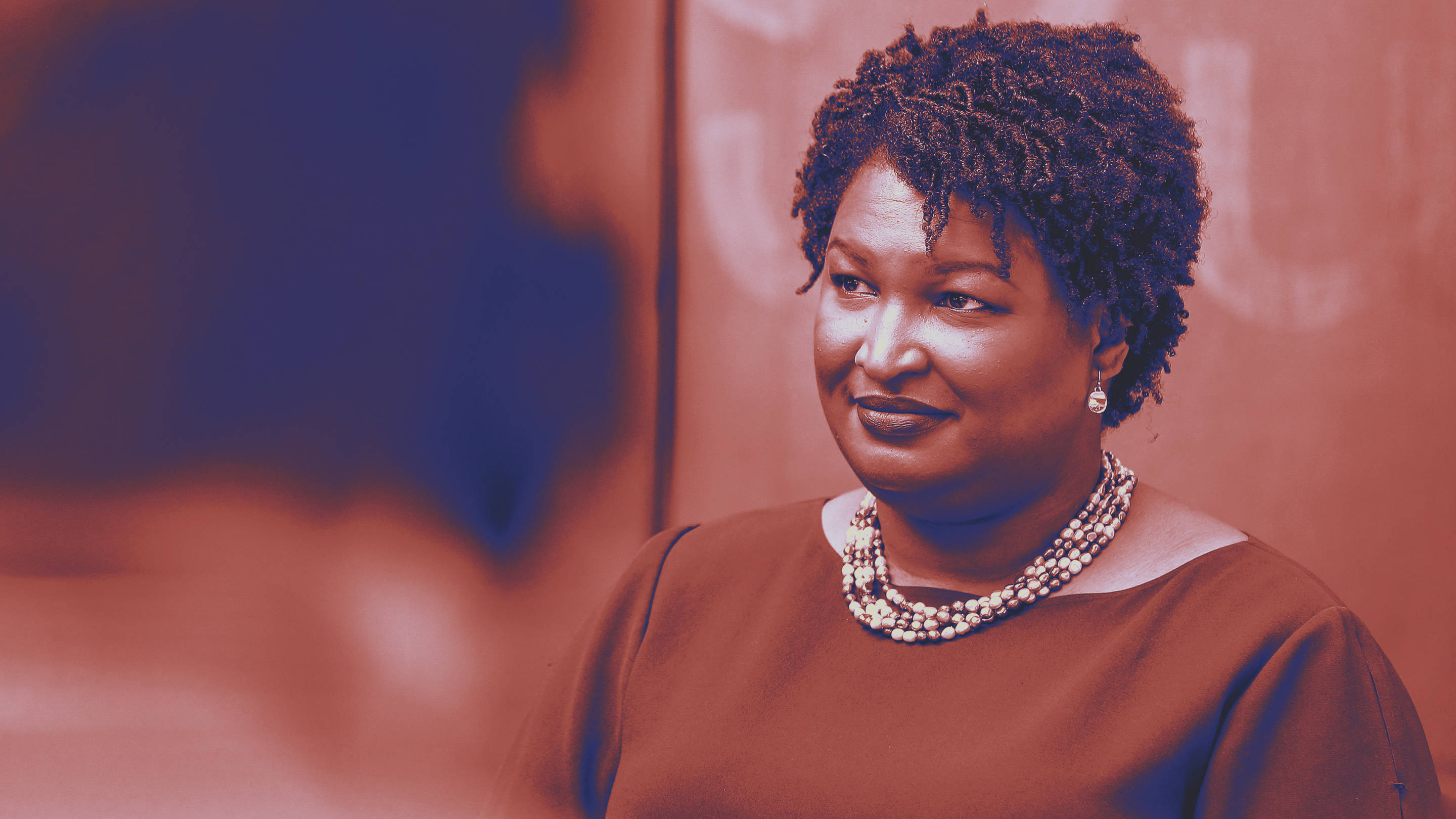 What Voter Suppression Could Mean for Stacey Abrams
One of the unfortunate new tints of the Trump era is the fact that we've become addicted to chronicling the cruel policies and rhetoric flowing from the White House and the president's Twitter feed. In that new echo chamber, longstanding issues plaguing our democratic process have been forced into the rearview mirror—even as they wreak havoc on the midterm season. And the most pervasive of these is voter suppression.

It's hard to tune into the precise frequency of voter suppression, but it's been surfacing across the nation this cycle and has been particularly nasty in races threatening to topple the status quo.
The most stomach-turning example of that threatened status quo came out of Georgia when Brian Kemp, who is running for governor on the Republican ticket, told a group of supporters that the campaign of his opponent, Stacey Abrams, "continues to concern us, especially if everybody uses and exercises their right to vote." And the point is not lost that Abrams, if she wins, would be the first black woman elected governor in the United States, signaling a major shift in the halls of power in the Southern state. The potential for history-making makes the stakes even higher and the establishment's voter suppression efforts more blatant. Also jarring, Kemp is Georgia's Secretary of State—the fellow who is supposed to give a damn about his constituents' voting rights.
Kemp's remarks were first uncovered by
Rolling Stone
, but you probably didn't see much reporting about one of Georgia's top politicians complaining to donors that people with the right to vote might actually exercise it. The affair got a bit more oxygen when Jimmy Carter called for Kemp to drop out. But even then there was
a mass shooting
and the president spitting off bite-sized bits of racism about the migrant caravan south of the border. Voter suppression hardly juices the Nielsen ratings.
Though Kemp's words are ugly, the real issue is the fact that Georgia's blatant voter suppression measures are the sort of back-door bullshit that should spin heads in the United States. A list of 53,000 Georgia voters, largely black voters, have their voting rights "on hold" from Kemp's office. The
Associated Press
reported that 1.4 million voter registrations have been canceled by Kemp's office since 2012. Of those, 670,000 were canceled in 2017. Polls showed the race between Kemp and Abrams to be basically a dead tie. The kind of race where a few thousand people turned away at the ballot box might send the Republican into the Governor's mansion.
A list of 53,000 Georgia voters, largely black voters, have their voting rights "on hold" from Kemp's office.

Tight races are the common denominator in states where voter suppression is the worst.
In North Dakota, Democrat Heidi Heitkamp is fighting an uphill battle to retain her seat, but with a big enough turnout it's possible, even likely. Meanwhile, the state's Native American population—which largely voted to send Heitkamp to Washington in 2012—has been scrambling to find a way to become eligible to vote. The state (which has a Republican Secretary of State overseeing the voter rolls) passed a new law requiring voters to present a residential address when they show up to vote. However, many Native Americans use P.O. boxes. As the
Times
notes, Republicans have been eyeing the new law since 2013, just after the Native American population turned out for Heitkamp.
Florida has a pair of contentious races, there's a Senate seat up for grabs and a gubernatorial race in the state that has become a monster in presidential elections—which make these races even more consequential. The most obvious problem with Florida's voter system is that it's one of only four states that permanently bans felons from voting. If the state were to pass a bill restoring the voting rights of felons who have served their time, it would mean around 1.5 million people would be able to vote. But since that measure is only on the ballot in November, those people won't be able to add their voice to the upcoming election.
Like the Georgia voter suppression tactics, Florida's restrictive laws represent the work of the status quo. The rules were passed by Governor Rick Scott's administration, and Scott is currently fighting for a Senate seat. Between 2011 and the beginning of this October, Florida granted civil rights to only 3,200 prisoners-turned-citizens according to a
Wall Street Journal
report. In the final two years of Scott's predecessor's term, that number was 30,672.
And though the word "felon" sounds nasty, a lot of these possible voters are bearing felonies that are mild at worst. A sizeable portion are for marijuana charges. The new measure up for consideration on the ballot in November even excludes murderers from being among the felons eligible to restore their right to vote.
These are just the most eye-boggling instances of voter suppression—those that have been fostered by politicians serving in states where they are eager to ensure that at least some of their constituents aren't able to vote. There are countless others more amateurish in nature. In Oregon, there have been a series of robo-calls falsely telling voters their ballots won't be counted. In Texas, voter intimidation at the polls is a serious problem with one election director telling ProPublica, "I've been here for 30 years, and this harassment that's going on, I haven't ever seen the likes of this."
Voter suppression doesn't get coverage for a number of reasons—the simplest answer is that there's no clear narrative that makes for a good sound bite. While Trump is bashing on about "disease-infested"
southern invaders
, these laws deciding who is eligible to vote are being drawn up and voted on and sent into courts for appeals and unless you're reading the fine print, you will miss the fact that your neighbor might not have the same basic liberties as you. And if we're distilling this argument, that's the beating heart: the right to vote is a basic liberty in the United States of America, and it's being constantly trampled upon.
The ongoing teacher revolts could tip the scales in the upcoming elections