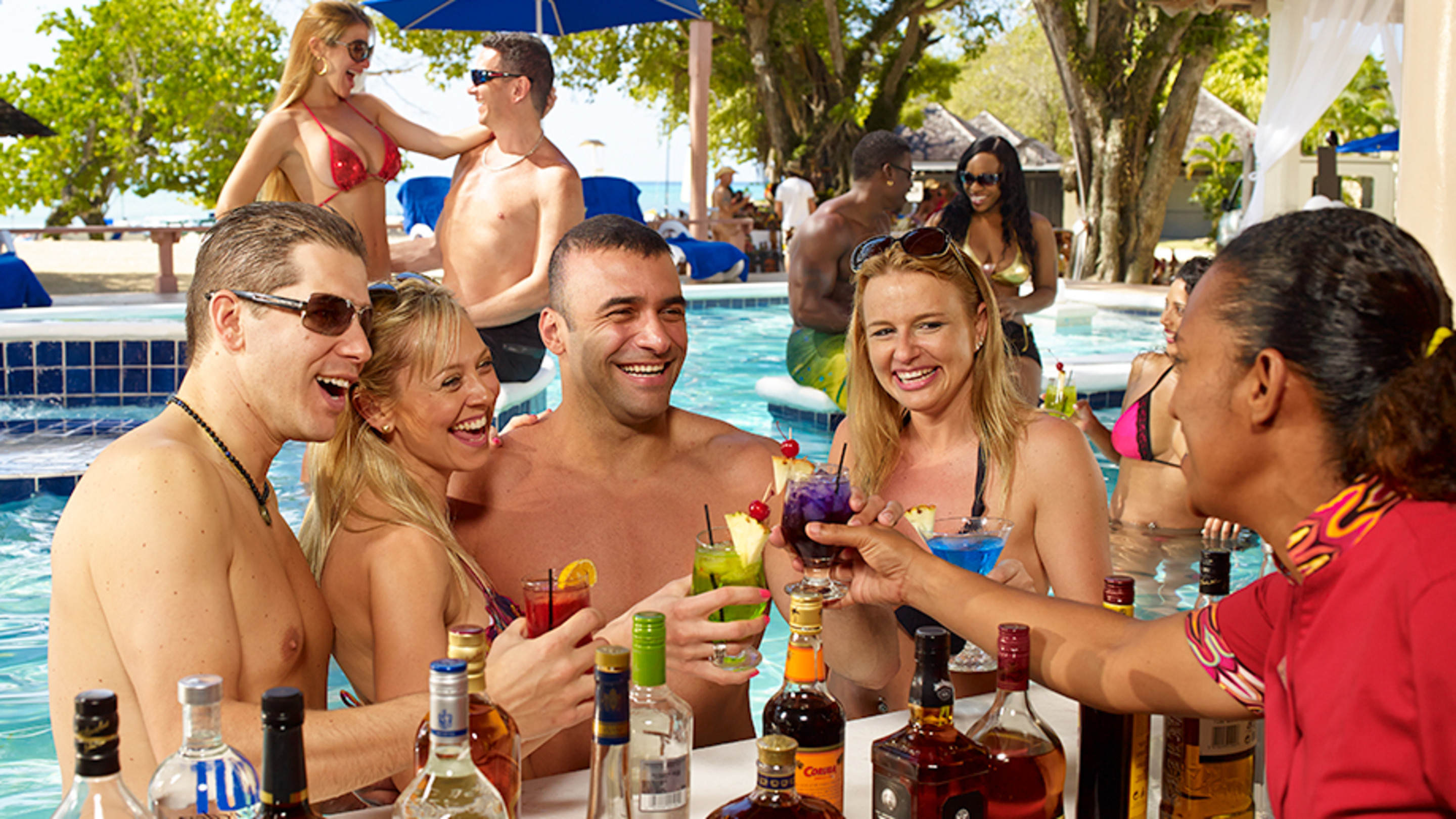 How to Plan a Kinky Vacation (Without Freaking Her Out)
Written by Charyn Pfeuffer

Published on

January 06, 2016
Naked, under the hot Jamaican sun, I caught the gaze of a good-looking guy sitting naked in the hot tub. I straddled a nearby chaise lounge and positioned myself for the best view. While making sporadic eye contact, I aroused myself with my fingers slowly until I came, getting off on the public display and curiosity of passersby. Exhibitionism is the norm at Hedonism II, but this was a bold act even for open-minded me.
Considered the granddaddy of nudist resorts,
Hedonism II
has been in the business of making sex-positive people happy since 1976. A Disneyland for adult nudists, swingers and exhibitionists, it has something for those who want to sit on the sidelines in an erotic setting and something for those who crave straight-up promiscuity.
"Hedonism II has always been a place where people can let their hair down and have adult fun in a safe, sensual, protected environment," managing director Kevin Levee told me. This attitude of openness and acceptance may be why the resort has a 60 percent return rate.
Before I took off on my nacation, I chatted with women who'd been on similar trips or were seriously considering it. They shared their first-time concerns or what was holding them back. Then I went for myself. Spoiler alert: I am plotting a return visit.
---
What do I need to know when considering a naked vacation, or nacation?
First and foremost, do your homework.

"Learn as much as possible. Ask yourself: Is it for you?" says Levee. "Not every individual or couple can do it. But if you know what to expect, it can be the best vacation."
I pored over detailed trip reports and forums on Adult Travel Forum and Denny P. I also joined a closed Facebook group, Hedonism II (unaffiliated with the resort), which has a good mix of curious first-timers and seasoned veterans.
One guest who first visited Hedonism II for his 20th anniversary told me, "You will have the most frank conversations that will either strengthen your relationship or blow it apart. They key is to set your rules and boundaries in advance." He and his wife have returned six of the past eight years.
At Hedonism II guests can stay on the "nude" or "prude" side. The former requires total nudity at all times except in the restaurants; the latter is a clothing-optional scenario. I stayed on the nude side.
There's absolutely no pressure to participate in any activity – resort-run or otherwise. Everything about Hedonism II embraces an anything-goes mentality, whether that means "Hedo Mild" or "Hedo Wild."
"Maybe she wants to wear a revealing outfit and spend time in a sexually charged environment," said Levee. "Or maybe notch it up a bit to wild, where lifestylers can engage in fantasies they can talk about until their next trip."
One easy way to meet people is to join a hosted trip. These organized groups follow a like-minded theme, like BDSM or burlesque, and they offer discounted rates.
If you're worried about what the neighbors will think, you can slip away to nearby Sandals or Breezes with a normal swimwear for PG-rated vacation photos.
October to April is peak season at Hedonism II; May and June are slower months.
She might think: Is my body "good enough?"
She might be concerned about her body. I promise you she will fit in. Supermodels and super booties strut their stuff side by side; butt floss knows no size boundary.
The minute I stripped down at Hedonism II, I felt totally at ease. Random strangers complimented my body, and I felt pretty damn sexy. Oh, and I didn't wax, which was the No. 1 pre-trip question asked by my girlfriends.
A lot of younger people stay on the prude side. They aren't comfortable taking their clothes off in front of complete strangers. When they do, it is like a rite of passage.
What do people do all day?
A typical day depends upon the individual. Some guests seem to fall into a routine; others go with the flow. Many are naked the majority of the day. On the prude side, bikinis, straw cowboy hats, oversized sunnies and flip-flops are the cover-up of choice. The party people tend to stick to the pools while others hang out at the beach. There are plenty of non-sex and water activities, including a well-equipped gym, pool tables, tennis, basketball, snorkeling, windsurfing and Hobie Cats.
Did I mention that weed is readily available in abundance? And then there's the never-ending flow of Red Stripe and rum cocktails and any other premium liquor you may thirst for.
Once you've exhausted all other activities, there are three complimentary porn channels in the room. And a super-fast Internet connection (for a daily fee) if you want to stream your own. All rooms have mirrors on the ceilings and some oceanfront rooms have private patios and Jacuzzis, which provide their own kind of sexy fun.
Do people gawk, stare or make comments?
People do look, and maybe for a few moments more than you're used to. Still, hearing that my face, body, tits and ass were beautiful never grew old. And it was never for a second creepy.
There aren't a lot of rules, but respect is an absolute essential. It's very important that women feel comfortable.
More often than not, I was called out for being a newbie or "virgin." When the suspicion was confirmed, the sleuth was quick to introduce him or herself and share in detail what to expect. These friendly faces would become familiar in the coming days.
I kept my eyes open for insensitive offenders but didn't see any. No lewd single guys jerking off in dark corners, no inappropriate groping, no disrespect. From a female safety perspective, it's comforting to see everyone on their best, albeit naughtiest, behavior during naked sexy time.
Is it a sex free-for-all?
Well, sort of.
If single males come and think it's hook-up central, they'll be disappointed.
Still, I saw all manners of sex.
Oral sex in the nude pool hot tub was a common late night occurrence. At one point I was being introduced to a woman when I realized she was giving head. She was cordial enough to wave with her free hand. Another night I watched a young brunette give her boyfriend a blow job on the side of the pool, then segue to a lounge chair for some legs-in-the-air intercourse until they both collapsed.
Under swaying palm trees and the starry Caribbean sky, I watched couples suck, fuck and contort on mattresses strewn across the spa floor. As soon as one couple got up, a resort entertainment coordinator whisked in to provide fresh towels for the next in the carnal turnstile. I never once spied stray bodily fluids or sticky wet spots. Thankfully.
What are the people like? Like really like?
Plan to meet people ranging from their 20s to 80s. These free spirits come from different parts of the world, socioeconomic backgrounds and religious and political beliefs. Many of the people I met skewed toward the more conservative end of the spectrum. Eighty-five percent of Hedonism II's guests are couples, followed by single men, then single women. Every single person I met was outgoing and genuinely nice. There was a bit of evangelizing from group members at times.
"Oh, it's your first time here?" queried one such member. "We were lonely during our first visit, but then we joined XYZ group and now return annually. The bonds and friendships we've made here will last forever!"
While I appreciate the social opportunities a group may offer, my introverted tendencies tend to rule out such things. I know, I know. An introvert on a nacation is a bit baffling. On the upside, the week I was on property there were several different interest groups in the house and everyone got along – no cliquishness, no nothing.
There are the guys who sport "I Came Here to Drink and Fuck" T-shirts and "Cunning Linguist" beer koozies (groan). There are also wildly creative exhibitionists with their fancy costumes (fun).
How should I respond to unwanted advances without sounding like an asshole? It's okay to decline any unwanted propositions with a simple, "Thanks, but no thanks." No one will think twice about it. No means no, and it doesn't require a whole lot of conversation to halt an advance. No apologies are necessary – just take it as a compliment.
Will I enjoy it? That's really up to you. If you go with an open mind and set clear boundaries and expectations, you should have a total blast. If you bring attitude, jealousy or a bunch of sexual hang-ups, probably not.
Do the men look at other women? Most likely, yes. These resorts are a buffet of human eye-candy. It's hard not to take notice of all the beautiful bodies, both male and female, especially when engaged in antics like wet T-shirt contests, legs-in-the-air YMCA on the side of the nude pool or performing oral sex in broad daylight.
I don't make your relationship's rules, but as far as I'm concerned, there's nothing wrong with surveying the scene. As long as boundaries between couples are established and observed, why not take in all the sexy, uninhibited people? You don't have to sample the goods to have a good time.
How will she react if you're with someone else? It's best to have these conversations before you ever step foot on a plane. The line of what's sexually acceptable varies for every couple. While some may have a hard and fast no affairs policy at home, others may bend the rules in certain situations, like a nacation. Then, there are couples who are fine with swapping within certain parameters.
My advice is to communicate what may or may not sit well with a significant other well in advance. The last thing you want on vacation is to make a snap decision in the heat of the moment or cause hurt feelings because you were too chicken to have "that" conversation.
No matter what, you should never expect or push your partner into doing anything they're not into.
If you want to talk her into taking a kinky vacation, do your homework, talk about it beforehand and prepare as if you're about to partake in a potentially life-changing experience, because for some of us women, that's exactly what it is.