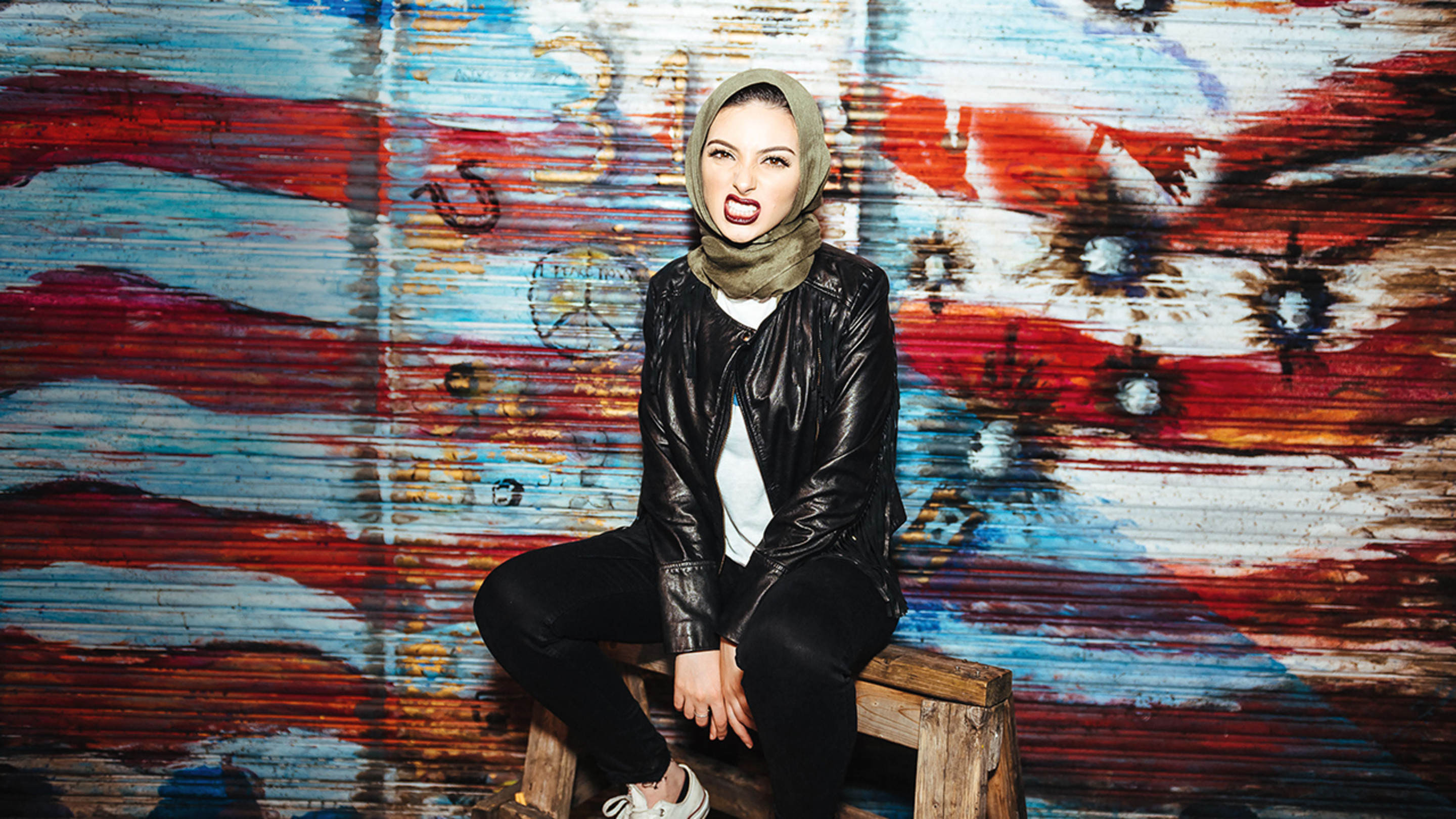 Media Wunderkind Noor Tagouri Makes a Forceful Case for Modesty
Written by Anna del Gaizo
Photography by Kate Warren

Published on

September 22, 2016
For anyone with preconceived ideas about women who choose to wear a headscarf every day, Noor Tagouri is disorienting. She's simply not what you expect: a 22-year-old journalist (she likes to call herself a storyteller) on the verge of becoming this country's first hijab-wearing news anchor.
As of June, she's an on-air reporter for Newsy, where she provokes the sort of confusion we could use right now, in part by making a surprisingly bold case for modesty. As a badass activist with a passion for demanding change and asking the right questions, accompanied by beauty-ad-campaign looks, Tagouri forces us to ask ourselves why we have such a hard time wrapping our minds around a young woman who consciously covers her head and won't take no for an answer.

A West Virginia native and first-generation Libyan American, Tagouri graduated from college at the age of 20. In 2012, her #LetNoorShine campaign went viral. Her 2015 TEDx talk advocated unapologetic individuality, and her YouTube channel draws tens of thousands of viewers. More recently, she collaborated with streetwear brand Lis'n Up Clothing on a fashion line that includes a Jean-Michel Basquiat–inspired sweatshirt. Half the purchase proceeds go to Project Futures, an anti-human-trafficking organization. Americans have a long way to go when it comes to how we regard Muslims, but with Tagouri burning down stereotypes and blazing new paths, we're a healthy stride closer.

---
Your goal is to become the first hijabi anchor on commercial U.S. television. What's the biggest challenge you face in your work?
The biggest challenge I face as a storyteller is the process of getting people to trust you enough to tell their stories. Our society has seemingly become so desensitized to violence, abuse, death, rape and trauma. I find that people who go through these traumatic experiences have a hard time trusting reporters. Just a few days ago, I had an anonymous artist tell me he doesn't do interviews because he doesn't want reporters to "take [his] words and run with it".
Being a hijabi Muslim woman helps me gain trust. I say, 'I know what it's like to be misrepresented in the media. I won't do that to you.'
People want to be valued and heard. Their experiences are so personal and they want their voices to come through in a story. It's a process, but building that level of trust takes time, effort and patience. I'm actually struggling with a few powerful stories right now because he people involved are still suffering. Unfortunately they're having a hard time being okay with someone sharing their story. Which is totally understandable, but it's a process.

How have you confronted that?

Being able to share in the vulnerability of the people I talk to helps me gain their trust. I recently did a documentary titled
The Trouble They've Seen: The Forest Haven Story,
about one of the worst cases of institutional and medical abuse in the history of the U.S. When I decided to do the piece, I knew I needed to talk to people close to the case—someone who lived in the institution, a parent, their family members, an employee and the lawyers involved. It took a few visits with each person to get them to agree to do an interview.
To be honest, I think being a hijabi Muslim woman, helped me gain that trust. I know what it's like to have the narrative of our community be skewed and exploited in the media. I was like, "Hey, I know what it's like to be misrepresented in the media. I won't do that to you. I want to tell your story because it's important and deserves justice." I know first-hand that once people are re-empowered, they realize their own story is powerful and they begin to share. It's incredibly rewarding and can even help enlighten or save others.
How have you dealt with backlash, especially in our current political climate?

If by backlash you mean hate and criticism, I don't read or pay attention to any of it. It's just negative energy and unhealthy. I make sure to keep a great circle of people around me who keep me grounded. Whether it's at work or at home, the people who have my best interest at heart voice their concerns and their critiques, and I work on them. Besides that, I just do the best I can to not worry about people who get upset because they don't like something that I wear or say.
The first story I did with Newsy was on Middle Eastern and North African Americans being considered "white" on the U.S. census and how that might change on the 2020 census. I referred to it as "White Without the Privilege." There was a ton of backlash on Facebook from people who didn't like the story. It was comical seeing people telling me to "go back home" when in fact, I was born in West Virginia. My team insisted that I never read the comments, so I stopped. The thing is, that story was based on facts. I constantly remind myself to just do the work I believe in and ignore the angry people behind computer screens.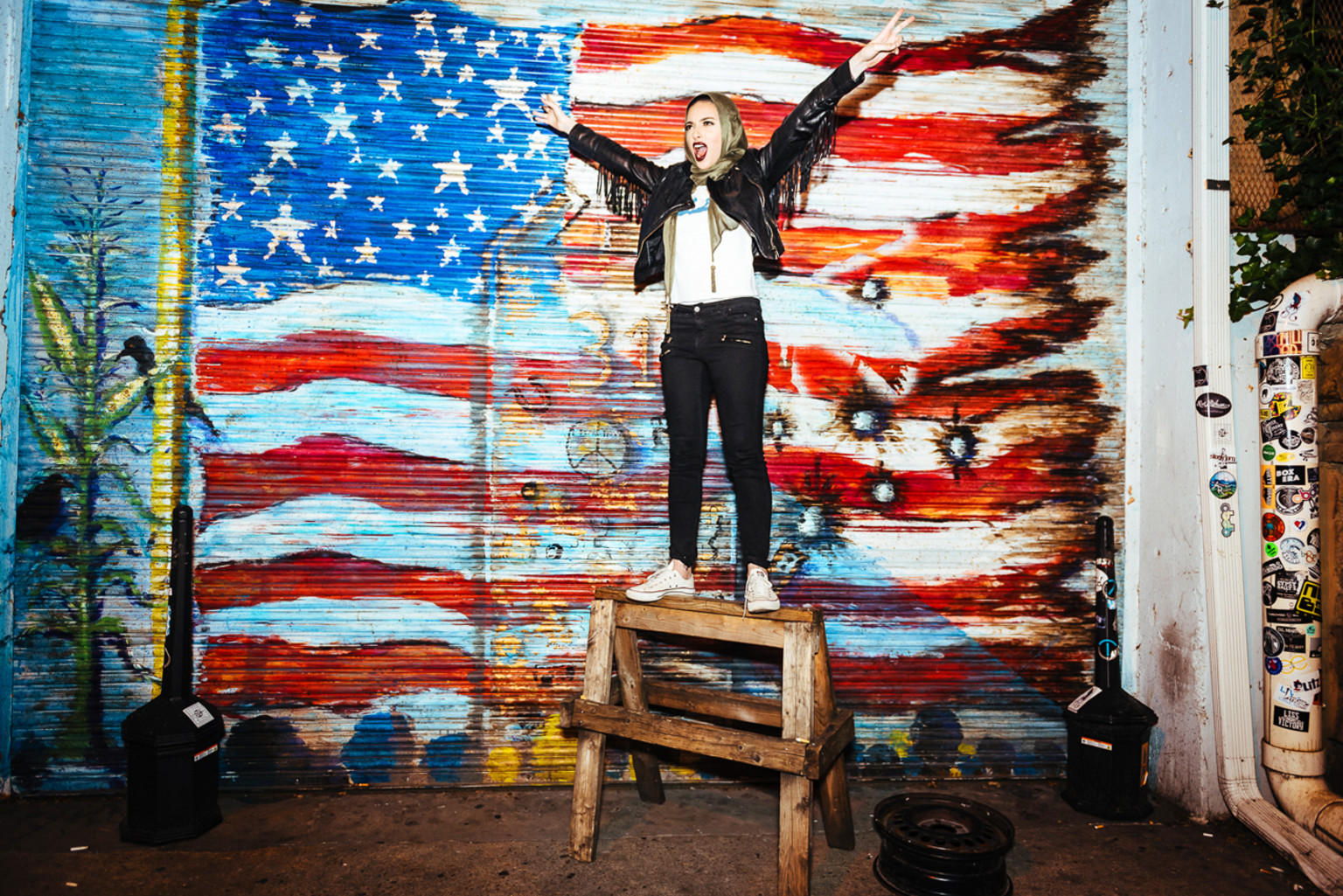 At what point will you feel like you've succeeded in effecting change?
I will have succeeded in effecting change when all girls realize they can do anything they want without having to sacrifice who they are as a person. I may dress a little different—I'm a reporter who happens to wear a head scarf and I live in my hoodie—but being a story teller, motivational speaker, entrepreneur and unapologetically myself has opened so many doors for thousands of people. I recently had a mom come up to me and tell me that her daughter is in the 6th grade and had just started wearing the hijab. She shared how a lot of the other girls tease her and put her down because of the hijab. She went on to tell me that her daughter watches all of my videos and every time she gets picked on, she pulls up my Instagram or tells them to "google Noor Tagouri and then talk to me." Those are the moments that hit me. And I always remember Maya Angelou's quote, "I come as one, but I stand as 10,000."
What is your call to action to readers?
Live your life as your truest self and encourage others to do the same! Support each other. We have to live for the 10,000 who have come before us, who have made it easier for us to get to where we are today, but also for the 10,000 coming after us, so we can continue to break barriers and glass ceilings and reclaim our power. Do good, stay fearless and remember that everything you want is just outside your comfort zone.