So much for all those early naysayers who had doubts about whether legalizing cannabis would ever yield any real economic benefits—or simply blow up in a cloud of smoke filled with nothing but wishful thinking and high hopes.

Six years after Colorado and Washington became the first states to allow the commercial sale and production of cannabis for recreational use in 2012, the legal domestic cannabis business is believed to have raked in about $9 billion in sales in 2018. And by 2022, legal recreational cannabis sales are projected to jump by 250 percent to $22 billion in the U.S. alone—that's compared to less than $3 billion in 2017, according to a recently published factbook report by Marijuana Business Daily (MJBizDaily). Even wilder, since
national legalization in Canada
was declared last October, the global spending on cannabis could explode to a mind-blowing $30 billion a year or more by 2022, according to some industry projections.
Still, the question remains: Given all the buzz, is it time to seriously consider stock investments in the industry? Well, as any good financial investor will tell you, there are some fundamental things one needs to consider before hedging their bets on stocks in any industry. For starters, you need to make sure that you have a good understanding of the industry that you're considering making an investment in, and not simply rushing to join the herd flocking to something that's hot for the moment:

"The industry could double or even triple in the coming years," says Chris Walsh, vice president and founding editor of MJBizDaily, who estimates that the cannabis sector employs 120,000-150,000 full-time workers. "That's a lot of growth. That's a lot of job opportunities. That's a lot of start-up activity. That's a lot of investment money. And a huge benefit to the economy and the community because of the kind of investment this industry generates."

People are now more familiar with it…and they see how it runs, and it's not what they thought.

It's a burgeoning market being driven by a growing number of U.S. states and
countries legalizing various forms of cannabis
and a shift in the general perception of the cannabis business. "Nobody wants to invest in an industry that's going to disappear tomorrow," explains Jamie Schau, senior analyst for the Brightfield Group, a cannabis and CBD consumer insight and market research group. "That's really been the big issue over the past decade with getting on
board with the cannabis industry. But these businesses are becoming more efficient, more scalable, more sophisticated."
Regardless of whether one believes in the drug's benefits, as states slowly sign on to recreational use, trends and numbers don't lie—and that's keeping in mind the strict federal regulations these business must stay in line with. "People are now more familiar with it…and they see how it runs, and it's not what they thought," Walsh adds.One of the biggest indications of that trend came in 2017, with the announcement that the Fortune 500 company, Constellation Brands, the largest beer distributor in the world, was making a $4 billion-dollar investment in the Canadian cannabis company, Canopy Growth, for a 9.9 percent stake in the company.

The major farming and agriculture company Scotts Miracle-Gro has also made a number of major investments in the legal cannabis business, including forking out $450 million in cash for Sunlight Supply, a distributor for cannabis gardening supplies. In August, the Ohio-based company announced that it was partnering with pot producer Flower Corp. to build a 50,000 square-foot state-of-the-art research lab in British Columbia that will be used to test the nutrients in cannabis, with the potential capability to study pot genetics and its impact on human physiology. In early December, the Marlboro maker Altria announced that it was
investing $1.8 billion in the cannabis company Cronos.

The boom in the legal cannabis industry is also driving the birth of a number of new businesses in the
tech sector
, ranging from companies offering cutting-edge robotics used to process cannabis to high-tech verification systems used to track and ensure the authenticity of cannabis being sold legally. "You're seeing a big shift," says Walsh. "A lot of money is starting to flow into this industry, and Canada is helping that, because it's legal for them to be there and you have a lot of
companies trading on the major exchanges there (in Canada). They're garnering millions of dollars in investments all over the world, and that's helping U. S. investors warm up to this industry."
Whether you prefer missionary or cowgirl, Playboy wants to enhance your pleasure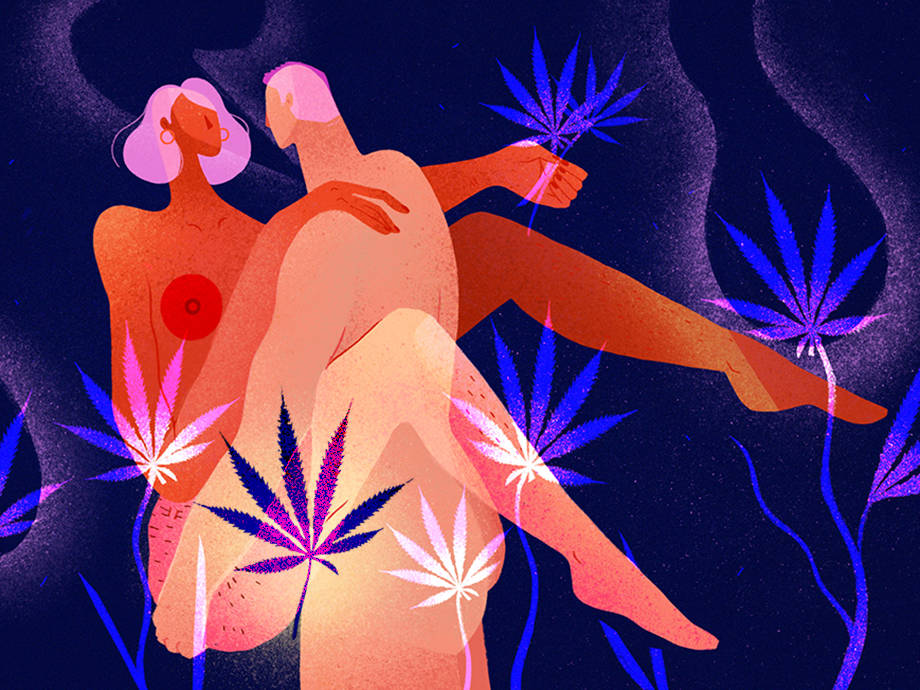 Schau says the legal cannabis market, in both the medical and recreational segments, is expanding in a more measured and consistent way typically seen with formal consumer goods such as alcohol, a signal that the cannabis industry is becoming more stable. "Cannabis markets do become less volatile as time goes on," says Schau. "When legal markets mature, we stop seeing triple-digit growth and start seeing steady, healthy, reliable growth not subject to dramatic swings in either direction."
As cannabis becomes legal state by state, the type of person purchasing the products is also
also broadening
—and the more people who buy, the more sturdy the business becomes. According to Eaze, a California on-demand
delivery service
, first-time buyers increased by 140 percent in 2018 and consumer age 50 and older were the fastest growing consumers."The demand is changing," says Schau. "There are different user groups. It's becoming more mainstream and it's becoming more accepted." In fact, according to a recent Gallup Poll, nearly 66 percent or nearly two-thirds of all Americans now support legalizing pot.
When considering a new investment, its's also important to have a good sense of what specific areas of the business are poised to have the most significant and sustainable growth. Most industry insiders contend that maybe the most significant growth
lies in CBD
(the non-psychoactive part of the plant), especially given the recent passage of the Hemp Farming Act of 2018 in Congress. The landmark bill, signed by President Trump in December, amends the federal Controlled Substances Act of 1970 so that industrial hemp plants containing no more than 0.3 percent THC (the psychoactive component) are no longer classified as a schedule I prohibited substance. "Ultimately that legalization will allow for safe investments," says Schau. "It (CBD) is really a versatile product. It can be sold as a nutritional supplement over the counter or it can also be sold as an additive to foods and drinks. It can be sold as makeup cream, skin care creams. There are a whole lot of applications for it."
If a similar federal bill were to be passed for recreational use of cannabis—both THC and CBD—in all states, investment group Ackrell Capital, predicts that the cannabis industry could eventually reach annual revenues of $100 billion in the U.S. Of course, hedging your bets on the passage of any federal move in this wildly bizarre political climate, is tricky to say the least. It's also important to keep in mind that the general consensus among a lot of industry insiders is that the U.S. is anywhere from seven to ten years away from seeing any federal cannabis legislation make its way through Congress, which makes it even that much more unpredictable. Still, with all other things considered, you get the sense that investing in the legal cannabis industry is well worth consideration if one is looking to diversify their portfolio, or simply thinking about starting one from the ground up.
"If you look at this business, seeing that it will inevitably be legalized, and you want to get in on the ground floor, now is probably a good time," says Schau. "It's still a bit of a risk, but the prospect is getting better and better over time."