Within the past few seasons, it seems that men's fashion has let loose and—in so many words—become wild as hell. From bold statement trousers, outlandish mega-sneakers and an embrace of extremely high-keyed colors, stylish guys from across the world have traded toned-down clothing for more adventurous fashion. The latest threads from Belgian menswear extraordinaire Dries Van Noten, for instance, include curvy retro Technicolor patterns; rapper-designer Kanye West and the entire Kardashian-Jenner clan seem to be wearing at least one neon item every time they're photographed; and an explosion of bright psychedelic tie-dye has overtook luxury fashion and youthful streetwear alike. And all of this is just the tip of the brightly colored iceberg. So, how did we end up in this new era of wild menswear with even wilder color palettes?


Well, the fashionable rise of hypebeast-friendly celebrities like Pete Davidson and Jonah Hill have certainly ushered neon-colored streetwear. Davidson, the young
Saturday Night Live
star, has spent much of the past year in the paparazzi spotlight wearing everything from hot pink Thrasher shirts to bright orange
Supreme hoodies
(
Vanity Fair
crowned the look "Scumbro"). Hill's similar—albeit, slightly more adult-like—recent aesthetic includes a highlighter pink hair dye job, checkerboard-printed Marni jacket and a loud 1970s-inspired polo. Tyler, the Creator has been showcasing an array of kaleidoscopic looks for years (most recently on the cover of GQ Style). And then there is
Justin Bieber
, who has leveled up from a wardrobe of teenage skinny jeans and hoodies to one that now includes a steady stream of bright floral shirts and neon fleece. These men have become a beacon for supremely colorful clothing and made the look, whether you love it or hate it, something that everyday men want to wear.
If it feels like you're seeing more colorful clothing in men's fashion magazines and on street style blogs, it's because you are. During the early-to-mid 2010s, a wave of minimalism crept through contemporary men's fashion. Everyone wanted to dress modern and timeless, which at the time, meant minimalist. Perhaps it was a desire to not repeat the years of Ed Hardy T-shirts and Diesel jeans that dominated the early aughts. Or it was just a desire to dress simple and sharp à la Ryan Gosling in
Crazy Stupid Love
. Either way, most men stuck to an uncomplicated wardrobe of toned-down colors and unfussy staples. Kanye West's initial Y
eezy collections
included oversized clothes in washed-out shades and monochromatic hues (and the knock-off collection from Zara followed suit). Newly minted city dwellers traded T-shirts from their college days for something neater. And so came a flocking to classic minimalist staples like the cult-loved French brand A.P.C. as well as newcomers like clothing start-up Everlane.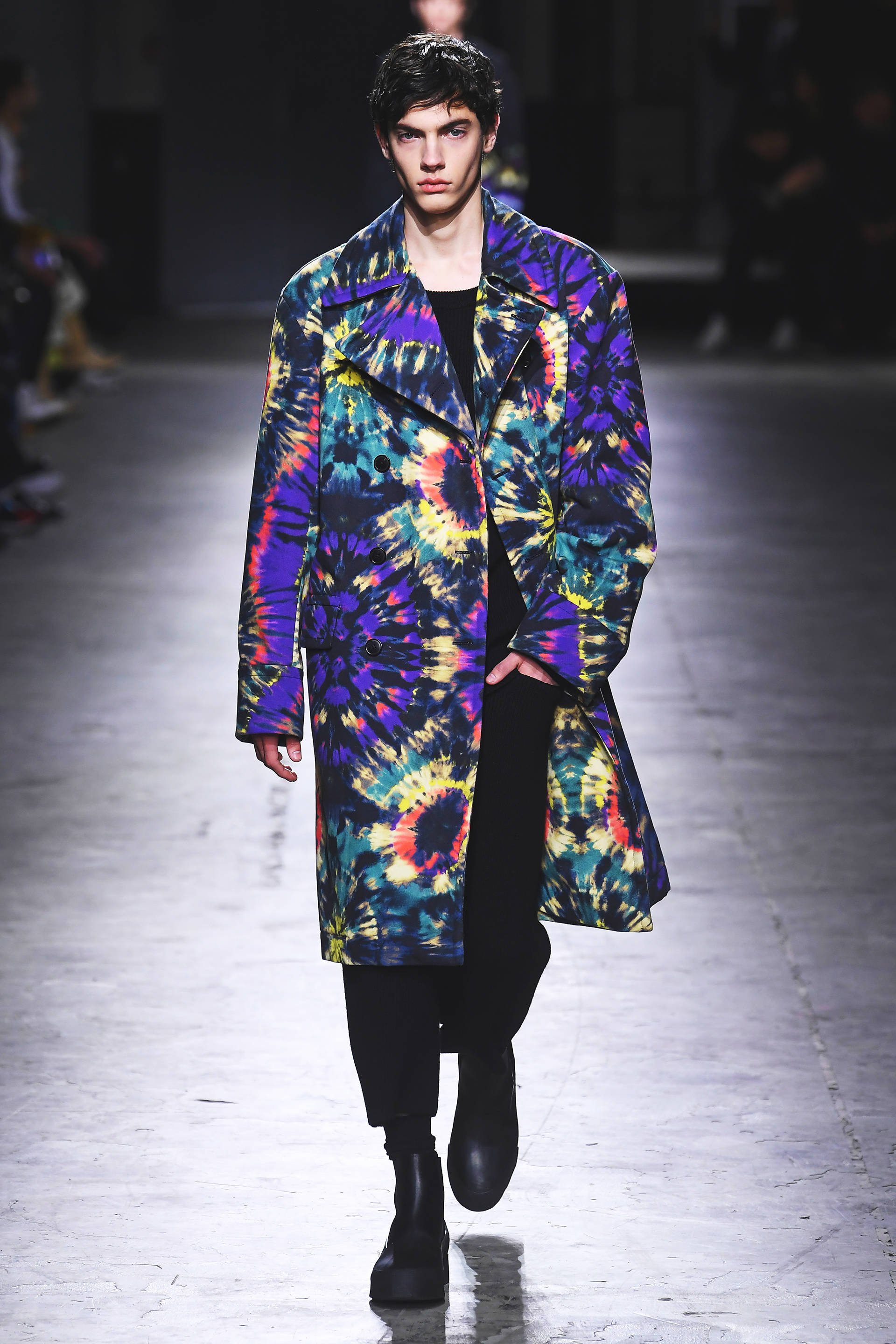 Then, a few years ago, it seems, men's fashion slowly backslid towards maximalism.

It started with the appointment of Alessandro Michele at Gucci, and then Demna Gvasalia (of Vetements fame) at Balenciaga. The two brash designers soon produced loud, colorful clothing that managed to look elegant and wearable. Bright patterns and funky colors became synonymous with avante-garde style and expensive taste. In the years to follow, a return to fashion's over-the-top form can be seen across the industry.

The Italian fashion house Prada brought back its iconic Linea Rossa line, a collection of clothes chock-full of 1990s vibes and high-keyed colors. For Versace's spring-summer '19 collection, the legendary label sent neon trench coats and luminescent suits down the runway. Dries Van Noten, the massively influential Belgian designer, produced one of the most sought-after collections of the year. Van Note remixed a 1970s work of Verner Panton, a Danish designer known for his vibrant work with colorful plastics—and Adam Levine brought the line to the masses when he wore the jacket during this year's Super Bowl Halftime show. A younger generation of brands is also making its mark on the style, too. New York label Landlord sells retro-influenced color block sweatshirts and California-based Noon Goons offers corduroy trousers in a shade of electric blue.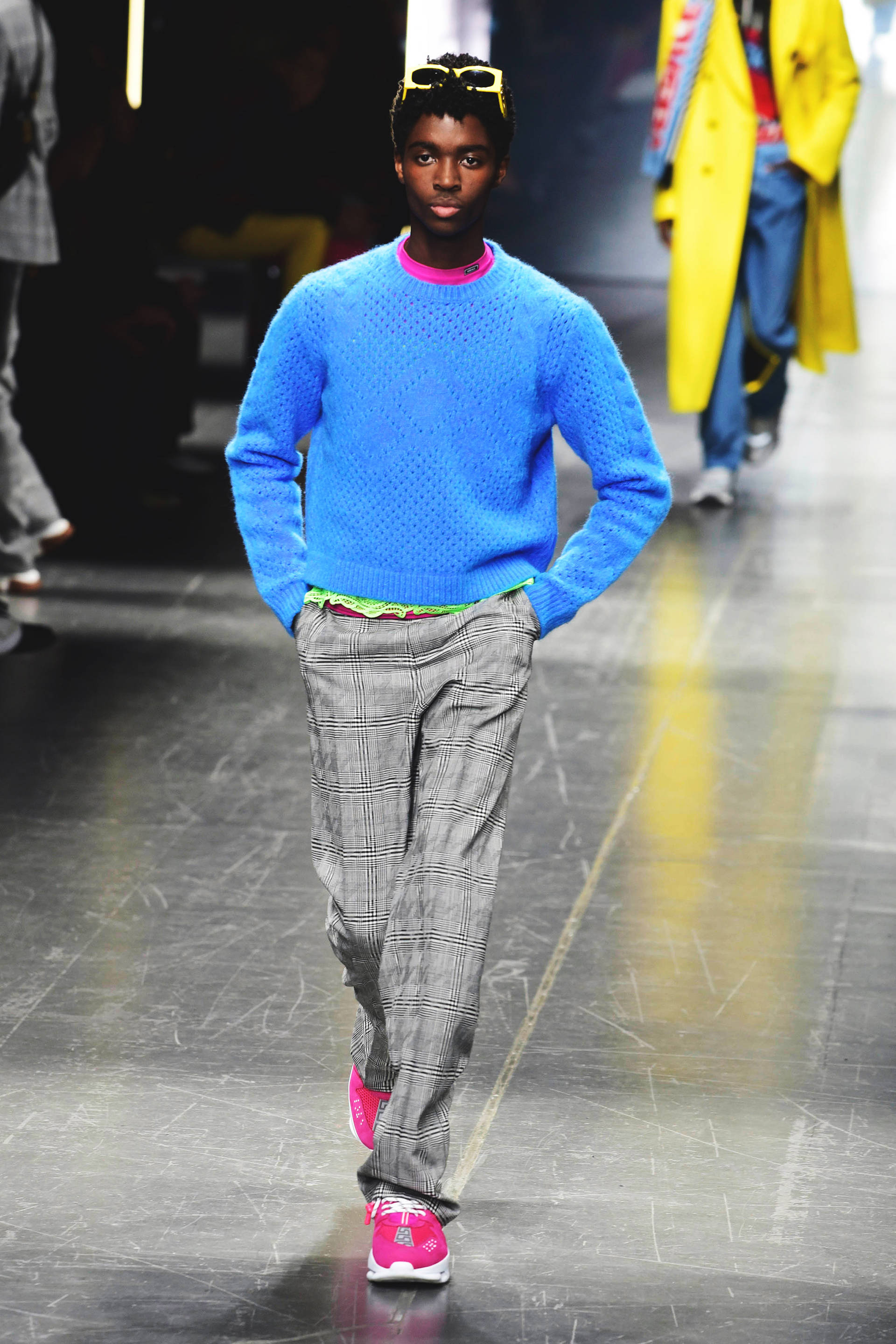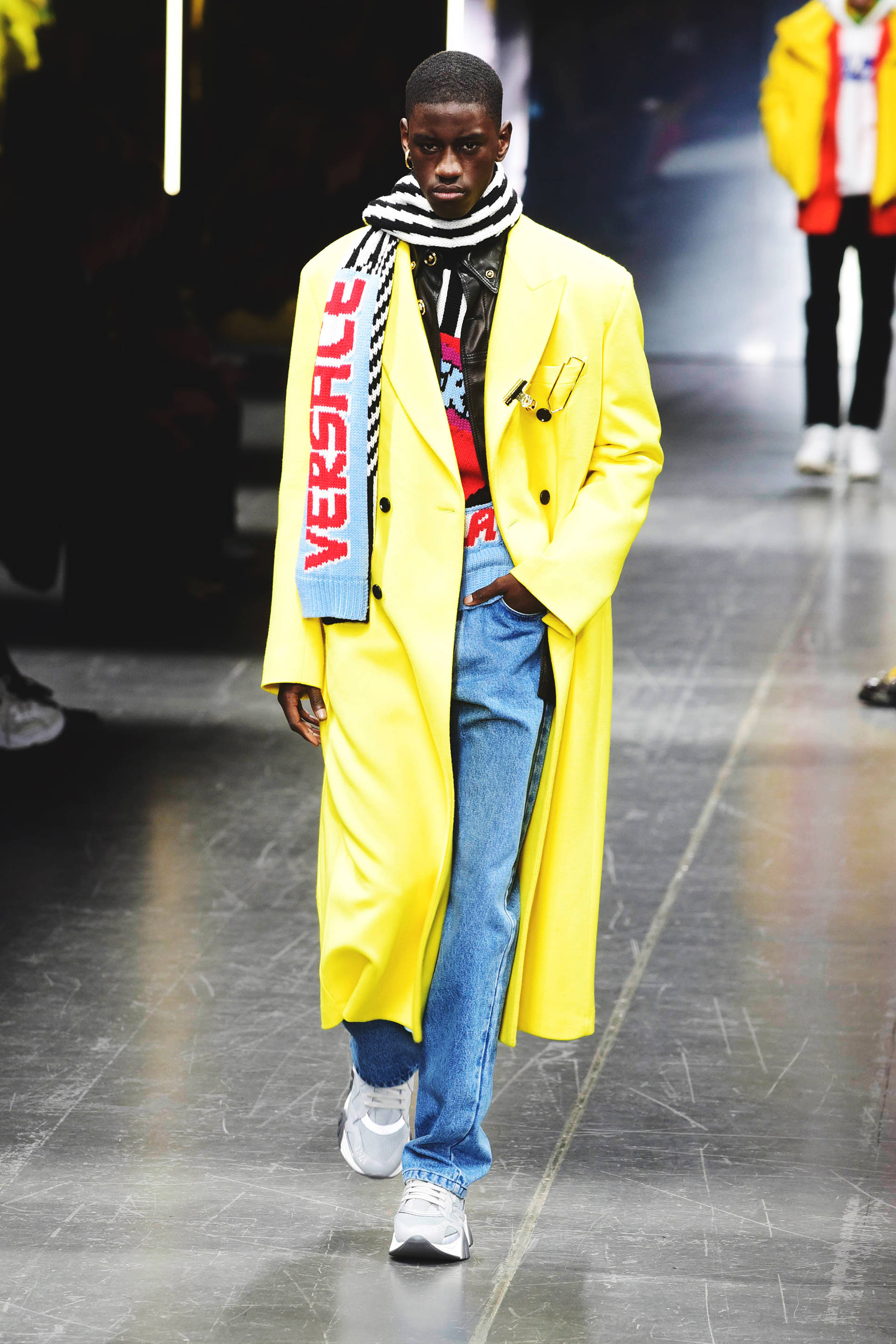 Fashion is cyclical so it comes as little surprise to see the men of today wearing colors and patterns their fathers may have worn during the disco days. It's fun to see incredibly visible male celebrities—including many professional athletes—wearing neon colors in daring shades of exuberant color. (The Loewe jacket that all-star quarterback
Cam Newton wore
last month was literally a rainbow of bright colors.) And on some days, the act of men (famous and not) donning these ferocious hues feels faintly defiant.
Amongst talk of how to decommission antiquated signifiers of masculinity, wearing a neon pink T-shirt almost feels like a subtle nod to the conversation. It also just means that you might have an eye for modern style—and that you're confident enough to wear something that stands out.