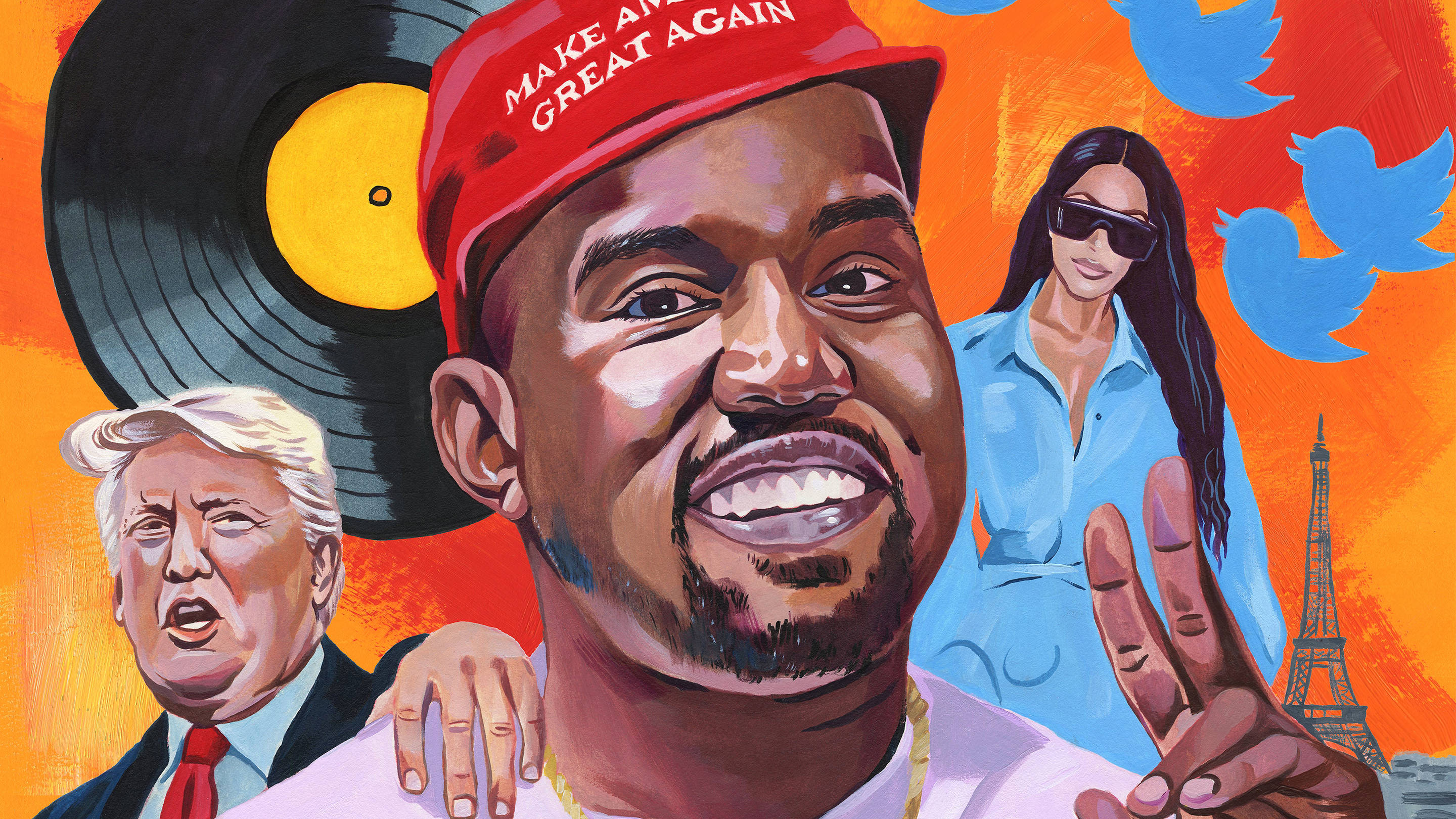 For Better or Worse, 2018 Was the Year of Kanye West
Written by Douglas Greenwood

Published on

December 27, 2018
It was the year Kanye West fans had to pick sides.. Some of his best and worst art in decades; an ailing sneaker line; a political alignment that just about destroyed him—the Yeezy zeitgeist, once considered indestructible, slowly began dismantling under the feet of the very man who built it.

Whether you consider yourself a fervent fan of his work or someone who sees him as a mere byproduct of our pop culture's religious-like embrace, there is no denying that West was, at one point, the guy to beat. His masterful work as a musician helped him build an empire (and an extreme level of self-importance) that few artists—even his hip-hop contemporaries like Jay and Dr Dre—could rival with, culturally.
Still, unless you have an unwaveringly strong (preferably inoffensive) grip on power, it tends to only be temporary. In three chapters, here are the reasons why 2018 was the year the world finally reckoned with the untamable ego and artistry of Kanye West:
---
The Downfall of the Yeezy
Less than a year after its debut, the brand known as Yeezy hit its peak at a time when public support for West was at an all time high:
The Life of Pablo
, one of his few unanimously well-received compilations, debuted on February 14, 2016 alongside a collection that somehow coerced fashion critics and, inevitably, hype-chasers into thinking it was revolutionary. While the new album played in the background, models flooded the Madison Square Garden stage in body-clinging multi-colored fabrics for an audience that included Carine Roitfeld, Gigi Hadi, Jay Z, the entire
Kardashian-Jenner clan
and 20 million live-streaming digital viewers. Even
Vogue
Editor-In-Chief Anna Wintour adoringly referred to the collection as
"migrant chic"
. Yeezy Season 3 saw Kanye segue from music into fashion in the most fluid manner possible. The cultural cognoscenti was practically built around him, but his downfall in that space was, understandably, a self-own.
Maybe we fell for the hype because cultural coercion is practically second nature to someone like West.

The reality of sustaining a fashion business—something many creative directors dedicate their whole lives to—is a lot harder to keep on top of when you're juggling several projects at once. And in 2018, as Kanye jumped head first into a series of projects we now know as the Wyoming sessions, the strength of West's work as a designer began to falter. The collections became far less desirable and thus, too expensive; the designs homogenous and uninspired. Eventually, clever
social media campaigns
were more widely discussed than the garments themselves. It left many wondering: perhaps these clothes weren't all that great in the first place. Maybe we fell for the hype because cultural coercion is practically second nature to someone like West.
But with that kind of power now stripped from him by a media landscape mildly thrown off by West's extreme public erraticism, his intentions started to skew. Earlier in the year, streetwear site
Highsnobiety
dissected the damaging effects of West's desire for Yeezys to be the
iPhone of the sneaker world
: easy to cop and on everybody's feet. That democratized vision of the Yeezy brand—literally the antithesis of what it was in the beginning—led to the smoke and mirrors surrounding the Yeezy business model to dissipate, revealing a brand that dealt in clout and hype as palpable currencies. If Yeezys were on everybody's feet, who, realistically, would truly want to wear them?
That's the question that streetwear fans and former Yeezy die-hards had to ask themselves as what was once the world's most coveted sneaker transformed into the kind of silhouette you could spot on a daily basis; only it cost $200, and was hardly game-changing enough to make West's admirable vision of his brand's future a welcome reality. There were rumors this lack of enthusiasm might be a result of his wearing the
"Make America Great Again" hat
; the start of his cozying up to President Donald Trump in a way that's left everybody from pop culture bloggers to news outlets aghast. Could it be that West's decision to wear the infamous hat in the US president's presence had a direct effect on the dwindling sales of Yeezys?
Kanye West's latest Yeezy season isn't great, and we're not surprised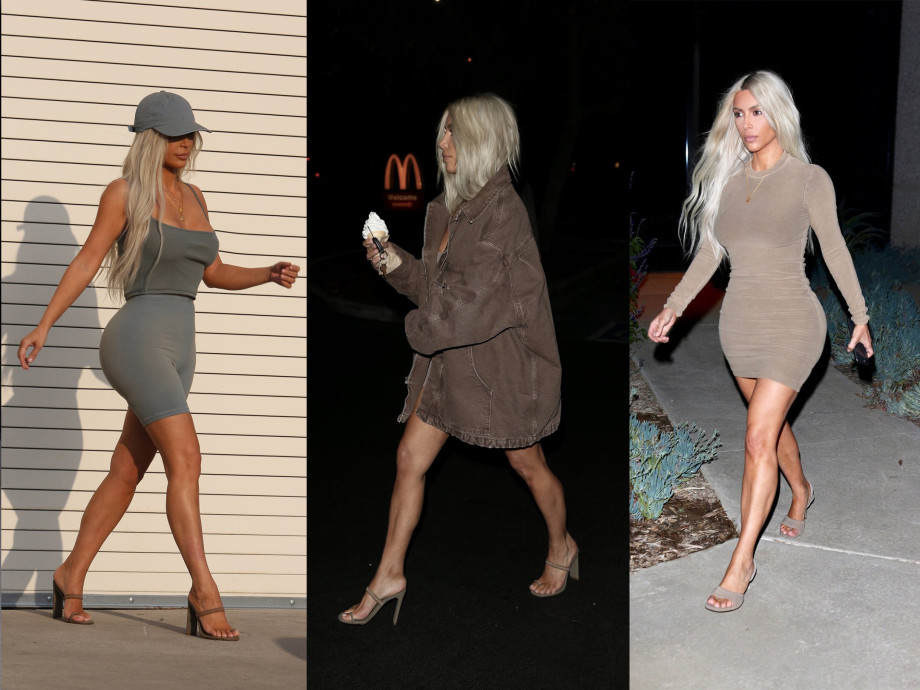 In the past, we've used secondary resale markets as a marker of a silhouette's success. Josh Luber, CEO and co-founder of StockX, concludes that the marrying of the two moments was purely coincidental. "The MAGA hat had no impact on the secondary market for Yeezys," Luber stresses. Instead, it was an internal decision, made by Adidas and West when the link-up first came to fruition, that led the
Yeezy sneaker down a path
where they stock sells out slower than ever before. "The decrease in value has been caused by oversupply, which has been caused by restocks by Adidas. The single worst thing a brand can do for hyped shoes that rely on scarcity is a restock. It not only decreases the value of the shoe restocked, it also decreases the value of all related shoes because when a brand messes with the natural tenets of supply and demand, it destroys the confidence that the market has in the brand." Perhaps, after his tumultuous political alignment and a summer that spawned a shaky new record, fans were less on board with the idea of West being the contemporary art genius we knew he could be.
---
The Wyoming Sessions
The Wyoming sessions were meant to be a turning point in West's career; a distinctly more 'meta' project than anything the artist had worked on before. At the beginning of 2018, Kanye headed to the snowy mountains of Wyoming to start work on a series of projects that, in April, he announced would be released consecutively over a five-week period. They included: a new solo West record, a yearned-for Kid Cudi x Yeezy album, Pusha T's
DAYTONA
, Teyana Taylor's
K.T.S.E
, and a new album from Nas.
But
ye
, a wildly hyped magnum opus that the world had waited long enough for, was met with middling reviews. The general consensus was that Yeezy had taken shortcuts: hashing it together by writing and recording his lyrics in a week. A Kanye West record would usually top—or at
least chart
in—many music publication's end of year lists, but
ye
hasn't had nearly as much critical love as the man behind it might have expected. Perhaps it's down to the fact that it's brevity came as a shock to some people? Maybe it's the confrontational nature of a man being so frank about his emotions? Or maybe, after all, it boils down to
ye
containing next to no truly memorable tracks, in a streaming age when success rests not on album sales, but on standalone singles that linger.
Every time I think to myself, 'maybe I'll play through this today', I'm reminded of all the questionable things they have done lately and feel so irritated that I don't bother.

Fortunately, the other Wyoming projects were some of the year's most remarkable, and West—alongside longtime collaborators like Mike Dean—guested as executive producers. Pusha T's
DAYTONA
was a critical success, while his
Kids See Ghosts
project with Kid Cudi also achieved a similar level of support. We all know that West's talent is undeniable, but his desire to conflate the value of his art with the size of his ego acted as a turn-off to some. "I don't feel motivated to listen to Kanye anymore, even though I thought that the
ye
and
Kids See Ghosts
records were both great," Grace, a long-time West fan from London tells
Playboy
. "I felt the same way when Nicki [Minaj] brought out
Queen
(2018). I haven't listened to them since release day because every time I think to myself, 'maybe I'll play through this today', I'm reminded of all the questionable things they have done lately and feel so irritated that I don't bother."
"Listening to old Kanye music is different," she adds. "I feel sad that things have reached this point and then resentful about it. Hopefully, in regards to his old stuff, that mood will clear because it would suck if my good memories were tainted forever. Right now though, the well is kinda poisoned." Perhaps, if West had been less 'Kanye', his standalone project might have been scrutinised far less too. When you attest to being brilliant and correct at all times—as he so often does—it gets hard to stay on top without the inevitable scrutiny of powerful figures that comes along with it.
---
That "MAGA" Moment

It was that unwavering sense of ego that lead West to become one of the year's most controversial political figures too, and it came to a head fully (after meeting the then-President Elect in Trump Tower in December 2016) after his flagrant performance on Saturday Night Live. In a non-televised speech, Yeezy compared the red cap to his "superman cape", stating that it means "follow your heart and stop following your mind", as that's "how we're controlled".


By wearing this hat—however he was trying to skew its meaning—wasn't he turning his back on the very people who had made him so prolific in the first place?

It's no surprise that his endorsement of Trump's damaging and loaded anti-talisman was treated like a co-sign for the Republican party as a whole. After all, what Trump and his allies profess is the antithesis of what any marginalized person in America should believe in. Even an erratic link-up at the White House did neither party any favors. Invited there to discuss the possibilities of prison reform (which they did do, privately, over lunch), West instead used his public platform to sit across from the celebrity president in the Oval Office and discuss alternate universes and how rumors of his bipolar diagnosis were fabricated. Instead, he was just sleep deprived.
This cozying up to Trump left a sour taste in the mouths of many of West's fans: the majority of them either liberal or apolitical, incensed by the president's flagrant disregard for the minorities of America. By wearing this hat—however he was trying to skew its meaning—wasn't he turning his back on the very people who had made him so prolific in the first place?

But were any of these fans were actually inspired by West's MAGA moment; changing their political views, or opening up to try and understand exactly where the rapper was coming from? West, after all, opposed many of the political standpoints Trump pushed for—open borders being just one of them. Could it be that West was trying to profess his passion for being single-minded and driven rather than avoiding a herd mentality—something Trump's once charlatan-like status in the political race felt like? "If anything, we stans love Kanye—despite the shit we get—because we love from our own hearts and out of our own free will," @longtermthrowawayy, a West subreddit user writes.

Kanye's admiration for Trump still makes headlines, but the two are cut from the same cloth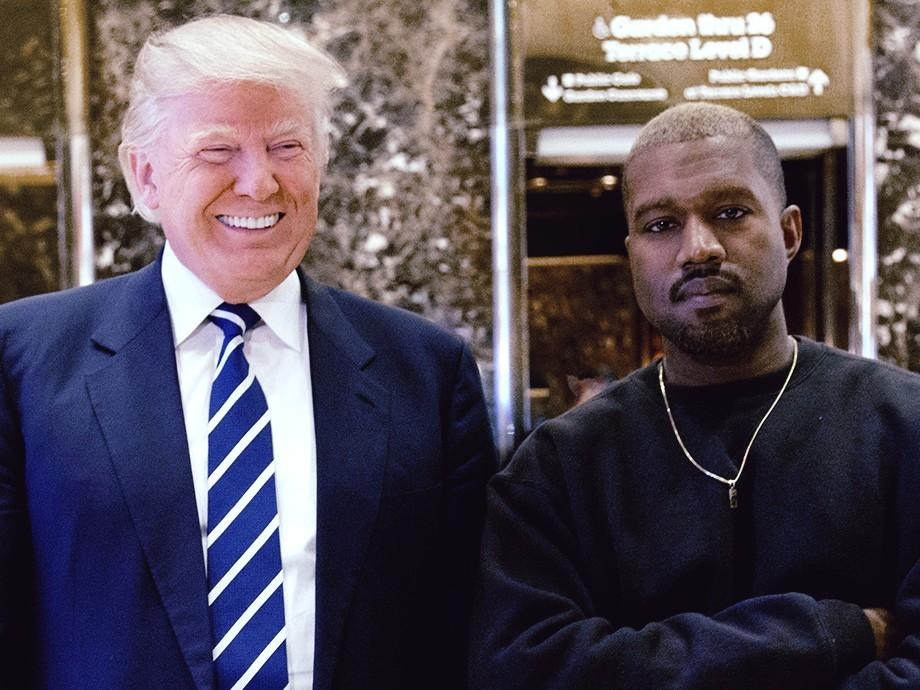 The Reddit user continues, "Kanye, and anyone else for that matter, can get fucked if they think they can influence my political dogma. I think [he] put it in one of his tweets: something about everyone having the right to independent free thought. Kanye is entitled to that, and so is everyone else." It's a fair point, but a problematic one at that. What Kanye West advocates for in 2018 might not be the same as his Republican cronies' opinions, but there's a slightly reckless element to, quote, "reclaiming" a symbol of hatred without removing yourself from the very person who championed said hatred in the first place. Trump might have been an underdog in the political race, a sign that anything is possible if you set your mind to it, but the byproducts of him being in power set many social minorities back. He's not a positive example that young Kanye fans should aspire to be like.

Maybe that says a lot about Kanye West in 2018. The man who once had the power to pull the rug from beneath pop culture and bend it to his will doesn't have the strength to make a dent in even the most tumultuous of administrations; instead, his presence is being twisted by right wingers into a Republican—not a Trump—
seal of approval
. The reclamation of the red cap, if that's what he was going for, did more damage to his career than it did prove his position as a culture shifter. Is it time for the star to take a step back?
Dominating the conversation isn't always the best thing for an artist, especially when it's causing their power to deplete. With a quiet 2019 ahead (Yeezy being his owned confirmed venture), it might be clever for West to keep his art close to his chest. Even icons need time to make sense of the whirlwind that surrounds them, and at a time when smartly-executed ambiguous statements, ego, and power play all have the ability to cause us damage, maybe a man like Yeezy is a domineering one we don't need.