"Everyone needs to get naked!" the Haitian woman yelled, her heavy breasts cresting the hot tub's water line. She swung her swimsuit bottoms in the air. "Anyone else going to get naked?"


All the women in the seventh floor rooftop hot tub of the Mexican resort were already topless, a swirling mosh pit of nipples. The men sat back, sipping Tecate from the comfort of their baggy swim trunks. It was sunset, and the Caribbean Sea took on the muted pinks and oranges from the west.

The nudity didn't last long. A staff member ambled over and quietly told the very same Haitian woman to put her bottoms back on. You see, nudity isn't allowed at Cancun's Temptation, a resort vaguely reminiscent of a bright pink layered birthday cake. It's a topless-optional spot for couples just starting to explore the raucous world of nude vacations, or for people who have no desire for full frontal.

Temptation is one of four popular all-inclusive hotels in the archipelago of sexy resorts throughout the Caribbean, islands of nudity and partial-nudity with varying amounts of spice. But how on earth should you choose? And how wild is too wild? Which is the right place for you to explore sexuality with your partner? I'm here to help. I've been to them all.

---
Temptation, Cancun
"Anyone wanna take shots!" The woman's voice blared from the deck of the main pool, six stories below our room. "It's time for shots before the boobs cruise!" I glanced at the clock. 11a.m.
This is life at Temptation. From the time they wake up in the morning, to the wee hours of the night, people at this resort are partying. Shots. Beers. Foam parties. Drunk fraternity guys. Dirty Jenga. More shots. Topless volleyball. Loud, blaring music. A resort worker sitting on a paddleboard in the pool, pouring booze down patron's throats. A lot of bad tattoos.
Temptation looks like it was made for Barbie's bachelorette party, with a color palette pulled from a package of Smarties. It's on a crowded, sugar-soft Cancun beach; just a glance across the sea from Isla Mujeres. It seemed about half the woman at Temptation were topless, and even though I love being naked, I was not one of them. There's something about a topless-only resort that feels lopsided to me, like the men should also take something off. Still, the topless women seemed nonplussed by this, erasing tan lines as they lounged by the pool.

Temptation looks like it was made for Barbie's bachelorette party, with a color palette pulled from a package of Smarties.

Temptation boasts seven restaurants, six bars and a coffee shop, each with a different vibe. One night, we signed up for the Aphrodisiac dinner at She, an elaborate, multi-course menu with belly dancers and strippers aimed at titillating your senses and nether-regions. Sutra was an incredible Japanese teppanyaki experience, while the International Buffett never failed to disappoint with its healthy, delicious and varied options. Then, every night, there was sexy outdoor entertainment and a dance party, everything from acrobats, to pole-dancers, to burlesque.
Temptation is a great way to get your feet wet if you're venturing into a sexy space for the first time. It's flirty, sensual and erotic, with plenty of potential to test the limits of your comfort zone. Need a break from the drink fest? Try your hand at windsurfing, kayaking, paddle boarding or sailing on a Hobie Cat for some midday exercise. At night, people loved dressing up for dinner and dancing into the next day. We found the clientele friendly, diverse and open-minded.
You'll never know what type of fun you'll encounter at Temptation, if you go with an open mind.
Desire Pearl, Puerto Morelos

"Are you ready for your erotic massage?" the spa employee asked from across a broad, wooden desk. We were sitting in the luxurious spa of the clothing-optional, couples-only Desire Pearl, a piece of paper in front of us. "Just fill out and sign this form, and then we can get started."
But all I could do was stare, at one section in particular: "Please check of any parts of your body on this list you don't want the masseuse to touch: vagina, clitoris, breasts, penis, scrotum." I was shocked, and hastily checked off all the boxes. There was no way I wanted someone random touching my body parts, but this type of massage is common, and popular, at Desire Pearl. "The masseuses do many of these," the spa employee assured us. "They are very professional."

The resort is the epitome of luxury after our two days at Temptation. Our large room with a private jacuzzi overlooked the Caribbean Sea, where guests lounged on white cabana beds sipping pina coladas. The clothing optional beach was tranquil and baby powder soft, with waves breaking over the reef half mile offshore. The vibe felt pleasant, low key and mild compared with the raucous "spring break" atmosphere at Temptation. Plus, the clientele felt distinctly older and wiser; no bad tattoos in sight.

We wandered around Desire Pearl for two days, with the feeling of being on an upscale cruise ship. We'd see the same people over and over again, living the same routine. They read by the pool or beach during the day, then dressed up for dinner at night in sexy dresses and high heels. The service was impeccable, the food gourmet, the drinks strong. Fine dining at its best.

"Ass shots!" someone yelled, and a thin, attractive, 30-something blonde woman bent over the bar, naked butt high in the air.

While public sex is allowed around the Jacuzzi Lounge at Desire Pearl, we didn't witness any raunchiness during our stay. Theme nights were fun but fairly low-key. Overall, this was the most relaxing of the four sexy resorts. We even heard some guests say they use Desire Pearl as a "cool down" phase after visiting another, more raucous, resort.
Desire Pearl is great for people who want a relaxing, luxurious vacation where they can mingle naked with others and sneak in a little eroticism. One evening, on our way to dinner, we witnessed a bondage ritual on someone's back porch. A naked woman was
tied up and blindfolded
, her partner caressing her body with a leather whip. So, even though Desire Pearl might seem mild, you still never know what you'll see.
---
It was only 2 p.m. when we saw our first orgy at the couples-only, clothing-optional Desire Riviera Maya. The rooftop cabana bed was a tangle of arms and legs, hard parts and soft parts. Two couples, fully engaged in public afternoon delight, no holds barred. When you're at Desire Riviera Maya, you better be prepared to see sex.

Desire Riviera Maya is the wilder, less expensive twin of the Desire hotels, perched on the edge of the Caribbean Sea just a few miles north of Pearl. The layout is smaller, more intimate, with the sexy jacuzzi area on the rooftop deck. But it still has several restaurants to choose from, offering a variety of delicious, well-prepared food, from salads, to fried coconut shrimp, to meat-and-bean chili. Unlike Desire Pearl, there are water sports like windsurfing and kayaking.

It was 4:30 p.m. when we headed back up the rooftop jacuzzi for the daily "meet and greet", something we'd been told about, but had to see for ourselves. It didn't take long for the large tub to turn into a writhing, naked mess. Couples squeezed in wherever they could, nursing drinks, chatting with one another, rubbing elbows, and…other body parts as well. For example? I saw more than one couple blow job in the first 30 minutes alone. Then, the orgy group we'd seen earlier in the day before moved in—right next to us.

Playboy goes on a journey to the beaches for kayaking and a reminder of our affect on the planet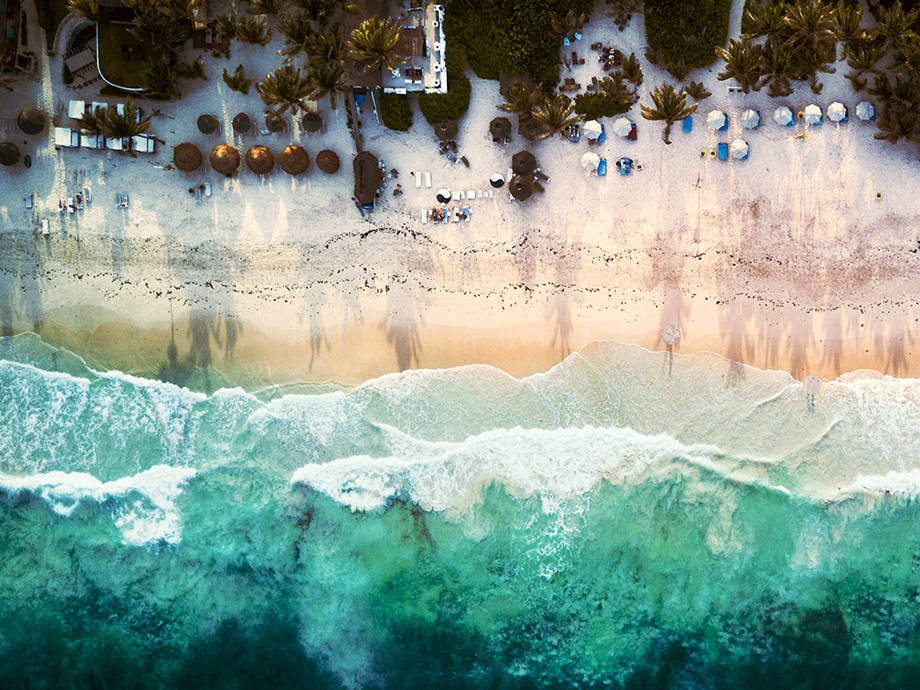 That's when the real fun began.
"Ass shots!" someone yelled, and a thin, attractive, 30-something blonde woman bent over the bar, naked butt high in the air. A woman crouched behind her, then slurped champagne right out of her ass as someone poured from above. My mind was blown. I've seen a lot of things, but never anything like that.
Next, a man in his 40s put his face between her
butt cheeks
, lapping up more champagne. The blonde woman giggled; her husband looked on, head tilted, with a drunken grin. At least two more people ripped shots from her crack before someone brought out the whip.
The ease with which they moved from shots to bondage was awe inducing. Naked people took turns whipping the blonde woman while she remained bent over the bar. When she was too red to continue, people took turns whipping each other. Apparently, the fun never ends at Desire Riviera Maya, with this wild and kinky bunch.
The time was 5:30 p.m.
Prudes beware.
---
I peered out my room's window at Hedonism II at the nude beach two stories down. "Oh my, would you look at this!" I called to my boyfriend. A couple was having sex on one of the chaise lounges. We'd only been on the property about an hour and were already witnessing public sex. Welcome to Jamaica.
Hedonism II differs from the other three resorts in that its sectioned off into a nude side and a prude side. On the nude side, you have to be 100 percent naked. The prude side is clothing optional; a place to read, relax and find quiet.The nude side is more interested in sexy games, from poolside blow jobs, to squirt contests, to breast competitions. After the "pool games" comes the pool sex. We saw threesomes, blowjobs, you name it—all before the sunset. Most of the clientele are over age 40—and many older, with no diminishing sex drive in sight.

This sprawling resort near Negril is the biggest of the four and has the most community-oriented operations—sort of like X-rated summer camp. Every evening hundreds of people gathered together under one roof for the dinner buffet and a show. The entertainment is top-notch with traditional Jamaican performances on top of nightly themed parties. During the bondage bash, for example, we saw a woman casually leading a man by the leash. On another night, we participated in a naked foam party, where people of all ages and sizes slipped and slithered to the pounding beats.

Hedonism, even more so than others, is designed for fantasy. It's a place to live out your alter ego, to experiment, to be joyful and playful while maintaining inclusivity without judgement.Hedonism II isn't the only resort that offers water sports, but it is the only resort that offers scuba diving included in the room rate, along with paddle boarding, kayaking, windsurfing and sailing.

Even if you're not looking to swing, Hedonism II is a great destination no matter your interests.