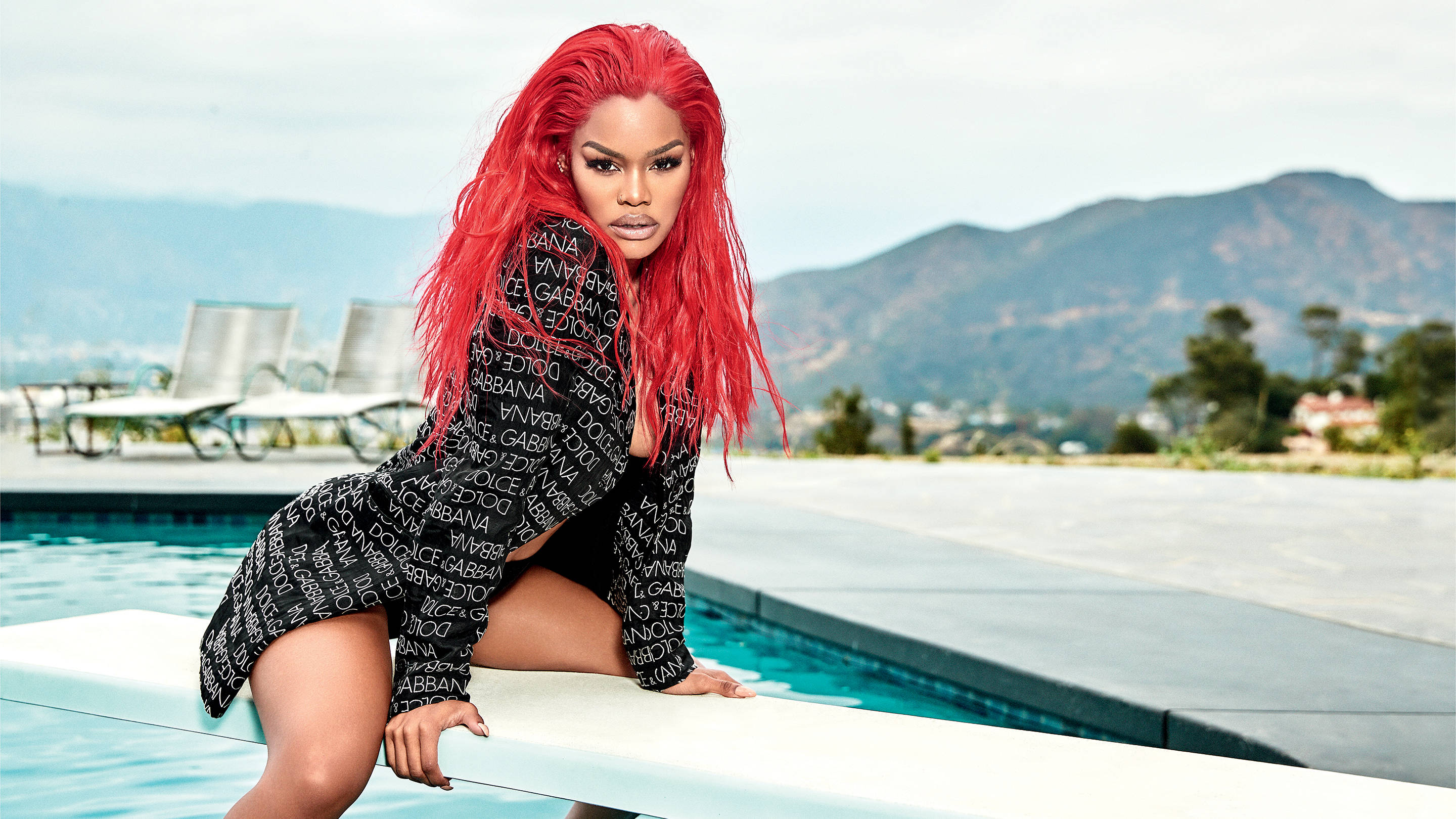 More Than Moves: Teyana Taylor
Written by Rebecca Haithcoat
Photography by Ben Watts

Published on

August 14, 2018
With her second album, the multihyphenate Teyana Taylor proves her ferocious gifts on the mike. But is the world ready to accept her as a pop star?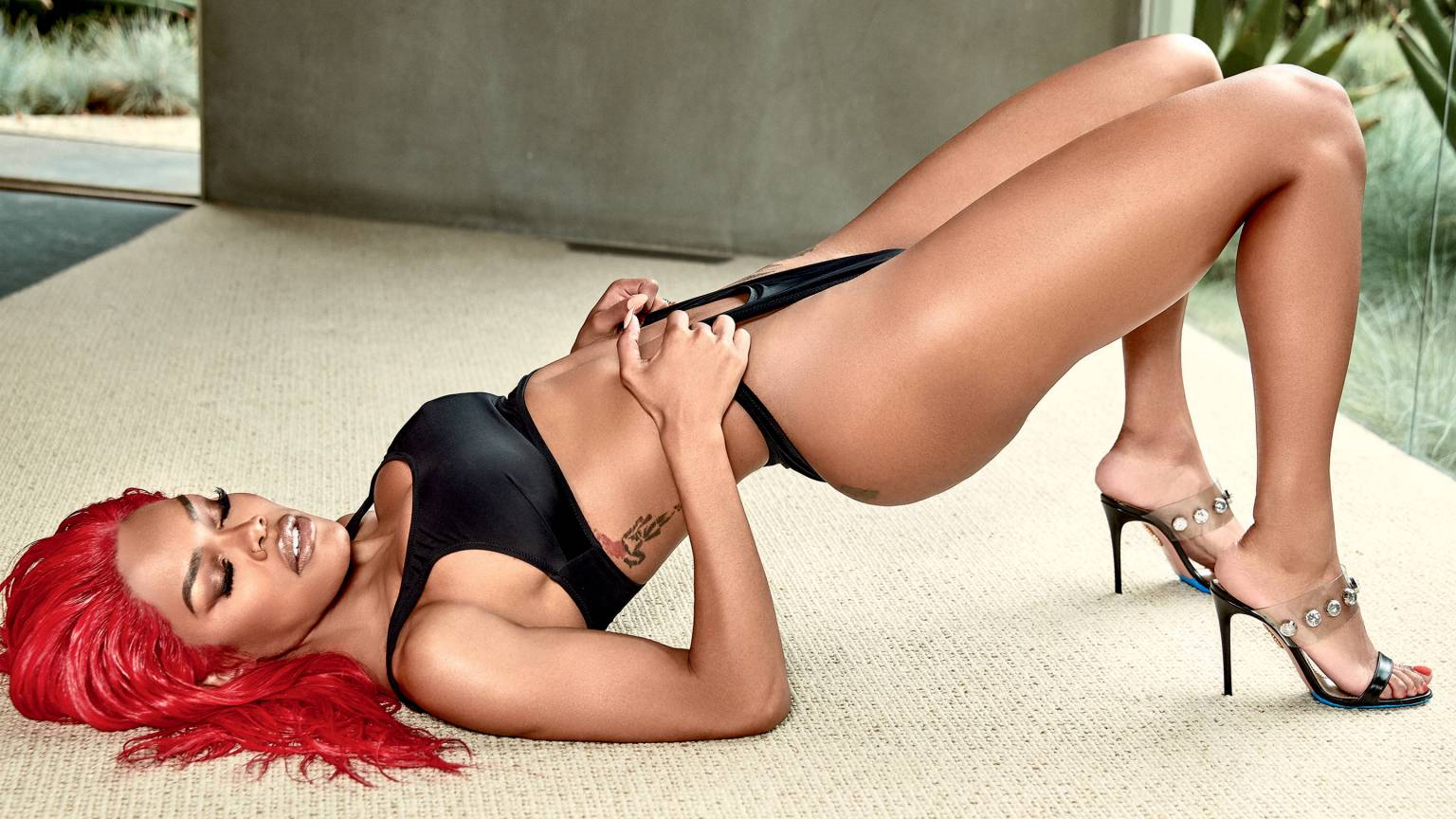 Teyana Taylor
really wants pizza. Per a request filtered through her press team, towers of grease-splotched cardboard boxes are delivered to a mansion perched in the hills of Laurel Canyon. One of Taylor's assistants-slash-friends hurries through a throng of photographers, handlers and hangers-on with a few boxes for Taylor, who is sequestered in a small bedroom that can barely contain her stuff. Occasionally she'll erupt into a "Haaa!" when another friend, flipping through a playlist, lands on a particular track. Mostly, though, Taylor is brisk and businesslike, despite having her singular frame, somehow sinewy and voluptuous all at once, clad in a barely there bikini—the sort of ensemble that would prompt most women to sigh and choose a diet soda over a couple of slices.
But Taylor is not most women. "I've had this six-pack since I was, like, six," the 27-year-old says. "I was like a Ninja Turtle." She elicited gasps—and more than 100 million YouTube views—when she appeared oil-slicked and fitness-model shredded in
Kanye West's
2016 video for "Fade" just eight months after giving birth to her first child with husband Iman Shumpert. With no formal dance or vocal training, she signed with Pharrell Williams's Star Trak label,
choreographed Beyoncé's
"Ring the Alarm" video and
popped in Jay-Z's
video for "Blue Magic" before she could even vote. And when
VII
, her gutsy 2014 major-label debut on West's G.O.O.D. Music, performed miserably after myriad delays, she cried—but she didn't crumble.
"Everybody knows, as far as the music side, it's been a long journey for me—which it has been for any person who's great in the industry," Taylor says, shaking out her popsicle-red hair as she unself-consciously strips and steps into some sweats. Up close, her face is as sculptural and her skin as flawless as photos depict, but everybody else seems to care about her looks more than she does. She's still no-nonsense, but with her tummy full and
her
Playboy
shoot wrapped
, she's smiling more easily. The more she talks, the clearer the sense that she still has something to prove—and that music is how she'll prove it. "I definitely feel overwhelmed sometimes because I'm doing so much to occupy my mind from the things that are not quite happening the way I want or need them to happen," she says. "The other 100 things that I do are just until it comes to fruition."
That lengthy to-do list currently includes touring with Jeremih, opening a nail salon in her native Harlem, collaborating with various clothing and sneaker brands, and starring in the
Netflix
film
The After Party
, the BET series
Hit the Floor
and the movie
The Trap
. In June, she finally released her long-overdue sophomore effort, the
entirely Kanye West–produced
K.T.S.E. (Keep That Same Energy)
, much to the relief of her fans, and herself.
But on this afternoon in the hills, the album is still under wraps. "Once this music is out, I might really consider that I've done damn near everything I've ever wanted to do," she says.
A trace of Harlem lingers in Taylor's voice, the elasticity of her native New Yorker's speech patterns turning her sentences muscular. But anytime she talks about her music, an ever so slight hesitation slows her replies. Her career as a singer has been so long delayed—and so clearly longed for by her—it's as if she doesn't quite believe it will materialize. As if talking about it might scare it back into the shadows.

An hour earlier, wearing skyscraper Lucite heels and edging dangerously close to the pool, Taylor is arching into a backbend. Her friends-assistants gasp as images of sopping red hair and ruined makeup flash before their eyes. Taylor, on the other hand, seems unconcerned about any possible catastrophe. That's the way she's been her whole life.
Growing up, she was a tomboy and a daredevil. Her mother, who is also her longtime manager, homeschooled her. An only child, on her mother's side at least, she made friends in the neighborhood and quickly became the de facto leader of a squad that skateboarded and rode BMX bikes all over Harlem. All big hair, bold fashion sense and bravado (she remembers attempting handstands on her board), she naturally stood out.

"I have a leader vibe about me," she says. "Because I was homeschooled, I had no choice but to raise my hand even if I didn't want to. But I was fearless—pure, raw. I would see groups of people dancing, and instead of joining in, I would actually want to make up the moves. I've always been a person that wants not just to do it; I want to be it."
She loved singing along with Aaliyah and mimicking
Michael and Janet Jackson's
dance moves. Hints of her husky, richly textured voice were already evident, so she joined a group called the Sunshine Girls. They would sing on subways and ferries, and soon they were winning talent contests at the famed Apollo Theater. Still, she was not the stereotypical child star with a pushy stage mom.
"I wasn't one of those kids that was in the studio 24/7," she says. "Harlem is so small and has so many talented people that we'd all just
sing and dance and rap
. I never looked at it as a way to get signed." But an industry friend of her mom's did. Catching Taylor riding by herself one day, he swept her up and took her to a recording studio. "I didn't have no bio, no demo, no nothing. I just went with my skateboard," she says, chuckling. "Sassy, just sassy."

As she sang and rapped her heart out, she suspected she was serious about making music her career. When she later met Pharrell Williams, who was curious to meet the Harlem kid everybody kept telling him was the "female version" of him, he instructed her to stop skating for fear of broken bones. Acquiescing, she knew she was serious.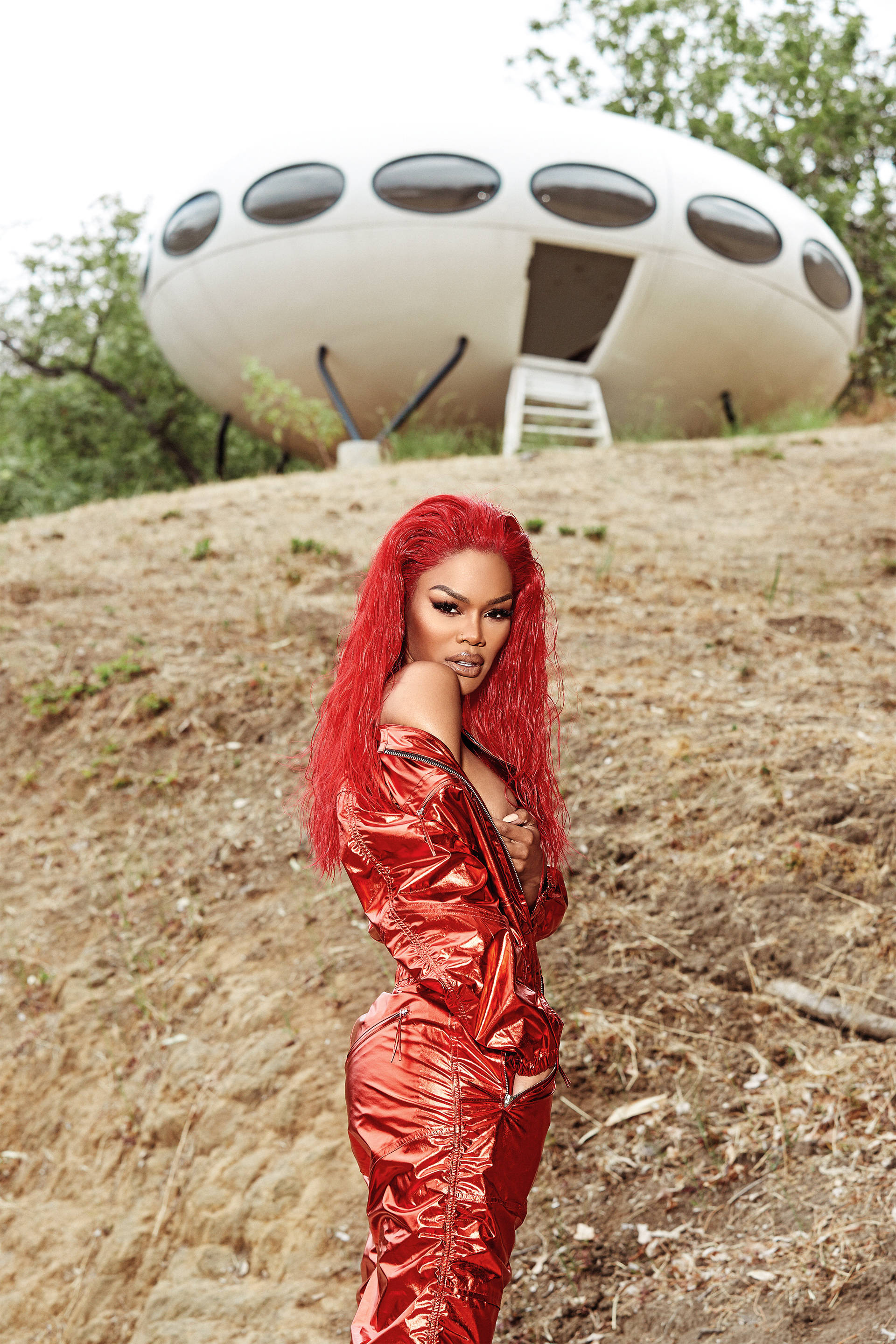 Given the fairy tale nature of her rise, few could have fathomed that, more than a decade later, Taylor would still be waiting to break out. But New Yorkers have a gift for spotting potholes in the yellow brick road.
"Being in the business of this dirty, dirty game, I had to grow up pretty fast," she says. "You gotta be careful. You got to know what's going on, because some people are intimidated that you know too much at a young age." She pauses, briefly turning inward, and then adds, "Patience has been my biggest challenge. There's times where I'd just be laying in bed, crying. I'd been doing this for so many years and it was just not happening."
It's strangely reassuring to hear that Taylor, a woman whose most striking feature may be the fierce self-confidence radiating from her center, harbors doubts too. But everybody is vulnerable to expectations, and multiple music magnates told her she was the next big thing at an age when most of us have only our moms boosting our self-esteem. Her split with Williams in 2012 was amicable, but in interviews she expressed frustration that, six years after signing, she still didn't feel she'd had the chance to prove her talent. After releasing a well-reviewed mixtape at the top of 2012, she brokered a joint venture with G.O.O.D. Music and Def Jam. VII sold fewer than 25,000 copies, partly because of poor promotion. Low sales usually lead to scared labels and delayed projects. It's a domino effect.
Taylor doesn't shy away from these details. If you listen to "Rose in Harlem," her favorite track on K.T.S.E., the struggle's all there:

Been through more than a lil' bit…
I been down, I been loyal
When you really hold it down
Niggas ain't even really down for ya
Oh no, what a shame Ten years in the game
Niggas like, "You ain't hot? You ain't pop yet?
What's up with you and Ye?"

Ultimately, it was Junie, her two-year-old with Shumpert, who lifted her out of the slump. "She'd be like, 'Mommy, what's wrong? Don't cry.' And I'm like, 'You right. I'm happy. I got you. I have my wonderful husband. Life could be much worse,' " she says. Still, the stalling vexed her.
No wonder. Although it was the least hyped installment in West's so-called "Wyoming sessions"—a series of five Ye-produced albums by G.O.O.D. signees—the sensuous
K.T.S.E.
is in the top two. Taylor's voice drips luxuriously over West's sunset-hued soul samples. (The exception is the electro-twerked "WTP," which takes its inspiration from the drag-ball culture birthed in Harlem.) Ripe for late-night, between-the-sheets spins,
K.T.S.E.'s
main problem is that there isn't enough of it.
But Taylor made sure all eight songs say exactly what she intended. "That's the beauty of working with
someone like Kanye
: He gets how creative people work. I would never let someone tell me, 'This is what you're going to sing today.' " She laughs. "That's the Karl Lagerfeld in me. I got to grab the camera myself, because you don't see what I see, baby. I need you to be able to
feel
me. I need you to be able to touch me."
Of course, a woman who asserts herself like that in
a dick-centric industry
is bound to be branded with another
D
word:
difficult
. It's a charge Taylor promptly shoots down. "I'm not difficult; I'm just not willing to belittle myself—to settle," she says.
"I'm going to have self-respect. I'm going to be a strong woman all across the board whether you like it or not. Maybe that's why it took me so long to get where I wanted to be. I was never willing to be what someone else wanted." Her face takes on a mischievous cast. "Hey, if we don't bust it wide open, there ain't gonna be no you! So put some respect on that capital
W
in
Woman
. Wo-
man
."
The day of this interview, Taylor seems flush with giddiness over finally letting
K.T.S.E.
loose into the world, but its release, one week after our interview, is marred. Not only is it dropped a day late, it's also apparently not the project she hoped to share. As she explains on a subsequent press run, an updated version with various missing samples and interpolations will arrive a week later. When a fan on Twitter asks where the promised update is, Taylor's response sounds exasperated: "I guess we ain't getting one. Shit takes time. At this point I will leave album the way it is & will just debut the extended record thru my visuals."
Exasperated, that is, but not resigned. After all, Teyana Taylor has waited long enough.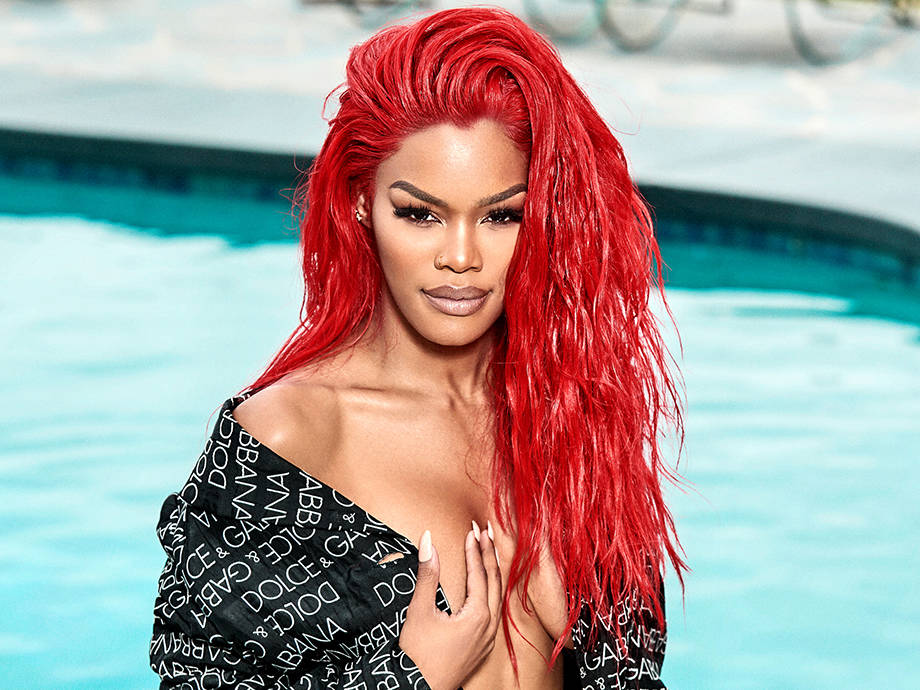 Stronger and bolder than ever, Teyana Taylor is red-hot in more ways than one