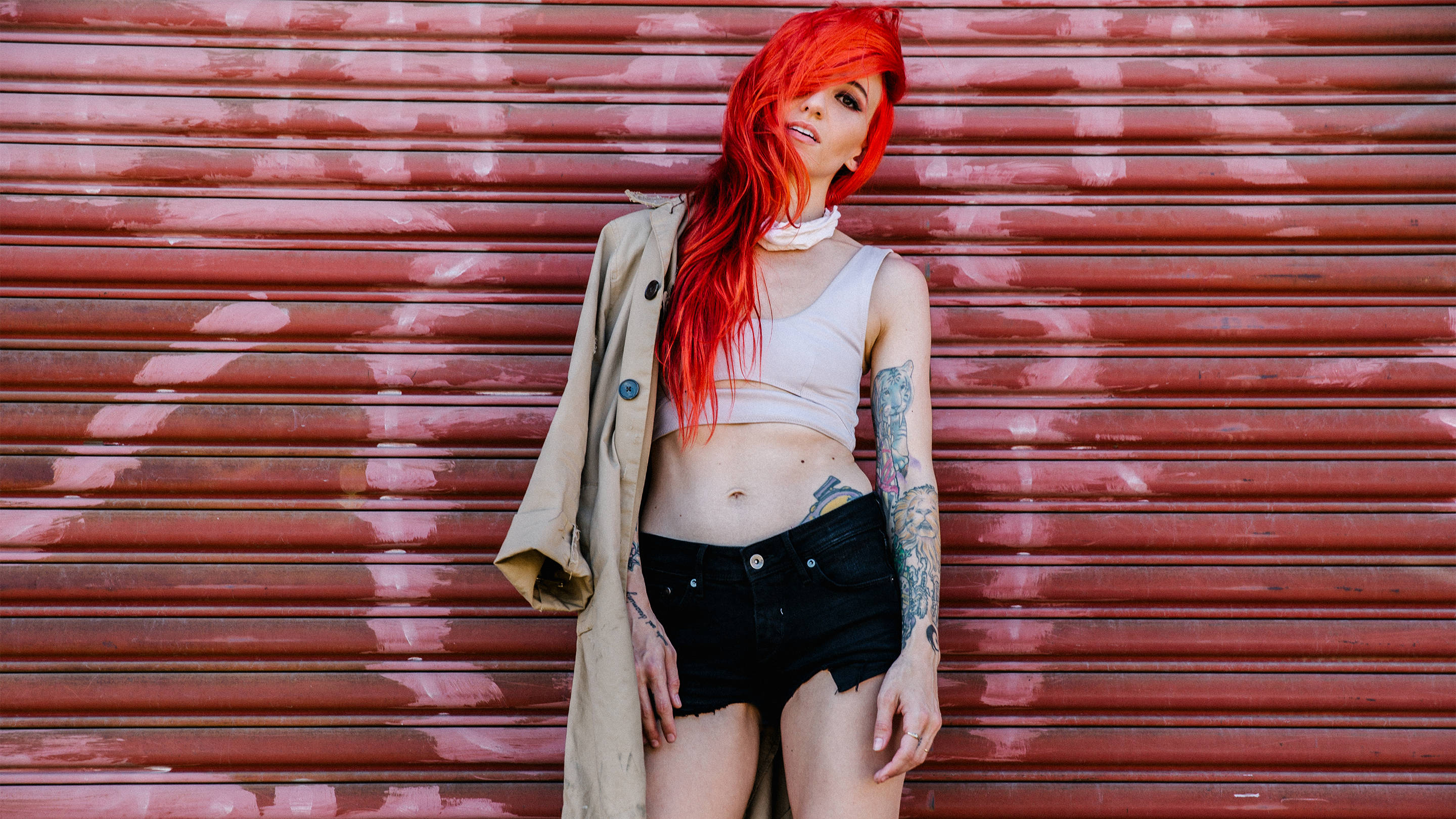 Lights Infuses Comics and Pop for an Incredibly New Type Of Story
Written by Lina Lecaro
Photography by Rayana Chumthong

Published on

June 23, 2017
As the recent box office success of DC's Wonder Woman has proven, along with the massively popular Marvel movies that came before, comics culture has not only permeated pop culture, it's begun to influence and define it. Beyond the colorful aesthetics and superhero appeal, comics characters are inspirational in power, presence and complexity. Beyond the films, comic content today is far more sophisticated than the simple struggle of good versus evil, and the pages often tackle social issues, provocative themes and human (or non-human, as the case may be) struggles.

Canadian pop musician Lights
has been an avid comics enthusiast for as long as she's been making music, and her ambitious new project,
Skin & Earth
, fuses her drawing, story-telling and musical talents in a way that's never quite been done before. Imagery and lyrics from the album are tied directly to a new series of comic books she'll be releasing before the record comes out, each providing more insight into the plot and ideas she sought to explore.
"Giants," the first music video (directed by Jeremy Schaulin-Rioux) provides a hint at what's to come, with Lights channeling the heroine, a young woman named En who's struggling to find purpose in a post-apocalyptic world, and soon finds herself lured into another dimension.


Before, I lacked the confidence to share creatively with someone else because I was afraid my voice would get buried, but not anymore.

"Before even beginning to write for the record, I came up with this story," Lights says a few days before filming the video. "The concept, without giving too much away, is really about a woman who becomes
entranced by a spirit
that's sort of the devil on her shoulder. It's a commentary on depression and stuff that I've dealt with in the past. It came from a really personal place, even though I was putting myself in the mind of this character."
The comic's story and the individual songs will enjoy a reciprocal relationship throughout her new material's roll-out. She says there's a track for every part of the story, with every chapter of the comic covered in song, adding up to six issues, 12 compositions and two interludes. This being the 30-year old's fourth record in 10 years, she experimented not only thematically, but sonically too, bringing in collaborators (Big Data and Corin Roddick from Purity Ring, for example) and stretching her vocal performance, she says, like she never has before."After three records, you feel like you've done it all over and over again, but I had other things to say," Lights, whose given name was Valerie Anne Poxleitner, explains. "Because of the scope of this project, I knew I wanted to work with as many people as possible. Before, I lacked the confidence to share creatively with someone else because I was afraid my voice would get buried, but not anymore."

Collaboration was also huge when it came to the comic books themselves. As a fan and
frequent Comic-Con attendee
, Lights has always had drawing skills, and she referenced comics in her early album art and promo. of ten evoking a Watchmen meets Sailor Moon vibe.
Gaming was also huge
in terms of her personal influences and she credits her obsession with World of Warcraft as a big connector with likeminded fans who then discovered her music.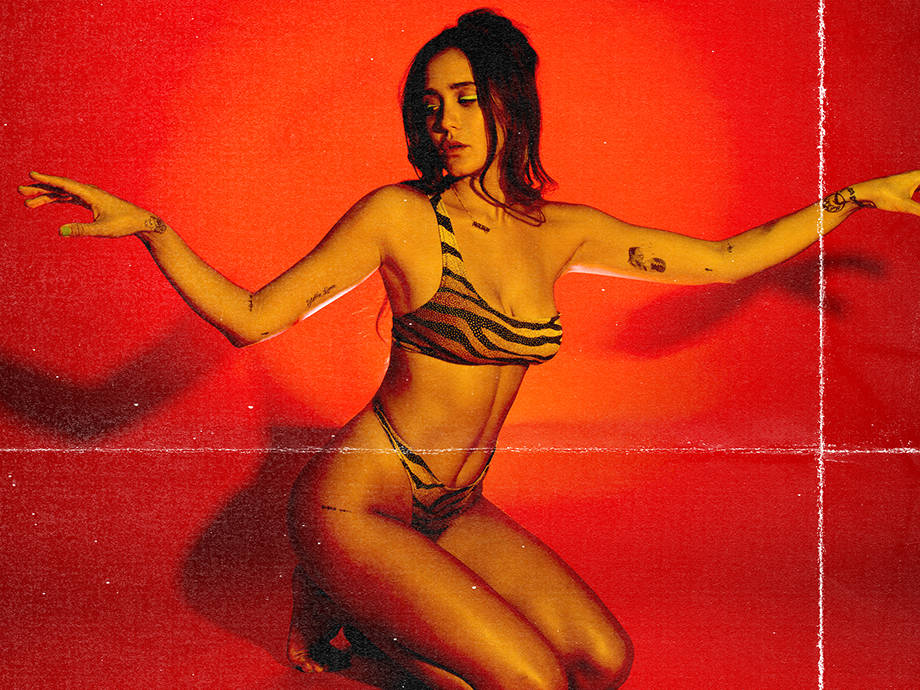 Jesse Jo Stark poses for Playboy and talks about the past and future of rock
Still, she'd never endeavored actual comic writing before. "I studied You Tube university, man! I watched webinars. Read a million books... " she recalls. "One of the most influential books was Alan Moore's Writing for Comics. There's also this really amazing series called Saga, and I online -stalked its author, Brian K. Vaughan, for his help. I also hunted down G. Willow, who writes another favorite of mine, Miss Marvel. I got so much great advice."
A couple days later, on the set of "Giants," Lights is walking through an abandoned junkyard with a camera following, her long bright red tresses (freshly colored with her pal Hayley Williams of Paramore's product line called Good DYE Young) smolder like fire in the sunshine and evoke other iconic fantasy femmes such as Red Sonia, Poison Ivy and a little Lelu from The Fifth Element, too. It's a stark contrast to the dingy set and her utilitarian outfit-a crop top, cut-off shorts and boots, manage to be basic, but look subtly futuristic... and undeniably sexy.
Lights conceived En's look well before any video treatment talk, and stylist BK Philips helped her realize her vision, though at the shoot, he's quick to insist she had it all planned out already. The main character's image is extremely important to a highly visual project like Skin & earth, of course, and as the cameras roll, Lights obviously understands this better than anyone. At this moment she is En in the flesh, the heroine she created in pen and ink, come to life, and it's clear she wasn't kidding when she said a few days earlier that she's more comfortable in her own skin than she ever was, since becoming a wife and mother. Lights is married to Bless the fall singer Beau Boken and they have a three-year-old daughter named Rocket. "Being
sexual is empowering
," she says. "A lot of indie comics have female characters like that and I think it's great. We should be proud of the bodies we're in. I've never felt more ownership of mine than I do now as a mom."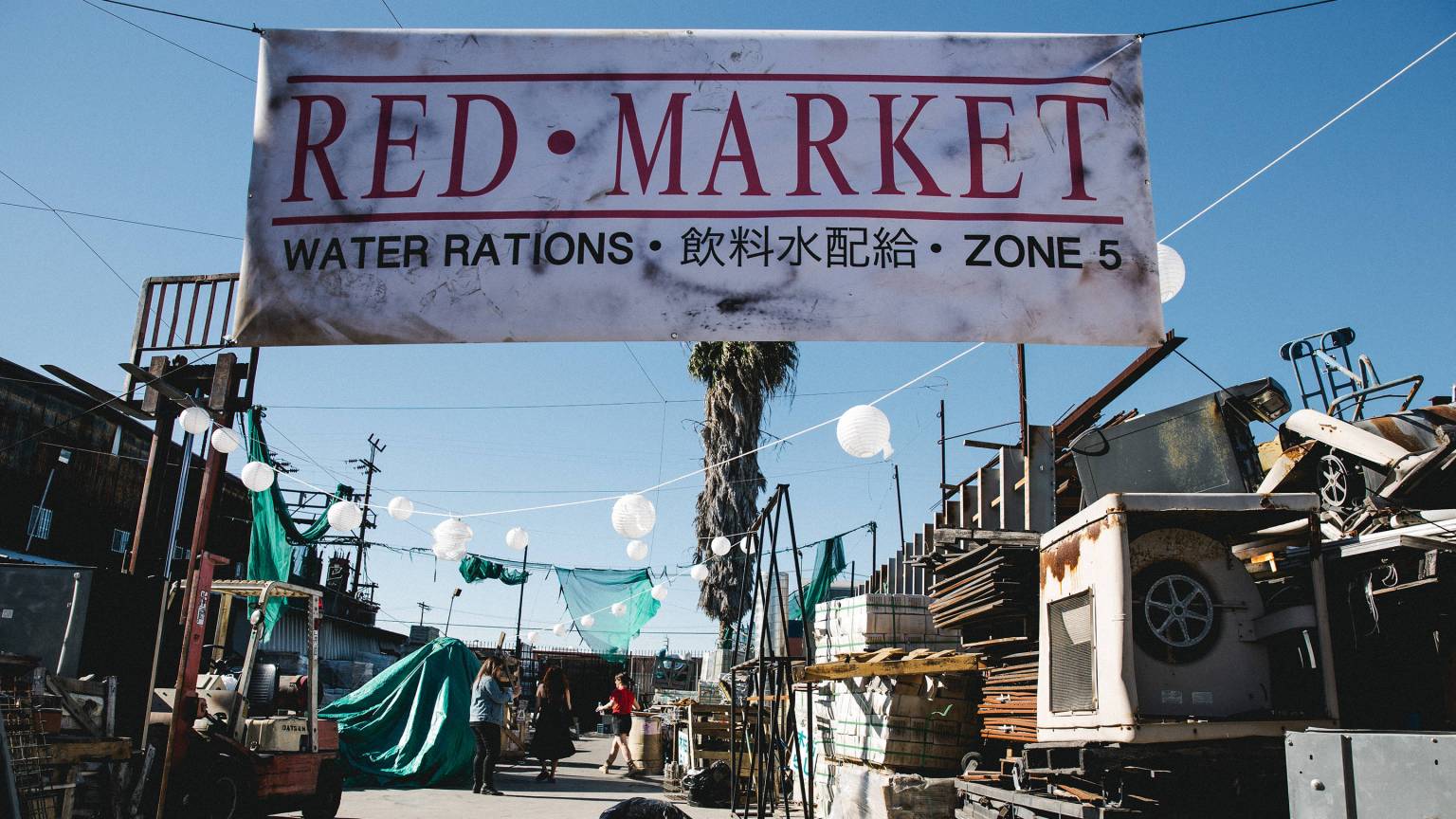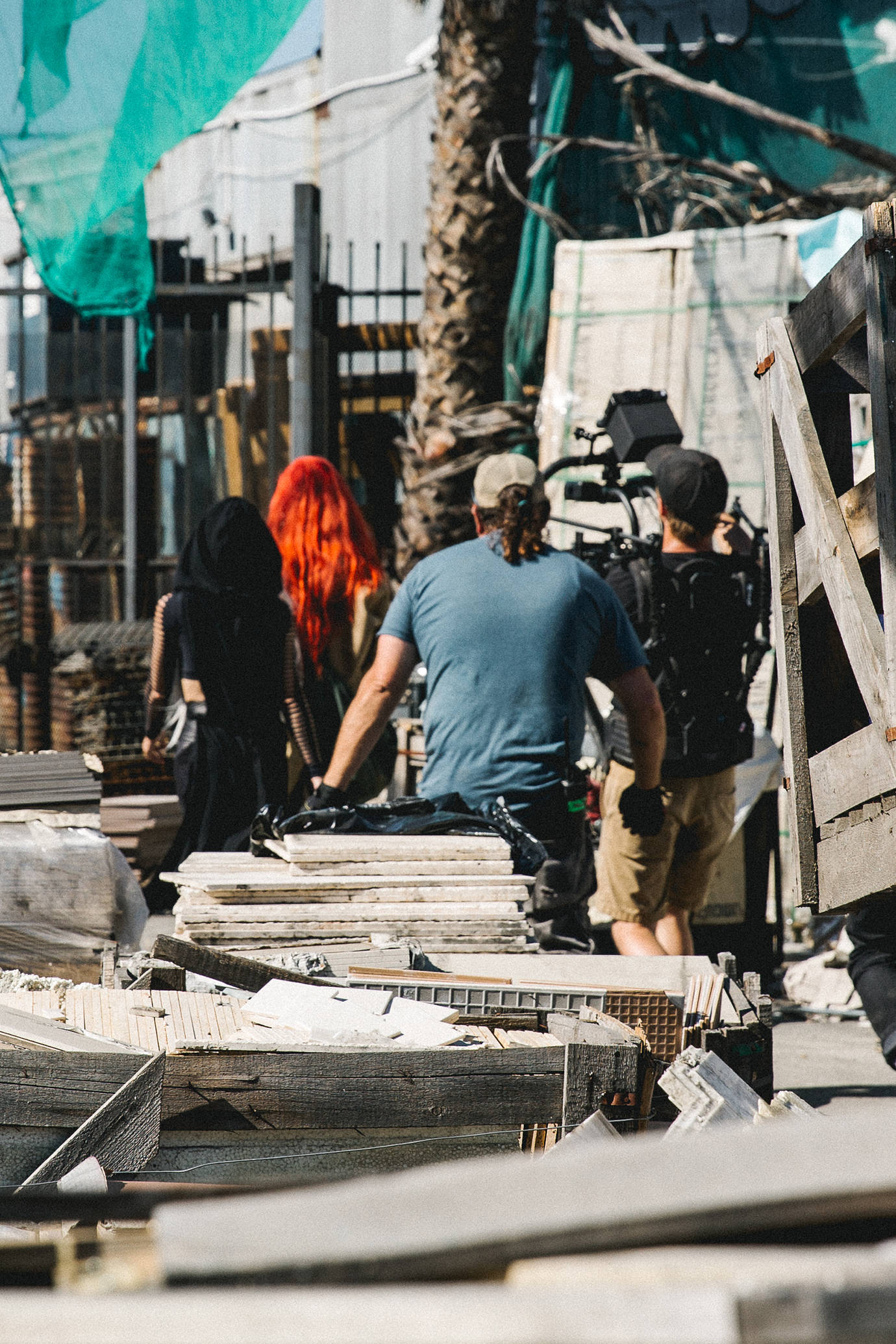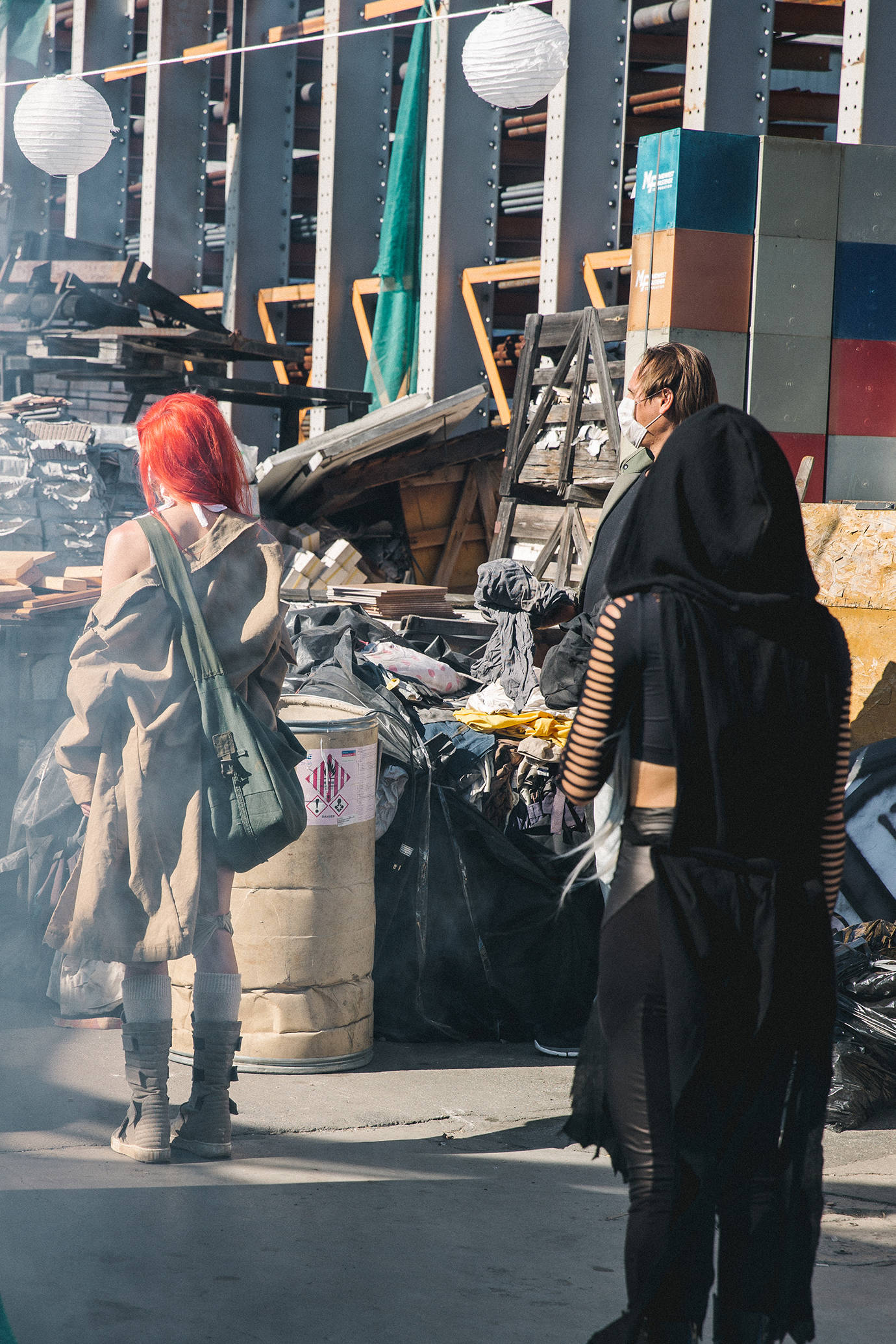 Her family are back home in Vancouver, but there are a lot of vested heads at the shoot. The film crew, PR people, record execs, and a creative team too - comics purveyors and
social media experts
on board to help Lights' innovative project (which by the way, is sonically more pop -friendly than anything she's done before) get maximum exposure. Everyone involved sees massive cross -over potential, and for good reason.Working as a cultural connector and creative advisor, well -known LA-based events and marketing expert Franki Chan (IHeartcomix), is part of the team here.
"I'm making sure all the nuts and bolts work together from how the comic and music marketing relate, to how the imagery and language are working together across aspects of the campaign," he says enthusiastically, noting that Lights comics- meets music meld has never been attempted. "This is truly the first of its kind, both in idea and scale. Sure, there have been plenty of comic tie in projects in the past or even music artists making the cross over into writing or illustration (Gerard Way., for example), but never before has a musician created a full
cross-medium comic
and album project, and beyond."
The tie -ins aren't some demo ploy either. For Lights, they're a way of life, and a way for the artist to express herself and explore new ideas in a multi -faceted way. Fantastica l, seductive and socially-conscious too, comics have come a long way, and Lights is looking to take them even further. "
Comics have become
one of the most progressive voices in entertainment," proclaims this real-life musical wonder woman. "And super heroes don't always wear capes either... they come in many different forms and they 're flawed. That's what makes them feel real."